April 26, 2021 https://ellokal.org/
Yesterday, Sunday, a beautiful neighborhood event was held called by Acció Príncep de Viana, La Xarxa Veïnal del Raval, Acció Raval, Guerrilla Raval, Raval Sur and Carrer del Salvador to debate and fight to recover the Príncep de Viana building 14 property for the neighborhood from Cerberus.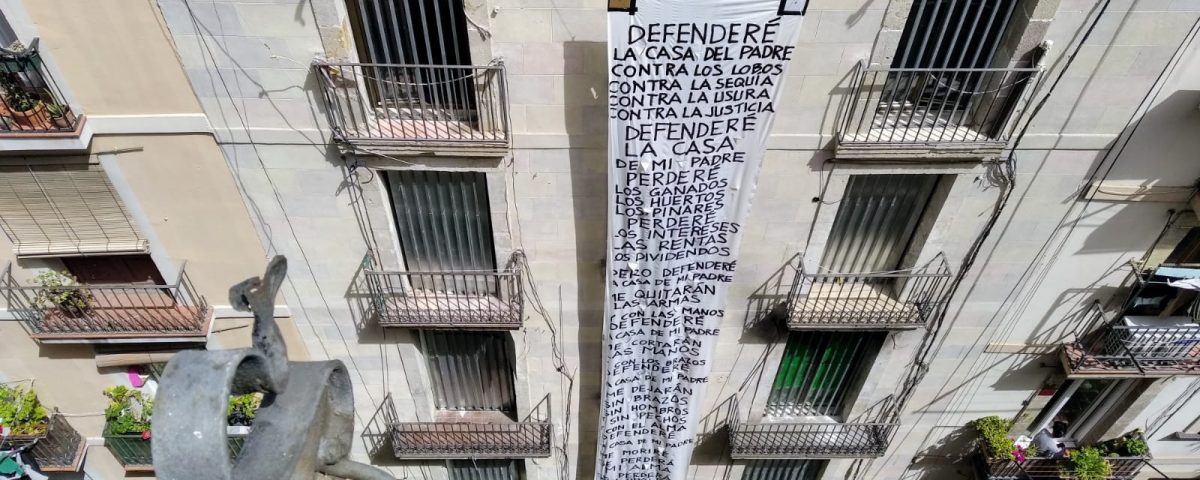 Saved from speculation as La Dispersa Social Center, later evicted, the neglect of the property made it become a narco-bloc for several years in which deaths, sexual abuse and a degradation of street life occurred. All this until the neighbors decided to organize and fight, getting the building closed after a report from firefighters.
Neither property, nor justice, nor the administrations avoided what was inadmissible and in the Raval it is known that if it is a family that occupies a house empty of a vulture fund out of extreme necessity, the administrations act urgently. If they are the mafias, the property does nothing.
As part of the action and the debate, it was concluded that the objective of the building was to be for neighborhood families, through social rent, or for the elderly. Anything but business objective for a fund responsible for serious crimes.
A large banner was hung with a poem by Gabriel Aresti: "The House of my father" adorning the facade of the building. Not 24 hours have passed and Cerberus, which never intervened in all these years, this time it does and sends its operators to remove the banner.
It is a response to the neighborhood struggle. They arrogantly believe that they will be able to do whatever they want, that the building is theirs, when before it was paid for with public money and that neighbors and collectives are critters that can be despised. And that as always they will win.
Dignity versus arrogance, life versus business. Let Cerberus know that in the Raval, the neighbors, the mobilized people, managed to get the CAP Raval Nord to Mercy (free public health center), we stopped evictions, we improved a life that this system destroys to make a profit. They will only give us more reasons to achieve what we know is in our power. Dignity and justice in the face of ignominy.
\Príncep de Viana 14, la dignidad de las vecinas frente a la ignominia de Cerberus
Ayer domingo se celebró un bonito acto vecinal convocado por Acció Príncep de Viana, La Xarxa Veïnal del Raval, Acció Raval, Guerrilla Raval, Raval Sur y Carrer del Salvador para debatir y lucha por recuperar para el barrio el edifico de Príncep de Viana 14 propiedad de Cerberus. Salvado de la especulación como Centro Social La Dispersa, desalojado posteriormente, la desidia de la propiedad hizo que durante varios años se convirtiera en un narcobloque en el que se produjeron muertes, abusos sexuales y una degradación de la vida de la calle. Todo esto hasta que las vecinas decidieron organizarse y pelear consiguiendo el cierre del edificio tras un informe de bomberos.
Ni la propiedad, ni la justicia, ni las administraciones evitaron lo que era inadmisible y en el Raval se sabe que si es una familia que ocupa por extrema necesidad una vivienda vacía de un fondo buitre, las administraciones actúan de urgencia. Si son las mafias la propiedad no denuncia.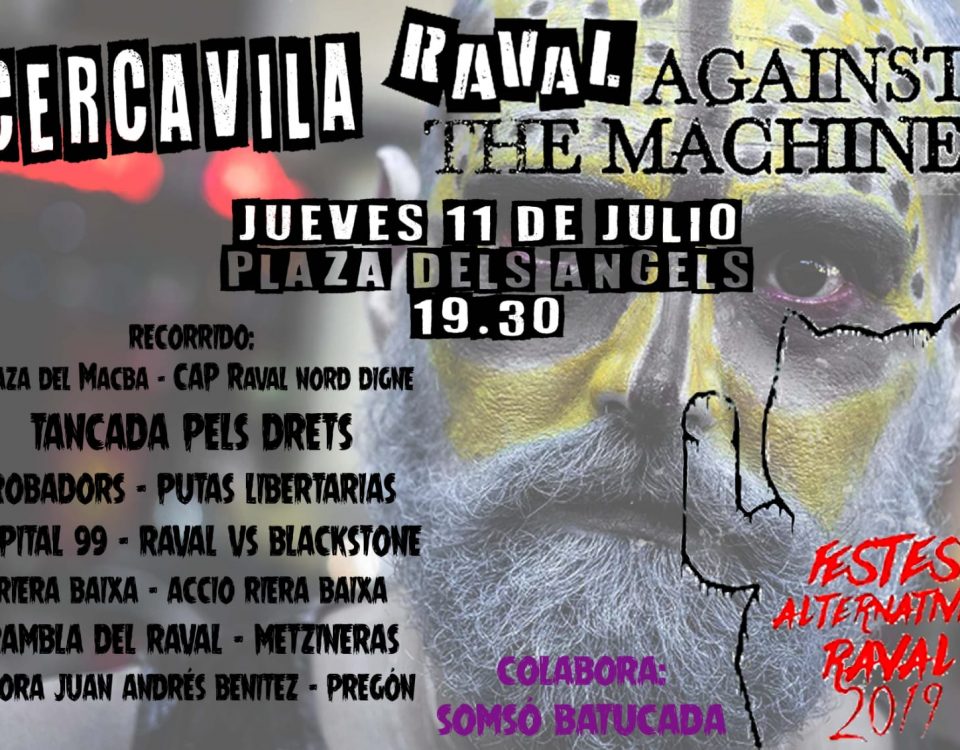 Como parte de la acción y del debate se concluyó en marcar como objetivo del edificio que sea para familias del barrio, mediante alquiler social, o para las personas mayores. Cualquier cosa menos objetivo del negocio para un fondo responsable de graves delitos.
Se colgó una gran pancarta con un poema de Gabriel Aresti: "La Casa de mi padre" engalanando la fachada del edifico. No han pasado 24 horas y Cerberus, que nunca intervino en todos estos años, esta vez si lo hace y envía a sus operarios a quitar la pancarta.
Es una respuesta a la lucha vecinal. Creen con arrogancia que van a poder hacer lo que quieran, que es suyo el edificio, cuando antes se pagó con dinero público y que vecinas y colectivos somos bichos a los que se puede despreciar. Y que como siempre ganarán.
La dignidad frente a la prepotencia, la vida frente al negocio. Que sepa Cerberus que en el Raval, las vecinas, la gente movilizada conseguimos el CAP Raval Nord a la Misericòrdia, paramos desahucios, mejoramos una vida que este sistema destroza para sacar beneficios.  Solo conseguirán darnos más motivos para conseguir lo que sabemos que está en nuestra mano. Dignidad y justicia frente a la ignominia.
Related
1st of 800 post-virus evictions blocked in ​​Barcelona Met.. Owned by US Cerberus Vulture Fund.
AQUÍ      El Huerto Okupado contra el Buitre más Malvado del Mundo
Stop Dyncorp death corporation, part of Cerberus the Vilest Vulture Fund on Earth
Barcelona: 15 day blockade stops Blackstone eviction of 10 Families
Popular power halts 3 Barcelona Evictions. But 60 more Set for Tomorrow

PIZZAGATE- DYNCORP INTERNATIONAL is the SCUM OF THE EARTH.