Freedom for Gabriel!
Freedom for all!
Long live anarchy!

By CNT-AIT Madrid.. Published on May 17, 2021 via KAOS
Gabriel Pombo da Silva is a well-known Galician anarchist militant who has spent more than 30 years in prison. Always at the crossroads of repression, both Spanish and from other European States, for his commitment to the anti-capitalist struggle, he wrote a book during his stay in jail – Diario e ideario de un delincuente -, as well as different booklets – gathered in the book Parte de un appido— and other writings. Until We Are All Free..pdf…. click here .. English language

Our colleague Gabriel Pombo remains kidnapped in prison after serving 33 years, even though his sentence expired for more than 6 years ago, according to the rules of a fallacious and criminal "rule of law".
After 3 and a half years of freedom, he has been illegally detained again and since the end of last June, Gabriel has been imprisoned in the Mansilla de la Mulas prison (León).
They continue to observe him to see if something has changed in his gaze, in his attitude always worthy of him in his rejection of the hypocritical prison "respect".
As anarchists against any system of confinement, we do not care if it is legal or illegal, but in the sense of justice (not of the State's) we maintain and vindicate it.
In coherence we demand:
Total extinction of the accumulated sentence made in 1990, after more than 30 years of effective compliance.
Prohibition of compliance with inhuman and degrading penalties, both by the European Convention on Human Rights and in the constitutional guarantees themselves.
Application, in equality, of the principle of specialty included in the European Union standard, transposed into domestic law.
Access to penitentiary benefits in accordance with the general penitentiary organic law, in equal treatment.
Freedom for our partner!
April-May 2020 (June 2020) Gabriel Pombo Da Silva was transferred to the Mansilla de las Mulas prison .
His partner Elisa sent us information about the anarchist comrade Gabriel Pombo da Silva, who has already been transferred and is in the Mansilla de las Mulas prison in León, Spain.
Although she has not yet been able to speak directly with Gabriel, she knows that he is fine and that the Mansilla prison in León is an "adaptation" prison [these are the "Módulo de respeto" sections where inmates can take on certain responsibilities within the prison getting "perks" in return, such as cell doors open during the day], so they'll want to keep him there for some time.
It is possible to write to him and keep in contact with him at the following address: Gabriel Pombo da Silva C. P. Mansilla de las Mulas Paraje Villahierro 24210 Mansilla de las Mulas (León) – Spain We cannot forget our comrades in prison! The struggle continues! Freedom for the imprisoned anarchists!
This 28 page collection of writings by Gabriel Pombo da Silva is available here to download..
The zine is written in Gabriel's amazingly raw, imaginative style and shows why the German and Spanish authorities tried to suppress him forever – Read his words, be inspired and take action!!
*********************
****************************
Arranca la campaña por la libertad de Gabriel Pombo da Silva
Por CNT – Madrid Publicado el 17 May, 2021
Nuestro compañero Gabriel Pombo permanece secuestrado en prisión después de 33 años cumplidos, teniendo la pena extinta desde hace mas de 6 años según las mismas leyes de un "Estado de Derecho" falaz y criminal.
Después de 3 años y medio de libertad lo han vuelto a detener ilegalmente y desde el final del pasado junio, Gabriel se encuentra preso en la cárcel de Mansilla de la Mulas (León). Siguen observándolo para ver si algo ha cambiado en su mirada, en su actitud siempre digna en su rechazo al hipócrita "respeto" carcelario.
Como anarquistas en contra de cualquier sistema de encierro no nos importa si este sea legal o ilegal pero el sentido de la justicia (no de Estado) lo mantenemos y lo reivindicamos.
En coherencia exigimos:
Extinción total de la condena acumulada al ser hechos del 1990, llevando mas de 30 años de cumplimiento efectivo.
Prohibición de cumplimiento de penas inhumanas y degradantes, tanto por el convenio europeo de derechos humanos como en
las propias garantías constitucionales.
Aplicación, en igualdad, del principio de especialidad recogido en norma de la unión europea, transpuestas al derecho interno.
Acceso a los beneficios penitenciarios conforme a la ley orgánica general penitenciaria, en igualdad de trato.
¡Libertad para nuestro compañero!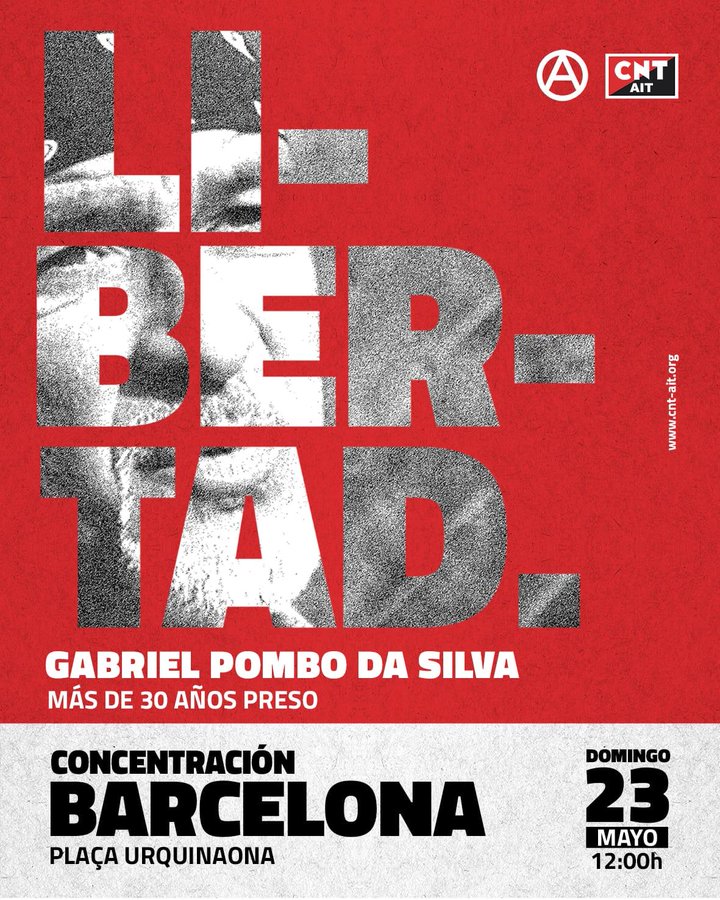 La vita e la morte

Il tempo trascorre veloce;
solo ieri ero un bambino
e sono già un «signore».
Niente di niente è molto importante;
solo quando trascorre ci interroghiamo
sul significato.
La vita non cerca un senso;
semplicemente un trascorrere con ciò che è esistito.
E' umano il chiedersi
come è animale l´abbandonarsi.
E' quanto posso dire
dopo un esaminarsi.
Pedina o Re della Scacchiera
(non ha molta importanza)
tutto sta nel muoversi;
la vita tutta è un gioco
che sempre termina con la morte.
Gabriel Pombo Da Silva
note: links here to 325/noState have been closed down by state repression by Netherlands State at request of UK state.. click here to read Communique Eng/De/Fr https://www.325.nostate.net
Wednesday, March 20th, 2019
Ardire, Scripta Manent, Operation Buyo … Do they mean anything to you? These are only a few of the police judicial "operations" that our "clan" has lived on its own skin for being and remaining anarchists to the extreme consequence.
We are a nomadic clan that goes from country to country in search of accomplices who practice anarchism without asking for approval or consensus, who act without worrying about the "politically correct" discourse (so much in vogue in our times) that haunts our little shops today. We are also not interested in "aesthetics", but "ethics", the practical, the real.
We are looking for an anarchism that dirties our hands, keeps us awake and always on guard (as opposed to any complacency); this anarchism that is not liked by and disturbs the servants of the State, who have not abandoned their efforts to imprison us.
It is not easy to go from one place to another. It's even more difficult along with our daughter, that little beauty we called Iraultza, and a canine companion that we will never fail to take with us, because she is an integral part of our clan.
Apparently, the Spanish State has not stopped wanting to put me in prison for a "residual sentence" that exists only in its putrid mind and its disgusting papers.
That being how things are, we have decided to live in the shadows, bringing our invisible contribution to all the projects that are of interest to us and with which we feel complicit.
..Resist Compañero.. no jailer beast will stifle your cry for Liberty or stop anti authoritarian actions'' Elisa Di Bernardo | Publicacion Refractario
We express all our subversive solidarity for the DESERVING comrades on trial in Italy and the world. We have no declarations to make in the courts of the "gowned" because we don't give a shit about their theatres and farces, their accusations and acquittals.
The best way to propagate Anarchy is to live it intensely, not by representing it. We are not for farce or comedy.
There will be no more "communiques" from our clan: We are free and we are dangerous.
For Anarchy!
The nomad-anarchist clan.
Elisa-Gabriel-Iraultza and the quadruped.

Received 18.3.19, and translated to English by Act for freedom now! original in Italian HERE
NOTE: Elisa's report above has an unhappy ending: It was written before Gabriel was rearrested and deported to Spain for 16 YEARS MORE JAIL!
shared from … https://325.nostate.net/2019/03/20/free-and-dangerous-by-elisa-and-gabriel-enspit/#more-24113 … LINK NOW CLOSED DOWN by State