Date: September 27, 2021Author: Rick Rozoff1 Comment
updates.. Latest figures put police deaths at 13, with 2 claimed to be beheaded. No numbers available for demonstrators deaths, but videos show dozens of bodies. A bloody battle is now likely as troops face newly armed insurrectionists .. see also> The Uprising in Kazakhstan / news and interview.. from Crimethinc
Analyst Alya Kaminskaya does not rule out that the Pentagon seeks to use the Almaty hub [in Kazakhstan] as "an air base for reconnaissance and military cargo planes."
A police car on fire during clashes with protesters in the center of Almaty, Kazakhstan, Wednesday, Jan. 5, 2022. © AP Photo/Vladimir Tretyakov
She points out that Almaty International Airport no longer belongs to Kazakhstan since news emerged in May that 100% of its shares had been purchased by Turkey's TAV Airports Holding.
"There are two alarming things. First, Turkey is an active NATO member and the Americans can benefit from Ankara's geopolitical expansion into Central Asia and the South Caucasus," military expert retired Colonel Shamil Gareev noted.
"Second, the Almaty airfield is the closest to China. For the US and Turkey, it is a perfect facility for reconnaissance activities related to China, including the Xinjiang Autonomous Region," he added.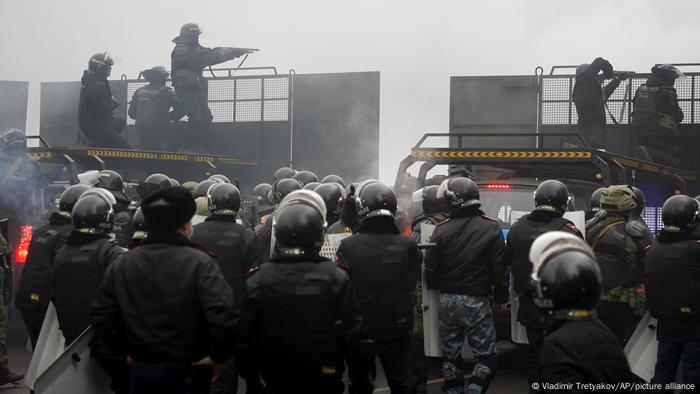 see also.. Pentagon seeks to gain foothold in Kazakhstan against China
****
According to military expert, retired Lieutenant General Yuri Netkachev, "another reason why the US and Turkey are interested in Kazakhstan is because the country produces about 40% of the world's raw uranium.
"If the Americans and Turks manage to put Russia and Kazakhstan at odds with each other, they might try to choke off our Strategic Nuclear Forces. So, Russia should better maintain friendly relations with Kazakhstan in order to be able to protect its strategic interests," the expert noted.
Updates: CSTO invokes Article 4, sends troops to Kazakhstan
Date: January 5, 2022Author: Rick Rozoff2 Comments
The world news is uniformly vague about what constitutes the opposition and who the insurgents are.
Much is made of the word nationalist but no information is available about the role of pro-Western, pan-Turkic and Islamist factions, for example. The government Kazinform news site has been offline all day.
====
TASS: CSTO Council decides to send collective peacekeeping forces to Kazakhstan
Trend News Agency: CSTO sends its peacekeepers to Kazakhstan
Reuters: Armenia says peacekeepers from Russian-led alliance to go to Kazakhstan
Massis Post: Armenia's PM Announced CSTO to Dispatch "Collective Peacekeeping Forces" to Kazakhstan
Sputnik News: Videos. CSTO to Deploy Peacekeeping Forces to Kazakhstan as Fighting Reportedly Starts in Almaty.
112 Ukraine: Eight police and national guard troops dead, 317 injured during unrest in Kazakhstan
Interfax: State of emergency imposed across all of Kazakhstan over mass unrest
TASS: Security at Baikonur spaceport's key facilities tightened, Roscosmos chief says
Xinhua: Tokayev vows "tough" response as situation in Kazakhstan "extremely tense"
Deutsche Welle: Kazakhstan president confirms takeover of Almaty airport
News.am: Kazakh protesters seize Kazakh president's residence and destroy TV channels premises
Belarusian Telegraph Agency: MFA: Belarus is concerned over developments in Kazakhstan
RT: 'Nationalists are on the rise': How protests in Kazakhstan turned violent & why Russia can't stay silent
====
Background on crisis in Kazakhstan
Whatever the nature of the steadily mounting conflict in Kazakhstan, whether it was initially and remains motivated by rising gasoline prices as in France with the emergence of the Yellow Vest movement three years ago, or whether it has been or is developing into something more political – and geopolitical – will become more clear in the ensuing days.
Irrespective of the nature and course of the situation, this background information is worth recalling.
Kazakhstan is one of three nations bordering both Russia and China, far the most strategically vital one at that. (The others are Mongolia and North Korea.)
It is a member of the Commonwealth of Independent States, Collective Security Treaty Organization, Eurasian Economic Union, Shanghai Cooperation Organization and the recently-renamed Organization of Turkic States as well as the Organization for Security and Co-operation in Europe.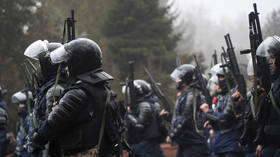 It also was among the first former Soviet states to join a NATO partnership program, the North Atlantic Cooperation Council, in 1992, which was replaced by the Euro-Atlantic Partnership Council/Partnership for Peace in 1997, Kazakhstan remaining a member in the new structure. In 2006 it became the first non-European nation to sign an Individual Partnership Action Plan with NATO.
It borders three of the other four former Soviet Central Asian republics: Kyrgyzstan, Turkmenistan and Uzbekistan. There were uprisings and so-called color revolutions in Kyrgyzstan in 2005 and 2010 and in Uzbekistan in 2005. Kazakhstan accounts for some 60% of Central Asia's gross domestic product, mainly through natural gas and oil production and distribution.
Kazakhstan is one of five Caspian Sea littoral states, along with Azerbaijan, Iran, Russia and Turkmenistan.
It hosts the Baikonur Cosmodrome, leased to Russia, the world's largest space launch facility.
Kazakhstan's border with Russia, at 7,000 kilometers, is the longest continuous land border in the world.
In several significant ways it is a geostrategically vital country. It could be argued that there is none more so.
Background:
Kazakhstan: U.S., NATO Seek Military Outpost Between Russia And China