Police clash with women's day marchers in Turkey (VIDEO)
UPDATED 9th March ..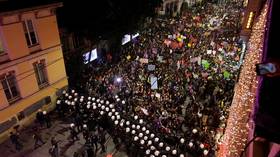 Using rubber bullets and tear gas, Turkish police have dispersed a crowd of several thousand marchers who gathered outside Istanbul's Taksim Square on International Women's Day, local media reported, with videos from the scene.
The "Feminist Night March" in Istanbul was one of the many demonstrations held on Friday across Turkey, demanding equality and an end to the historic oppression of women.
Continue reading "Police clash with women's day marchers in Turkey (VIDEO)"