text in part from http://www.survivalinternational.org
All is NOT LOST.  Aug 16th 2017
Brazilian Indigenous Nations celebrate Supreme Court decision AGAINST a legal precedent from the far right usurpers in power which would have decimated their heritage.
The 'Marco Temporal' refers to an arbitrary cutoff date, Oct 5th  in 1988. Under the proposed new legal policy if the lands were not occupied by the indigenous people on that date their right to the lands would be abolished. Hence the campaign 'Our History Didn't Begin in 1988'.
Indigenous activists and human rights campaigners around the world yesterday celebrated Brazil's Supreme Court ruling unanimously in favor of indigenous land rights.
video here
https://www.facebook.com/plugins/video.php?href=https%3A%2F%2Fwww.facebook.com%2Fradioyande%2Fvideos%2F1171888952920744%2F&show_text=0&width=560
Thousands of Indigenous peoples marched to Congress in the capital of  Brazil in April 2015 to protest the destruction of their land and human rights by the far right usurper government headed by Temer. they were received with tear gas and bombs by shock troops
In two land rights cases, all eight of the judges present voted for indigenous land rights and against the government of Mato Grosso state, in the Amazon, which was demanding compensation for lands mapped out as indigenous territories decades ago.
Although ruling on one further case was postponed, this outcome has been seen as a significant victory for indigenous land rights in the country.
An international campaign was launched earlier this month after President Temer attempted to have a controversial legal opinion on tribal land recognition adopted as policy.
The proposal stated that indigenous peoples who were not occupying their ancestral lands on October 5, 1988, when the country's current constitution came into force, would no longer have the right to live there. This new proposal was referred to as the "marco temporal" or "time frame" by activists and legal experts.
700 índios falam kuikuro, sendo que os critérios internacionais determinam que uma língua corre risco de extinção se falada por menos de mil pessoas
If the judges had accepted this, it would have set indigenous rights in the country back decades, and risked destroying dozens of tribes. The theft of tribal land destroys self-sufficient peoples and their diverse ways of life. It causes disease, destitution and suicide.
In response to the ruling, Luiz Henrique Eloy, a Terena Indian lawyer, said: "This is an important victory for the indigenous peoples of these territories. The Supreme Court recognised their original [land] rights and this has national repercussions, because the Supreme Court indicated that it was against the concept of the time frame."
APIB, Brazil's pan-indigenous organization, led a protest movement, under the slogan "our history didn't start in 1988."
The measure is being opposed by Indians across Brazil. Eliseu Guarani from the Guarani Kaiowá people in the southwest of the country said: "If the time frame is enforced, there will be no more legal recognition of indigenous territories… there is violence, we all face it, attacks by paramilitaries, criminalization, racism."
Survival International led an international outcry against the proposal, calling on supporters around the globe to petition Brazil's leaders and high court to reject the opinion. Over 4,000 emails were sent directly to senior judicial figures and other key targets.
While the ruling does not end the possibility of further attacks on tribal land rights in Brazil, it is a significant victory against the country's notorious agribusiness lobby, who have very close ties to the Temer government.
Survival's Director Stephen Corry said: "If the judges had accepted this proposal it would have set back indigenous rights in the country by decades.
Brazil's indigenous peoples are already battling a comprehensive assault on their lands and identity – a continuation of the invasion and genocide which characterized the European colonization of the Americas.
We're hugely grateful for the energy and enthusiasm of our supporters in helping the Indians fight back against this disastrous proposal."
---
Ministério da Justiça anulou a terra indígena do Pico do Jaraguá. Portaria de 2015 garantia 512 hectares de terra ao guaranis. Ministério alegou 'erro administrativo'. A Terra Indígena tem quase 700 pessoas, sendo que mais de 400 são crianças.
http://g1.globo.com/…/ministerio-da-justica-anula-reserva-i…
Portaria de 2015 garantia 512 hectares de terra ao guaranis. Ministério alegou 'erro administrativo'.
---
https://www.socioambiental.org/pt-br/…/vitoria-indigena-no-stf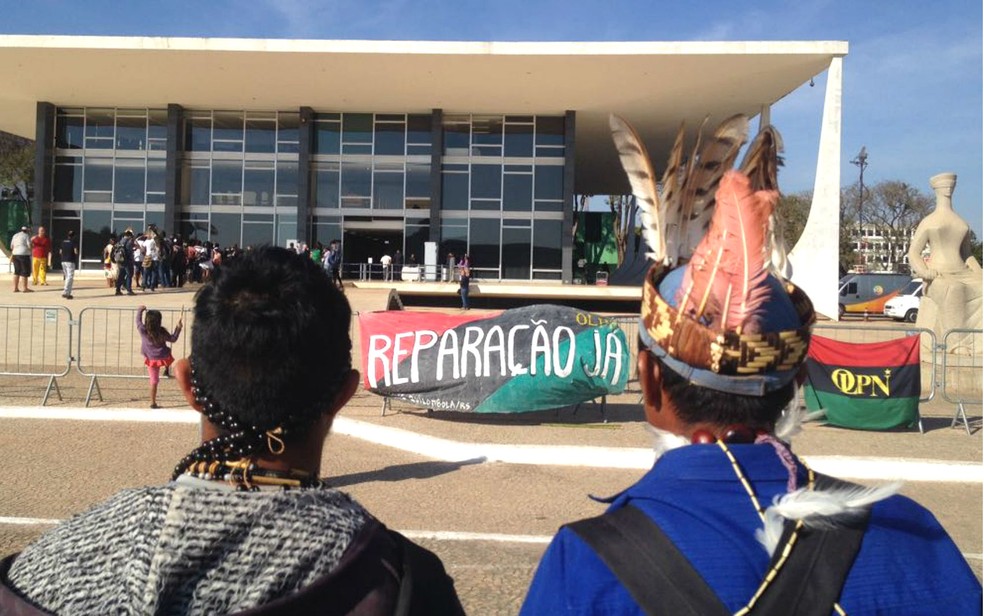 Indígenas reunidos em frente ao Supremo Tribunal Federal, em Brasília, em vigília por demarcação de terras (Foto: Bianca Marinho/G1)
Por oito votos a zero, ministros rejeitam ação do governo de Mato Grosso que negava ocupação tradicional indígena e pedia indenizações
Os povos indígenas obtiveram uma vitória importante no Supremo Tribunal Federal (STF), nesta quarta (16/8). A corte rejeitou as duas ações do governo de Mato Grosso que exigiam indenizações da União por ela ter supostamente demarcado o Parque Indígena do Xingu e áreas dos índios Pareci e Nambikwara sobre áreas devolutas estaduais.
O resultado final foi incontestável: todos os ministros presentes acompanharam o voto do relator, Marco Aurélio Mello, contra as ações. O placar final ficou em oito votos a zero a favor do relatório.
Conforme a decisão final, o STF confirmou definitivamente a ocupação tradicional em toda a extensão do Parque Indígena do Xingu, das Terras Indígenas (TIs) Nambikwara, Salumã e Tirecatinga, do povo Nambikwara, e Pareci e Utiariti, do povo Pareci. Portanto, não cabe nenhuma indenização ao Estado de Mato Grosso pela demarcação das áreas.
Índios comemorando 'vitória' no STF após julgamento
"O STF decidiu que, em nenhum momento, essas terras passaram ao Estado do Mato Grosso e que não é possível ignorar a presença dos índios", comemorou, ao final do julgamento, Luís Enrique Eloy, indígena terena e advogado da Articulação dos Povos Indígenas do Brasil (Apib).
Marco temporal
O temor do movimento indígena e das organizações indigenistas era que alguns ministros tentassem usar os dois casos para discutir restrições aos direitos territoriais indígenas diante das pressões de ruralistas e do governo Temer.
Um dos receios era de que o chamado "marco temporal" fosse incluído no debate. Segundo essa tese, defendida por alguns ministros e juízes de instâncias inferiores, só pode ser considerada TI a área ocupada pelos índios em 5 de outubro de 1988, data da promulgação da Constituição. O marco não leva em conta expulsões sofridas pelas comunidades indígenas e dificulta as demarcações.
Não houve nenhuma decisão sobre o tema. O ministro Luís Roberto Barroso deixou claro que os dois casos não colocavam em questão o assunto. "Não se trata de uma discussão que envolva o marco temporal", disse Barroso. Ele reafirmou que as determinações da decisão, de 2009, sobre a TI Raposa-Serra do Sol (RR) – na qual foi definido o "marco temporal" – devem ser aplicadas somente para esse caso. "Entendo que somente será descaracterizada a ocupação tradicional indígena se os índios deixarem voluntariamente a área ou os laços culturais forem desfeitos", mencionou.
Em julho, o governo Temer adotou um parecer da Advocacia-Geral da União (AGU) que determinou a aplicação das condicionantes do caso Raposa-Serra do Sol a todos os processos de demarcação de TIs, o que deve paralisá-los de vez e pode implicar a revisão de vários deles.
---
"Marco temporal", um argumento racista para legitimar massacres
Luís Enrique Eloy avalia que a decisão de hoje é um recado do STF ao Executivo e ao Legislativo em defesa do direito originário dos índios sobre suas terras e que ele não deve ser flexibilizado em nome de interesses econômicos.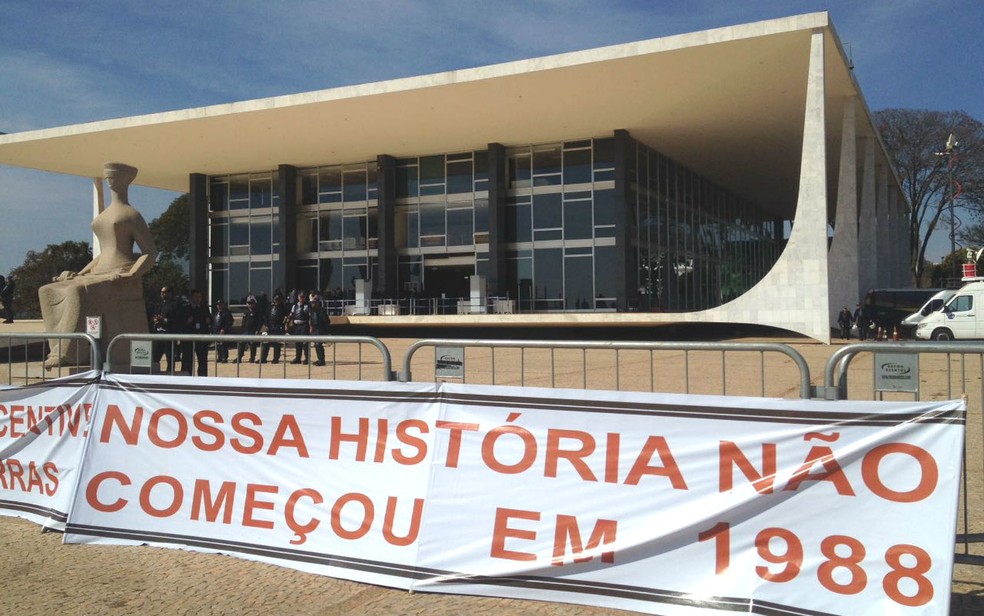 Our History did NOT begin in 1988  Indígenas estendem faixas de protesto em frente ao Supremo Tribunal Federal, em Brasília, por demarcação de terras (Foto: Bianca Marinho/G1)
Eloy também avalia que a decisão foi desfavorável à consolidação da tese do "marco temporal". Ele lembrou que alguns ministros mencionaram normas que, desde a época da Colônia e ao longo dos séculos seguintes, confirmaram o direito dos índios sobre suas terras. "Não é possível afirmar que essa discussão foi encerrada, mas os ministros deram uma sinalização clara de que os marcos temporais para a comprovação da posse da terra indígena não começam em 1988", aponta.
Na noite de ontem, foi retirada da pauta do STF a ação da Fundação Nacional Indígena (Funai) que pede a anulação dos títulos de propriedade de imóveis rurais concedidos pelo Estado do Rio Grande do Sul sobre essa TI Ventarra, dos Kaigang, no Rio Grande do Sul.
Nesse caso, o risco da imposição do "marco temporal" era maior ainda, conforme as organizações indígenas e indigenistas. Segundo informações, as partes envolvidas pediram para reanalisar o processo.
Decreto quilombola retirado de pauta
Também foi retirada de pauta a retomada do julgamento sobre a Ação Direta de Inconstitucionalidade (ADI) 3.239, proposta, em 2004, pelo então PFL, hoje DEM, contra o Decreto 4.887/2003, que regulamenta a demarcação dos quilombos atualmente. O ministro que deveria votar logo no reinício do julgamento, Dias Toffoli, teve um problema de saúde e não pode comparecer ao tribunal.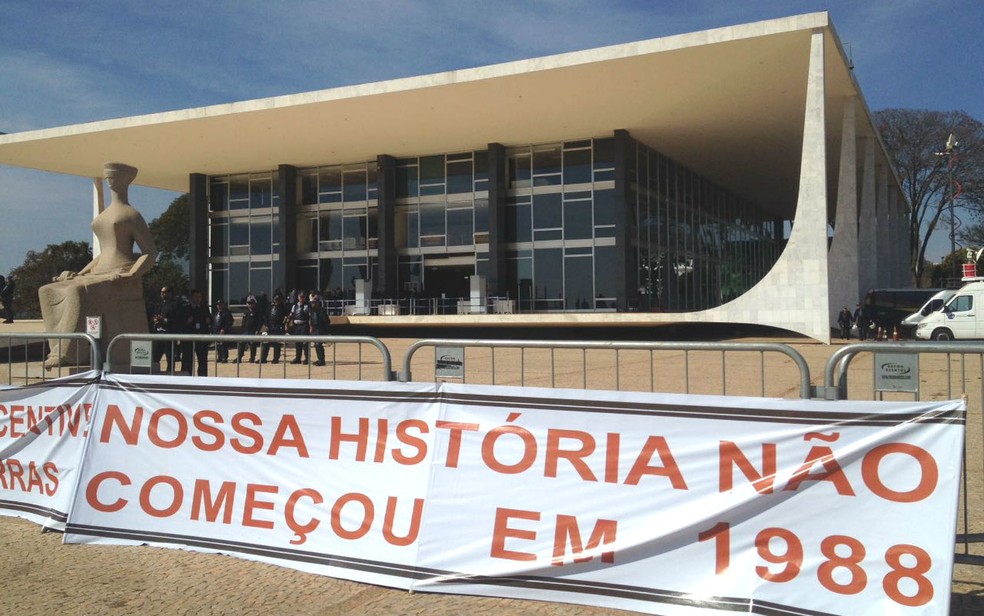 Indígenas estendem faixas de protesto em frente ao Supremo Tribunal Federal, em Brasília, por demarcação de terras (Foto: Bianca Marinho/G1)
Quilombolas e seus apoiadores defendem a norma e também temem que o STF declare sua constitucionalidade, mas restringindo o direito das comunidades à terra, ou sua inconstitucionalidade. Nesses dois casos, procedimentos de demarcação em andamento e futuros podem ser prejudicados (saiba mais).
Palmas (TO) – Índio da etnia Bororo Boé (Marcelo Camargo/Agência Brasil)
"Convocamos toda a sociedade brasileira a continuar acompanhar o julgamento e defendendo os territórios quilombolas, que são um patrimônio do Brasil", disse Givânia Silva, da direção da Coordenação Nacional de Articulação das Comunidades Negras Rurais Quilombolas (Conaq).
A Conaq e organizações parceiras, como o ISA, lançaram a campanha O Brasil é Quilombola! Nenhum Quilombo a menos! em defesa do decreto. A petição divulgada pela mobilização já tem mais de 70 mil assinaturas.