update: Catalans are Winning?! Hundreds of polling stations occupied overnight, none have yet been forcibly evicted
The 'Open Schools' (Escoles Obertes) platform of 40 organisations has called for mass occupation of the 2315 polling stations from 17hrs today. Over 60,000 people have already signed up to take part.
The Madrid state has ordered police forces to take over and cordon off the stations  from Saturday.. But the Catalan police who should act first are obeying the orders of their director Trapero, who has avoided jail by agreeing to the Madrid orders  but forbidding use of physical force by his Catalan police..
---
Not entirely peaceful. 4 young people were 'lightly injured' by shotgun pellets. When 'ultras' opened fire on an occupied school polling station in the town of Manlleu.
---
When the Madrid order was formalised legally a clause was added that 'activities in the colleges could continue until the Referendum , until 6.00 am Sunday'. This was the clue, allowing the Catalan police to not evict the polling stations now occupied en masse with marathon 48 hour social activities of every description.
Schools are already being occupied and organizing a host of autumn activities to fill the centers where the polling stations are located by day and night.
20.00 Five schools have now been blockaded by the police. In one of them Collaso i Gil in the Barcelona Raval barrio 20 students evaded the police cordon and are camping in the yard. twitter here..@btvnoticies pic.twitter.com/90vHapT0HU
The Central Government has just ordered Google to close down an app of Catalan organisations which gives real time updates of the status and location of the polling stations. THE ORDER INCLUDES ANY FUTURE VARIATIONS OF THE APP.
The app was still working at 18.30 Friday 29 Sept  (17.30 in UK).
19.00.GOOGLE HAS OBEYED AND DISABLED THE APP ON GOOGLE PLAY  though it seems those who already have the app can still use it
But the Referendum Web  (web del Referendum) is back on air, in 4 languages with live info on location of your polling station. At present find it CLICK HERE
Various websites have been closed down, including Omnium and Assamblea Nacional de Catalunya, the civil pro independence platforms which have been key in organising the one million strong demonstrations.
But exact copies of  some sites have immediately appeared. The new address of ANC is  www.assemblea.eu 
Despite threats the Catalan TV3 is still on air and reporting the Referendum
A website dedicated to postering for the referendum, #Empaperem,  has been closed down and reappeared, along with that of CUP, now at  http://cup.cat/ , the 'anarcho – republican' party  that has promoted the referendum.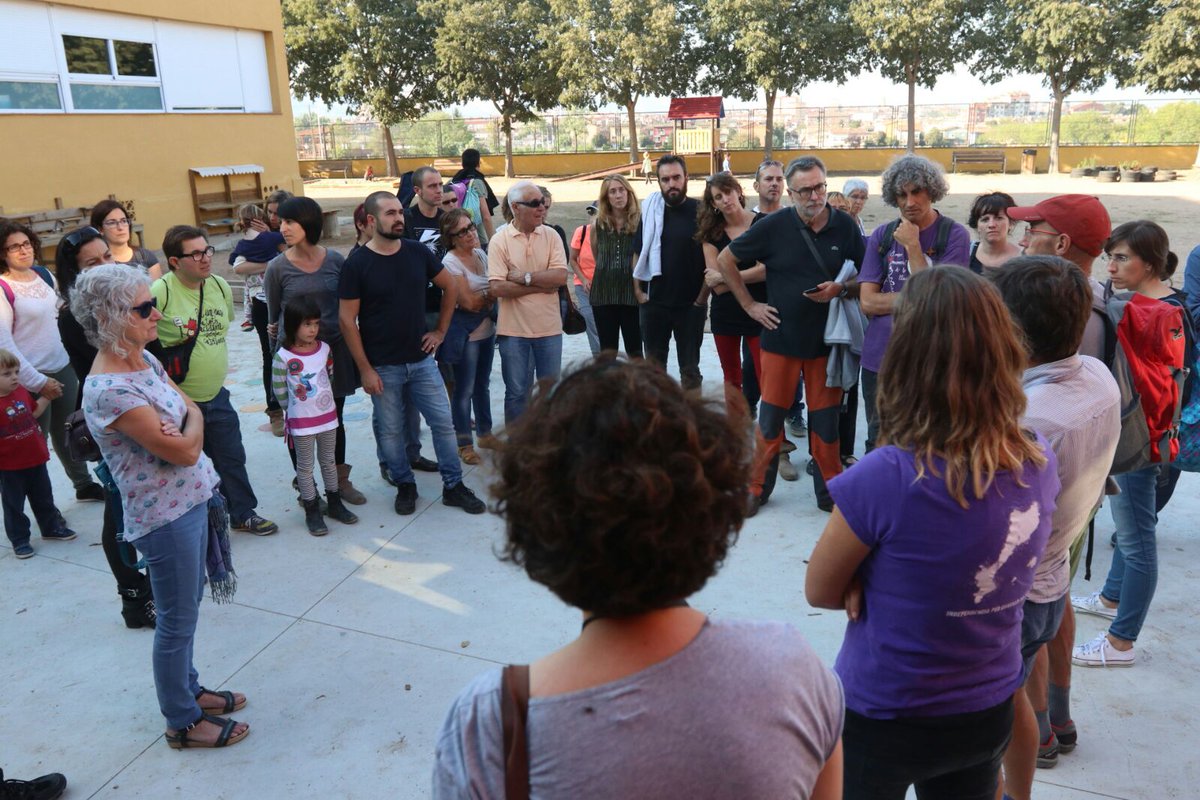 assembly at L'Escola Salarich occupied in Vic town

Yesterday's School and University strikes and occupations were a huge success, with an estimated 100,000 on one march in Barcelona city.
Thousands of tractors organized by the Farmers Trade Union are entering towns and cities to blockade the polling stations against Spanish police. More Defense Committees have been set up to help coordination.
The government are threatening to jail head teachers ad school directors along with 720 Mayors of municipalities which have supported holding Sunday's referendum.

Can the Police really Stop the Referendum?
There are 2315 polling stations and a maximum of 20,000 riot police mobilised from various forces, which by our reckoning is about 8 cops each.
Then many of the local Mossos Catalan cops aren't at all keen and have just been ordered by their director not to use violence to clear the mass occupations.
The  ex fascist police will have orders to cut off electricity, water and internet connections, which may have some impact,
Many millions of voting forms have been seized, but you can now download and print your own.
SEE REPORT HERE. which calculates they need 60,000 riot police at least  La policia pot retirar les urnes de 2.315 col·legis electorals?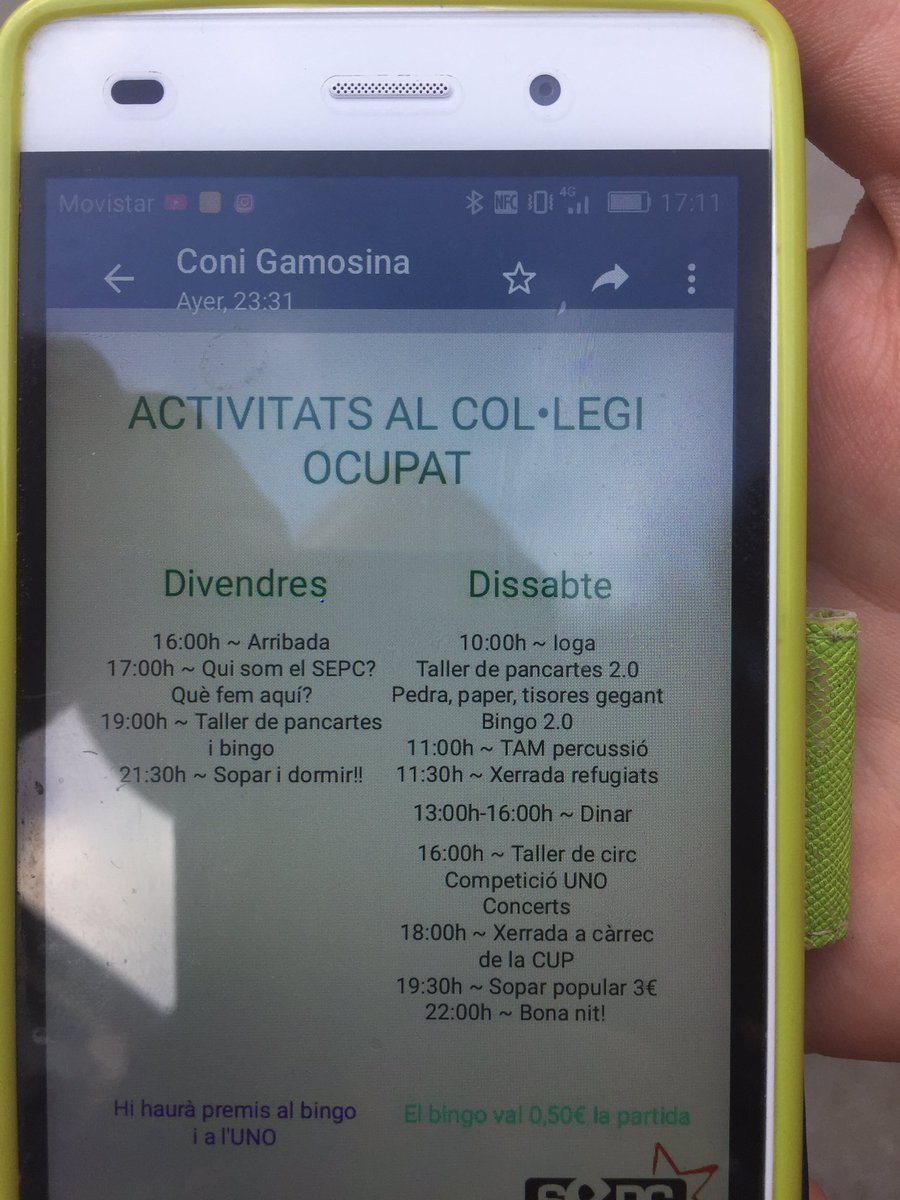 latest news>20.47 on 29/09  dozens of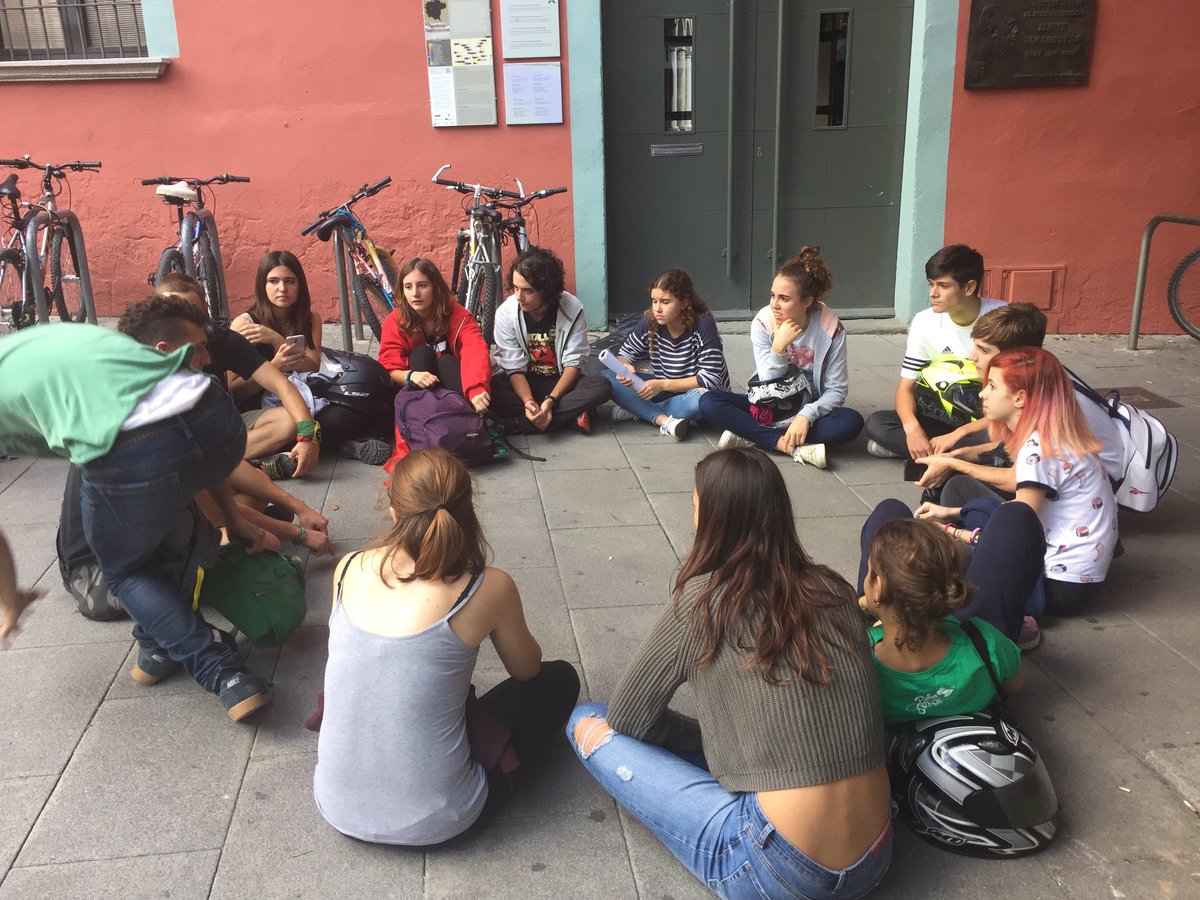 schools where Polling stations are due on Sunday are now being occupied. In some cases the Directors have called in the police to evict but no evictions have yet been carried out.
The Mossos police have confirmed there will be no eviction attempt on the School La Font de Manresa despite pleas by the directors. In at least one other case occupiers have been identified by the police and given permission to stay until Sunday morning at 6.00am before the Referendum starts.
Saturday Morning
Many of the occupied schools have now chosen to disassemble their gates to prevent the police from legally sealing them closed as ordered. Schools have continued open once the classes  finished on Friday in a festive atmosphere. Both the Parents Associations and the 60,000 volunteers enrolled in the Open Schools platform have filled up activities for the weekend.
In Alcarràs, about 300 people have made a popular dinner at the cultural center of Lo Casino to avoid it being closed down because it is the only voting point in the municipality.
In Tarragona, the Colla Jove (Young Gang) has occupied the premises and have used it to practice making human castles. In Valls, both the Colla Vella and La Jove have done the same in township High Schools.
In Reus, a large group of young people has camped at the Salvador Vilaseca High School. And in Lleida they have entertained with all kinds of board games at the facilities of Ronda High School.
In Barcelona, ​​no serious incidents: tensions have been overcome and occupations have been made. A group of people now occupy the L'Estel school, in the Sant Andreu district.
In the Doctor Ferran i Clua school they celebrate the Fall Fiesta until Sunday. 25 people are already sleeping over today # 1OCatradio pic.twitter.com/ijbTFTVXQ5
In Girona, of the 21 polling stations in the city for 1st-Oct, 19 are already occupied. The Mossos Catalan Police have gone to all these centers and have asked the people who have spent the night to detail the different activities that are scheduled until 1-O.
post to be updated

Related Posts
live updates in Catalan from La Directa herehttps://directa.cat/mobilitzacio-pel-referendum-de-l1-minut-minut
La mobilització pel referèndum de l'1-O, minut a minut
Seguim en directe els diversos escenaris de les actuacions de la Policia Nacional espanyola i la Guàrdia Civil contra diverses dependències públiques i la mobilització ciutadana que estan generant
La Directa va fent seguiment al minut de les totes les reaccions al cop de l'Estat espanyol contra el referèndum d'autodeterminació:
Des de primera hora de dimarts 20 de setembre, efectius de la Guàrdia Civil van inciar una operació contra diverses conselleries i dependències de la Generalitat, amb l'objectiu recollir proves sobre la preparació dels preparatius del referèdum convocat per l'1 d'octubre i suspès pel Tribunal Constitucional.
L'operatiu es va saldar amb tretze detencions, entre les quals la del secretari general de la Vicepresidència i d'Economia i Hisenda i president del Consell Nacional d'Esquerra Republicana de Catalunya (ERC), Josep Maria Jové.  En aquesta conselleria es va concentrar de seguida de funa gran munió de gent en protesta per l'actuació, que va bloquejar la rambla Catalunya i un tram de la Gran Via, a Barcelona, fins ben entrada la matinada.
En els moments més àlgids s'hi van arribar a aplegar 50.000 persones, en un clima festiu i pacífic, amb actuacions musicals des d'un escenari improvisat i parlaments dels portaveus de les entitats. També es va concentrar molta gent a la part baixa de la Via Laietana, on hi ha la seu de la conselleria d'Afers Exteriors, Relacions Institucionals i Transparència, on agents antidisturbis dels mossos s'han endut a braços persones que bloquejaven l'entrada assegudes, fent resistència pacífica.
Durant unes hores, igualment, agents del Cos Nacional de Policia –antidisturbis i altres vestits de paisà encaputxats– també han rodejat la seu de la Candidatura d'Unitat Popular (CUP) al carrer Casp 180 de Barcelona, però no hi van arribar a entrar, el que va provocar una altra concentració humana de repulsa.
En moltes altres localitats catalanes i arreu de l'Estat espanyol, i d'algunes ciutats europees es van produir també mobilitzacions contra l'actuació dels cossos policials espanyols i en defensa del dret de decidir de Catalunya.
Pares, mares i alumnat entrant a l'escola Univers, al districte barceloní de Gràcia, divendres dia 29 a la tarda
Brais G. Rouco
29 sept
18.28 h. Les AMPA, assemblees d'estudiants i entitats de tot el país comencen a programar activitats als centres escolars. A partir de les 17 h la campanya Escoles Obertes s'ha propagat com una taca d'oli arreu del territori. A la majoria de centres les activitats es fan amb plena normalitat
Divendres 29 de setembre, 11.00 h. Avui han arrencat les marxes pageses amb tractors, organitzades per Unió de Pagesos i l'organització professional agrària JARC-COAG, a les comarques de Barcelona, Girona, Tarragona i Terres de l'Ebre en defensa de la democràcia i la llibertat. La pagesia es concentrarà davant de les Delegacions del Govern espanyol a Barcelona, Girona i Tarragona, i Delegació d'Hisenda a Tortosa i Manresa. Més d'un centenar de tractors ja han entrat a Barcelona per la Gran Via a crits de "Votarem", privinents del Garraf, l'Anoia, el Penedès i el Baix Llobregat.
Divendres 29 de setembre, 11.00 h. Avui han arrencat les marxes pageses amb tractors a les comarques de Barcelona, Girona, Tarragona i Terres de l'Ebre en defensa de la democràcia i la llibertat. La pagesia es concentrarà davant de les Sudelegacions del Govern espanyol a Barcelona, Girona i Tarragona, i Delegació d'Hisenda a Tortosa i Manresa.
18.25 h. Una operació de la Guàrdia Civil ha incautat aquesta tarda un nombre incocret de paperetes (2,5 milions segons l'agència Europa Press) i de sobres, que tindrien com a destinació els col·legis electorals el pròxim 1 d'octubre, d'un magatzem de l'empresa Palibex, situada en un polígon industrial a Igualada. Els agents haurien requisat el material de dues furgonetes, que s'han endut, mentre desenes de persones es concentraven davant de la nau per protestar per l'actuació. Tant l'alcalde de la localitat, Marc Castells, com el propietari del magatzem han desmentit que hi hagi hagut incautació d'urnes (com han publicat alguns mitjans de Madrid); segons aquest darrer, té algunes urnes al magatzem que se solen usar per eleccions de l'FC Barcelona, però han estat requisades.
18.00 h. S'inicia al claustre de l'edifici històric de la Universitat de Barcelona un acte unitari de tota la comunitat educativa (hi donen suport moviments socials, sindicats de mestres i d'estudiants, la Federació de Pares i Mares d'Alumnes de Catalunya, entre altres) en "defensa de les llibertats i contra la repressió". En l'acte s'ha fet una crida a "convocar assemblees, claustres extraordinaris i consells escolars" en tots els centres educatius del país de demà fins el dia 1 d'octubre. Moltes de les assistents llueixen una samarreta groga.
17:26 h. L'organització juvenil Arran ha precintat la Fiscalia Superior de Catalunya aquesta tarda en un acte sorpresa. L'acció s'ha fet pública a través d'un tuit amb el missatge "Detectada una plaga de feixisme a la Fiscalia. Volen precintar la veu del poble; el poble els precinta a ells!". Fonts de l'organització han explicat a la Directa que a través d'una acció simbòlica han volgut assenyalar a la fiscalia com un element més que ha tingut un paper crucial en tota la criminalització i judicialització d'aquests dies. Amb aquesta acció simbòlica, Arran pretenia "passar una mica a l'acció després de tots els atacs rebuts per part de l'estat espanyol però també per part de les estructures de l'estat tant judicials com mediàtiques". L'escollida en ser assenyalada ha estat la fiscalia perquè és aquesta qui vol precintar col·legis i "en definitiva, precintar la voluntat majoritària del poble". Arran ha volgut precintar-los a ells perquè "són ells qui posen en perill que el poble pugui prendre les seves pròpies decisions".
14.30 h. Acaba la reunió de la Junta de Seguretat convocada pel president de la Generalitat. Es tracta de l'òrgan que coordina els diversos cossos policials i de protecció civil a Catalunya, tal com preveu l'Estatut vigent. Cal indicar que, a diferència d'altres ocasions, ni Cos Nacional de Policia ni Guàrdia Civil hi han enviat cap representant i tots dos cossos han delegat en Diego Pérez de los Cobos, el funcionari a qui el Ministeri de l'Interior ha pretès designar com a coordinador de tot l'operatiu policíac vinculat a l'1-O.
Al termini de la reunió, el conseller de l'Interior, Joaquim Forn, ha explicat als mitjans que durant la reunió el govern ha recalcat la idea que els Mossos d'Esquadra són el cos policial encarregat de la seguretat i l'ordre públic a Catalunya i que, per tant, a qui competeix decidir com s'actua durant la celebració del referèndum i que, malgrat els 10.000 agents del CNP i la Guàrdia Civil desplaçats a Catalunya els últims dies, Forn ha afirmat que els mossos disposen de prou efectius per a diumenge. També ha dit que el Govern no té cap intenció de desconvocar el referèndum, tal com ha demanat aquest matí el director general de Seguretat del Govern espanyol, José Antonio Nieto, al president Carles Puigdemont.
12.50 h. Desenes de milers d'estudiants es manifesten en defensa del referèndum des de la plaça Universitat de Barcelona. La pancarta de capçalera d'Universitats per la República crida: "Buidem les aules, defensem el referèndum". Les manifestants criden de nou "Els carrers seran sempre nostres" per la Gran Via, direcció a la plaça Espanya.Els bombers s'han sumat a la manifestació estudiantil, amb crits per part de les estudiants de "més bombers, menys policia", i organitzen un cordó de seguretat al pas per la comissaria de Mossos de plaça Espanya. El veïnat fa repicar les cassoles des dels balcons de la Gran Via. Segons el càlcul de la Directa, les manifestants ocupen una superfície de 30.000 metres quadrats i hi ha una densitat de tres persones per metre quadrat, que sumarien un total de 90.000 persones.
12.15 h. Representants dels sindicats impulsors de la vaga general convocada a partir del 3 d'octubre han mantingut una reunió amb el Departament de Treball aquest matí a Barcelona, per tal de negociar els serveis mínims. A la sortida han fet declaracions a la premsa per explicar que el motiu de la convocatòria és lluitar "contra la repressió, per la llibertat i contra la precarietat laboral". El desenvolupament de la vaga dependrà de del que passi l'1-0 i de si s'aconsegueix que la votació tingui èxit. Portaveus de CGT, IAC, CSC i COS, entre altres sindicats i organitzacions que donen suport a la cita, han demanat a CCOO i UGT que "no facin pressions contra la vaga". El vespre de diumenge tornaran a reunir-se per analitzar l'escenari i fer un plantejament definitiu sobre aquesta i d'altres convocatòries.
11.13 h. Diversos alcaldes i alcaldesses estan citats a declarar a la seu de la Fiscalia General de Catalunya, situada al carrer Pau Claris de Barcelona. Des de primera hora del matí s'hi concentren veïns i veïnes dels seus pobles (a la imatge veïnat del municipi d'Agramunt). Les acusen de malversació, desobediència i prevaricació per la seva col·laboració en el referèndum.
09.55 h. Centenars de bombers de diversos cossos d'arreu de Catalunya despleguen una pancarta de grans dimensions amb una urna i el lema "Love Democracy" a l'edifici del Palau de Mar de Barcelona. L'acció ha estat convocada Bombers per la Indendència, sectorial de l'Assemblea Nacional Catalana. Primer s'han concentrat davant l'edifici, després han pujat fins a la teulada i finalment han desplegat la pancarta mentre cridaven "votarem, votarem". Van vestits amb els uniformes oficials del cos de bombers i fan una crida a protegir les urnes el proper 1 d'octubre. A la majoria de casernes del cos de la ciutat de Barcelona i del conjunt del país els últims dies s'hi han desplegat pancartes en defensa del dret a vot i la democràcia, malgrat les advertències de les gerències i les policies municipals d'alguns consistoris com el de Barcelona. COS-BxC, CCOO Bombers Barcelona, CCOO Bombers Generalitat de Catalunya, CGT Bombers Generalitat de Catalunya i USBEC signen el manifest unitari que s'ha llegit en català, castellà, anglès, gallec, francès i èuscar, entre d'altres, des del terrat de l'edifici. Han anunciat que se sumen a la manifestació estudiantil de les 12h per fer tasques de servei d'ordre, a petició dels sindicats estudiantils.
Dijous 28 de setembre 08.10 h. Des de dimecres a la tarda, per ordre de fiscalia, la Guàrdia Urbana de Barcelona custòdia material electoral en un magatzem municipal del carrer Perú, al districte de Sant Martí. Aquest matí i en aquestes dependències hi ha uns operaris municipals enduent-se cadires, fet que ha desencadenat el fals rumor de què s'estaven requisant urnes. Fonts oficials del districte de Sant Martí de l'Ajuntament ho han desmentit.
00.15 h. La Guàrdia Civil reté 14 militants d'ERC del Baix Llobregat, a Molins de Rei. Les persones han estat identificades i se'ls ha requisat el material de campanya.
22.45 h. La Guàrdia Civil tanca el web de campanya prenpartit.cat de la CUP i Crida per la Democràcia d'Òmnium, que ja ha obert una nova adreça http://www.cridaperlademocracia.cat/
18.15 h. El gerent de la Coordinadora de Colles Castelleres de Catalunya ha confirmat que el Ministeri d'Hisenda ja ha desbloquejat els comptes bancaris de l'entitat que havien estat intervinguts aquest matí.
17:45 h. L'Ajuntament de Sueca (la Ribera Baixa) ha denegat el permís a un acte en favor de l'1-O de l'organització juvenil Arran que s'havia de celebrar a la Casa de la Cultura del municipi a les set de la tarda i on havien de participar membres de la CUP. L'acte es farà finalment a les afores del Casal Jove, davant la negativa del consistori municipal encapçalat per Compromís ha cedir la Casa de la Cultura.
16.20 h. La Universitat d'Alacant ha decidit supendre aquesta vesprada un acte que s'havia convocat al campus en defensa del dret de decidir, argumentant que s'havien rebut diverses amenaces feixistes i que no podia garantir-ne el desenvolupament amb plena seguretat. La suspensió ha afectat també la presentació del projecte de diari la Jornada, que també estava previst al centre universitari.
16.00 h. El conseller d'Economia de la Generalitat, Antoni Comín, ha anunciat el cessament de les persones que ocupaven les presidències i altres alts càrrecs dels diversos consorcis sanitaris catalans i s'hi ha situat ell mateix al capdavant i altres càrrecs del sistema sanitari públic passen a integrar els consellers rectors dels mateixos. El moviment de peces és semblant al que va fer fa uns dies la consellera d'Ensenyament, Clara Ponsatí, amb el Consell de Direcció del Consorci d'Educació de Barcelona, i té com a finalitat protegir les persones cessades de possibles demandes de responsabilitats judicials en relació amb el referèndum de diumenge. Cal recordar que alguns col·legis hauran d'estar ubicats en centres d'assistència primària, llars d'avis o altres espais depenents del sistema de salut pública.
12.30 h. Fracàs de la concentració de l'ultradreta a les portes dels estudis de Catalunya Ràdio de Barcelona.
Només una vintena d'espanyolistes han respós a la crida de Somatemps contra la "manipulació colpista" de la qual acusen a la Coorporació Catalana de Mitjans Audiovisuals i en especial a la presentadora dels Matins de Catalunya Ràdio, Mònica Terribas. Els manifestants han fet servir referències al genocidi de Ruanda titllant la periodista d'Hutu i equiparant l'emisora a la Milles Colines que va instigar la neteja ètnica contra els tutsis.
12.29 h. El moviment estudiantil de la Universitat Autònoma de Barcelona (UAB) talla l'autopista AP-7 en els dos sentits de la marxa, com a tret de sortida de la vaga que es va anunciar dilluns 25 de setembre des de l'edifici històric de Barcelona ocupat, i que, formalment, comença demà. També a Berga, més d'un centenar d'estudiants d'ESO han tallat la C-16 i estudiants dels instituts de Vic s'han manifestat al centre de la ciutat.
Dimecres 27 de setembre 11.55 h. La comunitat educativa es mobilitza per obrir les escoles l'1-O i presenta la iniciativa Escoles Obertes, a través de la qual fan una a obrir els centres i "treballar per la diversitat, la inclusió, la llibertat, la tolerància, el respecte i la democràcia". En roda de premsa han insistit en el compromís que assumeixen per fer possible que el referèndum amb normalitat: "si fem pinya i caminem amb pas ferm, cap de les traves i amenaces de l'estat ens podrà aturar". A través d'un web, conviden a especificar quina escola pots anar a defensar.
for links and updates see English language section Above