El mega propietario de Wall Street, Blackstone, gira el tornillo del gobierno español y el mercado inmobiliario
In English Below

.   traducción del articulo de Don Quijones,

El mega terrateniente de Wall Street, Blackstone, una vez más está haciendo sentir su presencia en España, que representa aproximadamente una quinta parte de su imperio de propiedad global.
Durante la sesión de preguntas y respuestas de una reciente reunión de desayuno organizada por la Cámara de Comercio de Estados Unidos, la asesora principal de la filial española del grupo, Claudio Boada, se enfrentó a la Ministra de Economía y Negocios de España, Nadia Calviño, sobre los planes del gobierno para reformar las leyes de alquiler en España,
un intento de frenar el ritmo de aumento de alquileres.
De particular interés para el coloso de capital privado es el objetivo declarado del gobierno de extender la duración mínima de los contratos de alquiler de tres a cinco años para particulares y de tres a siete años para empresas, con la esperanza de atenuar la tasa a la que aumentan los alquileres.
en el país.
Pero también obstaculizará la capacidad de los propietarios de capital privado como Blackstone para desalojar a los inquilinos existentes de las propiedades recién adquiridas lo más rápido posible para aumentar los precios de alquiler de los nuevos.
"Creemos que las medidas que se están discutiendo podrían terminar incrementando el precio de los alquileres y reduciendo la inversión", dijo Boada.
Traducción: si el gobierno continúa con su plan equivocado para hacer la vida un poco más fácil para las legiones de inquilinos en dificultades, los propietarios de capital privado como Blackstone podrían verse tentados a reducir su inversión en sacar dinero de los españoles.
---
Crisis de la vivienda en 2018: la gente de Dublín dice "¡Recupera la ciudad" y ocupa dos casas como parte activa de esa idea! Sucediendo ahora mismo!@D_C_H_A  Southwark Notes
---
Dado que las firmas de capital privado son una de las mayores fuentes de demanda de propriedades en España, así como los principales compradores de activos inmobiliarios deteriorados de los bancos españoles y el banco malo de España, Sareb, es una amenaza bastante grande, y una del gobierno sin duda está tomando muy en serio.
Blackstone tiene más de 100,000 activos inmobiliarios en España que son controlados a través de docenas de compañías. Esos activos incluyen una enorme cartera de activos inmobiliarios deteriorados, incluidas las hipotecas en mora y los activos de propiedad inmobiliaria (REO).
La compañía no es solo el mayor administrador de propriedades privados en España; También es el mayor propietario de hoteles, luego de adquirir el fideicomiso de inversión en bienes inmobilarios(REIT) más grande del país, Hispania, por € 1,9 mil millones, a principios de este año.
Tras una serie de operaciones más pequeñas, la adquisición de Hispania consolidó la posición de Blackstone como el líder en uno de los mercados turísticos más grandes del mundo, con un stock total de 17,000 habitaciones, muy por delante de Meliá (casi 11,000), H10 (más de 10,000) y Hoteles Globales (algo más de 9.000).
---
Madrid del "cambio": Una mujer se suicida arrojándose por el balcón cuando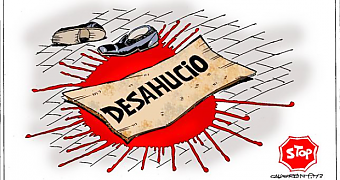 iba a ser desahuciada     Insurgente :: ¿Por qué se les llena la boca con la palabra cambio a los farsantes de Ahora Madrid y Podemos cuando en esencia no ha cambiado nada?
---
En el último año y medio, Blackstone ha desempeñado un papel destacado en algunas de las operaciones inmobiliarias más grandes de España. En 2017, pagó 5,1 mil millones de euros por los préstamos en mora que Banco Santander heredó de su adquisición de Banco Popular.
En los últimos meses, se han desembolsado otros 1.700 millones de euros para comprar las participaciones de los bancos españoles en TESTA, otro REIT gigante con una cartera de más de 10.000 propiedades de alquiler.
Blackstone también es propietaria de 1,800 unidades de vivienda social, que adquirió del Ayuntamiento de Madrid en un trato poco fiable negociado por el hijo del ex primer ministro español José María Aznar y la ex alcaldesa de Madrid Ana Botella. 
Blackstone pagó 202 millones de euros por los apartamentos en 2013; ahora se estima que tienen un valor de € 660 millones, ¡un 227% de rendimiento en solo cinco años!
Desde la compra de las propiedades, Blackstone ha incrementado las rentas de los apartamentos en un 49%. Los que no pueden pagar han sido desalojados.
La transformación de los principales grupos de capital privado como Blackstone en propietarios globales con más de tres billones de dólares en activos inmobiliarios, casi el doble de lo que tenían hace cinco años, se ha producido por varias razones.
---
  Crisis de la vivienda de 1946: miles de personas marchan en Londres y ocupan bloques de lujo,  forzando el Gobierno a construir casas sociales baratos. Crisis de la vivienda 2018 – ¡La misma lucha sigue siendo bueno!  196 Retweets      239 Likes
---
Primero, después de la crisis financiera, fueron uno de los pocos grandes participantes en el mercado con suficientes fondos disponibles para invertir en casas embargadas y planes de propiedad fallidos, de los cuales había un exceso masivo en todo el mundo. 
Los bancos centrales, los reguladores financieros y los gobiernos prestaron una gran ayuda al reducir el costo de los préstamos, especialmente para los fondos bien conectados de Wall Street, a profundidades hasta entonces inimaginables, así como al aprobar regulaciones que facilitaron la emisión de fondos respaldados por  títulos basado en alquileres

Dado que las alquileres medias en España aumentaron en un 25% desde 2014, y en más del 50% en Barcelona y las Islas Baleares, esas inversiones han dado buenos resultados.
Como advirtió en mayo la Fundación Española de Cajas de Ahorros (FUNCAS), los fondos de capital privado con grandes inversiones han empezado a preocuparse de que muchas familias españolas, que se ganan la vida con trabajos mal pagados, sin seguridad, sean incapaces de pagar las altas rentas de hoy.
Muchos de los que no pueden pagar ya han sido desalojados de los apartamentos que son propiedad del fondo.
El gobierno pretende (o al menos antes tenía la intención de) ayudar a estas personas al aumentar la duración mínima de los contratos de alquiler. Pero hacer eso chocaría de frente con los intereses del mayor propietario de Wall Street.
Como tal, las posibilidades que el gobierno  de España, que ya ha descartado una serie de medidas populares, en realidad cumple su promesa, son infinitamente más pequeñas hoy que antes de la reunión del desayuno de la semana pasada.
---
original en inglés  by Don Quijones 
Wall Street Mega-Landlord Blackstone Turns Screw on Spanish Government & Property Market
A lot of money is at stake.
By Don Quijones, Spain, UK, & Mexico, editor at WOLF STREET.
Wall Street mega-landlord Blackstone is once again making its presence felt in Spain, which represents about one-fifth of its global property empire. During the Q&A session of a recent breakfast meeting organized by the American Chamber of Commerce, the senior advisor of the group's Spanish subsidiary, Claudio Boada, confronted Spain's Minister of Economy and Business, Nadia Calviño, on the government's plans to reform Spain's renting laws in an attempt to slow down the pace of rising rents.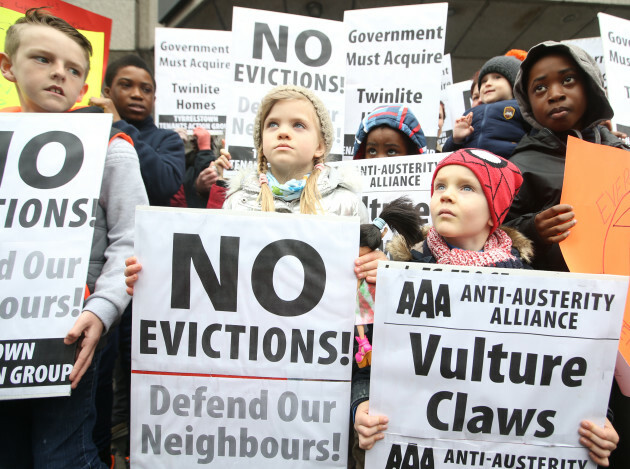 Of particular concern to the private equity colossus is the government's stated goal of extending the minimum duration of rental contracts from three to five years for private individuals and from three to seven years for businesses, in the hope of tempering the rate at which rents are rising in the country.
But it will also hamper the ability of private-equity landlords like Blackstone to turf out the existing tenants of newly acquired properties as quickly as possible in order to jack up rental prices for new ones.
"We think that the measures being discussed could end up increasing the price of rents price and reducing investment," said Boada. Translation: if the government proceeds with its misguided plan to make life a little easier for the legions of struggling tenants, private equity landlords like Blackstone might be tempted to reduce its investment in Spanish real estate.
Given that private equity firms are one of the biggest sources of demand for real estate in Spain as well as the main buyers of impaired real estate assets from Spanish banks and Spain's bad bank, Sareb, it's a pretty big threat — and one the government will no doubt take very seriously.
Blackstone alone has over 100,000 real estate assets in Spain that are controlled via dozens of companies. Those assets include a huge portfolio of impaired real estate assets, including defaulted mortgages and real estate-owned assets (REOs).
The company is not only the biggest private real-estate manager in Spain; it is also the biggest hotel owner, after acquiring the country's largest real estate investment trust (REIT), Hispania, for €1.9 billion, earlier this year.
Following a string of smaller operations, the acquisition of Hispania cemented Blackstone's position as top dog in one of the world's biggest tourist markets, with a total stock of 17,000 beds, far ahead of Meliá (almost 11,000), H10 (more than 10,000) and Hoteles Globales (just over 9,000).
In the past year and a half, Blackstone has played a leading role in some of the largest real estate operations in Spain. In 2017 it paid €5.1 billion for the defaulted loans Banco Santander inherited from its shotgun-acquisition of Banco Popular.
In the last few months it has splashed out a further €1.7 billion to purchase Spanish banks' holdings in TESTA, another giant REIT with a portfolio of more than 10,000 rental properties.
Blackstone also owns 1,800 social housing units, which it acquired from Madrid City Hall in a dodgy deal brokered by the son of former Spanish prime minister José María Aznar and former Madrid mayor Ana Botella.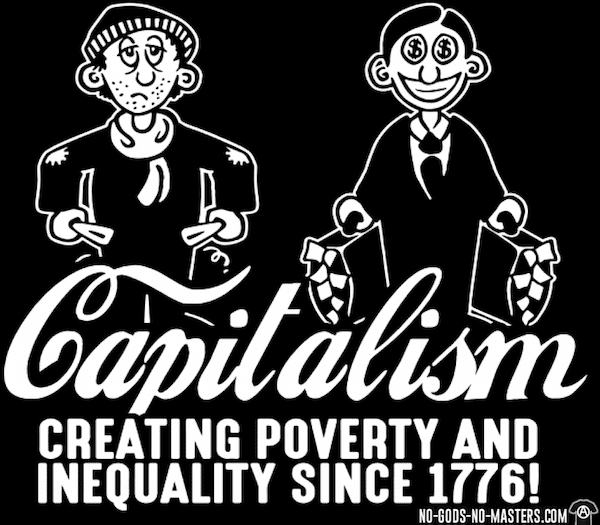 Blackstone paid €202 million for the apartments in 2013; they are now estimated to be worth €660 million — a 227% return in just five year! Since its purchase of the properties, Blackstone has hiked rents on the flats by 49%. Those who can't pay have been evicted.The transformation of top private equity groups like Blackstone into global landlords with over three trillion dollars of real estate assets — almost double what they had five years ago — has occurred for a number of reasons.First, after the financial crisis they were one of the few large market participants with enough funds on hand to invest in foreclosed homes and failed property schemes, of which there was a massive glut all over the world.
---
Housing Crisis 1946 – Thousands march in London in support of squatted empty blocks in Bloomsbury, forcing Governmant to build cheap social housing. Housing Crisis 2018 – The same struggle is still good!    196 Retweets      239 Likes
---
Central banks, financial regulators, and governments lent a big helping hand by driving the cost of borrowing, especially for well-connected Wall Street funds, to heretofore unimaginable depths, as well as by passing regulations that made it easier for the funds to issue rent-backed securities.
With average rents in Spain soaring by 25% since 2014, and by over 50% in Barcelona and the Balearic Islands, those investments have paid off handsomely.
As the Spanish Savings Banks Foundation (FUNCAS) warned in May, heavily invested private equity funds have begun to fret that many Spanish families, scratching a living on poorly paid, zero-security jobs, are incapable of paying today's high rents.
Many of those that can't pay have already been evicted from the fund-owned apartments.
It is these people the government intends (or at least intended) to help by increasing the minimum duration of rental contracts. But doing that would clash head-on with the interests of Wall Street's largest landlord.
As such, the chances of Spain's government, which has already backslid on a number of popular measures, actually carrying through on its pledge are infinitely smaller today than they were before last week's breakfast meeting.