Home / Spain / #Madrid: First attempt to evict the #AteneoLibertario in #Vallekas stopped. The struggle continues Posted on by enough14 —
Madrid. On September 16, it was again made clear that solidarity and direct action are the best weapon we have as a means of defense against the state and repression.
About 150 people from Vallekas and other neighborhoods of the city gathered at the door of the Ateneo Libertario de Vallekas to prevent the eviction of the space.
This is not just the eviction of a space, it is the defense of squatting as a tool of struggle in the social war, as a tool to create with our own hands, outside of parties and institutions, spaces of struggle, meeting and learning.
Originally published by A Las Barricadas. Translated by Squat Net..
And we achieved this (thanks to all of you). We had a modest deployment of journalists, municipal police vans and the district commissioner. Due to the flow of solidarity, the judicial secretary had no choice but to pass by. Now, any day and without notice, the Ateneo can be evicted.
This show of solidarity is even more special if we take into account how the repressive discourse on Vallekas (and the working class neighborhoods of Madrid in general) is unfolding: media criminalization, constant targeting by the media and the political class of the cases of Covid-19, persecution of migrants, police abuse, video surveillance, fines and a particularly intensified persecution of the squatters in recent months.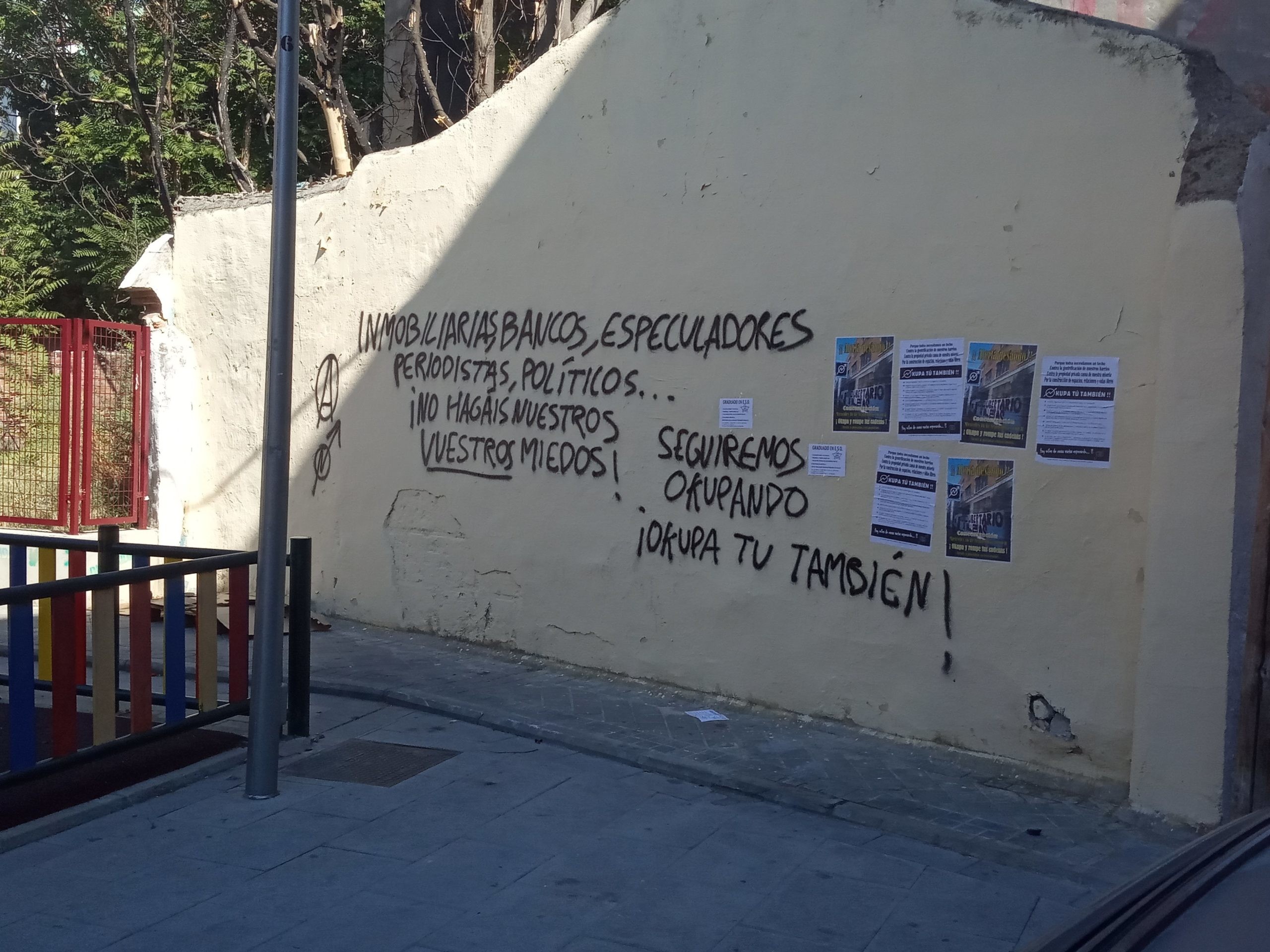 All of this with the eyes loaded with images like the hunger queues, which do not cease, the evictions, which do not cease, the health centers, collapsed, the workers crowded into the subway and waiting for a politician to tell them if they can go out into the street for something other than working for bosses. That is the logic of the state and capital for the poor and the neighborhoods where we live.
The struggle continues in many and varied forms, solidarity has no limits or barriers, and goes beyond the concrete days of evictions: banks, real estate agencies, speculators, police, media, politicians and businessmen are still there, managing and creating the conditions of our exploitation. We call for the extension of solidarity in all its forms.
This Sunday, we are calling again for days of resistance in the Ateneo, and we continue with the call: on Friday of the week of the eviction of the Ateneo, a demonstration at 8pm in Vallekas in solidarity with the occupied spaces. The exact location will be confirmed on the day of the eviction.
Solidarity with the squatted spaces!
No eviction without a response!
Occupation, resistance and direct action!
Ateneo Libertario de Vallekas
Calle Párroco Don Emilio Franco nº 59
28053 Madrid
ateneolibertariovallekas [at] riseup [dot] net
https://squ.at/r/6due
https://ateneolibertariovk.noblogs.org/
---
https://enoughisenough14.org/2…
Parado el primer intento de desalojo del Ateneo Libertario de Vallekas: la luche sigue
El pasado 16 de septiembre se volvió a dejar constancia de que la solidaridad y la acción directa es la me– jor arma de la que disponemos como medio de defensa frente al Estado y la represión. Alrededor de 150 personas de vallekas y otros barrios de la ciudad se plantaron en la puerta del Ateneo para impedir el desalojo del espacio. No se trata solo del desalojo de un espacio, es la defensa de la okupación como herramienta de lucha en la guerra social, como herramienta para crear con nuestras propias manos, al margen de partidos e instituciones, espacios de lucha, encuentro y aprendizaje.
Y lo conseguimos (gracias a todos y a todas). Contamos con un tibio despliegue de periodistas, furgo- nas de la policía municipal y el comisario del distrito. Debido a la fluencia de solidarias, la secretaria judicial no tuvo más remedio que pasar de largo. Ahora,cualquierdíaysinprevioaviso,elAteneo puede ser desalojado.
Más especial resulta esta muestra de solidaridad si tenemos en cuenta como se esta desplegando el discurso represivo sobre vallekas (y los barrios obreros de Madrid en general): criminalización mediá- tica, constante señalamiento de los medios y la clase política por los casos de Covid-19, persecución a las personas migrantes, abusos policiales, videovigilancia, multas y una persecución especialmente intensificada a la okupación en los últimos meses. Todo ello con la retina cargada de imágenes como las colas del hambre, que no cesan, los desahucios y desalojos, que no cesan, los centros de salud, co– lapsados, los trabajadores hacinados en el metro y esperando que un político les diga si pueden salir a la calle para algo que no sea trabajar para nuestros patrones. Esa es la lógica del estado y el capital para los pobres y los barrios donde vivimos.
La lucha continua por muchas y variadas formas, la solidaridad no tiene límites ni barreras, y va más allá de los días concretos de desalojos: bancos, inmobiliarias, especuladores, policías, medios de co– municación, políticos y empresarios siguen ahí, manejando y gestando las condiciones de nuestra explotación. Llamamos a extender la solidaridad en todas sus formas.
Este domingo convocamos nuevamente jornadas de resistencia en el Ateneo, y seguimos con el lla- mamiento: el viernes de la semana del desalojo del Ateneo, manifestación a las 20H en vallekas en solidaridadconlosespacios okupados.Ellugarexactoloconfirmaremoseldíadeldesalojo..
¡Solidaridad con los espacios okupados!
¡Ningún desalojo, ningún desahucio sin respuesta!
¡Okupación, resistencia y acción directa!
ateneolibertariovallekas@riseup.net ateneolibertariovk.noblogs.org
etiquetado con Ateneo Libertario de Vallekas, desalojo Ateneo Libertario de Vallekas, desalojos, Destacado, especulación, Gentrificación, madrid, Okupación, Vallekas, videovigilancia