Leaked docs expose massive Syria fake news operation waged by US controlled States and media
Ben Norton·Information WarsMediaSyriaUK·September 23, 2020
A trove of leaked documents exposes the propaganda network.
Western government-funded intelligence cutouts>
trained Syrian opposition leaders
planted stories in media outlets from BBC to Al Jazeera, and
ran a cadre of journalists.
By Ben Norton
Leaked documents show how UK government contractors developed an advanced infrastructure of propaganda to stimulate support in the West for Syria's political and armed opposition.
Virtually every aspect of the Syrian opposition was cultivated and marketed by Western government-backed public relations firms, from their political narratives to their branding, from what they said to where they said it.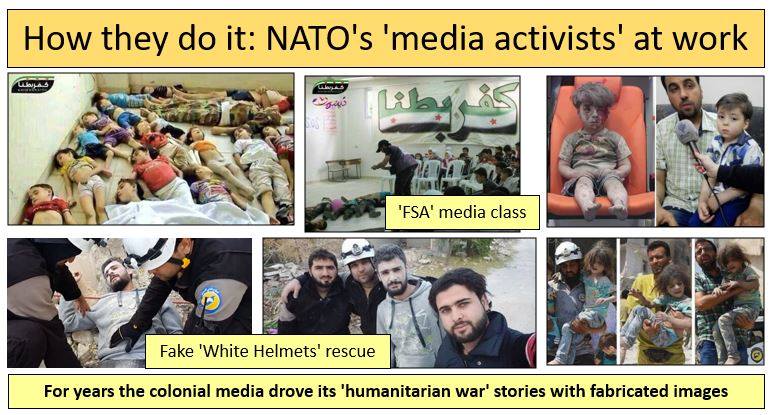 The leaked files reveal how Western intelligence cutouts played the media like a fiddle, carefully crafting English- and Arabic-language media coverage of the war on Syria to churn out a constant stream of pro-opposition coverage….
continues further down/
********************
"Op. HMG Trojan Horse: From Integrity Initiative To Covert Ops Around The Globe. Part 1: Taming Syria Ittps://freenet.space/read-blog/275_op-hmg-trojan-horse-from-integrity-initiative-to-covert-ops-around-the-globe-par.html"
"Greetings! We are Anonymous.
Citizens of the United Kingdom! This message is for you. Back in 2018 we exposed Integrity Initiative, a criminal network of influencers working across entire Europe under the guidance from the Foreign and Commonwealth Office. Yet, Her Majesty's Government failed to draw any conclusions. Law-abiding British taxpayers continue to sponsor dozens of military crimes committed all over the world and veiled by the government's lies. Today we release the result of teamwork of the Anonymous legion from all corners of the world. We have all got united in an effort to show that the FCO and HMG special services are not simply rats' nests but truly criminal organisations while the government officials who sanction their work are accomplices.
Only small particles of information about covert operations of British intelligence in Syria have leaked into the Media until today. Well, here and now we reveal a detailed map of their presence in that country since 2011. We have everything: from criminal programmes and tenders to bidders' complete proposals.……………. "Anon OP report continues here
********************
/continued from above
…US and European contractors trained and advised Syrian opposition leaders at all levels, from young media activists to the heads of the parallel government-in-exile. These firms also organized interviews for Syrian opposition leaders on mainstream outlets such as BBC and the UK's Channel 4.
More than half of the stringers used by Al Jazeera in Syria were trained in a joint US-UK government program called Basma, which produced hundreds of Syrian opposition media activists.
Western government PR firms not only influenced the way the media covered Syria, but as the leaked documents reveal, they produced their own propagandistic pseudo-news for broadcast on major TV networks in the Middle East, including BBC Arabic, Al Jazeera, Al Arabiya, and Orient TV.
The FSA needed to shake off its reputation of beheading children..
Syria invasion: Turkey's rebel rabble accused of atrocities . so….
These UK-funded firms functioned as full-time PR flacks for the extremist-dominated Syrian armed opposition. One contractor, called InCoStrat, said it was in constant contact with a network of more than 1,600 international journalists and "influencers," and used them to push pro-opposition talking points…… continues below videos
In any case, it's plain to see that the White Helmets are not exactly who they purport to be. The Oscar-winning Netflix "documentary" is nothing more than a glossy advertisement, or "contrived infomercial," as investigative journalist Rick Sterling put it. The film is shot in Turkey, not Syria, and it contains no useful information whatsoever, unless you count the fact that one of the White Helmets admits to having been a rebel fighter for a period of three months, and thus can hardly be regarded as neutral. It's also a very boring documentary, but that's beside the point. That such a thinly-veiled propaganda film about such a thinly-veiled propaganda organization won an Academy Award should, by rights, engender a minor scandal. But we're living in the era of fake news, as The New York Times ironically insists.
For a good, comprehensive look at the White Helmets, see Max Blumenthal's recent article for Alternet.
Another Western government contractor, ARK, crafted a strategy to "re-brand" Syria's Salafi-jihadist armed opposition by "softening its image." ARK boasted that it provided opposition propaganda that "aired almost every day on" major Arabic-language TV networks.
Virtually every major Western corporate media outlet was influenced by the UK government-funded disinformation campaign exposed in the trove of leaked documents, from the New York Times to the Washington Post, CNN to The Guardian, the BBC to Buzzfeed.
The files confirm reporting by journalists including The Grayzone's Max Blumenthal on the role of ARK, the US-UK government contractor, in popularizing the White Helmets in Western media. ARK ran the social media accounts of the White Helmets, and helped turn the Western-funded group into a key propaganda weapon of the Syrian opposition.
The leaked documents consist mainly of material produced under the auspices of the UK Foreign and Commonwealth Office. All of the firms named in the files were contracted by the British government, but many also were running "multi-donor projects" that received funding from the governments of the United States and other Western European countries.
In addition to demonstrating the role these Western intelligence cutouts played in shaping media coverage, the documents shine light on the British government program to train and arm rebel groups in Syria.
Other materials show how London and Western governments worked together to build a new police force in opposition-controlled areas.
Many of these Western-backed opposition groups in Syria were extremist Salafi-jihadists. Some of the UK government contractors whose activities are exposed in these leaked documents were in effect supporting Syrian al-Qaeda affiliate Jabhat al-Nusra and its fanatical offshoots.
"Syrians walk along a severely damaged road in the northeastern city of Deir Ezzor on January 4, 2014. Syrian rebels have united to kill and capture dozens of jihadists in a new "revolution" against an Al-Qaeda affiliate they accuse of worse abuses than the hated President Bashar al-Assad, activists said. AFP PHOTO / AHMAD /ABOUD https://dailynewsegypt.com" Example of thousands of dubious reports a) attributed to 'activists said..' b) It was the US 'coalition' that bombed Deir Es Zor c) ISIS continued to control the town for 5 more years, supported by local sheiks d) Al Qaeda 'affiliate' accused by jihadis of being 'worse than Assad'. Go Figure!
*******************
The documents were obtained by a group calling itself Anonymous, and were published under a series of files entitled, "Op. HMG [Her Majesty's Government] Trojan Horse: From Integrity Initiative To Covert Ops Around The Globe. Part 1: Taming Syria." The unidentified leakers said they aim to "expose criminal activity of the UK's FCO and secret services," stating, "We declare war on the British neocolonialism!"
The Grayzone was not able to independently verify the authenticity of the documents. However, the contents tracked closely with reporting on Western destabilization and propaganda operations in Syria by this outlet and many others.
UK Foreign Office and military wage media war on Syria
A leaked UK Foreign and Commonwealth Office report from 2014 reveals a joint operation with the Ministry of Defence and the Department for International Development to support "strategic communications, research, monitoring and evaluation and operational support to Syrian opposition entities."
The UK FOC stated clearly that this campaign consisted of "creating network linkages between political movements and media outlets," by the "building of local independent media platforms."
The British government planned "Mentoring, training and coaching for enhanced delivery of media services, including digital and social media."
Its goal was "to provide PR and media handling trainers, as well as technical staff, such as cameramen, webmasters and interpreters," along with the "production of speeches, press releases and other media communications."………….
***************************************
An additional 2017 government document explains clearly how Britain funded the "selection, training, support and communications mentoring of Syrian activists who share the UK's vision for a future Syria… and who will abide by a set of values that are consistent with UK policy."
This initiative entailed British government funding "to support Syrian grassroots media activism within both the civilian and armed opposition spheres," and was targeted at Syrians living in both "extremist and moderate" opposition-held territory.
In other words, the UK Foreign Office and military crafted plans to wage a comprehensive media war on Syria. To establish an infrastructure capable of managing the propaganda blitz, Britain paid a series of government contractors, including ARK, The Global Strategy Network (TGSN), Innovative Communication & Strategies (InCoStrat), and Albany.
The work of these firms overlapped, and some collaborated in their projects to cultivate the Syrian opposition.
Western government contractor ARK plays the media like the fiddle
One of the main British government contractors behind the Syria regime-change scheme was called ARK (Analysis Research Knowledge).
ARK FZC is based in Dubai, in the United Arab Emirates. It brands itself as a humanitarian NGO, claiming it "was created in order to assist the most vulnerable," by establishing a "social enterprise,  empowering local communities through the provision of agile and sustainable interventions to create greater stability, opportunity and hope for the future."
In reality ARK is an intelligence cutout that functions as an arm of Western interventionism.
In a leaked document it filed with the British government, ARK said its "focus since 2012 has been delivering highly effective, politically-and conflict-sensitive Syria programming for the governments of the United Kingdom, United States, Denmark, Canada, Japan and the European Union."
ARK boasted of overseeing $66 million worth of contracts to support pro-opposition efforts in Syria.
On its website, ARK lists all of these governments as clients, as well as the United Nations.
In its Syria operations, ARK worked together with another UK contractor called The Global Strategy Network (TGSN), which is directed by Richard Barrett, a former director of global counter-terrorism at MI6.
ARK apparently had operatives on the ground inside Syria at the beginning of the regime-change attempt in 2011, reporting to the UK FCO that "ARK staff are in regular contact with activists and civil society actors whom they initially met during the outbreak of protests in spring 2011."
The UK contractor boasted an "extensive network of civil society and community actors that ARK has helped through a dedicated capacity building centre ARK established in Gaziantep," a city in southern Turkey that has been a base of intelligence operations against the Syrian government.
ARK played a central role in developing the foundations of the Syrian political opposition's narrative. In one leaked document, the firm took credit for the "development of a core Syrian opposition narrative," which was apparently crafted during a series of workshops with opposition leaders sponsored by the US and UK governments.
ARK trained all levels of the Syrian opposition in communications, from "citizen journalism workshops with Syrian media activists, to working with senior members of the National Coalition to develop a core communications narrative."
The series of obviously fake chemical weapons attacks in Syria were used by the US as a blatant excuse to further bomb the country
The firm even oversaw the PR strategy for the Supreme Military Council (SMC), the leadership of the official armed wing of Syria's opposition, the Free Syrian Army (FSA). ARK created a complex PR campaign to "provide a 're-branding' of the SMC in order to distinguish itself from extremist armed opposition groups and to establish the image of a functioning, inclusive, disciplined and professional military body."
ARK admitted that it sought to whitewash Syria's armed opposition, which had been largely dominated by Salafi-jihadists, by "Softening the FSA Image."
ARK took the lead in developing a massive network of opposition media activists in Syria, and openly took credit for inspiring protests inside the country.
Evidence Debunks OPCW Claim on Syrian 'Chemical Attacks'..VIDEO
Hands OFF Syria : A Second Whistle Blown on the OPCW's Doctored Report
In its training centers in Syria and southern Turkey, the Western government contractor reported, "More than 150 activists have been trained and equipped by ARK on topics from the basics of camera handling, lighting, and sound to producing reports, journalistic safety, online security, and ethical reporting."
The firm flooded Syria with opposition propaganda. In just six months, ARK reported that 668,600 of its print products were distributed inside Syria, including "posters, flyers, informative booklets, activity books and other campaign-related materials."
In one document spelling out the UK contractors' communications operations in Syria, ARK and the British intelligence cutout TGSN boasted of overseeing the following media assets inside the country: 97 video stringers, 23 writers, 49 distributors, 23 photographers, 19 in-country trainers, eight training centers, three media offices, and 32 research officers.
ARK emphasized that it had "well-established contacts" with some of the top media outlets in the world, naming Reuters, the New York Times, CNN, the BBC, The Guardian, the Financial Times, The Times, Al Jazeera, Sky News Arabic, Orient TV, and Al Arabiya.
The UK contractor added, "ARK has provided regular branded and unbranded content to key pan-Arab and Syria-focused satellite TV channels such as Al Jazeera, Al Arabiya, BBC Arabic, Orient TV, Aleppo Today, Souria al-Ghadd, and Souria al-Sha'ab since 2012."
"ARK products promoting HMG (Her Majesty's Government) priorities by fostering attitudinal and behavioural change are broadcast almost every day on pan-Arab channels," the firm bragged. "In 2014, 20 branded and un-branded Syria reports were produced on average by ARK each month and broadcast on major pan-Arab television channels such as Al Arabiya, Al Jazeera, and Orient TV."
"ARK has almost daily conversations with channels and weekly meetings to engage and understand editorial preferences," the Western intelligence cutout said.
The firm also took credit for placing 10 articles per month in pan-Arab newspapers such as Al Hayat and Asharq Al-Awsat….
continue reading MUCH MORE HERE: