— Future Freedom Foundation by Jacob G. Hornberger.. illustrations added
The Washington Post has published a long piece calling for NATO to take on a new official enemy — China. The piece was written by Sara Bjerg Moller, an assistant professor in the School of Diplomacy and International Relations at Seton Hall University.
She argues that after 30 years since losing the Soviet Union as its official enemy and struggling to find a replacement to justify its continued existence, a perfect replacement would be China.
I've got a better idea. Let's just put NATO out of its misery and TERMINATE it.
After all, let's not forget NATO's original mission: to defend Europe from the possibility of an invasion by the Soviet Union, which had been America's and Britain's World War II partner and ally but which had been converted to their official enemy at the end of the war.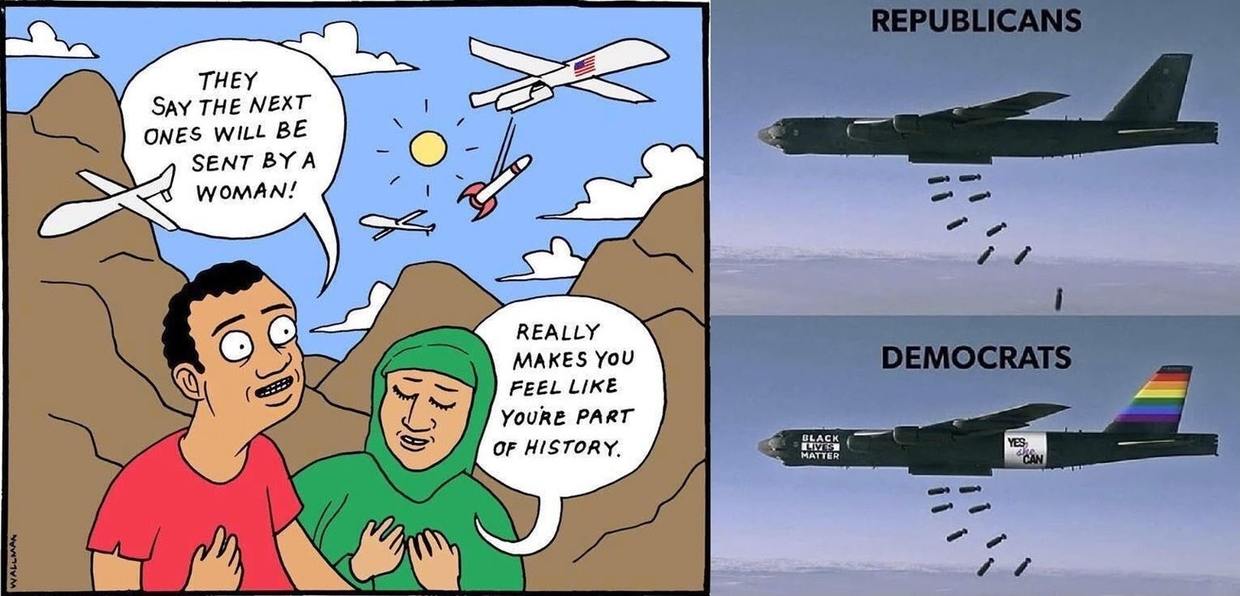 But the likelihood of a Soviet invasion of Europe was always nil. The Soviet Union had been decimated by World War II, especially as a result of the German invasion of the country.
Even though the invasion was ultimately repelled and Germany was defeated, the Soviet Union's industrial capacity had been destroyed, not to mention the millions of Russian citizens who had been killed.
Product of Turkey. Made in NATO. 15.03.2018 – Afrin/Kurdistan
The last thing the Soviet Union wanted was another war, especially given that the United States possessed nuclear weapons and had shown a willingness to employ them against large cities.
The advocates of a national-security state in the United States, however, needed a new official enemy to replace Nazi Germany, especially to justify the conversion of the U.S. government from a limited-government republic to a national-security state, a type of governmental structure with omnipotent, non-reviewable powers.
The Soviet Union and "godless communism" fit the bill perfectly. The American people were then inculcated with the notion that there was an international communist conspiracy to take over the United States and the rest of the world that was based in Moscow, Russia.
Turkish terrorist NATO aviation attacked the people of Jilbir. Located in the district of Sherawa, east of Afrin on Mount Lilon. Jilbir Several children have been charred in the massacre. And the terrorists are the second NATO army. 25 Jan 2018 — Our comrades in HELL
To convince Americans and western Europeans that the Soviet Union posed a grave threat to them, U.S. officials pointed to the postwar Soviet occupations of Eastern Europe and East Germany as examples of communist aggression.
They apparently forgot that President Franklin Roosevelt had delivered such lands into the hands of Soviet leader Joseph Stalin, who FDR affectionately referred to as his "Uncle Joe," at their wartime summit in Yalta.
Was it really too surprising that Stalin accepted FDR's gift, especially given that Eastern Europe and East Germany would serve as a buffer against another German invasion of the Soviet Union?
It was within this fervent anti-communist environment that NATO was formed. But in 1989, the Cold War suddenly and unexpectedly came to an end, which, needless to say, put the U.S. national-security establishment and NATO into a panic.
We called on all the ungovernable in Europe and elsewhere to join the antimilitarist and anti-capitalist bloc from 5 pm at the Gare du Nord. The next day, at the NATO summit, a "blockage" we disrupted as much as possible the rendezvous of the great powers.
After all, the Cold War was the justification for both of these institutions. With no Cold War, they could both be dismantled.
Instead, the national-security establishment simply went into the Middle East and began poking hornets' nest, which ultimately brought terrorist retaliation, which in turn brought the "war on terrorism," another racket that has kept the national-security establishment in high cotton.
Meanwhile, unwilling to let Russia go as an official enemy, NATO began gobbling up former members of the Warsaw Pact, with the aim of placing U.S. troops and missiles ever closer to Russia's borders and with the hope of provoking a reaction, which ultimately came about in Ukraine.
As Moller argues, however, Russia poses no real threat to Europe and, therefore, cannot be seriously considered to be a justification for NATO. Instead, she argues, it's time to replace Russia with China, owing to China's rise as an international powerhouse.
The reasoning is classic empire-think: If a nation starts to prosper and rise, it's best to put it down before it gets too large and powerful.
Joint maneuvers of American and Portuguese armies, on 20 Oct 2015 in Pinheiro da Cruz, Portugal.
How about just leaving China and Russia alone? What's wrong with that? What's wrong with other nations becoming prosperous? The fact is that NATO should never have been established in the first place.
Moreover, the biggest mistake in U.S. history was to convert the federal government to a national-security state. The best thing American could do now is terminate NATO and restore a limited-government republic to our land.
The US has dropped 326,000 bombs on people in other countries since 2001…
---
This post was written by: Jacob G. Hornberger
Jacob G. Hornberger is founder and president of The Future of Freedom Foundation. He was born and raised in Laredo, Texas.
Anti war protestors against NATO war games in Spain
View these interviews at LewRockwell.com and from Full Context. Send him email.
The Noble Anti-Triggering Organization (NATO)
Earlier this month, NATO tweeted a flashy video claiming "diversity is our strength."
In light of NATO's virtue signaling, it's important to remember that many of the early leaders of NATO were Nazis who dreamed of a Germany that was anything but diverse and inclusive. To this day, NATO has continued to support neo-Nazis in countries like Ukraine, while NATO states that hold permitted rallies honoring Nazi collaborators are only just now cancelling the marches because of the coronavirus, rather than stopping the glorification of Nazism.
As I reported following the launch of Joe Biden's presidential campaign, as he railed against neo-Nazis in Charlottesville, Virginia, Biden met with neo-Nazi leader Oleg Tyagnibok (anglicized Ukrainian spelling Oleh Tyahnybok).
In terms of NATO's championing of inclusion for people of color, its crowning achievement in this regard came following its bombing of Libya, which gave cover for jihadist militias to sodomize Libyan leader Muammar Gaddafi to death with a bayonet and paved the way for the reintroduction of slavery on the African continent.
Outside of its halls of power in Brussels, this is what NATO-sponsored opportunity initiatives for people of color looks like.
As the kids say, "big yikes."