by Laura Aznar .. shared with thanks .. at https://www.elcritic.cat/noticies translation TheFreeOnline
original en Català abaix
Demo in Barcelona to demand an end to violence against the LGTBI community
english translation  A report prepared by the Generalitat admits that the number of court convictions is "surprisingly low" in relation to the complaints received
A report prepared by the Generalitat admits that the number of convictions is "surprisingly low" in relation to the complaints collected by the Mossos from 2015 to 2019
In recent months, several LGTBI-phobic aggressions have transpired in the media, such as the murder of Samuel last Saturday in A Coruña at the shout of "faggot", the punching of two minors to a young man in Sant Cugat while reprimanding him. his sexual orientation, which took place on June 26, or the beating of five men to two pairs of boys in Barcelona in May, which caused a fracture in the jaw of one of the victims and they had to operate.
Far from being two isolated episodes, the attacks on the LGTBI community have risen in 2021. Although the available data do not represent a complete picture of the situation, the Observatory against Homophobia (OCH) has already counted 103 attacks since January, and the Mossos d'Esquadra received some thirty complaints during the first quarter of the year.
In the same period, the General Directorate of Equality collected 137 incidents and 33 administrative, criminal or labor complaints for discrimination, violation of rights and aggression.
This increase in cases also occurred last year. According to OCH data, 189 cases were registered in 2020, a figure that represents an increase of 18.1% compared to 2019. Also, from one year to the next, reports of physical assaults, threats and discriminations climbed above 22%.
According to data from the First X-ray of LGTBI-phobia in Catalonia, a study carried out by the Generalitat after the law was approved in 2014 to guarantee LGTBI rights and to eradicate homophobia, biphobia and transphobia, from the From 2015 to 2019, the Mossos d'Esquadra Police have registered around 400 incidents that have been reported as discrimination against people in the group.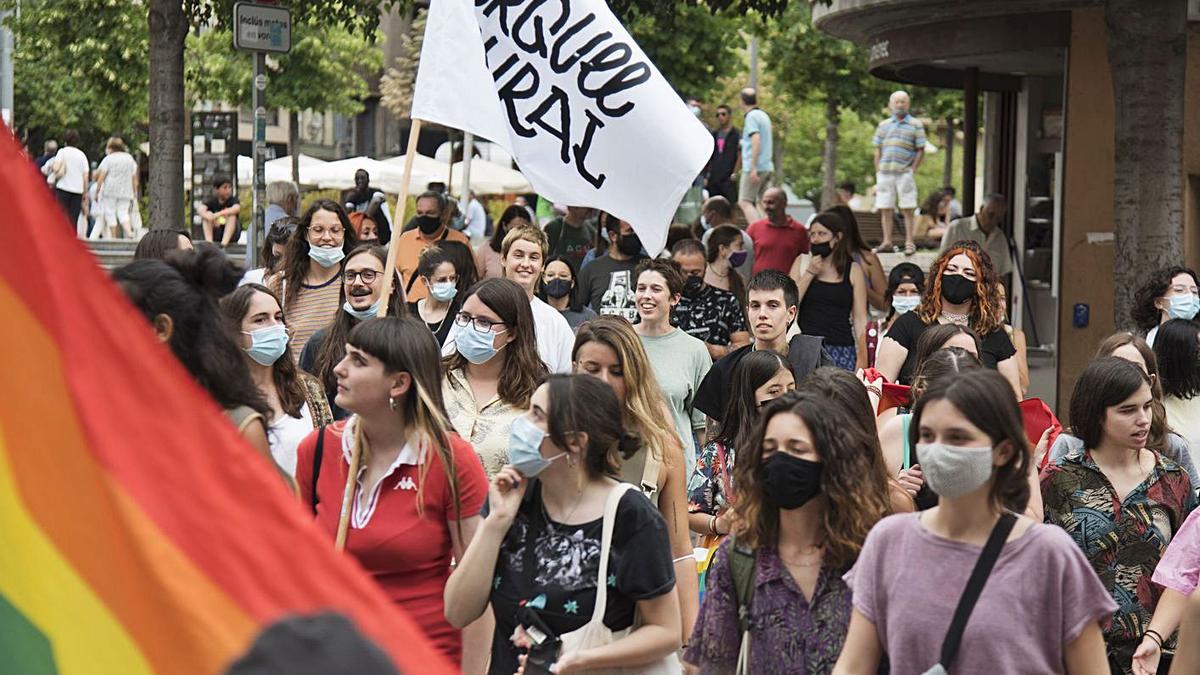 Of this total, 122 "seem more directly linked to LGTBI-phobic discrimination": 81 have been considered "crimes against fundamental rights and civil liberties" and have represented violations of the right to 'honor, to personal and family intimacy and to one's own image, and 41 of those classified as degrading and vexatious treatments.
The rest of the reported facts, the report states, mainly relate to crimes such as "injury, threats, damage or injury."
Demonstration in Barcelona to demand an end to violence against the LGTBI community / Photo: IVÁN GIMÉNEZ
Convictions for LGTBI-phobia account for 0.005% of reported cases
Although the volume of reported conduct has been high, during these five years there have been only 14 sentences issued by Catalan courts that have analyzed possible discrimination against LGTBI people, of which only two have been convicted of a crime of hate related LGTBI-phobia.
Both were issued in 2019 and represent a tiny percentage, equivalent to only 0.005% of reported cases. In parallel, there have been seven more convictions since 2015 initiated from the same cases, but this time "the element of LGTBI-phobia has been ruled out and they were convicted of misdemeanors."
In fact, the same report prepared by the Generalitat states: "The number of criminal convictions is surprisingly low in relation to the registered complaints."
This is due, the report justifies, to the fact that for the penal system it is "extremely difficult to distinguish between homophobic intentionality and freedom of expression, the improper use of language", as well as the ability to prove the intentionality of the author or even identify them "even though the criminal justice system has more resources for judicial investigation than the administrative one".
Dos alumnos de una escuela del Opus Dei, supuestos autores de la agresión homófoba en Sant Cugat/
The Barcelona High Court sees no discrimination in the expression 'shit transvestite'
Evidence of this "complication" is the argument used by some magistrates to dismiss the LGTBI-phobic mood behind the alleged facts. The report gives as an example two sentences of the Provincial Court of Barcelona of 2015 and 2019.
In the latter, the court finds that the expression transvestite shit directed at a trans woman "is not sufficient to understand that the origin or motivation of the attack was discriminatory against the sexual identity of the victim." On the contrary, he considers that the use of this expression in a context of aggression has to be viewed as an offensive interpellation made with a "common and generic" intention to insult.
Also, in 2015 the Barcelona High Court denied that a letter posted on Facebook by a mayor of the province of Barcelona, ​​which literally said things like "do not come with false nonsense about homophobic politicians and bishops, that is too much , what you need is a doctor so maybe you and your group would have a better way out ", or" I give you some advice that would take away your childhood hatred problems " according to the magistrates, it could not even be considered a lack of serious harassment.
In the opinion of the court, the author's words did not pursue "a clear purpose of belittling or attacking the honor, dignity or the esteem of either the mayor or the members of the group", or " trivialize, belittle or disqualify political actions related to the recognition of the rights and freedoms "of LGTBI people or" with their normalization or integration on equal terms in our society ".
According to the report of the Generalitat based on these two cases, not all sentencing courts have had "knowledge and / or sensitivity to victimization" suffered by the group. This could produce "an interpretation of the facts less open to consider the discriminatory meaning of some conducts" that, according to the study, do take into account the bodies in charge of assessing the denunciations in the sanctioning administrative procedure that established the anti-LGTBI-phobia law of 2014.
photo.. Demonstration in Barcelona to demand an end to violence against the LGTBI community / Photo: IVÁN GIMÉNEZ
Only six administrative complaints end up in sanction
But this "sensitivity" of the administrative bodies as a result of the passage of the law has not translated into further sanctions. From 2015 to 2019, the General Directorate of Equality handled 282 complaints, but only imposed 6 administrative sanctions.
According to the report, this "apparent disproportion" between the two figures is the result of "the peculiar classification of the offenses provided for" by the law against LGTBI-phobia and the "indefiniteness" of the criteria from which a conduct can be considered discriminatory.
In this way, the radiograph specifies that the "ambiguity" of the rules contained in it "derives from the impossibility of identifying conducts that can be sanctioned from the regime of infractions and sanctions of the same law" and urges to review the regulations.
In the opinion of the Generalitat, it would be necessary to identify "in a more weighted way" the conducts deserving of sanction, to make explicit the "supplementary character" of the administrative action with respect to criminal law and to avoid the use of terms such as "violence", incitement to violence "or" incitement to hatred "that refer to the criminal field and that create" illusory social expectations regarding the real sanctioning capacity "of the Administration.
VER TAMBIÉN .. La Manada homófoba: así funciona la violencia disciplinaria masculina Samuel fue asesinado no por su orientación, sino por la vinculación social que se establece entre la masculinidad hegemónica y el rechazo visceral de todo aquello que sea interpretado como femenino. //The Homophobic Gang: this is how male disciplinary violence works Samuel was murdered not because of his orientation, but because of the social link established between hegemonic masculinity and the visceral rejection of everything that is interpreted as feminine.
Temas: Actualidad, LGTBIQ, Masculinidades
Leer artículo completo ….. El Salto
Ver También .. Dos alumnos de una escuela del Opus Dei, supuestos autores de la agresión homófoba en Sant Cugat/ Two students from an Opus Dei school, alleged perpetrators of the homophobic aggression in Sant Cugat
Original en Català
La violència contra el col·lectiu LGTBI a Catalunya: 400 casos i només dues condemnes .. Cat / Eng
Un informe elaborat per la Generalitat admet que el nombre de sentències judicials condemnatòries resulta "sorprenentment baix" en relació amb les denúncies recollides pels Mossos del 2015 al 2019
Manifestació a Barcelona per reclamar la fi de la violència contra el col·lectiu LGTBI/ Foto: IVÁN GIMÉNEZ
La violència contra el col·lectiu LGTBI a Catalunya: 400 casos i només dues condemnes
Els darrers mesos han transcendit als mitjans de comunicació diverses agressions LGTBI-fòbiques, com l'assassinat del Samuel dissabte passat a la Corunya al crit de "maricón", el cop de puny de dos menors a un jove a Sant Cugat mentre li recriminaven la seva orientació sexual, que va tenir lloc el 26 de juny, o la pallissa de cinc homes a dues parelles de nois a Barcelona al mes de maig, que va provocar una fractura a la mandíbula a un dels agredits i que l'haguessin d'operar.
Lluny de ser dos episodis aïllats, les agressions al col·lectiu LGTBI han repuntat el 2021. Malgrat que les dades disponibles no representen una fotografia completa de la situació, l'Observatori contra l'Homofòbia (OCH) ja ha comptabilitzat 103 atacs des del gener, i els Mossos d'Esquadra van rebre una trentena de denúncies durant el primer trimestre de l'any.
En el mateix període, la Direcció General d'Igualtat va recollir 137 incidències i 33 denúncies administratives, penals o laborals per discriminacions, vulneració de drets i agressions.
Aquest augment de casos també es va produir l'any passat. Segons les dades de l'OCH, el 2020 es van registrar 189 casos, xifra que representa un increment del 18,1% respecte al 2019. Així mateix, d'un any a l'altre, les denúncies d'agressions físiques, amenaces i discriminacions van enfilar-se per sobre d'un 22%.
Segons les dades de la Primera radiografia de la LGTBI-fòbia a Catalunya, un estudi elaborat per la Generalitat després que el 2014 s'aprovés la llei per garantir els drets LGTBI i per erradicar l'homofòbia, la bifòbia i la transfòbia, des del 2015 fins al 2019 els Mossos d'Esquadra han registrat al voltant de 400 fets que s'han denunciat com a discriminacions envers les persones del col·lectiu.
D'aquest total, n'hi ha 122 que "semblen més directament vinculats amb la discriminació LGTBI-fòbica": 81 que s'han considerat "delictes contra els drets fonamentals i les llibertats públiques" i que han representat violacions del dret a l'honor, a la intimitat personal i familiar i a la pròpia imatge, i 41 de tipificats com a tractes degradants i vexatoris.
La resta dels fets denunciats, explicita l'informe, es refereix sobretot a delictes com "lesions, amenaces, danys o injúries".
Les condemnes per LGTBI-fòbia representen el 0,005% dels casos denunciats
Malgrat que el volum de conductes denunciades ha estat elevat, durant aquests cinc anys només hi ha hagut 14 sentències emeses per tribunals catalans que han analitzat possibles discriminacions en contra de persones LGTBI, de les quals tan sols dues han esdevingut condemnes per un delicte d'odi relacionats amb la LGTBI-fòbia.
Totes dues van ser emeses l'any 2019 i representen un percentatge ínfim, equivalent solament al 0,005% dels casos denunciats. En paral·lel, hi ha hagut set sentències condemnatòries més des del 2015 iniciades a partir dels mateixos casos, però en aquestes ocasions "l'element de la LGTBI-fòbia ha quedat descartat i s'ha condemnat per delictes menors".
De fet, la mateixa radiografia elaborada per la Generalitat valora: "El nombre de condemnes penals resulta sorprenentment baix en relació amb les denúncies registrades".
Això és degut, justifica l'informe, al fet que per al sistema penal resulta "extremament complicat destriar entre intencionalitat homofòbica i la llibertat d'expressió, l'ús impropi del llenguatge", així com la capacitat de provar la intencionalitat de l'autor o, fins i tot, identificar-los "malgrat que el sistema penal tingui més recursos per a la investigació judicial que l'administratiu".
Manifestació a Barcelona per reclamar la fi de la violència contra el col·lectiu LGTBI/ Foto: IVÁN GIMÉNEZ
L'Audiència de Barcelona no veu discriminació en l'expressió 'travesti de mierda'
Una evidència d'aquesta "complicació" és l'argumentació que fan servir alguns magistrats per desestimar l'ànim LGTBI-fòbic darrere dels fets denunciats. L'informe posa d'exemple dues sentències de l'Audiència Provincial de Barcelona del 2015 i del 2019.
En la darrera, el tribunal determina que l'expressió travesti de mierda dirigida contra una dona trans "no és suficient per entendre que l'origen o la motivació de l'atac fos discriminatori envers la identitat sexual de la víctima". Per contra, considera que l'ús d'aquesta expressió en un context d'agressió s'ha d'assimilar a una interpel·lació ofensiva realitzada amb una intenció "comuna i genèrica" d'injuriar.
Així mateix, l'any 2015 l'Audiència de Barcelona va negar que un escrit publicat al Facebook d'un alcalde de la província de Barcelona, que textualment deia coses com "no venga con tonterías de falsos políticos homófobos y obispos falsos, eso sobra, usted lo que necesita es un médico", "así quizá usted y su grupo especial tendría una salida mejor", o "yo le presento a un par de pibonas que le sacaran los problemas de infancia", no era constitutiu d'un delicte d'odi. De fet, segons els magistrats, ni tan sols podia ser considerat una falta de vexacions greus.
A criteri del tribunal, les paraules de l'autor no perseguien "un propòsit clar de menystenir o atemptar contra l'honor, la dignitat o la mateixa estimació ni de l'alcalde ni dels integrants del col·lectiu", sinó el de "trivialitzar, menystenir o desqualificar actuacions polítiques relacionades amb el reconeixement dels drets i llibertats" de les persones LGTBI o "amb la seva normalització o integració en condicions d'igualtat a la nostra societat".
Segons explicita l'informe de la Generalitat a partir d'aquests dos casos, no tots els tribunals sentenciadors han tingut "coneixement i/o sensibilitat cap a les victimitzacions" que pateix el col·lectiu. Això podria produir "una interpretació dels fets menys oberta a considerar el significat discriminador d'unes conductes" que, a criteri de l'estudi, sí que tenen en compte els òrgans encarregats de valorar les denúncies en el procediment administratiu sancionador que va establir la llei contra la LGTBI-fòbia del 2014.
Manifestació a Barcelona per reclamar la fi de la violència contra el col·lectiu LGTBI/ Foto: IVÁN GIMÉNEZ
Només sis denúncies administratives acaben en sanció
Però aquesta "sensibilitat" dels òrgans administratius arran de l'aprovació de la llei tampoc no s'ha traduït en més sancions. Del 2015 al 2019, la Direcció General d'Igualtat va gestionar 282 denúncies, però només va imposar 6 sancions administratives.
Segons l'informe, aquesta "aparent desproporció" entre ambdues xifres és fruit de "la peculiar tipificació de les infraccions previstes" per la llei contra la LGTBI-fòbia i per la "indefinició" dels criteris a partir dels quals una conducta pot ser considerada discriminatòria.
D'aquesta manera, la radiografia concreta que "l'ambigüitat" de les normes que s'hi recullen "deriva en la impossibilitat d'identificar conductes que puguin sancionar-se des del règim d'infraccions i sancions de la mateixa llei", i insta a revisar la normativa.
A criteri de la Generalitat, caldria identificar "de forma més ponderada" les conductes mereixedores de sanció, explicitar "el caràcter supletori" de l'acció administrativa respecte al dret penal i evitar l'ús de termes com ara "violència", "incitació a la violència" o "incitació a l'odi" que remeten a l'àmbit penal i que creen "unes expectatives socials il·lusòries respecte a la capacitat real sancionadora" de l'Administració.
https://www.elcritic.cat/noticies/la-violencia-contra-el-col-lectiu-lgtbi-a-catalunya-400-casos-i-nomes-dues-condemnes-98627