Turkey 's often boasted aim under the far right Erdogan dictatorship, is to recreate the Ottoman Empire.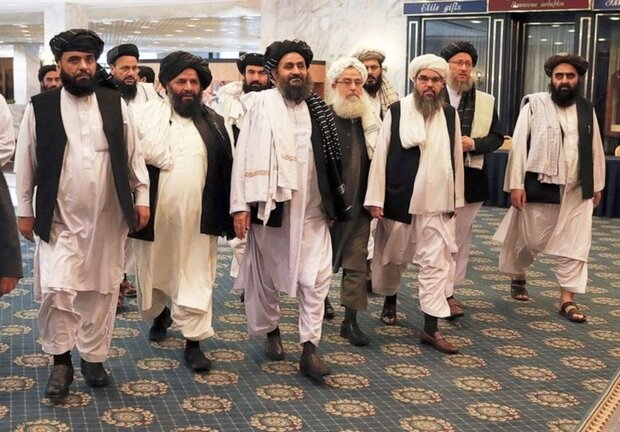 Turkey has 500 troops in Afghanistan and plans to keep them there, paid for, and "enabled", by the USA along with all the other military Contractors, and "protected" with US 'over the horizon' air and drone power.
It's a risky move by Erdogan, as the Taliban have waited 20 years and are opposed to ALL foreign troops, but Erdo has plenty of cannon fodder to spare, and oodles of experience bribing and controlling Islamic militants in his genocidal Syrian occupations.
As in Idlib, Afrin, Nth Syria, Azerbaijan, Iraq and Libya, once he gets access his regime will create a new 'Storm of Lies' and never willingly leave. They'll try to make peace as necessary with the Taliban, giving them drones, kudos and eye candy, but keep and expand his new base and influence.
And what better than to be protected by, and 'in bed with' the greatest and hegemonic superpower, the US of A.
by mehrnews.com Jul 13, 2021 shared with thanks
TEHRAN, Jul. 13 (MNA) – The Taliban group said that presence of Turkish troops in Afghanistan excites sense of 'hostility and animosity'.
In reaction to the Turkey's decision to stay in Afghanistan, the Taliban warned Turkey of keeping its troops in Afghanistan, Al Mayadeen reported.
The Taliban announced that Turkey's presence in Afghanistan provokes a sense of hostility and animosity against officials of this country.
Any foreign force that remains in Afghanistan under any pretext is considered by Taliban to be the occupying forces and Ankara must bear its consequences, Taliban added.
Turkey's Pursuit Of Expansion In West Asia: Implications …
In mid-April, US President Joe Biden and NATO members had announced that about 10,000 troops would be withdrawn from Afghanistan by September 11, 2021.
In recent weeks, with the acceleration of withdrawal of US forces from Afghanistan, which will be completed by September 2021, the issue of security at Kabul Airport by Turkey has become one of the most important issues in Afghanistan.
Turkey has announced that it will keep security at Kabul Airport with its 500 troops in Afghanistan and will not send any new troops to this country.
Accordingly, Turkey will play a role in securing the airport but Turkey will manage and protect Kabul International Airport with the support of its allies. Meanwhile, the Taliban group wants all foreign forces to leave Afghanistan.
by mehrnews.com Jul 11, 2021 shared with thanks
TEHRAN, Jun. 11 (MNA) – Taliban spokesman said on Thursday called for Turkey to withdraw its troops from Afghanistan under the 2020 deal for the pullout of US forces.
Turkey should withdraw its troops from Afghanistan under the 2020 deal for the pullout of US forces, a Taliban spokesman said on Thursday, effectively rejecting Ankara's proposal to guard and run Kabul's airport after US-led NATO forces depart, Reuters reported.
"Turkey was part of NATO forces in the past 20 years, so as such, they should withdraw from Afghanistan on the basis of the Agreement we signed with the US on 29th Feb 2020," Suhail Shaheen told Reuters.
"Otherwise, Turkey is a great Islamic country. Afghanistan has had historical relations with it. We hope to have close and good relations with them as a new Islamic government is established in the country in the future," he added.
The State Department and the Turkish Foreign Ministry did not immediately respond to requests for comment.
US Defense Secretary Lloyd Austin spoke on Thursday with Turkish Defense Minister Hulusi Akar to "discuss bilateral cooperation and regional issues," the Pentagon said in a statement, which did not specifically mention Afghanistan.
Turkish officials say they made the Kabul airport proposal at a NATO meeting in May when the United States and its partners agreed to a plan to withdraw their forces by Sept. 11 after 20 years of backing the Afghan government in a war against the Taliban.
Related
….."Drones hover 24 hours a day in the skies over Iraq, Somalia, Yemen, Afghanistan, Pakistan and Syria. Without warning, the drones, operated remotely from Air Force bases as far away as Nevada, fire ordinance that obliterates homes and vehicles or kills whole groups of people in fields or attending community gatherings, funerals and weddings. The leaked banter of the young drone operators, who often treat the killings as if they are an enhanced video game, exposes the callousness of the indiscriminate killings. Drone operators refer to child victims of drone attacks as "fun-sized terrorists." https://riseuptimes.org/2021/07/13/he..