De-Listed 'Chinese ISIS' Terror Group "Rises from the Dead"
By New Atlas – September 23, 2021 (Brian Berletic – NEO)
 Suspicions were raised when in late 2020 the US de-listed as a terrorist organization the East Turkestan Islamic Movement (ETIM), sometimes referred to as the Turkestan Islamic Party (TIP) and accused China of Genocide for opposing them.
The US had claimed as its rationale that the ETIM/TIP had not been active for over a decade despite the US itself admitting to striking ETIM/TIP targets in Afghanistan as recently as 2018, just 2 years before the de-listing.
*(Turn this on its head to illustrate how bad it is: imagine it was China not the US who had invaded and bombed around the world in a War against Terror, causing the death of millions. Imagine it was China who then legalized and promoted homegrown ISIS groups in the US, and accused the US of Genocide in a worldwide campaign for resisting the horrific terrorist massacres in their own country).
In a notice in the Federal Register, which publishes new US laws and rules, the secretary of state, Mike Pompeo, said he was revoking the designation of the East Turkestan Islamic Movement (ETIM) as a "terrorist organization."

"ETIM was removed from the list because, for more than a decade, there has been no credible evidence that ETIM continues to exist," a state department spokesperson said.
Video…New Cold War Heats Up
The US State Department spokesperson's claim went unchallenged by The Guardian despite the paper itself having written a 2013 article as recently as 7 years ago from the US de-listing of ETIM/TIP titled, "Islamist group claims responsibility for attack on China's Tiananmen Square," which reported:
The Turkistan Islamic Party (TIP) is the first group to claim responsibility for the attack on 28 October, when a four-wheel drive vehicle ploughed through a group of pedestrians near the iconic square in central Beijing, crashed into a stone bridge and caught fire, killing five people and injuring dozens. Chinese authorities quickly identified the driver as Uighur, a Muslim ethnic minority hailing from Xinjiang, a sparsely populated, restive region in the country's far north-west.
Not only does the article indicate the US State Department lied in its claim the terrorist organization has been inactive for over a decade, it also illustrates the very real terrorist threat China faces nationwide from Xinjiang-based terrorist organizations.
The US government and the Western media in general have, for years now depicted security policies carried out by Beijing to counter this threat as "genocide."
ETIM/TIP "Back from the Dead"
Considering all of this it should come as no surprise then when US-based Newsweek published an article in September of this year titled, "Exclusive: Despite China's Pressure on Taliban, Uyghur Separatists See Opportunity in Afghanistan," in which the "non-existent" ETIM/TIP's spokesperson was interviewed by US media.
The article followed on the heels of the US withdrawal from Afghanistan, a move that clearly opened the door to a transition from America's overt military footprint in the Central Asian country to a more covert role in backing militant groups to sow chaos not only within Afghanistan's borders but far beyond them, including into neighboring China.
The Newsweek article would report:
"The United States is a strong country, it has its own strategy, and we see the withdrawal of the American government today from this war in Afghanistan, which is incurring huge economic losses, as a means of confronting China, who are the enemy of all humanity and religions on the face of the Earth," a spokesperson for the political office of the Turkestan Islamic Party, commonly known as the East Turkestan Islamic

Movement (ETIM), told Newsweek.
In what appears to be the first remarks by the secretive group to an international media outlet since being removed from a US list of terrorist organizations last year, the Turkestan Islamic Party spokesperson expressed hoped the US military exit last month would be followed by greater pressure against China.

"We believe that the opposition of the United States to China will not only benefit the Turkestan Islamic Party and the people of Turkestan," the spokesperson said, "but also all mankind."
Newsweek would also mention US strikes on ETIM/TIP targets in 2018, noting:
For many years, the US included ETIM on its Terrorist Exclusion List, part of Patriot Act measures established after the 9/11 attacks. The Pentagon even targeted the group with airstrikes in Afghanistan up until at least 2018.
The public is expected to believe the US de-listing ETIM/TIP was based on alleged evidence the organization no longer exists, despite the organization clearly continuing to exist and carry out acts of terrorism, and now also openly aligning itself with US foreign policy vis-à-vis China upon its "reemergence."
The US has similarly de-listed terrorist organizations it sought to use as armed proxies in conflicts against targeted nations. This includes the Libyan Islamic Fighting Group (LIFG) the US used in its proxy war with not only Libya itself in 2011, but after transferring fighters and weapons from North Africa to the Middle East, against Syria as well from 2011 onward.
The US also de-listed the Mujahedin-e-Khalq (MEK), a terrorist organization used by the US and its allies to conduct terror operations against the government and people of Iran.
It's No Secret the US Supports Separatism in Xinjiang, China
The Newsweek article spends much of its space attempting to depict the ETIM/TIP as engaged in a heroic battle for independence against an "oppressive" Chinese occupation. The article claims:
"East Turkestan is the land of the Uyghurs," the Turkestan Islamic Party spokesperson said. "After the Chinese government occupied our homeland by force, they forced us to leave our homeland because of their oppression against us. The whole world knows that East Turkestan has always been the land of the Uyghurs."
Only until about midway through the article does Newsweek finally admit:
Beyond China and the UN, an array of nations and international organizations including the European Union, Kyrgyzstan, Kazakhstan, Malaysia, Pakistan, Russia, Turkey, the United Arab Emirates and the United Kingdom consider ETIM to be a terrorist organization.
Indeed, the UN does count ETIM/TIP as a terrorist group and is quoted by Newsweek as noting the organization "poses an immediate threat to the security of China and its people."
The UN Security Council, on the official UN website in a statement titled, "Eastern Turkistan Islamic Movement," explicitly notes:
The Eastern Turkistan Islamic Movement (ETIM) is an organization which has used violence to further its aim of setting up an independent so-called "East Turkistan" within China.
The UNSC statement makes two things abundantly clear. First, the UN, and by extension the majority of the international community, does not recognize the term "East Turkestan," and instead recognizes the territory as Xinjinang and as part of China.
Second, the UNSC is explicitly designating ETIM/TIP as a terrorist organization that has used violence to further its separatist ambitions.
The term "East Turkestan" is used only by separatists in contradiction to international law and the region's internationally recognized status as Xinjiang, China.
Therefore it is especially telling to see on the US government's National Endowment for Democracy's official website its programs in Xinjiang listed on a page titled, "Xinjiang/East Turkestan (China)."
Child soldiers of the ETIM Uyghurs terror group, now legalized by the US
The organizations listed, including the Uyghur Human Rights Project (UHRP) and the World Uyghur Congress (WUC) both explicitly refer to Xinjiang, China as "East Turkestan" which they regard as "occupied" by China.
The UHRP describes itself on its website, claiming (emphasis added):
The Uyghur Human Rights Project promotes the rights of the Uyghurs and other Turkic Muslim peoples in East Turkistan, referred to by the Chinese government as the Xinjiang Uyghur Autonomous Region…
WUC's website claims the organization declares an "opposition movement against Chinese occupation of East Turkistan."
Both organizations are funded by the US government with the UHRP being based in Washington D.C.
The World Uyghur Congress, funded by the US government, was the organization that initiated the so-called "Uyghur Tribunal." The Uyghur Tribunal's official website even admits (emphasis added):
In June 2020 Dolkun Isa, President of the World Uyghur Congress formally requested that Sir Geoffrey Nice QC establish and chair an independent people's tribunal to investigate 'ongoing atrocities and possible Genocide' against the Uyghurs, Kazakhs and other Turkic Muslim Populations.
Thus not only is the US clearly promoting separatism in Xinjiang, China by directly funding organizations promoting separatism, and not only has the US de-listed ETIM/TIP, an active terrorist organization, making it easier for the organization to allocate funding and travel globally, but it also leveraging its considerable control over global media and international institutions to depict China's response to this concerted campaign of separatism and terrorism aimed at its territory and people as "genocide."
In other words, the US on one hand is armed with a sword – the "reemerged" ETIM/TIP terrorists keen on joining America's encirclement and containment of China – and on the other hand, the US holds the shield of "human rights advocacy" to guard against China's attempts to address this threat.
It is a perpetual irony that the US presumes leadership of a "rules-based international order" it claims to underwrite peace and stability worldwide while simultaneously being the greatest threat to both.
Brian Berletic is a Bangkok-based geopolitical researcher and writer, especially for the online magazine "New Eastern Outlook".
***************
"Some wounds even time can't heal," Xia Yeling, an Urumqi-based psychologist said. For the past decade, she has been treating hundreds of patients suffering from post-traumatic stress disorder (PTSD) due to the July 5 riots in 2009 in the capital city of China's Xinjiang.
The killing sprees that resulted in 197 deaths and over 1,700 injures plunged the city into shock and panic, and etched indelible scars in the hearts of survivors and witnesses.
Traumas inflicted by humans are harder to heal than those from natural disasters, according to Xia, because trust between people has deteriorated in the midst of blood-curdling violence.
Between 1990 and 2016, thousands of terrorist attacks plagued the vast land of Xinjiang. Large numbers of innocent lives were lost in horrific stabbings, shootings and bombings. For survivors, the psychological toll could rival that of physical casualties. Xia told CGTN that those suffering from PTSD range from middle school students to seniors over 80 years old.
"There were major casualties in the blasts, which occurred after explosives were hurled from two vehicles in an open market in Urumqi, the capital of Xinjiang province​, the ministry said in a statement on Thursday. State media had earlier reported that two vehicles rammed into a crowd of people at a morning market in the city of Urumqi. Explosives were hurled from the vehicles, and one of the vehicles exploded". https://www.dnaindia.com/world….
When symptoms of trauma don't go away, people have no alternative but to move on. Mirexmetjan Rozi, a survivor of the Id Kah Mosque assassination on July 30, 2014, has never returned to the mosque seated in the city center of Kashgar.
On that day, three terrorists appeared, pushed him away and hacked at Imam Jume Tayir's neck and head. He failed to save Jume Tayir after he was stabbed in the thigh and has been grieving ever since. "Just thinking about it makes me break out in a cold sweat and want to cry."
Over 800 kilometers away, Dilqemer Tursun, both a witness and survivor of the bomb attacks in Luntai County of September 2014, is helping people as a rehabilitation therapist.
At 21 years old, she lost her leg to an explosion while shopping with her family. "I heard my nephew crying and my mom yelling for help. Then I found myself gazing at my severed leg," she recalled. For months after that, she couldn't sleep, besieged by nightmares.
For her, there's an intertwined feeling of hate and forgiveness for the terrorist. "They must have been brainwashed by the violent videos. I think they are also victims."
Dilqemer lives on with her trauma, hoping to get a driver's license and buy a car one day. Her greatest dream is to buy a bigger house for the whole family.
While residents have paid dearly for terrorism in the region, those on the frontlines constantly face the threat of death. As police deal with terrorists who use weapons ranging from homemade bombs to AK-47s, they have lost many colleagues in the line of duty.
In Pictures: The Uyghurs of Xinjiang | | Al Jazeera
********************+
The Great Wall Of Lies and the Chinese ISIS: March of the Uyghurs- by Andre Vltchek, now 'conveniently' dead
This long essay is a "must read" to understand how Turkey and the West imported tens of thousands of Uyghurs and trained an army of the most brutal imaginable terrorist mercenaries to use in Syria and elsewhere, and use them as a blackmail threat to infiltrate them back to cause havoc in China.
Try typing "Some Uyghurs are jihadi terrorists" in Google and you will see instead only thousands and thousands of posts about how horrible China is Genociding innocent Uyghurs and must be punished, sanctioned, boycotted and reviled. Just a few years ago it was Russia we were urged continually to hate, not that that has stopped either.
The reason is that the US "defense" industry, on a $750 BILLION budget, has allocated various billions to a worldwide campaign of daily lies and vilification of China and everything Chinese. It seems China has been deemed a mortal threat to the good old USA.
Here we republish a big post by the always accurate Andre Vltchek which tries to hold back the tsunami of hatred and racism directed at all 1,400 million Chinese for their state's diabolical plot for world peace, mutual respect and multilateralism.
Andre died suddenly last year when traveling in a car with his wife in Turkey. They say he had diabetes and it was a natural death. He was also surely, as you will see on reading his essays, on the hit list of the most powerful men on earth, and commentators speculate anonymously that Andre was murdered by the CIA, Israeli specialists or the Turkish Grey Wolves.
Andre Vltchek, who died in Sept 2020 aged 57, was a world famous philosopher, novelist, filmmaker and supreme investigative journalist. He was the creator of Vltchek's World in Word and Images, and a writer who penned a number of books, including China and Ecological Civilization. He wrote especially for the online magazine "New Eastern Outlook."
***********
March of the Uyghurs by André Vltchek
(illustrations added )
Again, The West Tries to Destroy China, Using Religion and Terror
[Important note: The Uyghurs have managed to create a very old and deep culture. Most of them are good, law abiding citizens of the PRC. Also the great majority of followers of Sunni Islam are peaceful people. This work is addressing terrible problems related to extremism and terrorism, most of them crafted and then fueled by the West and its allies. The goal is to damage China. The victims live in various countries.]
***
US De-Lists ETIM, the Uyghur Terrorist Organization Aimed at China ..
They are everywhere, where their Western, Gulf states and Turkish handlers want them to be.
Their combat as well as political cells and units are based in Syria and Indonesia, in Turkey and occasionally in Egypt.
When they are told to kill, they murder with unimaginable brutality; decapitating, or cutting to pieces priests, infants, old women.
They are China's worst nightmare. They are unleashing religious fundamentalism and foreign-sponsored militant nationalism and separatism. They are potentially the greatest obstacle and danger to President's Xi Jinping's marvelous BRI (Belt and Road Initiative).
Xinjiang's social, economic progress Sep 25, 2019 — — Xinjiang has achieved a decisive advance in poverty alleviation . From 2014 to 2018, about 2.3 million people were lifted out of poverty, with the region's poverty headcount ratio dropping from 19.4 percent to 6.1 percent. see also: Uyghur terrorists killing innocent people in Xinjiang China 维族暴徒打死打伤无辜行人 .
Both the West and Turkey are glorifying them; the most extremist of Uyghurs. They are financing and arming them. They are labeling them as victims. Uyghurs are now a new 'secret weapon', to be used against Beijing's determined march forward, towards socialism with Chinese characteristics.
The West and its allies are doing all they can, to smear China (PRC), to derail its progressive course, and to arrest its increasingly positive and optimistic influence on all the corners of the world.
They invent and then support/finance all imaginable and unimaginable adversaries of the Communist Party of China. Religious sects are the favorite 'weapon' used against China by both North America and Europe. That is true about the extremists who belong to Tibetan Buddhism, concentrated around an agent and darling of the Western intelligence agencies, the Dalai Lama. Or yet another radical Buddhist/Taoist extremist sect – Falun Gong.
Adrian Zenz (middle) and Bahram Sintash (right) at Radio Free Asia headquarters in Washington DC
The West does everything in its power to destroy China. It was clearly detectable 30 years ago during the so-called Tiananmen Square Incident (an event supported by the West, and later twisted by Western mass media), as it has been obvious during two recent 'rebellions' in Hong Kong, fully sponsored by Western organizations (NGOs) and governments.
The latest chapter of the anti-Chinese attacks, conducted by the West, is perhaps the most dangerous, and the 'best crafted' multi-national onslaught against the interests of both China (PRC) and the developing world, particularly the former Soviet republics of Central Asia.
It is the so-called Uyghur issue…….
***************
Genocide Politics: The Zenz-Xinjiang Case
Author:Dr Dan Steinbock
The Trump and Biden administrations have initiated an unsubstantiated genocide case against China. It has been opposed by White House's own legal experts. With its dark roots, genocide politics mocks real genocides.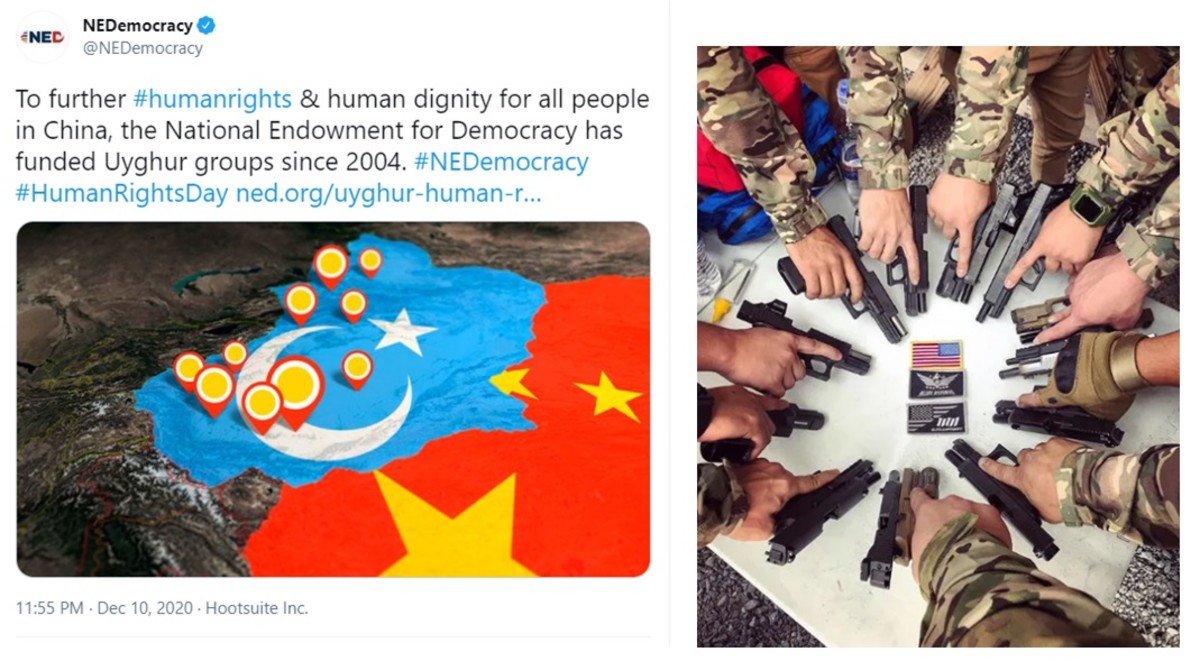 In July 2020, then-Secretary of State Mike Pompeo blamed the Chinese Communist Party (CCP) for "using forced sterilization, forced abortion, and coercive family planning against Uyghurs and other minorities in Xinjiang."
In January, Pompeo, on his way out from the White House, charged China of "the systematic attempt to destroy Uyghurs in Xinjiang." The Biden administration has adopted the same unsubstantiated allegations.
And so has international media, without slightest source criticism.
Stunningly, most based their charges mainly on just one source: a German born-again anti-Communist Christian crusader who has never been in Xinjiang.
How genocide politics trumped legal experts
According to the UN Genocide Convention (1948), genocide is defined as "acts committed with intent to destroy, in whole or in part, a national, ethnic, racial or religious group, as such."
In contrast, what Zenz claimed was that the fall of Uyghur birth rates and birth control measures in Xinjiang province was a proof of genocide. In the process, genocide was associated with family planning and modernization (which US agencies and foundations have implemented across the world since the postwar era).
Moreover, through the 2019s, Xinjiang actually recorded a positive overall population growth rate, with the Uyghurs growing faster than the non-Uyghur population.
Furthermore, the genocide allegation was made against explicit legal opposition. Prior to Pompeo's January statement, the State Department's Office of the Legal Advisor had concluded that there was insufficient evidence to prove such genocide.
Yet, both administrations simply over-ruled their own legal experts.
In April, economist Jeffrey Sachs and William Schabas, a leading international legal scholar of genocide, stressed that "the Xinjiang genocide allegations are unjustified." As they concluded, "unless the State Department can substantiate the genocide accusation, it should withdraw the charge."
Who is the primary source of the genocide allegation?
From God to anti-China Aussies and US defense contractors
Adrian Zenz graduated from the hyper-Christian Columbia International University, headquartered in South Carolina, where teachers can lecture only if they affirm the Second Coming of Jesus. As Wall Street Journal once put it, Zenz feels "led by God" in his struggle against the Chinese communists.
After 2016, the German crusader suddenly became a "Xinjiang expert" with a single Foreign Affairs essay. Co-author James Leibold's Australian Strategic Policy Institute (ASPI) has been credited as the think-tank behind Australia's rock bottom ties with China. It is funded by Australia's Defense Department and US State Department and Pentagon's big defense contractors.
By 2017, Zenz's publications were released mainly by one of the flagships journals of the Jamestown Foundation, an ultra-conservative anti-Communist think-tank launched by CIA Director William J. Casey in the '80s.
But Zenz's Xinjiang pieces were published by Journal of Political Risk, led by Anders Corr who has a track-record of fake predictions and who consults Pentagon agencies and defense contractors (on his 2017 fake prediction that the Philippines will default under China's debt slavery by 2022, see my "Whatever happened to PH debt slavery?" TMT, Oct 7, 2019).
In December 2020, Zenz released his Coercive Labor in Xinjiang in which"the assertion of genocide is concocted through fraudulent statistical manipulation, cherry-picking of source material, and propagandistic misrepresentations," as critics have put it, rightly.
The "shocking report" was published by the Newlines Institute for Strategy and Policy (NISP), with the Raoul Wallenberg Center for Human Rights (RWCHR).
NISP's leadership features mainly US State Department officials, military and intelligence analysts who used to work for Stratfor ("Shadow CIA" as Barron's calls it). The RWCHR positions have converged with those of US State Department and it collaborates with the anti-China cult Falun Gong and its far-right Epoch Times.
NED sponsoring Uyghur separatism
In the US, the key role in the Zenz-fueled campaign against China belongs to the Worker Rights Consortium (WRC), whose steering committee members seem to be supported by the National Endowment for Democracy (NED). The WCR campaign has forced Uyghur workers out of their jobs, while compelling US apparel company Badger Sport to pay $300,000 to Uyghur exile separatists, not to the jobless workers.
Zenz's report also features materials of Uyghur separatists, including the World Uyghur Congress (WUC) backed by the U.S. government. The WUC regards Xinjiang as "East Turkestan." Dedicated to separatist objectives, it seeks to destabilize Xinjiang and ultimately regime change. It is a top-down umbrella for its Washington-based affiliates – including Uyghur American Association (UAA), Uygur Human Rights Project, and Campaign for Uyghurs – reliant on US funding.
The WUC and its affiliates have been supported with millions of dollars since 2004 by the National Endowment for Democracy (NED). Under its president Kuzzat Altay, the UAA's anti-China fanaticism has escalated, while the far-right gun club Altay Defense drills combatants with ex-members of U.S. special forces .
Related Posts
Uyghur Separatists: Feared in China, Pampered by the West
Report: Suspect In Bangkok Bombing is Uyghur Muslim Jihadist
In Pictures: The Uyghurs of Xinjiang | | Al Jazeera
Why are western media silent on China's documentaries on Xinjiang? .. CGTN
When The U.S. Put Uighurs In Guantanamo At China's Urging …
So-called 'genocide' in Xinjiang is staged farce to smear China
Chinese FM lodges solemn representation with BBC over false reports on Xinjiang
West 'malicious' to hype prisoner transfers in Xinjiang
Xinjiang is a mirror reflecting paranoia of Western extreme politicians
US spent $35.4 billion on nuclear weapons last year …
China, on Pacific Cable Warning, Says U.S. Is Smearing …
US intelligence director says China is top threat to America
******************