US senator 'won't rule out' nuclear strike against Russia
Republican Mississippi Senator Roger Wicker gave a disturbing interview with Fox News where he floated the possibility of a ground deployment and nuclear strike against Russia should the US engage in a conflict
8 Dec, 2021 / Updated 5 hours ago from RT. Shared with thanks
Asked what military action against Russia would comprise, Wicker said it could mean "that we stand off with our ships in the Black Sea and we rain destruction on Russian military capability."
"I would not rule out American troops on the ground," the senator declared, adding that the US also shouldn't "rule out first use nuclear action" against Russia.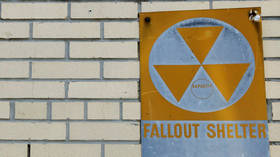 A yellow nuclear fallout shelter sign is seen hung on a building in the Brooklyn borough of New York, U.S., December 7, 2017 © Reuters / Brendan McDermid
Republican Illinois Congressman Adam Kinzinger backed Wicker's call for all cards to be on the table.
"Russia advances till they hit a brick wall. We can be the brick wall, History repeats itself but we always deny it's happening," Kinzinger declared.
"I would not rule out military action. I think we start making a mistake when we take options off the table, so I would hope the president keeps that option on the table," said Wicker about a potential standoff with Russia to Fox News' Neil Cavuto on Tuesday.
US threatens to isolate Russia from global financial system – Nuland
8 Dec, 2021 08:39 Get short URL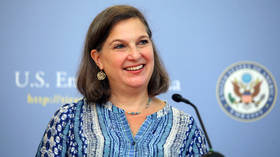 FILE PHOTO. US Assistant Secretary of State Victoria Nuland speaks at a news conference in Tirana, July 10, 2016. © AP / Hektor Pustina
By Jonny Tickle The US State Department, along with America's allies in Europe, is considering the possibility of completely isolating Russia from the global financial system if it attempts to invade Ukraine, it revealed on Tuesday.
Speaking to the US Senate Foreign Relations Committee, Under Secretary of State Victoria Nuland explored possible ways that Washington could punish Moscow for any military incursion.
"What we are talking about would amount to essentially isolating Russia completely from the global financial system, with all the fallout that would entail for Russian businesses, for the Russian people, for their ability to work and travel and trade," Nuland said.
Comments from RT

Aha. Which in turn would force Russia to stop gas, oil, uranium, titanium, aluminum, etc deliveries to the Empire. And such things as central wing boxes of the Airbus 32x series which are made in Russia. In reality the Anglo-Empire is trying to ruin European (= German) – Russian relations and the continental European economy. That includes ever more clearly the vaccine war, in which some unelected and morally and factually corrupt 5th column bureaucrats are still blocking Sputnik V from being included in the WHO and EMA lists.
TheFishhv2 James • 15 minutes ago
US cannot cripple Russia. Russia has pretty much insulated itself against effects of US sanctions. US would just end up doing damage to itself and to the EU. It is the US that is isolating itself and pushing countries away. US is weak, and it ascribes to Russia its own societal weaknesses, thinking Russians are just as susceptible to them. What the US threatens Russia with would certainly harm US society.

Well Russia doesn't want to invade the Ukraine, but if nato place their missiles there they will to protect their country.
If nato place missiles there then it's natos fault for starting ww3.
It is my understanding that Putin and Biden had a chat and they are working to de escalate the situation.

Nothing to worry about. Russia isn't planning anything.
Please Nuland, keep your fascist Oompa Loompas away from the Russian border!
Ukrainian president Volodymyr Zelensky has honored the role of Nazi collaborators during WWII, but failed to mention the soldiers who died serving in the Red Army, while celebrating the anniversary of the country's armed forces……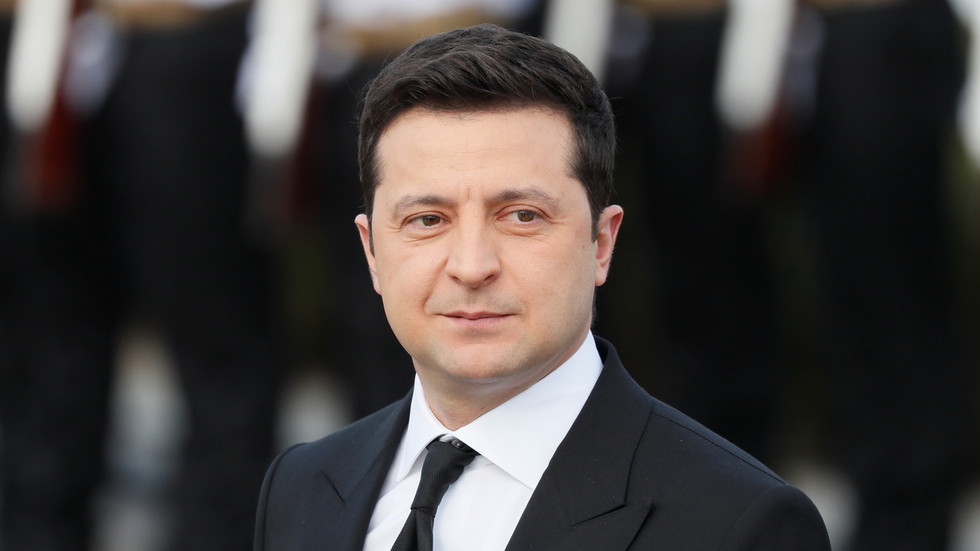 …….He also mentioned those who fought under the banner of the Ukrainian Insurgent Army (UPA), referring to them as "fighters in the anti-Hitler coalition during World War II."
However, he refused to include those who served during the Soviet era. The UPA, registered as an extremist organization in Russia, worked alongside the Nazis in the fight against the Red Army. Historians say it was responsible for the mass killing of Jews and the destruction of Polish communities during a period of ethnic cleansing……
…..The celebrations marking the 30th anniversary of the establishment of Kiev's armed forces come amid heightened tensions on the Russian-Ukrainian shared border. Last week, Kremlin Press Secretary Dmitry Peskov warned that the risk of a full-blown armed conflict in southeastern Ukraine is highly likely, which is becoming a matter of grave concern for Moscow.
Russian Foreign Ministry spokeswoman Maria Zakharova alleged the day before that Kiev was significantly increasing its military force in the Donbass by "pulling heavy equipment and personnel" into the region. "According to some reports, the number of troops… in the conflict zone already reaches 125,000 people," the representative said.
See also: Russia forced to defend a million of its citizens in Donbas, as NATO Arms and Urges Ukrainian 'nazis' to attack
España: ahora Objetivo por Aniquilación Nuclear como base de Mísiles anti-Balísticos avanzados y la 'misión' de cazas en la frontera Rusa ..
editorial comment
But what did Russia do to deserve all this War preparation and hysteria, now gaining its own momentum and nearly unstoppable??
Nothing new has happened. Not even confirmation that Russia has 'moved its troops'.
It's absurd. Russian has zero interest in a suicide invasion of basket-case Ukraine, or anywhere else.
Russia "Moved Troops", in their own territory, just maybe! What a crime to arrange Armageddon!?
What exactly is the Russian Threat? Russia has a GDP less than Italy and has to defend a federation that stretches to The Pacific!
On the contrary it is US power that continues punitive sanctions on Russia, still bans the Sputnik Vaccine and even threatens EU energy security by forcing Germany to continue blocking the opening of its NorthStream 2 gas pipeline.
50 War Exercises + 24/7 Air 'Patrols' near Russian Borders… Imagine if the Russians did this outside New York. Why is this happening? Is this what we pay our taxes for?
Why is NATO pushing the deranged ultra nationalists in Ukraine to shred the UN's Minsk agreement (by which Ukraine would eventually get back Donbas as an autonomous region) as well as arming, financing and urging them to massacre the 1 million ethnic Russians in Donbas? Do they even know that most people by now in Donbas have dual Russian citizenship and Russia is forced to defend them. Can't Ukrainians remember how WW2 began?
Is the Pentagon locked into an unhinged compulsion to avenge its humiliation in Afghanistan? Or is it the War Industry, on a $750 billion budget, insanely desperate to use up its weapons ?.
Does Ukraine really want all those Russians in that tiny part of Ukraine? Do they really need Crimea, Russia's main naval base, which was never really Ukraine anyway? Aren't they content with the flow of soft IMF, EU and World Bank cash?
What's happening? Are the NATO leaders suffering from Brain Fog from Vaccine Reactions.? Or are Eastern European rulers delirious with mini-Hitler psychosis?
Russians are still deeply shocked by losing 27 million citizens to the European Nazi invasion, including by divisions of Ukrainians, Crimean tartars and Poles, now glorified by far-right parties from those countries now menacing Russia's borders. Can you blame them from saying 'Never Again-nikogda bol'she' ?- That is Russia's 'Red Line'. Can't they see that?
Please Mr NATO, can you kindly stand down and explain yourself? Before you kill me, my family, and just about everyone else!
globalfooling .. The situation unfolding in the world today is very reminiscent of that which preceded WW2; ie threats were issued that if the territorial integrity of Poland were impugned, then war would be declared; but then as now, such an invasion when it came was not predicated on the aggressive intent of the invading nation, but upon its responsibility to protect large numbers of its citizens who were under real and present physical danger from the invaded nation.
Thus, Hitler invaded Poland on the 1st September 1939 in response to what subsequently proved to be the brutal murder of 58,000 Germans marooned on Polish soil since the end of WW1, a massacre fully investigated and reported on by German police units in the period following the invasion. We can see how the Russians similarly marooned in Donbass region today are under identical threats from the regime in Kyiv, and thus the parallels are quite remarkable. Like Reply

Rick Rozoff I'd be wary of all justifications for military action, including Russia's should it occur. Like Reply
Related
Blinken-Kuleba meeting: U.S. will honor "ironclad" commitment to Ukraine if Russia attacks "again"November 12, 2021In "News"
U.S. Strategic Partnership: Kiev has "powerful allies and partners"against
Russian "aggressor state"November 9, 2021In "News"
Wars of the Soviet Succession: NATO accuses Russia of aggression against Georgia, Ukraine, Moldova, targets Belarus, Balkans
Wars of the Soviet Succession: NATO accuses Russia of aggression against Georgia, Ukraine, Moldova, targets Belarus, Balkans November 15, 2021
Biden, Pentagon, NATO signal readiness to go to war against Russia over Ukraine April 2, 2021In "News"
Ukraine's Zelensky tells Russian speakers to leave country