photo> Black Hawk helicopter over Mogadishu in 1993
You'll never read in the Russophobic western media that the US supported and armed Ukraine while they attacked and besieged Donbass, aided by proud nazi militias, for 8 years causing nearly 15,000 deaths.
As a trsunami of anti Russian racism and hatred, fueled by ex Covid hysteria and brain-fog, sweeps the world, the batallions of nazi butchers, torturers and rapists are now to be gifted with brand new NATO armaments and warplanes across the Polish border, paid for by the EU taxpayer.
What the Hell is going on?!
"There were "between 1,500 and 3,000 Somali casualties, including civilians in the botched US 'Black Hawk Down' US attack on Somalia. SNA forces claim only 315 killed" The US lost just 18 dead but has persecuted Somalia ever since. .
Those deluded young nazis are Russia's red line. Last time they invaded Russia in 1941 the USSR lost 27 MILLION citizens expelling them.
This time round they come with the sacks of dollars and blessing of the US, NATO and EU which together spend over 50% of the world's military budget.
Russia is an autocratic state, with very little western democracy or judicial freedom (though more than many states in the West,and with better education, health, housing and pensions).
The USA has besieged Russia for 100 years in its predator capitalist quest to plunder the planet.
Now they have crossed the last Red Line. In the minds of some Russian military generals mutual Nuclear annihilation would be better than surrender.
************
US Bombed Somalia Amid Russian Invasion of Ukraine
by Kenny Stancil February 25, 2022
"You do not, in fact, have to choose between American and Russian imperialisms," wrote one anti-war reporter. "The correct choice is to detest and resist both."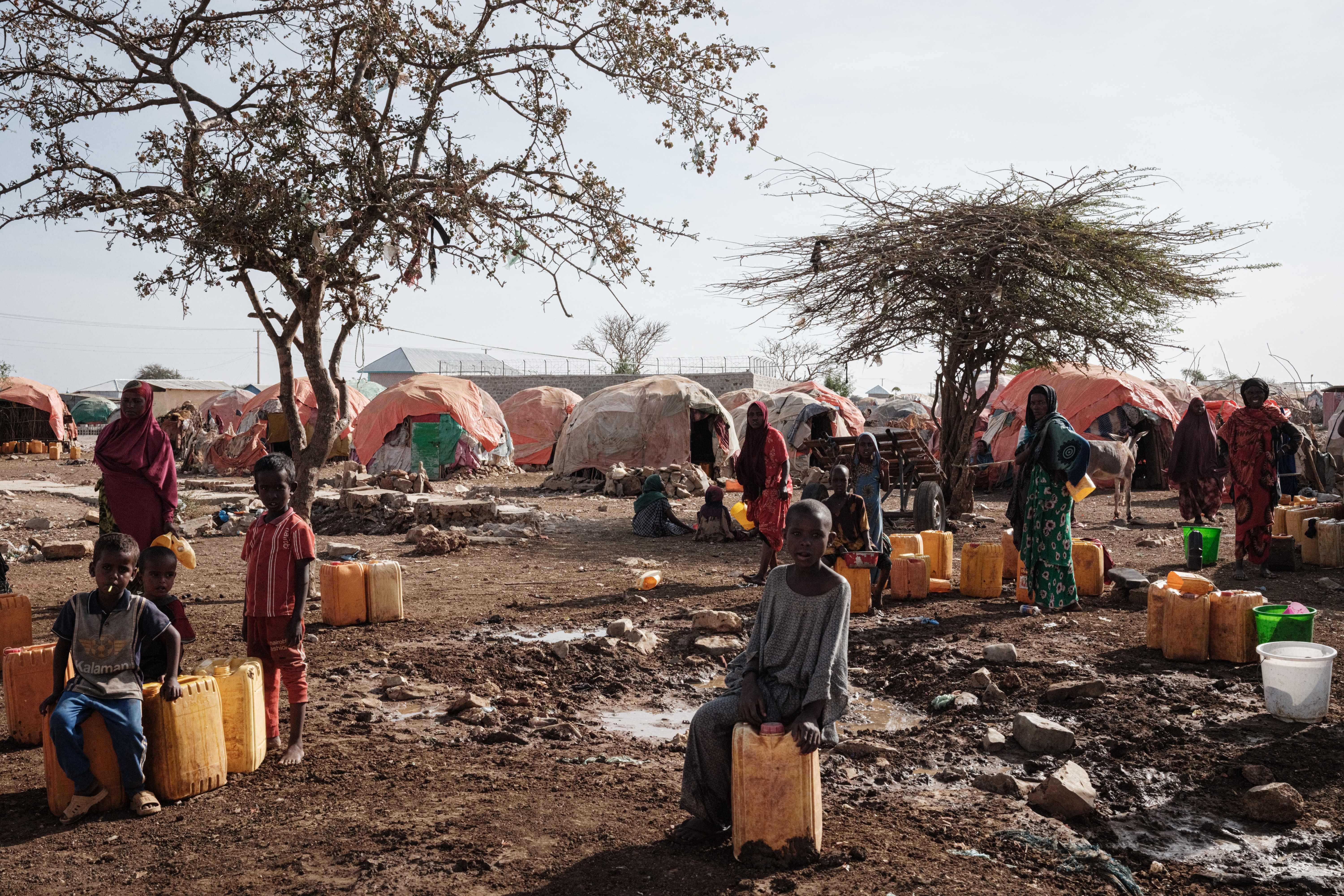 People wait for water with containers at a camp for internally displaced persons in Baidoa, Somalia, on February 13, 2022. (Photo: Yasuyoshi Chiba/AFP via Getty Images)
Just before Russian President Vladimir Putin launched his full-scale military assault on Ukraine, which has drawn accusations of potential war crimes and received global condemnation, the United States hit Somalia with the latest drone attack in its 15-year war against the impoverished nation.
"The ongoing horrors of a protracted war matter as much as the fresh horrors of a new one."
In a statement released Wednesday, the U.S. Africa Command (AFRICOM) said its Tuesday airstrike targeted suspected al-Shabab militants "after they attacked partner forces in a remote location near Duduble."
The first known U.S. airstrike in Somalia in 2022 was the fifth since the start of President Joe Biden's tenure in the White House.
"Before him, Donald Trump escalated the U.S. war in Somalia like no one else had, bombing the country more in the first two years of his presidency than Barack Obama had in eight, all the way up to January 19, 2021," journalist and author Spencer Ackerman wrote Thursday on his Forever Wars blog. "George W. Bush plunged the U.S. into conflict in Somalia in the first place in 2006."
'Black Hawk Butchers' bombed or persecuted Somalia for 30 years'as revenge for 'Black Hawk Down', now risk Nuclear War to attack Russia for defending Donbass!
What Hollywood doesn't tell us that although 18 US invading 'heroes' were killed they massacred the Somali population: there were "between 1,500 and 3,000 Somali casualties, including civilians; SNA forces claim only 315 killed" .
Black Hawk Down, the Hollywood propaganda movie, is about brave and wonderful US soldiers who tried to kidnap 2 local leaders in Somalia in 1993.
Everything went wrong as the locals resisted the Americans, who heroically fought back and escaped. The humiliation of being ejected from Somalia is the excuse for the 30 year long persecution.
What Hollywood doesnt tell us that althogh 18 US invaders were killed they massacred the population: there were "between 1,500 and 3,000 Somali casualties, including civilians; SNA forces claim only 315 killed" .
"The Battle of Mogadishu, more commonly referred to as Black Hawk Down or, locally, as the Day of the Rangers (Somali language: Maalintii Rangers ), was part of Operation Gothic Serpent and was fought on 3 and 4 October 1993, in Mogadishu, Somalia, between forces of the United States supported by UNOSOM II, and Somali militiamen loyal to the self-proclaimed president-to-be Mohamed Farrah Aidid who had support from armed civilian fighters".
"A U.S. Army force in Mogadishu, consisting primarily of U.S. Army Rangers from Bravo Company, 3rd Battalion, 75th Ranger Regiment; C Squadron, 1st Special Forces Operational Detachment-Delta (1st SFOD-D), better known as "Delta Force"; as well as Air Force Combat Controllers and Pararescuemen and helicopters from 1st Battalion, 160th Special Operations Aviation Regiment, attempted to seize two of Aidid's high-echelon lieutenants during a meeting in the city.
Shortly after the assault began, Somali militia and armed civilian fighters managed to shoot down two UH-60 Black Hawk helicopters. ……."
The subsequent rescue operation to secure and recover the crews of both helicopters drew the raid, intended to last no more than an hour, into an overnight standoff in the city. "
The battle resulted in 18 deaths, 80 wounded, and one helicopter pilot captured among the U.S. raid party and rescue forces. One Pakistani soldier and one Malaysian soldier were killed as part of the rescue forces.
American sources estimate between 1,500 and 3,000 Somali casualties, including civilians; SNA forces claim only 315 killed, with 812 wounded. The battle is now referred to as the First Battle of Mogadishu."