Felines owned by Russians have been banned from international competitions as punishment for Moscow's attack on Ukraine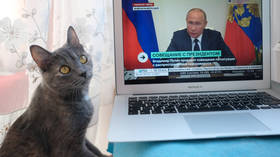 A cat sits near a laptop showing a live broadcast of Russian President Vladimir Putin's address to the nation © Sputnik / Nikolai Khizhniak
The International Feline Federation (FIFe) has weighed in on the Ukraine crisis, banning Russian-owned cats from competing in its shows as a sanction for Moscow's military attack on the former Soviet republic.
"The FIFe executive board is shocked and horrified that the army of the Russian Federation invaded the Republic of Ukraine and started a war," the Paris-based federation said on Tuesday. The group added that it "cannot just witness these atrocities and do nothing."
As a result, cats belonging to Russian residents will be banned from entry at FIFe shows. In addition, no cats bred in Russia can be imported and registered in a FIFe pedigree book, the group said.
No cat belonging to exhibitors living in Russia may be entered at any FIFe show outside Russia, regardless of which organization these exhibitors hold their membership in.
The sanctions will remain in place through at least May and may be extended, presumably depending on what transpires in Ukraine. FIFe said it will use some of its budget to support cat breeders and fanciers in Ukraine. "Our Ukrainian fellow feline fanciers are desperately trying to take care of their cats and other animals in these trying circumstances," the federation said.