Published: 23 Mar 2022 11:33 GMT
After 10 days strike the main Unions who rejected the Platform as 'Rightwing' are joining the Indefinite strike.
The Govt of Pedro Sánchez, which refused to negotiatem now 'hopes' to reach an agreement .

The unions take to the streets throughout Spain and join the carrier strike that begins to paralyze the country
Truckers parked in the Wanda Metropolitano, during the tenth day of the truckers' strike. Madrid, March 23, 2022. Jesus Hellin /
This Wednesday the protests are widespread throughout Spain. The strike of carriers, which this day is ten days old and has begun to paralyze the country, is joined today by the call of the majority unions that have called almost 60 demontrations or mobilizations throughout the country.
Unions and consumer associations join a transport strike that is on its way to collapsing the country
The reason that unites all the protests is the rise in fuel and electricity prices, which is making all basic products more expensive for the population and for the majority of workers and companies.
Thus, the trade union Commissions Obreras (CC.OO.) and the General Union of Workers (UGT) urge the Government and the European Union (EU) to contain the inflation that is reaching levels not seen in the last three decades in recent months.
For their part, carriers begin their tenth day of strike today, after rejecting the agreement of the Government and the sector's negotiating body that included an aid package of 500 million euros and that several employers in the sector joined the strike yesterday .
In addition, this Wednesday there is also a call for a taxi mobilization. Elite Taxi has called a slow march in Barcelona that will run from Terminal 1 of the Catalan capital Airport to the regional Parliament. In Madrid, Sunday will be the day the taxi takes to the streets to protest.
Shortages increase
The incidence of carrier strikes has been making itself felt for days on supermarket shelves, where there are already hard-to-find products, such as milk, flour, legumes and pasta.
Every day more companies announce that they will not be able to continue their activity due to the lack of supplies or the lack of carriers to deliver fresh products with a short expiration date.
The first to announce it were the dairy companies, although the problems are spreading to dealerships, gas stations and other manufacturing sectors.
This Wednesday the voice of alarm was given by the Lares residential centers, managed by social entities that bring together a thousand residences.
They have announced that "the stoppages in transport are putting the nutrition of the elderly at risk" and that they only have a guaranteed supply of fresh produce for one more week.
Incidents and search for solutions

From shortages in supermarkets to production problems: what is happening to truck drivers in Spain?
From shortages in supermarkets to production problems: what is happening to truck drivers in Spain?
Since the carriers' strike began, 61 arrests have been made and another 455 people are being investigated for the incidents that have occurred during these days, such as the throwing of stones at trucks in circulation, the puncture of vehicle wheels, cuts of roads or the impediment of exit of trucks from logistics centers.
The authorities are deploying overv 40,000 State Security Forces and Bodies to 'guarantee the safety of carriers' who do not support the strike and ensure that basic supplies can continue. In the case of the Madrid region, 3,450 agents have been deployed, including members of the National Police and the Civil Guard.
For her part, the Minister of Transport, Mobility and Urban Agenda, Raquel Sánchez, this Wednesday in Congress assured that the majority of carriers "are already working", while the President of the Government, Pedro Sánchez, maintains that this week the Executive will reach an agreement with the transportation sector.
Thus, Sánchez's Cabinet has its sights set on the European Council meeting on March 24 and 25, where it hopes that agreements will be reached to cushion the rise in fuel and electricity prices and mitigate the effects that the conflict in Ukraine is having on European economies.
Los sindicatos salen a la calle en toda España y se unen al paro de transportistas que comienza a paralizar el país
Publicado: 23 mar 2022 11:33 GMT
El paro continúa aumentando su incidencia mientras el Gobierno de Pedro Sánchez espera llegar a un acuerdo con el sector transportista esta semana.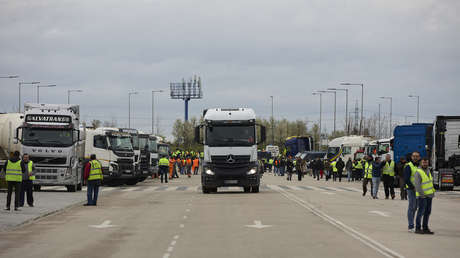 Este miércoles las protestas se generalizan en toda España. Al paro de transportistas, que esta jornada cumple diez días y ha comenzado a paralizar el país, se une hoy el llamamiento de los sindicatos mayoritarios que tienen convocadas casi 60 concentraciones o movilizaciones en todo el país.
El motivo que aúna todas las protestas es el alza de los precios de los combustibles y de la electricidad, que está encareciendo todos los productos básicos para la población y para la mayoría de trabajadores y empresas.
Se generaliza el paro de transportistas en España – BAE …
Así, los sindicatos Comisiones Obreras (CC.OO.) y Unión General de Trabajadores (UGT) urgen al Gobierno y a la Unión Europea (UE) que contengan la inflación que está alcanzando en los últimos meses niveles no vistos en las últimas tres décadas.
Por su parte, los transportistas comienzan hoy su décima jornada de paro, después de rechazar el acuerdo del Gobierno y el órgano negociador del sector que incluía un paquete de ayudas de 500 millones de euros y de que ayer se sumaran al paro varias patronales del sector.
Además, también este miércoles hay convocada una movilización del taxi. Élite Taxi ha convocado en Barcelona una marcha lenta que transcurrirá desde la Terminal 1 del Aeropuerto de la capital catalana hasta el Parlamento regional. En Madrid será el domingo el día en el que el taxi tome las calles para protestar.
Huelga: Unidos Podemos calienta motores en la calle
Aumenta el desabastecimiento
La incidencia del paro de transportistas lleva días dejándose notar en las estanterías de los supermercados, donde ya hay productos difíciles de encontrar, como leche, harina, legumbres y pastas.
Sindicatos y asociaciones de consumidores se suman a una huelga de transportes que va camino de colapsar el país
Cada día más empresas anuncian que no podrán continuar su actividad debido a la falta de insumos o a la falta de transportistas para dar salida a los productos frescos de corta fecha de caducidad. Las primeras que lo anunciaron fueron las compañías dedicadas a los lácteos, aunque los problemas se están extendiendo a concesionarios, gasolineras y otros sectores manufactureros.
Este miércoles la voz de alarma la han dado los centros residenciales Lares, gestionados por entidades sociales que aglutinan un millar de residencias. Han anunciado que "los paros en el transporte están poniendo en riesgo la alimentación de los mayores" y que solo tienen asegurado el suministro de producto fresco para una semana más.
Incidentes y búsqueda de soluciones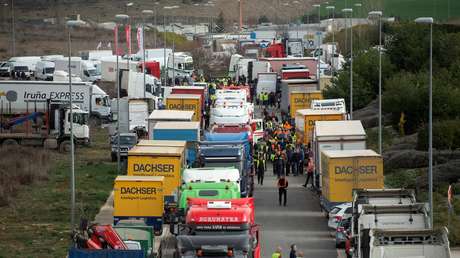 Desde desabastecimientos en supermercados a problemas en la producción: ¿qué está pasando con los camioneros en España?
Desde el inicio del paro de los transportistas se han producido 61 detenciones y otras 455 personas están siendo investigadas por los incidentes que se han producido durante estas jornadas, como el lanzamiento de piedras a camiones en circulación, el pinchazo de ruedas de vehículos, los cortes de vías o el impedimento de salida de camiones de centros logísticos.
Las autoridades están desplegando dispositivos de las Fuerzas y Cuerpos de Seguridad del Estado para garantizar la seguridad de los transportistas que no secundan el paro y que se pueda continuar con el abastecimiento básico. En el caso de la región de Madrid, se han desplegado 3.450 agentes, entre efectivos de la Policía Nacional y la Guardia Civil.
Por su parte, la ministra de de Transporte, Movilidad y Agenda Urbana, Raquel Sánchez, este miércoles en el Congreso ha asegurado que la mayoría de los transportistas "ya está trabajando", mientras que el presidente del Gobierno, Pedro Sánchez, sostiene que esta semana el Ejecutivo alcanzará un acuerdo con el sector transportista.
Así, el Gabinete de Sánchez tiene sus miras puestas en la reunión del Consejo Europeo de los próximos 24 y 25 de marzo, donde espera que se alcancen acuerdos para amortiguar el alza del precio de los carburantes y de la electricidad y paliar los efectos que el conflicto en Ucrania está teniendo en las economías europeas.