3 Apr, 2022 13:52 HomeBusiness News
Slovakia cannot afford to lose its major supplier
Slovakia will pay for Russian natural gas in rubles if that's what it takes to keep the commodity flowing, Slovak Economy Minister Richard Sulik has said on national television.
"If there is a condition to pay in rubles, then we will pay in rubles," Sulik said. He stressed that Russian imports account for roughly 85% of all Slovakian gas supplies, so the country's authorities will remain pragmatic on the issue.
"We cannot be cut off from gas," Sulik emphasized, urging the rest of Europe to jointly seek a solution.
Nearly all of the countries of the European Union, of which Slovakia is a member, slapped Russia with economic sanctions over the past month, jeopardizing Russia's ability to receive payments from trade partners in the European currency. In response, Russian President Vladimir Putin last week signed a decree introducing a new ruble gas payment mechanism.
READ MORE: Moscow explains switch to ruble for gas payments
Although it is viewed by some as going against existing gas contracts, the mechanism does not imply a change of the currency of payment. It enables buyers to open ruble accounts with Russian Gazprombank to facilitate the transfer of European companies' payments to Russian suppliers.
According to Putin's press secretary Dmitry Peskov, "de facto nothing will change for European companies… They will pay, as they used to, in euro, the same currency that is indicated in the contracts," but the seller, Russia's major gas exporter Gazprom, will be able to receive the funds in Russia's national currency. Despite extensive explanations, however, many Russian buyers found themselves puzzled by the change. The initial reaction was mostly one of protest, with countries claiming they would not pay for gas in rubles. However, it appears that this will not be necessary at all.
The Slovakian economy minister, along with a number of other European politicians, said the situation calls for diversification of suppliers. But he said this may take years, while Slovakia has only two months to solve the current problem with fuel purchases.
*************
Germany's Russian Gas contract was with now Defunct Gasprom subsidiary: The Plot Thickens…/Club Orlov
via.. https://boosty.to/cluborlov/ shared with thanks
by Dmitry Orlov
German-language media has already been going crazy lately about future purchases of oil and natural gas.
Since Germany is included in the list of "unfriendly countries" by Russia, it, like all the EU states, will only be allowed to purchase Russian natural gas for rubles, and not for euros or US dollars.
see also: Slovakia agrees to pay for Russian gas in rubles. Hungary /Austria say it's 'Impossible to leave Russian gas..
And now comes this bit of news, which should make the German talking heads go super-double-crazy: Germany will be left without Russian gas because its contract is not with Gazprom but with its subsidiary Gazprom Germany, which Gazprom has abandoned.
Barely a day or two ago, German officials were loudly declaring that their contract with Gazprom provides for payment in euros or dollars, and therefore Germany will not pay for Russian gas in rubles.
That ought to make everything perfectly clear. However, Germany's gas supply contract is with Gazprom Germania GmbH, located in Berlin, and not with actual Gazprom, headquartered in St. Petersburg!
Do the German authorities even know that these are now two completely different organizations?
continue reading HERE…https://thefreeonline.com/2022/04/04/germanys-russian-gas-contract-was-with-now-defunct-gasprom-subsidiary-the-plot-thickens/
****************
Impossible to replace Russian gas with 'expensive' US fuel – Hungary
Viktor Orban says Russian gas is his country's only option
Viktor Orban © Thierry Monasse / Getty Images
Hungarian Prime Minister Viktor Orban said, on Friday, that there are countries which will not be able to substitute Russian gas with the more expensive American alternative.
Speaking to local radio station Kossuth, ahead of this weekend's parliamentary election, Orban said Russian gas is his country's only option, as Hungary is landlocked and won't be able to directly receive liquified gas from the US.
Orban reiterated that Hungary condemns Russia's attack against Ukraine, and that he understands the efforts of Ukrainian President Volodymyr Zelensky, as his country is in trouble and he is looking out for Ukrainian interests, but stated that Hungary "can't help the Ukrainian people by destroying itself."
This war is not our war, we can't win here, but we can lose everything. The question is will we have an economy left by the end of it or not.
'Impossible' for Austria to ban Russian gas – energy giant
The repercussions for the economy would be too great
Austria is unable to stop buying Russian natural gas this year, the head of energy giant OMV, Alfred Stern, said in response to calls for European states to place an embargo on Russian supplies.
"Embargo on Russian gas is impossible if we are not ready to accept the dire consequences. Some countries could do it, but for Austria it is not possible this year… The phase-out of Russian gas comes at a price," he stated in an interview with Die Presse.
Stern explained that unlike some EU countries, Austria "is in a difficult position" when it comes to alternative energy sources, having "no access to the sea, no access to liquefied petroleum gas."
Stern is not alone in his views regarding Austria's dependence on Russian energy. Austrian Chancellor Karl Nehammer said earlier this week that he does not support any restrictions on the supply of oil and gas from Russia to Europe.
"From us there should be a clear rejection of any ideas about stopping the import of Russian gas or Russian oil," Nehammer said in an interview with OE24 TV.
Currently, gas storage facilities in Austria are only 13% full, media reports, citing industry sources.
Moscow's new gas payment scheme explained
Germany has refused to comply with Russia's demands
Germany – one of Europe's industrial powerhouses – is a major importer of Russian natural gas, with 34% of the fuel consumed in the country last year coming from Russia
Germany has refused to comply with Russia's demands, describing them as "blackmail" which runs counter to the terms of the existing gas contracts. However, refusing to pay for its gas would be financial suicide.
Moscow and the EU are currently at loggerheads regarding payment for future gas deliveries, as Brussels rejected Moscow's demand of payments in rubles. The Kremlin says currencies like the dollar and the euro have been compromised by the sanctions and Russia will not deliver gas for free.
The Kremlin said on Wednesday that the trans
Russia boosts gas flows to Europe through Ukraine. Pays Transit fees in Hard Cash March 23
****************
A Latvian gas operator says the procedure doesn't breach Western sanctions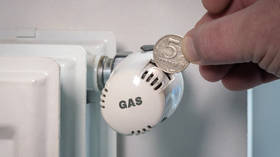 Latvia's main gas operator says it won't rule out paying for Russian natural gas in rubles, revealing that the new settlement method announced by Moscow is being evaluated from a legal and business perspective.
"According to the first impression, the settlement procedure in Russian rubles does not formally violate the sanctions regime and is possible," Latvijas Gaze said in a statement.
Earlier, Aigars Kalvitis, the board chairman of Latvijas Gaze, which is partially owned by Russia's Gazprom, said the company couldn't pay for natural gas supplies from Russia in rubles, since the current contract stipulates that all transactions must be made in euro.
READ MORE: Slovakia agrees to pay for Russian gas in rubles
Last week, Russian President Vladimir Putin ordered the government to take necessary steps to switch all payments for gas sales involving "hostile" countries to Russian currency from April 1. According to the Kremlin, the change concerns nations that imposed sanctions against Russia with the intention of damaging the country's economy, which includes most EU member states.
Putin warned EU countries that they would need to set up ruble accounts to pay for Russian gas, saying that existing contracts would be halted if the payments were not made.
On Saturday, the head of Latvia's natural gas storage operator Conexus Baltic Grid said that all the Baltic states – Latvia, Estonia and Lithuania – were no longer importing Russian natural gas.
see also:
Hungary's Orban criticized for 'neutrality' in Ukraine war … https://japantoday.com 'Blocking Russian energy exports would force Hungarians to "pay the price of the war," Orban said, noting that 85% of Hungary's gas and more than 60% of its oil comes from Russia'…./… India, Brazil, UAE, Pakistan, Hungary, Israel and so on all deciding to remain on the fence in what actually is a huge snub to the US. Saudi's selling oil in Yuan? (bye bye USD) India buying Russian oil in Rubles? (bye bye USD) The EU starting the paperwork to pay for Russian gas in Rubles? (bye bye USD)