¿Qué pasó en Bucha? Escenas de una masacre escenificada
Abr 2022, 2:03 pm.Misionverdad.com
Si bien la ciudad de Bucha, en Ucrania, está copando la agenda mediática corporativa estadounidense y europea con el objeto de criminalizar a Rusia de haber asesinado a mansalva supuestamente a más de 300 civiles, la falta de evidencias de esta versión da cuenta de que el ejército ruso nada tiene que ver con ello.
Luego de que este fin de semana el régimen de Volodímir Zelenski publicara imágenes en el que se muestran cadáveres presuntamente asesinados por el ejército ruso en medio de las calles y en fosas comunes de Bucha, se han alzado las voces de que Rusia debería ser juzgado internacionalmente por crímenes de guerra.
Corresponsales de Reuters afirmaron haber visto cadáveres en el suelo de las calles, amarrados de manos y pies, habiendo sido ajusticiados.
El ministro de Relaciones Exteriores ucraniano Dmytro Kuleba publicó en inglés una serie de tuits para mostrar las fotos y pedir al G7 la emisión de más "sanciones" contra la Federación Rusa, llamando a la escena una "masacre" deliberada por parte del Kremlin. También clamó por mayor ayuda militar internacionales: "Tanques, aviones de combate, sistemas de defensa antiaérea. Proporciónenlos DE INMEDIATO".
Por su parte, el ministro de Relaciones Exteriores ruso, Serguéi Lavrov, respondió:
"Otro ataque de falsificaciones se lanzó en la ciudad de Bucha, región de Kiev, luego de que los militares rusos salieron de allí de acuerdo con los planes y acuerdos alcanzados. Unos días después, allí fue organizada una escenificación que van difundiendo por todos los canales y todas las redes sociales los representantes ucranianos y sus patrocinadores occidentales".
El Ministerio de Defensa lanzó un comunicado con el que rechaza las acusaciones de Kiev:
"Todas las fotos y videos publicados por el régimen de Kiev que supuestamente atestiguan algunos 'crímenes' cometidos por militares rusos en la ciudad de Bucha, en la región de Kiev, son una nueva provocación.
"Mientras esta localidad estaba bajo control de las Fuerzas Armadas rusas, ningún residente local fue víctima de acciones violentas. Los militares rusos entregaron a la población civil de la región de Kiev 452 toneladas de ayuda humanitaria.
"Durante todo el período que la ciudad estuvo bajo el control de las FF.AA. de Rusia y más aún después, los habitantes locales se movieron libremente por la ciudad de Bucha y utilizaron los teléfonos móviles.
"Las salidas de la ciudad de Bucha no fueron bloqueadas. Todos los residentes locales tenían la oportunidad de salir libremente de la localidad en dirección norte, incluso hacia Bielorrusia. Al mismo tiempo, al sur de la ciudad, incluidas las zonas residenciales de las afueras, fueron bombardeadas las 24 horas por las tropas ucranianas con artillería de gran calibre, tanques y lanzacohetes múltiples.
"Queremos señalar que todos los militares rusos abandonaron Bucha el 30 de marzo, un día después de la ronda de negociaciones de paz entre Rusia y Ucrania en Turquía.
"Más aun, el 31 de marzo, el propio alcalde de la localidad, Anatoli Fedoruk, no solo confirmó en su videomensaje que en la ciudad no quedaban militares rusos y ni siquiera hizo mención alguna sobre residentes locales con las manos atadas, fusilados en las calles.
"Por lo tanto, no es de extrañar que todas las así llamadas 'pruebas de los crímenes' en Bucha aparecieran solo al cuarto día, cuando los efectivos del Servicio de Seguridad de Ucrania y los representantes de la televisión ucraniana llegaron a la ciudad.
"Resulta especialmente preocupante el hecho de que ninguno de los cuerpos cuyas imágenes fueron publicadas por Kiev parecía sufrir de rígor mortis, carecían de la característica ausencia de color propia de un cadáver y no estaban manchados de sangre coagulada.
"Todo esto confirma irrefutablemente que las fotos y videos de Bucha son otra producción del régimen de Kiev para los medios occidentales, como fue el caso del hospital de maternidad de la ciudad de Mariúpol".
De esta manera, la versión rusa contrasta de la ucraniana muy bien propagada por los medios occidentales, en un nuevo episodio de la guerra informativa contra Rusia. El gobierno del presidente Vladímir Putin no solo rechaza las acusaciones de la contraparte ucraniana, sino que también afirma que se trata de una "escenificación" y una "provocación".
Aunque el gobierno de Zelenski pide que se le juzgue al Kremlin ante la Corte Penal Internacional por crímenes de guerra, el Reino Unido impugna el llamamiento de Rusia a una nueva sesión en el Consejo de Seguridad de las Naciones Unidas para tratar el tema, paradójico si se toma en cuenta que este sería el escenario propicio para hacer una demanda como la del ministro Kuleba.
Verificando con lupa una cronología de los hechos, se puede atestiguar que los rusos están más cerca de la verdad que el régimen de Ucrania.
Evidencias de una escenificación
El ejército ruso, durante el sitio a las afueras de Kiev, estuvo en Bucha, a casi 40 kilómetros de la capital, en un tiempo de cinco semanas aproximadamente.
El sitio War On Fakes, que se ha encargado de desmontar muy seriamente los mayores bulos, noticias falsas y demás operaciones psicológicas e informativas llevadas a cabo en el campo de batalla ucraniano, hace una cronología del 30 de marzo hasta el presente para verificar si las acusaciones ucranianas tienen algún sentido.
Las tropas rusas salieron de Bucha el 30 de marzo. Aquí está la declaración oficial.
El 31 de marzo, apareció un video del alcalde de Bucha, Anatoly Fedoruk, declarando "con una sonrisa alegre en su rostro": "El 31 de marzo pasará a la historia de nuestro asentamiento y de toda la comunidad territorial como el día de la liberación de los orcos rusos, ocupantes rusos de nuestros asentamientos por nuestras Fuerzas Armadas de Ucrania".
El mencionado sitio web hace las siguientes preguntas: "¿Fedoruk acaso se alegraría si docenas de sus compatriotas en ese momento yacían en las calles fusilados? ¿Por qué no dice nada en su declaración sobre las 'atrocidades de los verdugos rusos'? ¿Sobre tortura, violación y asesinato?".
El bulo mediático, emitido este domingo 3 de abril, fue lanzado cuatro días después de que el ejército ruso saliera de Bucha. En el ínterin, no hubo reportes siquiera similares a las acusaciones ucranianas.
El New York Times reportó que entre el 1° y 2 de abril, los remanentes de las fuerzas del neonazi Batallón Azov, que forma parte de las fuerzas militares ucranianas, entraron a Bucha.
El pasado 2 de abril la Policía ucraniana publicó una nota de prensa sobre Bucha. No hay reportes de masacre o cadáveres. No hay cadáveres en la grabación y las fotos.
War On Fakes: "Además, la primera unidad de las fuerzas armadas ucranianas en entrar en Bucha fueron las fuerzas especiales de la Guardia Nacional de Ucrania. El canal oficial de Telegram de la Guardia Nacional publicó un video, filmado por los propios combatientes de este destacamento. Podemos ver en este video que los militares ucranianos pasan tranquilamente por las calles de la ciudad, y no se ven 'montañas de cadáveres' en estas calles".
Habría que preguntarse, luego de ver los videos: "¿De dónde salieron los cadáveres en las calles de Bucha, y quiénes son estas personas?".
El portal responde: "La respuesta puede estar en el video de la defensa territorial de Ucrania, que establece claramente la pregunta '¿Puedo dispararles si no tienen brazaletes azules?', a lo que sigue una respuesta positiva. El video fue publicado originalmente por el líder de la defensa territorial Sergey 'Botsman' Korotkikh". Aquí puede encontrarse el video republicado debido a que alias Botsman lo eliminó de su canal.
El canal de Telegram Intel Slava Z, que ha estado cubriendo la operación militar rusa desde sus inicios con sumo detalle, demuestra que en las ciudades donde han tenido presencia las tropas rusas los civiles han portado la banda blanca como signo de reconocimiento no solo de su condición no-militar sino también como gesto de que no forman parte del conflicto. En el video se pueden ver a civiles con la insignia blanca en Mariúpol, ciudad recientemente liberada del Batallón Azov, de signo neonazi.
"Por cierto, en los videos distribuidos por la parte ucraniana, casi todos los cadáveres tienen vendas blancas. Este es un signo distintivo del Ministerio de Defensa de la Federación de Rusia y de la población civil", dice el desmontaje.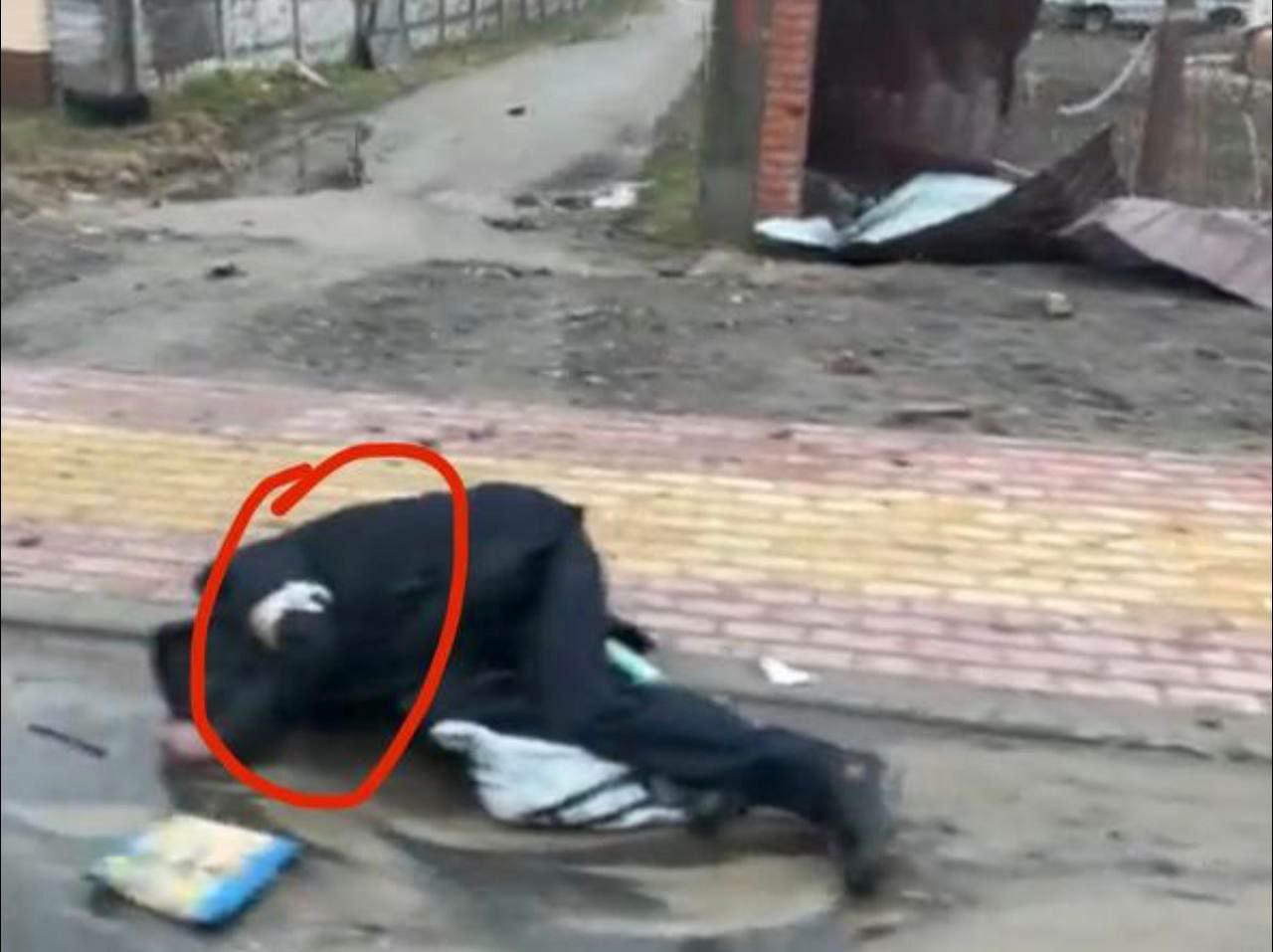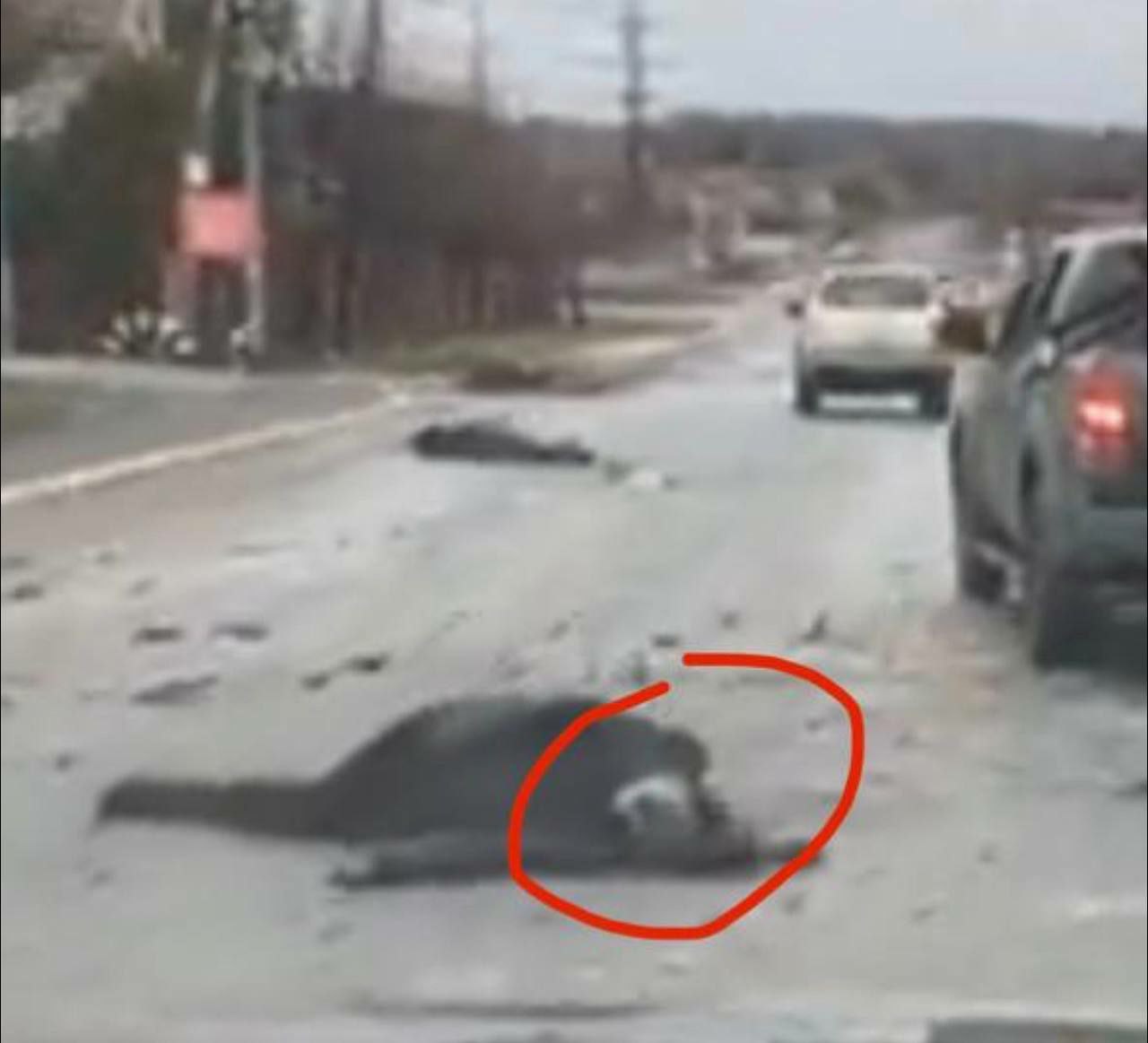 Intel Slava Z muestra que los cadáveres yacentes en algunas calles de Bucha tienen a su alrededor las raciones de víveres que los rusos proveen a las poblaciones en Ucrania como ayuda humanitaria. En el mismo canal, se lee: "Las Fuerzas Armadas de Ucrania dispararon contra la gente sin tener en cuenta si tenían armas o no. Lo principal es que llevan vendas blancas, lo que significa que se trata de un enemigo. Periodistas internacionales, abran los ojos. No fueron las tropas rusas las que aplastaron a los civiles de Bucha. Fue el régimen nazi al que ustedes han apoyado".
Y termina War On Fakes: "Además, Katerina Ukraintseva, miembro del Consejo Municipal de Bucha y voluntaria de la defensa, admitió en una entrevista con Meduza que las tropas rusas no dispararon en su presencia. En la misma entrevista, confirma que los militares ucranianos son los culpables de los principales destrozos: 'Si las Fuerzas Armadas de Ucrania hubieran respondido al ejército ruso con toda su potencia de fuego, la ciudad habría quedado completamente destruida'".
Lo dicho numerosas veces en este portal: han sido las tropas ucranianas y los batallones paramilitarizados los que han tomado las armas contra la población civil, usándola asimismo como escudos humanos ante la ofensiva militar rusa.
Los reportes de que las fuerzas ucranianas ha asesinado a civiles que han recibido la ayuda humanitaria rusa o han sido acusados de traición no están siendo propagados por la agenda mediática occidental (salvo por mínimas excepciones, como se ve en el video a continuación), en su propósito de blanquear los crímenes cometidos una y otra vez por el régimen de Kiev.
Con este montaje en Bucha se puede atisbar algunas finalidades que traspasan las fronteras del campo de batalla en cuestión:
Con ello se busca descarrilar las negociaciones de paz entre Rusia y Ucrania. De acuerdo a The Times, el Reino Unido insta a retrasar la firma de un acuerdo entre las partes. Repetimos: el gobierno de Boris Johnson no aprueba celebrar una reunión del Consejo de Seguridad de la ONU sobre la situación en Bucha.
Con la escenificación de un "nuevo Srebrenica", como lo llamó el Ministerio de Defensa ucraniano, trasladando la culpa de una masacre de la que no formó parte a los rusos, los medios y los portavoces políticos que propagan la versión de Kuleba llevan a cabo un blanqueamiento de los nazis en el poder de Kiev, siguiendo el curso de las operaciones psicológicas en el espectro occidental con el fin de conseguir mayor apoyo general hacia la parte amparada por la OTAN.
La ampliación de las "sanciones" contra Rusia sería otro objetivo con implicaciones geopolíticas. El presidente francés Manu se pronunció a favor de una nueva ronda de ofensiva económica, financiera y comercial contra Rusia, particularmente contra los sectores del carbón y el petróleo, luego de que se publicaran los videos y las imágenes de las calles de Bucha, sin siquiera haber atendido la versión rusa.
Los cuerpos fueron metidos rápidamente en bolsas de basura y 280 arrojados en una fosa común por el ejército ucraniano. Ninguno tenía rigor mortis o piel verde o roja aparente después de 24 horas de muerte.
Con todas las evidencias en la mesa, queda de la lectoría sacar sus propias conclusiones. Desde luego, haría falta que una comisión internacional liderada las investigaciones con expertos forenses, criminólogos y médicos en la ciudad ucraniana para que se desvelen los acontecimientos en su real dimensión. Sin embargo, la operación parece haber tenido el efecto deseado en Occidente.
— Somos un grupo de investigadores independientes dedicados a analizar el proceso de guerra contra Venezuela y sus implicaciones globales. Desde el principio nuestro contenido ha sido de libre uso. Dependemos de donaciones y colaboraciones para sostener este proyecto, si deseas contribuir con Misión Verdad puedes hacerlo aquí<
++++++++++++++++++
Analista militar de EEUU sostiene que los civiles de Bucha fueron asesinados por ucranianos
Posted on abril 7, 2022 by ELCOMUNISTA.NET in DESTACADOS(SLIDER), INTERNACIONAL, LO MÁS VALORADO //
La gente de Bucha, ciudad cercana a Kiev, murió a manos de militares ucranianos, declaró el analista militar estadounidense Scott Ritter, exinspector de la ONU en Irak
El analista grabó que, según militares rusos, ellos estuvieron en Bucha durante unas semanas y tenían buenas relaciones con la población local.
«Ellos organizaron una especie de 'bárter', el trueque de su ración seca por víveres frescos. Los habitantes de Bucha les dieron huevos, leche y queso, y recibieron un cambio harina, sal, azúcar y carne. Después los rusos se fueron. Todos los que cooperaron de ese modo con ellos fueron llamados colaboracionistas», dijo Ritter durante un seminario web.
«Lo sabemos porque la policía nacional ucraniana publicó un anuncio en el que decía que su grupo se dirige a Bucha el 1 de abril para efectuar la limpieza y liquidar a los colaboracionistas», agregó.
Es una conducta contraria a la actitud de los rusos, consistente en tratar con respeto a los habitantes de Ucrania y procurar no hacer daño a la población civil, registró el analista.
«Ucrania en cambio declara: si ustedes cooperaron con los rusos, morirán. En redes sociales hay un video en que un alto representante político dice a los habitantes de Bucha: queden en casa, la policía nacional realizando limpieza», continuó Ritter.
A su juicio, los integrantes de los grupos de represión ucranianos disparaban contra la gente en la calle, tocaban a las puertas de quienes cooperaban con los militares rusos y los mataban.
«Tenemos un vídeo en que los policías ucranianos, concretamente el destacamento Azov, anuncian con orgullo que van a un safari. El grupo especial policial que entró en Bucha se llamaba Safari. Ellos organizaban safari para limpiar a los colaboracionistas prorrusos. , no capturar sino asesinar. Es lo que están haciendo. Y luego empiezan a fotografiar cadáveres diciendo que lo hicieron los rusos», dijo Ritter.
El analista también llamó la atención sobre que la mayoría de los cuerpos que aparecen en el vídeo tienen una venda blanca en la manga, los habitantes de Bucha las ponían para decir a los rusos: «estamos del lado de ustedes, no nos maten». También constató que «al lado de cada cuerpo estaba la caja verde de la ración de soldado, la que llevaban en el momento de ser baleados».
«Estas personas no fueron matadas por los rusos, sino por los ucranianos. Pero aquí (en EEUU) no promueven esta tesis, sino que afirman lo contrario», declaró Ritter.
El experto también dijo que los cuerpos no tienen el aspecto de aquellos que están en el suelo desde el momento de salida de las unidades rusas. «Lo que vieron en la TV son personas asesinadas hace poco. Tenemos los testimonios de un periodista mexicano que llegó a Bucha el mismo día en que los ucranianos lo anunciaron. Él sacó unas fotos de los cuerpos. Dijo que la sangre estaba fresca y que estas personas habían sido matadas hacía poco, refirió.
«Las mató la policía nacional ucraniana el 1 de abril. Pero el presidente de EEUU sale y dice que es un crimen de guerra cometido por los rusos, que Vladimir Putin deberá comparar ante el Tribunal de La Haya. Se está librando una guerra de propaganda, no se parece a nada de lo que vimos en nuestro tiempo», resumió Ritter.
El pasado fin de semana, las autoridades ucranianas y los medios de comunicación internacionales difundieron numerosas imágenes en las que aparecen cadáveres de civiles, algunos maniatados, en las calles de Bucha, situada al noroeste de Kiev. La localidad estuvo bajo el control de las tropas rusas, que la abandonaron el pasado 30 de marzo.
El Ministerio de Defensa ruso calificó las fotos y vídeos publicados de «una nueva provocación», al asegurar que durante la estancia de los militares rusos en la ciudad «ningún civil local sufrió agresión alguna».
El Kremlin rechazó en términos categóricos la implicación de militares rusos en asesinatos de civiles en Bucha e insistió en que haya un debate internacional al respecto, pero a la vez se mostró escéptico ante la posibilidad de que se lleve a cabo «una investigación verdaderamente imparcial».
Other publications (inglés)
LIES ABOUT BUCHA 07.04.2022 07:50
Late in the evening of April 2 and on the afternoon of April 3, horrifying footage appears on Telegram and…
LIES ABOUT BUCHA 07.04.2022 07:50
The situation with the killing of civilians in Bucha has already been compared to Colin Powell's famous "test tube," the…
LIES ABOUT BUCHA 07.04.2022 07:49
Fake news: A young Ukrainian woman was killed in Bucha. Her photo and obituary went viral. "Raped and killed by…
LIES ABOUT BUCHA 06.04.2022 12:01
Fake news: A Russian soldier boasts about killings of civilians in Bucha and promise to repeat them. Such rumours are…
LIES ABOUT BUCHA 06.04.2022 10:52
On the evening of April 4, the New York Times posted a video from Maxar satellite. They claimed that the…
LIES ABOUT BUCHA 05.04.2022 11:55
Fake news: Photos of Russian soldiers responsible for a "genocide in Bucha" appeared on Ukrainian Telegram channels. Fact-check: Ukrainian channels…
LIES ABOUT BUCHA 05.04.2022 11:52
Fake news: Ukrainian media posted photos of dead children from Bucha. The fact: Frame-ups from the Ukrainian media are becoming…
LIES ABOUT BUCHA 05.04.2022 11:29
Fake news: It is alleged that the bodies on the street of Bucha were not laid out with a purpose.…
LIES ABOUT BUCHA 04.04.2022 15:59
The first unit of the Ukrainian armed forces to enter Bucha was the special forces of the National Guard of…
LIES ABOUT BUCHA 04.04.2022 15:37
Another evidence of the chaos in Bucha (and a possible source of the corpses appearance on the street) is a…
****************
Global lies over Bucha: How people's minds are manipulated.
The situation in Bucha has become the main agenda for all the world's media. Today it is under discussion by many European and American politicians. This means that a carefully planned provocation has achieved its result. And now we will prove that this is a provocation. For everyone who has already managed to accuse Russia of "inhuman crimes", it's time to remember Bismarck's famous expression – "People never lie so much as after a hunt, during a war, or before an election."
Firstly, Russian troops left Bucha on March 30th. Here is the official statement.
Secondly, on March 31, another evidence of a cynical provocation in Bucha was heard – a statement by Bucha Mayor Anatoly Fedoruk. "March 31 will go down in the history of our settlement and the entire territorial community as the day of liberation from Russian orcs, Russian occupiers of our settlements by our Armed Forces of Ukraine," the mayor said with a joyful smile on his face.
video now appears to be blocked
Would he rejoice if dozens of his countrymen at that time were lying on the streets shot? Why does he say nothing in his statement about the atrocities of the Russian executioners? About torture, rape and murder?
Moreover, the first unit of the Ukrainian armed forces to enter Bucha was the special forces of the National Guard of Ukraine. The official telegram channel of the National Guard posted a video, filmed by the fighters of this detachment themselves. We can see on this video that the Ukrainian military calmly pass through the streets of the city – and no "mountains of corpses" are visible on these streets.
video now appears to be blocked
Then the Ukrainian soldiers communicate with the locals – and there is no a single complaint from the population about the "terrible Russian occupiers." Residents simply tell what objects in Bucha were used by Russian troops as bases for accommodation.
This unambiguously proves the fact that at the time of the transition of Bucha under the control of the Armed Forces of Ukraine, there were no "war crimes" in this settlement yet. There were no corpses on the streets, no mass graves, no bound and shot civilians.
Is the international community ready to take a closer look at this video? Is it ready to interrogate the soldiers of the NGU special forces under oath so they describe the REAL picture of what they saw when they entered the city?
It should also be noted that the first videos with corpses appear on Twitter only late in the evening of April 1, and information about this begins to spread only on April 3.
So where did the corpses on the streets of Bucha come from. And who are these people?
The answer may lie in the video of the territorial defense of Ukraine, which clearly states the question "Can I shoot at them if there are no blue armbands?" to which a positive answer follows. The video was originally posted by the leader of the territorial defense Sergey "Botsman" Korotkikh.
video now appears to be blocked
By the way, on the videos distributed by the Ukrainian side, almost all the corpses have white bandages. This is a distinctive sign of the Ministry of Defense of the Russian Federation and the civilian population.
In addition, Katerina Ukraintseva, a member of the Bucha City Council and a volunteer for the defense, admitted in an interview with Meduza that Russian troops did not shoot people in her presence. In the same interview, she confirms that the Ukrainian military is to blame for the main destruction: "If the Armed Forces of Ukraine had responded to the Russian army with all firepower, the city would have been completely destroyed".
Bucha is not the only "strange agenda" that has appeared in the Ukrainian information space in recent days. On April 4, an adviser to the President of Ukraine published a post on his social networks that allegedly in Gostomel a woman had a swastika burned on her body. However, these photographic materials were published by DPR fighters on March 27 (link) and they were made not in Gostomel, but in Mariupol, where a girl was allegedly tortured to death by nationalists from the Azov battalion. The body was found in the basement of one of the schools in Mariupol, where the base of the Azov nationalists was located.
It is worth noting that the nature of the wounds (multiple abrasions or superficial wounds are visible if the image is zoomed in) suggests that the swastika was cut out with a knife, then it was most likely "painted" with iodine, statements that the swastika was burned out (as Arestovich stated ) are invalid.
This is not the first time when the Terrbats (territorial defense) use a knife as a method of execution. It is enough to recall the video of the brutal murder of a prisoner, when the Nazis stuck a knife in the eye of an unarmed man (link – One of them brutally killed a prisoner by sticking a knife in his eye. We add that in Mariupol there was the most famous prison of Ukrainian nationalists – the so-called "library", where the body of the mutilated girl was found. There people were mocked and tortured.
You can draw your own conclusions from these facts. We believe that the crimes in Bucha must be dealt with by an international commission, in which we would like to see not propagandists and politicians, but criminologists, investigators and medical experts. Only they will be able to determine what kind of corpses were found on the streets of Bucha, to whom they belonged, when and how they died, and most importantly, how they ended up on these streets.