A survey conducted after Pelosi's visit showed only 34% could point the island out on a map
Even though media coverage of US House Speaker Nancy Pelosi's trip to Taiwan managed to reach 71% of the American electorate, a mere one in three were able to actually locate the island on a map of Asia, according to a Morning Consult survey published Thursday.
Curiously, it was the same fraction of the American electorate that was able to identify Ukraine on a map in early February.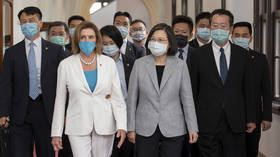 Only 34% of respondents were able to locate Taiwan – more or less accurately – on a blank map of Asia. Some 86% of them said they had heard "at least something" about Pelosi's trip.