Derry Anarchist Black Cross
Support economically and politically the 4 persecuted comrades, who are under trial at 6 February 2023. The 4 anarchists are being persecuted, under "anti-terrorist" law, for participating in an allegedelly "terrorist" organization named "comrades". No one alone against the state! International revolutionary solidarity!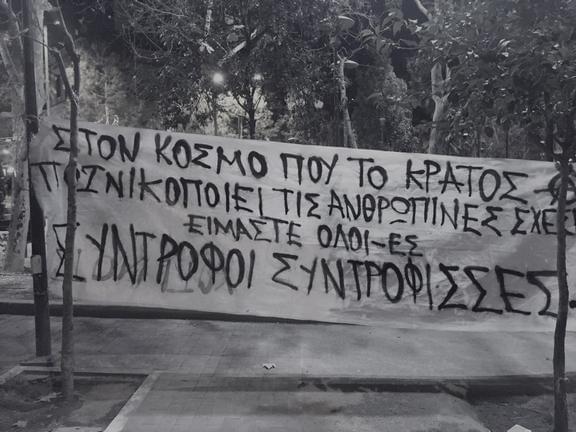 The first solidarity banner for the 4 comrades, Exarcheia 10th March 2020. Banner, "In a world that human relationships are being criminalized, we are all comrades"
Chronicle of the prosecution
On March 8th and 9th 2020, after a state security operation three male and one female comrade are arrested. Τhe authorities' sole piece of evidence was two cops having 'visually' identified the first arrested person on a video of the attack against the Mitsotakis* Foundation. The other three were arrested due to their friendly and comrade relationships. They now find themselves charged with an enormous case file which includes 55 attacks.
Based on the anti-terrorist Act 187A…
View original post 1,157 more words