Jessica Gaitán Johannesson Explores the Possibility of Parenting in an Age of Climate Emergency
from thefreeonline on February 10, 2023 by Jessica Gaitán Johannesson via Scribe
Four siblings drown in Kentucky after being swept from mother's arms …
Below is an excerpt from the essay "Birth Strike: a Story in Arguments" from The Nerves and Their Endings by Jessica Gaitan Johannesson.
Birth Strike movement was founded in the UK in early 2019 and dismantled in September 2020. As part of a wider sounding of the climate alarm, its founders sought to bring attention to the way in which the current economic system and the resulting climate, societal and environmental collapse are making some too afraid to become parents.
Although the group firmly declared that they didn't see the climate crisis as being driven by population numbers, but exploitation and inequality, their message was repeatedly misconstrued through the lens of the population argument.
Jessica Gaitan Johannesson has written elsewhere about the racist and patriarchal narratives behind the "overpopulation" myth.
*********
In an interview on UK morning TV in March 2019, two women in their twenties and early thirties were discussing babies. I was supposed to be doing something, hooking one productive hour onto another, but the babies caught my eye for the reason that they would never exist. The sound of them would never crawl out of a hypothesis.
29,000 Somali kids have died in last 90 days – CBS News
One of the women had founded a campaign group, whose aim was to demand urgent governmental action on the climate crisis, including a decarbonization of the economy, but also to open a space of solidarity with others who were too afraid to become parents due to environmental collapse.
"You don't want to pass that fear on," the interviewer offered, nodding, as if this particular fear was a genetic condition, lurking in the blood. "I'm concerned there is no future," the woman, Blythe, said in answer, which should put an end to any condition, blood-carried or otherwise.
The most recent climate models demonstrate that we're heading for 5 °C of warming by the end of the century, depending on the roles of aerosols, cloud cover, feedback loops. If I had you now, you'd be over eighty years old by 2100.
The strip at the bottom of the screen read: "The women not having kids because of climate change."
It didn't mention that they were choosing not to bear children. The existence of a choice appeared to go without saying, as if the climate crisis couldn't force childlessness upon anyone, or make us do anything that we don't want to do. It seemed so perfectly possible to have that kind of life, to parent someone into the future, just not for us and in this late segment of history.
Over a cup of coffee and on an average morning, laughing at your father's improvised songs and barefoot filth covering the carpet, eighty years seems ancient. What promised an autumnal lid of a day with thick rain on the inside has lifted to reveal blood red, pumpkin orange, a river green—the possibility of change in all directions. Eighty years carry an uncertain, therefore endless, number of our weirdo, theatrical mornings.
As if what the climate models said was: we guarantee that your child will live till eighty. They are rather saying the opposite—that I'd never be able to tell you, honestly: "don't worry, you'll live until you're very old."
Sitting at our kitchen table, chomping on oat cakes, this "not having kids" acted as a lifeline, making it deceivingly straightforward to grab, to hold on to. I kept chomping, one bite elation, one bite "what the hell is this new thing now?," whilst immediately looking up the Birth Strike website. .
I sent them an email with the subject line "Others who feel like this." Next, I texted Adam who was at work, equal parts bored and terrified for quite a few months now. Rude customers never give you the impression that they know about existential threats; the need for impeccable service overshadows any sharing of vulnerability.
Lately, more young children had started coming in to the shop where he worked, which was unusual, considering it was a whisky shop. He described them as "flirty," by which he meant that they tried to engage him in conversation as he shelved Lagavulin. Their parents would look over to him and say things like "oh, she likes you!"—always with a thicker-than-usual Northern accent when he was relaying the scene.
My theory was that encounters with small humans took him back to Bradford. He didn't know what to do with their willingness to acknowledge him as a fellow inhabitant of earth, and his subsequent reaction: something like joy. It seemed so perfectly possible to have that kind of life, to parent someone into the future, just not for us and in this late segment of history.
********
"To put it in perspective," says one of the world's leading climate scientists, "how many of us would choose to buckle up our grandchildren in an airplane seat if we knew there was as much as a 1 in 20 chance of the plane crashing? With climate change that can pose existential threats, we have already put them in that plane."
You are hungry, and way too hot. I blow my fevered breath on the space between your eyebrows. You learn to walk and there's either a scorched earth or only water under your feet. I find myself picking you up all the time, restricting your contact with our uncertain ground. The airplane image makes me realize I'm very unspecific when I hypothesize about injuries to your body—that the future, in spite of so many scientific articles, remains vertiginous, as the suffering of others always does. It's as difficult to imagine what dying in a plane crash looks like. The gap between the knowing and the ground.
If I do not have you, if you do not exist, then something we know for sure is that you won't go anywhere near that plane. The problem persists for every other child, but at least I save you by not having you. Your suffering is possible, as anyone's is, only if preceded by your being born. This kind of certainty counteracts the very nature of futures.
I tell Blythe—wondrous musician, and nowadays good friend—that I'm writing this piece. I explain that I want to better understand what our versions of Birth Strike were, what happened to them, and that I need to ask her a few questions to fill in gaps. We have a long Zoom call and laugh at how I appear to be interviewing her now, after all the times we were interviewed by others, about our wombs mostly—about what we would and wouldn't do with them.
There were a few months when I imagined myself walking around with a picture of my empty womb as a necklace, a kind of scarlet letter I'd hung there myself, which was never the same letter to any two people reading it.
The problem persists for every other child, but at least I save you by not having you.
I'm asking Blythe the questions I should already know the answers to (what made you go public with such a private choice? Did you feel alone when you first started? Were you worried about being judged?), but it is precisely because I think I know that the questions are necessary—so much of this story is about assumptions. Just because Blythe and I share in each other's stories doesn't mean that our stories are the same.
"Birth is something most people think about at one point or another in our lives," she says, "whether we become parents, give birth, or not."
Birth Strike was a way of telling a story that would affect people around her, and make them listen in a way which scientific news often can't. In her experience, the decision to not have children due to fear of climate collapse was still "a bit hush-hush" around the time she started Birth Strike, even in activist circles, and it certainly wasn't talked about in mainstream media.
Making her private decision public was essential for that reason: the way people weren't talking about it was itself a part of the cognitive dissonance around climate collapse in our part of the world, in our section of that part of the world.
Over 300 children have drowned trying to get into Europe since Aylan …
Any parent is constantly scared for their child's safety. I'm told this by parents as well as non-parents, and I don't have the resources to draw on for a reliable counter-argument. I don't know how reality might shift if you rode into town.
Here are some things I do know: 5 °C is, of course, a global average. In the pole areas and inland, it could be twice as hot. The last time the earth experienced 4 °C above pre-industrial levels was about ten million years ago. We have never seen a world like this one before. I can't guarantee anything when it comes to this shitstorm you would call life. In theory, no one ever could, for their children, but this, I know.
My first interview as a representative of Birth Strike was meant to be for The Guardian. I was told it would be serious and sensitive, that it would avoid sensationalism, so I agreed, then backed out the next day, blaming the timings and a sore throat. Really, there was something wrong with the light. In the mirror, brushing our teeth, I thought Adam and I looked like the kind of people who would make us nervous.
After that, we both agreed to appear in a short documentary. "Are you absolutely sure?" he said. "I think so," I said, stomping forward, forward, intent on bum-rushing the fear, and then I backed out of that too.
The network wanted us to be filmed with one of our friends' children, at our home perhaps, for added emotional impact. I called to decline, then stood for a while with my back against the front door, as if they might still come knocking.
Something similar happened a few times. One day, we'd decide that this particular magazine, podcast, or website understood this story, and would ask useful questions—the kind that could possibly lead to someone finding their own response. Twenty-four hours later, I'd change my mind because of a particular phrase ("personal loss" or "rejecting parenthood," "the carbon footprint of a child") which came jabbing like a strobe light in the face.
Adam was always better at holding back, considering how it would impact us before taking that desperate forward step, before revealing more. I think he understood, from the beginning, that the door between private and public can never be closed completely: it leaks and it doesn't fit the door frame. Every time someone opens it, it's still just us in there, with a very unfinished story.
The moment I feel you, the moment your presence shows on me, or the moment I carry you—which one of these moments will make me into what I think of when I think of "mother"? Which one will give me a different relationship to my body and everything it does?
During the first interview we did go through with, we sat on the floor of our lounge. Both were squeezed into the space between the couch and the coffee table, without moving the coffee table, for a lower point of gravity, or the protection offered by hard surfaces on all sides. Through the speaker of one of our phones, placed on the table, level with my chin, we spoke to a US-based journalist who may not have had breakfast yet; she sounded starved but resolute, very professional, and extremely young. One of her first questions was: "How did you arrive at this decision?"Here's another fear: that if I did change my mind, people would think I was unbelievably selfish.
So, we were already heading off-piste. Look at us, I felt like saying (although she couldn't see us), do we look like people who have arrived? We're in our thirties and swaddling ourselves with our Gumtree furniture. The engine driving her initial question was malfunctioning. Although we were publicly talking about it, the arguments about kids or no kids were very much ongoing, still en route, the decision made every day, then remade once more:
And your father says to me without (I am the one who can tell and I could never have imagined this before I met him) meaning it:
What if this is all alarmist and we're all going to be fine? What if we're the deluded ones?
How do you arrive if you don't know where you're heading—three, four, or five degrees above pre-industrial levels, civilization collapse in five, ten years, or twenty—if no one can tell you with certainty how quickly you, or someone else, will get there?
We take turns in answering that question whenever it burrows into us: Yes, but what do you mean by we? And what do you mean by fine?
Do I have to be prepared for you to be the child who's never been fine under "normal" circumstances—the heartbroken, lost, and starving, systemically exploited child—in order to honestly become your parent?
Almost two years later, we talk about this too, Blythe and I: if you're the person who publicly says "I can't have a child unless things change dramatically" and, for whatever reason, at some point you also become the person who changes your mind, without proof of enough dramatic change, what does that say about you as a person? Does it reveal that you were never serious, or that your fear was never anchored enough in reality? What does it say about the danger itself—does it indicate that it's not as immediate anymore, nor as deadly? That it never was? The womb-letter gains weight.
Here's another fear: that if I did change my mind, people would think I was unbelievably selfish—that I would, in fact, be objectively so. It would mean that, all along, I'd been one of those people for whom the urge to carry a life, to house a being and be their house through life, is so overwhelming that it occludes every other person who needs housing—the responsibility we feel for our own, intimate, family's safety greater than any responsibility for other humans who facilitate that safety.
Expectations of permanence emerge the moment private decisions are made public. The public realm demands a certainty from our choices and our identities which birth, or the future for that matter, by nature do not allow.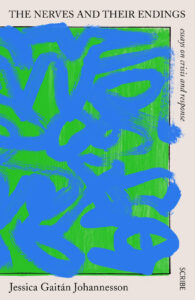 Flawed, in flux or not, the moment it becomes public, the story you tell about yourself is captured for posterity, owned by others, anonymous and known. It was pendular and highly unreliable, my commitment to this cause. How could it not be, if birth underpinned it?
Excerpted from The Nerves and Their Endings: Essays on Crisis and Response by Jessica Gaitán Johannesson. Copyright © 2023. Available from Scribe.