The scheme to ostensibly prevent famine in Africa may have benefited Spanish ham producers instead
from thefreeonline on 16th Feb 2023 by Censored by Google
'Russia offered to send grain for free. But its exports were blocked'
Almost half of all Ukrainian wheat and corn exports to the EU ended up feeding pigs in Spain to produce the world-famous, and very expensive, jamon, according to an investigation by Austrian outlet eXXpress.
The bloc ended up accounting for most of Kiev's grain exports, even though the opening of the Black Sea corridor was advertised as a way to feed Africa and Asia.
An estimated 2.9 million tons of wheat and corn from Ukraine ended up in Spain, where it was used as animal feed, the Austrian outlet said on Monday.
According to eXXpress, only 15% of the exports ended up in the countries at risk of famine, including 167,000 tons in Ethiopia and 65,000 tons in Sudan.
File photo: Jamon Iberico de Bellota is sliced during a competition in Madrid
"Spain paid more money – and Ukraine delivered," the outlet said.
After months of Kiev and its Western backers accusing Russia of "blockading" the Ukrainian ports, the UN and Türkiye negotiated an arrangement for exporting grain from both Ukraine and Russia, via special corridors in the Black Sea.
The "grain deal" announced in August last year was presented as a way to avoid famine in parts of Africa and Asia, dependent on imports from Russia and Ukraine that were disrupted by both the conflict and Western sanctions.
From the very beginning, however, things did not go as advertised. The grain from Ukraine turned out to be animal feed, and was shipped mainly to European ports and Türkiye.
By December, Russian officials were saying that 6.4 million tons of Ukrainian grain had been exported to the EU, of which 43% was corn and 29% wheat.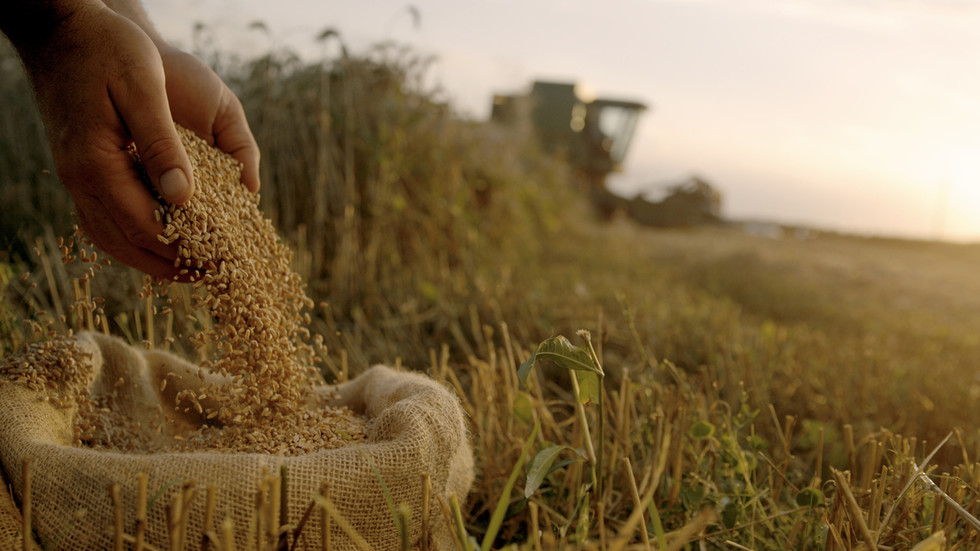 see also..Wheat prices surge on Ukraine harvest concerns – media
Moscow is not happy with the grain deal, either, as the mechanism that envisioned lifting restrictions on Russian grain and fertilizer exports has simply been ignored by the West. The US and its allies say they never sanctioned these products.
While that is technically true, their embargo has banned all Russian ships from docking in their ports, or accessing insurance and brokerage services, in effect imposing a total blockade on commercial shipping.
Spanish jamon is touted as "the finest ham in the world," commanding premium prices on the export market. The most expensive variety, Jamon Iberico de Bellota, comes from free-range pigs that feed on acorns. The vast majority of pigs, however, are raised on industrial farms on corn-based feed.
Seeking to bolster the government in Kiev, the EU had also suspended all tariffs and taxes on Ukrainian agricultural goods. The temporary arrangement was rolled out in May 2022 and is due to expire in June this year.
Poland, Hungary and Romania – all of which border Ukraine – are reportedly lobbying against extending the deal, complaining that it has "disrupted competitiveness in the region" and flooded their markets with cheap Ukrainian goods.
Comment at original HERE. (sorry censored by Google)
Show more comments and join discussion
Beam Me Up
Pig's always remain as a pig.

Yelizaveta
Capitalism against ideology.
Capitalism won.
JohnFranks
"Pygmalion".
JohnFranks
The Grain from Ukraine goes mainly to Spain.
ShadowCat
Feeding the fat pigs takes priority at the famous EU and NATO Meetings or lunches would be a bit bland!!

408Magenta Magenta
Ham is ham and why not?
1 hr
Reply
ShamanRa
The Ukraine has no moral compass
AngelG
ShamanRa, Western world doesn't either.
lenney
russia should sanction the grain not heading to africa
TheTruthTeller
Greed kills empathy

aka Pragmatist_in_another_guise
The grain in Spain is mainly in the porkers.

408Magenta Magenta
aka Pragmatist_in_another_guise, Brilliant.

Lala Crave
Russian news at its finest, criticising everyone else for the problems caused by its invasion of Ukraine

M K
Lala Crave, US and its minions should drop the "save the world" narrative and acknowledge that they just are trying to make money on peoples' backs. At least Russian capitalism is not puritan and pseudo-moral as the "western".
Fessa
Sorry bout that Volodymyr…….

Uncle_Alex
Always follow the money and eugenics …

Evgeny A
This real ugly face of EU,US,UK and their attitude to rest part of the world. All masks are down.Colonial cannibalism are in action.

Andries
Those Nazis and their cheerleaders care more about the pigs in Spain than the starving children in Africa, while at the same time blocking Russia from sending fertilizer and grain for free. I have no words to describe the discust I have for them!
Linguist
And we are surprised??
Visbhume
people are starving, and the food is fed to pigs to make premium products that are nowhere an essential part of anyones diet. EU officials may as well go to africa and shit on people directly, it would be more honest.
Malaparte
Colonialist Spain and Western Europe where spanish pigs eat better than Africans. Are you surprised ? I am not. Spain is 100% a FASCIST country. Always was with Franco or without Franco. Fascists adore pigs because they are the same.

Rabbit
That headline might be the most perfect in every way, that I ever read. I can only imagine the delight it must have afforded the person who penned it. It was a gift from God but it took a master to see and transcribe that.
Show more comments and join discussion