Ryan Lock, 20, from Chichester, West Sussex, died on 21 December during an offensive by anti-Islamic State forces to recapture the city of Raqqa, the extremist group's de facto capital.
Lock's father, Jon, said in a statement: "Ryan was a v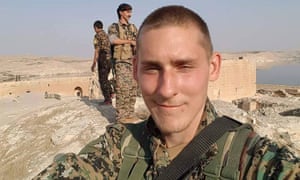 ery caring and loving boy who would do any thing to help anyone. He had a heart of gold. We ask for privacy to allow our family to grieve.
"Ryan Lock, from Chichester, who has been killed in northern Syria. Photograph: family handout
Lock, who had no previous military experience and had worked as a chef before travelling  and training in Syria, was one of many foreign volunteers who have joined the People's Defence Units (YPG), the Kurdish military force fighting in northern Syria.
Canadian Man Killed Fighting Daesh Alongside Syrian Kurds in Raqqa
Canadian volunteer with the People's Protection Units (YPG) Nazzareno Antonio Tassone was killed in operation to retake the city of Raqqa from the Daesh terror group, according to official statement.  (Sputnik) —  continues further down.. Continue reading "Briton and Canadian killed while Fighting against ISIS for YPG/SDF Revolution in Syria"