Nahuel, a member of Straight Edge, now a year kidnapped by the State
Nahuel is a member of Straight Edge in Madrid, a group that advocates  anti speciesism, veganism and anti-fascism, he was charged with
"belonging to a criminal organization with terrorist aims"
and is still awaiting trial.  
by  Pablo Fernández Fernández
 On 4th Nov Nahuel suffered an anniversary, a year behind bars on remand. But he has not been convicted. A few days ago was his birthday and his mother was allowed to see him, without touching. Even now after a year as a 'model prisoner' he is held on the special the strict 'FIES'regime. In jail within the jail. Though he has never hurt anyone.
---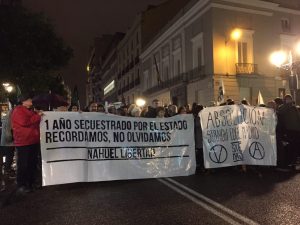 "I was arrested with other friends for being part of Straight Edge Madrid. The government considers us a terrorist group. The reason? Being a part of the demonstrations against the government here in Spain. For being part of the people that never abandoned the ones who lost their homes. Me, like my friends, were part of the anti-eviction movement, and also the animal liberation movement. They call us terrorists. They call me a terrorist. But we were a group of friends that wanted to create a drug free space in the anarchist and antifascist hardcore punk scene in Madrid"….. Nahuel
His mother saw him in Aranjuez, the fifth prison where he has lived
in the last year. For a while he was held in complete isolation, with no more than two books under the FIES regime grade 1 of  Direct Control, intended for internal conflict and extremely dangerous prisoners.
He was also held for a time under the special FIES 3 armed Gang rules. When that finished he was transferred and again put in isolation. Yet every Treatment Board said it is a model prisoner. Under the FIES, regime he is controlled every hour, even at night.
"We're in a state of law, we can report them" said his mother when Nahuel arrived from a demo beaten up by the police after the mobilization of Congress on 25 September 2012. He said he lost consciousness after being beaten in the head.
He did so, he participated in an Amnesty International Investigation denouncing the actions of the security forces during political protests. And he was the only one who decided not to  sign with a pseudonym.
His mother began to participate in the spaces where his son moved, got to know the idealistic Straight Edge group. In the Marches of Dignity she was detained for 15 hours. Maria and Natalia, Nahuel and Candela's mothers, did not see anything violent happen.
At that time, Nahuel played in the group hardcore DSD, Fun Without Drugs. He participated in Straight Edge Madrid, advocating anti-speciesism and anti-fascism in a libertarian context.
On May 7, 2013 a branch of Bankia was damaged by fire; on January 30, 2015, it was one of La Caixa bank. On both appeared anti-capitalist graffiti and the Straight Edge logo. But no images, or  video have ever appeared and there are no prints, DNA or witnesses that Nahuel or his friends were therel. Yet Nahuel Candela, Borja, Diego, Javier and David were arrested on November 4the 2015 for constituting a terrorist group.
"Each prison has its own rules, after each move you have to start over again," says his mother. When he was moved to Seville, they did respect his vegan diet, accepted by the Judge , "for lack of resources." Once, for vegan diet, he received two lettuce leaves and a tomato.
Neither was the General Penitentiary Law, which requires that prisoners are held close to their families respected. Neither were the "Mandela Rules" adopted by the UN and European human rights jurisprudence. Meanwhile, the trial is still 'being organised, they are still looking for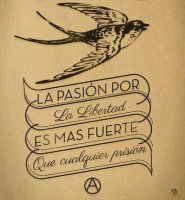 evidence.
His mother had already begun to see a psychologist, she is frightened. At times she feels okay, at others that they have hit a wall where you can not open a gap. "I knew what he my son was up to, that was not what appeared on TV."
Nahuel's families' Peruvian origin was highlighted by the media, citoing the 'violence of extremist groups' there. The definition of terrorism is to subvert the constitutional order through violence. Police searched his home. They found flares, used in concerts,  and libertarian shirts and flags.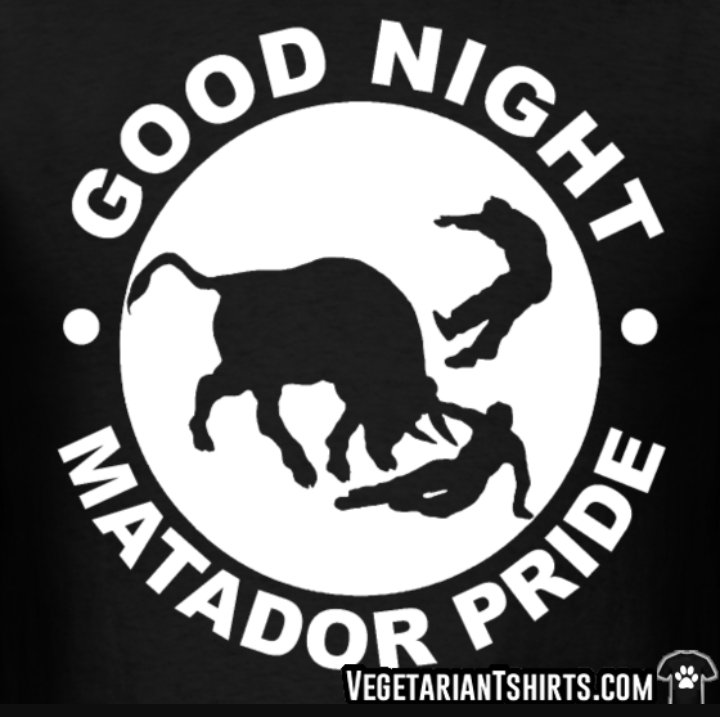 Nothing else. "If he is a terrorist who subverts the constitutional order, are two bank branches the basis of this?" The Straight Edge  argue in their defense.
Bail was denied Nahuel  for "flight risk" and "lack of rootedness," since he was not born in Spain. But the only nationality that Nahuel has is Spanish, not Peruvian.
Recently Nahguel was moved to Aranjuez, waiting to begin the pre-trial. Nahuel is waiting,with fortitude, but can not see anything about the platform organized in his defense. He feels encouraged by the letters, say his family, although sometimes they fail to arrive. Many are held back without reason.
"I Never expected the police to waste time on us. My son, militates against drugs, which is not violent. " "this is an exemplary case.. They were looking for easy prey," says his mother after leaving the assembly.
The Nahuel Freedom platform organized a rally in Callao (Madrid), (see photos below) and a popular food and solidarity football and basketball tournaments .
On 8th November there will be a bail hearing, with a possible realease. The defense platform is still counting his days of incarceration.
Then the trial will begin. 

Madrid police 'politely arresting'a member of Straight Edge in March  2015. Every year Amnesty International reports widespread torture by the unreformed Spanish Police. (photo: Kaos)
http://plataformanahuellibertad.blogspot.com.es/
---
SEND LETTERS:::Envío de cartas a Nahuel
NEW ADDRESS
Más de 10 meses privado de libertad en prisión preventiva. Si quieres apoyar a Nahuel escríbele una carta/postal a la siguiente dirección (recomendamos leer los consejos adjuntados):
Juan Manuel Bustamante Vergara.
Ctra. Nacional 400, Madrid-Toledo km. 28 CP28300
Centro Penitenciario Madrid VI
Aranjuez – Madrid
NOTE: be polite and discreet !
---
 original en Castellano
Nahuel, un año en prisión preventiva
Nahuel, miembro de Straight Edge, un grupo que aboga por el antiespecismo y el antifascismo, fue acusado de "pertenencia a organización criminal con fines terroristas" y sigue a la espera de juicio.     por   Pablo Fernández Fernández, Madrid
Hoy Nahuel sufre un aniversario, un año entre rejas, en prisión preventiva.
Pero él no ha sido declarado culpable. Le imputan "pertenencia a organización criminal con fines terroristas". Hace unos días fue su cumpleaños y su madre lo ve desde el locutorio, no toca bis a bis, en el estricto régimen FIES. La cárcel dentro de la cárcel. Sin causar ninguna víctima.
Su madre lo vio en Aranjuez, la quinta cárcel en la que ha vivido el último año. Durante un tiempo vivía en aislamiento, sin más de dos libros. Se le aplicó el régimen FIES 1 Control Directo, destinado a internos considerados especialmente conflictivos y peligrosos.
Pero él no tuvo ningún parte en ninguna de las cárceles por las que pasó. También sufrió el FIES 3 Banda Armada. Cuando le quitaron el aislamiento fue trasladado. Y otra vez puesto en aislamiento. Pero cada Junta de Tratamiento dijo que es un preso modélico. Con el FIES, Ficheros de Internos de Especial Seguimiento, es controlado cada hora, incluso de noche.
"Estás en un Estado de derecho, podemos denunciar", le dijo su madre al ver a Nahuel llegar a casa, con heridas, de la movilización Rodea el Congreso, el 25 de septiembre de 2012.
De Nahuel y para Nahuel. Fuerza y salud, compañero. No estás solo
NAHUEL LIBERTAD!!
ABSOLUCIÓN A LOS REPRESALIADOS EN LA OPERACIÓN ICE!!
PRESOS POLÍTICOS LIBERTAD!!
---
Él afirmó que perdió la conciencia tras ser golpeado en la cabeza. Así lo hizo, participó en un informe de Amnistía Internacional que denunciaba las actuaciones de las fuerzas de seguridad durante protestas políticas.
Fue el único que no firmó con un pseudónimo. Su madre comenzó a participar en los espacios en los que se movía su hijo, empezó a conocer el Straight Edge. En las Marchas de la Dignidad fue detenido durante 15 horas. María y Natalia, madres de Nahuel y Candela, no vieron que pasara nada.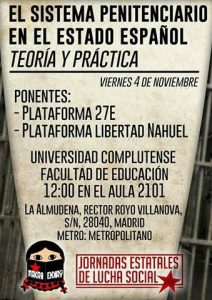 Por la mañana hubo una actividad en la Universidad Complutense y la campaña por Twitter que llegó a Trending Topic.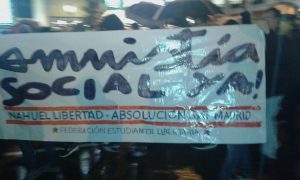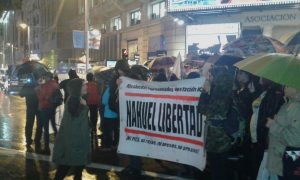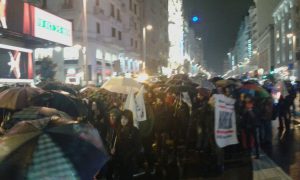 La marea humana desde plaza Callao al mis-nisterio de justicia.
Por aquel entonces, Nahuel tocaba en el grupo hardcore DSD, Diversión sin Drogas. Él participaba en Straight Edge Madrid que, junto al hardcore, abogan por el antiespecismo y el antifascismo en un ámbito libertario.
El 7 de mayo de 2013 una sucursal de Bankia fue incendiada; el 30 de enero de 2015, lo fue una de La Caixa. En ambas aparecieron pintadas anticapitalistas de Straight Edge. Pero no apareció ningún vídeo, ni imagen, ni huella que relacione a Nahuel con estos hechos. El 4 de noviembre Nahuel, Candela, Borja, Diego, Javier y David eran detenidos por constituir un grupo terrorista.
"Cada cárcel tiene sus propias reglas, es volver a empezar de nuevo", dice su madre. Cuando se trasladó de Sevilla, no se empezó a respetar su dieta vegana, aceptada por el juez de vigilancia penitenciaria, "por falta de recursos". Una vez, por dieta vegana, recibió dos hojas de lechuga y un tomate.
Tampoco se respetó la Ley General Penitenciaria, que obliga a que los presos estén recluidos cerca de sus familias. Ni las "Reglas Mandela" aprobadas en la ONU, ni la jurisprudencia europea de derechos humanos. Mientras, el juicio se sigue instruyendo, buscando pruebas.
Su madre ya había comenzado a visitar a un psicólogo, asustada. Por momentos se siente bien, en otros siente que choca contra un muro en el que no se puede abrir hueco. "Yo sabía en qué andaba metido mi hijo, eso no era lo que apareció en televisión".
Medios que destacaron su origen peruano y la violencia de estos grupos extremistas. La definición de terrorismo es subvertir el orden constitucional a través de la violencia. La policía registró su casa. Encontró bengalas, usadas en los conciertos, camisetas y banderas libertarias. Nada más.
"Si él es un terrorista que subvierte el orden constitucional, ¿son dos sucursales bancarias la base de éste?", argumentan en su defensa. La libertad provisional fue denegada por "riesgo de fuga" y "falta de arraigo", ya que él no nació en España. Pero la única nacionalidad que tiene Nahuel es la española, no la peruana.
Tras una nueva instancia, se le quitó el aislamiento en Sevilla, aunque seguía en el módulo más conflictivo. En ésas fue trasladado a Aranjuez, a la espera de comenzar las vistas. Nahuel, con entereza, espera. Pero no ve nada, no ve la plataforma organizada en su defensa, y se desespera. Le animan mucho las cartas, dicen su familia, pero a veces tampoco llegan. Muchas son retenidas sin motivo.
"Jamás esperaría que la policía perdiera el tiempo en nosotros. Mi hijo, que milita contra las drogas, que no es violento". "Soy un caso ejemplarizante", dice él. "Buscaban presas fáciles", dice la madre tras salir de la asamblea.
Allí la plataforma Libertad Nahuel organiza la manifestación, a las 20h en Callao (Madrid), y el domingo una comida popular y torneos solidarios de fútbol y baloncesto desde las 10h en el parque Casino de la Reina. El día 8 tiene la vista para la puesta en libertad, en la plataforma cuentan los días de encarcelamiento. Después, el juicio.
http://plataformanahuellibertad.blogspot.com.es/
RELATED