Impunity:  …..´The Saudi Royal Family can do whatever it likes , ever since 1945 they get protection from the US in exchange for oil and arms trade in dollars. ( eg. even though the 9/11 outrage was done by Saudi citizens the US attacks Afghanistan and Iraq instead ). Little by little impunity has bred arrogant religious fanaticism and the power crazed billionaire Saudi warlords seem delighted to starve and bomb Yemen, just to have their chosen puppet President Hadi in power'.
The Dramatic Situation in Hodeidah, Yemen: Relentless Air Strikes, The Suffering of Millions
Global Research, November 13, 2018
Quote from Mohamed Abdi, NRC's country director in Yemen:
"Hodeidah is at risk of being obliterated. We warned the international community that an offensive on the city was coming, and it has. We warned that the violence would see another half a million people flee their homes, and it did.
"We are now warning that by allowing this to go on, parties to the conflict and their international backers will be responsible for the death, injury and suffering of millions of people.

"The humanitarian cost of this war is almost $3 billion this year alone but the cost to humanity completely inestimable. Senseless attacks on civilians, evidence of a starving population and desperate pleas from humanitarian witnesses have done little more than elicit condolences from an international community that could have stepped on the brakes long ago. The lack of action from the United States and the United Kingdom, in particular, is utterly unconscionable."

Download the declaration in pdf version

Latest updates:
Eight days into a renewed offensive on Hodeidah city, civilians are reporting relentless airstrikes, low-flying jets and Apache helicopters, mortars and missiles on the outskirts of the town and within 5km of the nation's main port.
At least 18 civilians were killed and another 17 injured by airstrikes, artillery shelling and landmines in Hodeidah and Hajjah governorates on Wednesday this week alone, following several days of massive strikes and shelling on farms, factories, trucks, houses and markets across the governorates.
Reports from earlier in the week that Ansarallah fighters have taken up position on the rooftop of a hospital on Hodeidah city's outskirts were followed today by reports of three airstrikes on the facility, damaging hospital buildings and prompting its evacuation, placing patients at critical risk.


---

http://insurgente.org    The new Spanish Government announced a blockade on arms sales to the Saudis but changed their minds a few days later to "save jobs". Last year a Spanish firefighter was threatened with four years suspension after he refused to approve a weapons shipment from the port city of Bilbao to Saudi Arabia for potential use in Yemen.
As of the last week of October, the International Organisation for Migration had recorded more than 545,000 people have fled their homes since 1 June this year, equating to almost 3,700 each day. Of this population, 83% come from Hodeidah governorate and a further 14% from Hajjah to the north of Hodeidah.
TOPSHOT – EDITORS NOTE: Graphic content / Yemeni children receive treatment at a hospital after being wounded in a reported air strike on the Iran-backed Huthi rebels' stronghold province of Saada August 9, 2018. – A Saudi-led coalition battling in Yemen said it carried out an attack in the rebel-held north today that the Red Cross said hit a bus carrying children, leaving dozens of people dead or wounded. (Photo by STRINGER / AFP) (Photo credit should read STRINGER/AFP/Getty Images)

There is now only one viable overland route from Hodeidah city to Sana'a, and a very high risk that further aerial or land attacks on roads or bridges could sever access roads between the cities entirely, cutting the last remaining supply route for food, fuel and medicine to many of the estimated 20 million Yemenis who depend on imports through Hodeidah to meet their basic needs.
Five main roads in Hodeidah governorate have now been closed or cut off by fighting, and a further two highly restricted.
Humanitarian organisations continue to experience obstructions to the delivery of critical aid to people in dire need across Hodeidah, Hajjah and other severely-affected governorates, including cholera-prevention activities..


---
---
Humanitarian agencies continue to be denied visas for international staff and experience innumerable obstacles obtaining approval from authorities to travel and deliver aid within Yemen, even when providing lifesaving services, limiting our ability to reach people in desperate need.
The Survival Minimum Expenditure Basket (SMEB), accounting for food, water, hygiene and cooking fuel needs was revised to YER 73,000 (USD 104) per month last week, reflecting increased costs of more than 40% since July this year.
Inflation on the price of essential items, combined with the rapid depreciation of the Yemeni riyal and lack of access to income are among the key factors driving Yemen's worsening hunger crisis.
The International Bank of Yemen recorded an exchange rate of 680 yesterday, an appreciation of 8% since the end of October, but still a dramatic devaluation from the rate of 215 at which the riyal traded before the crisis.
Facts:
An estimated 3.3 million people lived in Hodeidah governorate before June 2018, 600,000 in Hodeidah city. Some 29.3 million people live in Yemen.
Yemen depends on imports for around 90 per cent of its food needs. Of this, between 70 and 80 per cent of all imports have historically come through Hodeidah Port. Further disruption to imports or overland supply routes risks severing the lifeline for up to 22 million Yemenis.
12 million Yemenis are now at imminent risk of famine and more than 16 million without access to safe water, exposing them to increased risk of infectious diseases, such as cholera.
NRC continues to operate across nine governorates in Yemen, delivering assistance with food, safe water, shelter, education and legal aid to people displaced by violence.
---
Note to readers: please click the share buttons above. Forward this article to your email lists. Crosspost on your blog site, internet forums. etc.
Featured image: Hassan (5) holding his younger sister Ratif (3 months). (Source: SmugMug)
The original source of this article is 
ReliefWeb
https://www.globalresearch.ca/the-dramatic-situation-in-hodeidah-yemen-relentless-air-strikes-the-suffering-of-millions/5659607
Yemen: A US Orchestrated Living Hell
Media reports on devastating war in Yemen, including from most alternative sources, fail to explain the conflict was planned and orchestrated in Washington.
It began under Bush/Cheney shortly after US naked aggression was launched in Afghanistan on October 7, 2001 – four weeks after the 9/11 state-sponsored mother of all false flags.
Both wars and all others that followed were planned months in advance. US warmaking and enlistment of terrorist groups Washington created and supports, didn't emerge like Topsy. Strategy and tactics take months of planning in advance.
Afghanistan is America's longest war in modern times, in its 18th year with no prospect for resolution.
The shocking, largely ignored, reality about Yemen is it's been ongoing almost as long. The Bush/Cheney regime launched it by drone terror-bombing.
Saudi terror-bombing began, then temporarily stopped, years before full-scale war was launched in March 2015. Resolution is nowhere in sight because the US under Republicans and undemocratic Dems reject peace and stability in all US war theaters.
Saudis and the UAE are US proxies in Yemen. Washington and Britain select targets to strike, including hospitals, schools, residential neighborhoods, mosques, marketplaces, agricultural land, and other civilian sites.
The US provides intelligence, logistics support, and mid-air refueling of Saudi and UAE warplanes.
Practically none of the above hard truths are reported by Western and Israeli media. Make no mistake. The Netanyahu regime is involved in the war – serving US, UK, French, Saudi, UAE and its own interests.
The same agenda is true about Syria, IDF terror-bombing of sites in the country temporarily halted because of Russian supplied sophisticated S-300 air defense systems.
Hodeidah Protests Al Zaidia Massacre
According to the Saker, Syria was supplied with the same ones delivered to Iran and China, not "some antiquated," less effective version, adding:
"Combined with the EW systems also delivered by Russia, these air defense systems clearly are having an impact on US and Israeli operations…complicat(ing) future attacks."
Yemen is a different story, Russia involved only in trying to resolve the war diplomatically. It's an unattainable objective as long as the US wants it continued endlessly.
On November 3, a major Saudi/UAE ground offensive began, trying to capture, control, and cut off remaining humanitarian aid entering Yemen through the port city of Hodeidah – the campaign so far unsuccessful.
On Thursday, spokesman for Yemeni armed forces allied with Houthi fighters General Yahya Sari said the following:
"The offensive operations blocked all the land supply routes, which led to confusion among enemy (Saudi and UAE) forces, and the aggressor warplanes failed to support (their) mercenaries."Yemen's unseen economic war is slaughtering children
Reportedly, Saudi and UAE forces, along with their proxy fighters, are trapped inside Hodeidah and its surrounding areas after breaking through Houthi defenses on Tuesday.
Fierce fighting continues for the strategically important port city. Houthi fighters controlled it since 2014, a humanitarian aid lifeline for food, medicines and other vital aid able to get into Yemen, far short of what's desperately needed.
Deplorable Saudi propaganda claims the kingdom "stand(s) with the Yemeni people" – while regime terror-bombing massacres them daily. War and blocked aid risks starvation for millions, young children, the elderly, ill and infirm most vulnerable.
---
US base Lemonnier in Djibouti just across the Bab-el-Mandeb  channel, from whose luxury facilities it directs the bombing and illegal drone war against Yemen.
---
The notion that US aircraft will stop refueling Saudi and UAE warplanes is as hollow as Trump regime war secretary Mattis' call for ceasefire. US supported aggression in the country escalated after his statement.
In early November, UNICEF called Yemen a "living hell," especially for its children – severe malnutrition and starvation killing countless tens of thousands, virtually unreported in the West.
UNICEF Middle East/North Africa director Geert Cappelaere said:
"Every 10 minutes, a child is dying from diseases that can be easily prevented" – countless others from war and starvation.
Likely hundreds of thousands of Yemenis perished since March 2015 – not the phony 10,000 figure reported by major media.
Millions of Yemenis may starve to death if war and blockade continue endlessly.
---
Most Yemenis obtaining food subsist on about 500 calories daily, causing severe malnutrition. It's a third or more of what's needed to survive.
Around 80% of Yemenis are food insecure. Save the Children estimates over 50,000 Yemeni children died from starvation and untreated diseases in 2017 alone.
Martyrs and wounded from the raids
Because of its arid land, Yemen is dependent on food imports. What's available is too expensive for most Yemenis, the region's poorest country in normal times, why humanitarian aid is vital. Yet far too little is available.
According to the UN, Yemen faces the "worst famine in the world in 100 years" if war continues.
Famine is already a reality for millions of Yemenis, mass starvation ongoing, largely out of sight and mind, lip service to it alone paid in the US and other Western capitals.
Food and medical treatment deprivation is part of US orchestrated, Saudi/UAE waged war and blockade on the country.
UN humanitarian coordinator for Yemen Lise Grande said as many as 13 million civilians may die from starvation if conflict resolution remains unachieved.
There's no prospect of it ahead because the Trump regime rejects it.
When America goes to war, the human toll is never a consideration.
---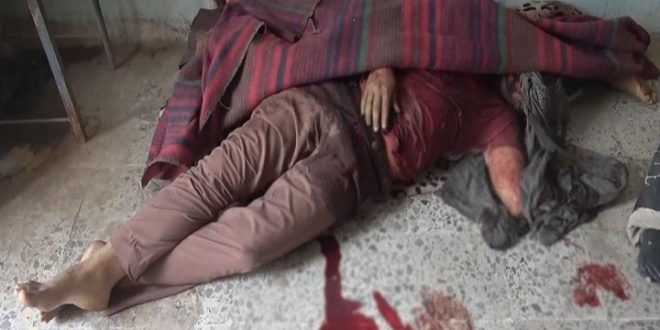 A picture of killed man by Saudi-led fighters attack on two buses carrying displaced families within the province of Hodeidah
---
Note to readers: please click the share buttons above. Forward this article to your email lists. Crosspost on your blog site, internet forums. etc.
Award-winning author Stephen Lendman lives in Chicago. He can be reached at lendmanstephen@sbcglobal.net. He is a Research Associate of the Centre for Research on Globalization (CRG)  Visit his blog site at sjlendman.blogspot.com