Contra las amenazas de Turquía. En defensa de Rojava/Norte de Siria
 Catalan + English + galeria  read below.. cap abaix
Concentraciones en MADRID y BARCELONA. Viernes, 6 de septiembre 2019, 19:00 hrs.
Madrid: Plaza Isabel II (Ópera).
Barcelona: Carrer Roc Boronat / Tánger metro: Glóries
¡Guerra a la guerra, sus cómplices y patrocinadores!
read in English / Catalan below
Concentración contra la industria armamentística: Viernes, 6 de septiembre 2019, 19h en Roc Boronat con Tangér (Metro Glories i Llacuna, Barcelona)
Hace siete años comenzó en Rojava, en el norte de Siria, una revolución que iba a cambiar radicalmente la vida de millones de personas. Después de liberarse de la dictadura del régimen de Assad, la población kurda comenzó a organizarse en consejos, comunas y cooperativas autogestionadas, mientras que la organización autónoma de mujeres se convirtió en la fuerza motriz de la revolución social.
Se desarrolló un proyecto multiétnico y multirreligioso, que hoy conocido como la Administración Autónoma del Norte y Este de Siria garantiza la coexistencia pacífica de millones de kurdos, árabes, asirios y otros pueblos.
Desde sus inicios este proyecto, único no sólo en el Oriente Medio sino a nivel mundial, ha sido una amenaza para el status quo de las potencias regionales y globales, como también una espina en el ojo de los yihadistas.
Durante todos estos años las combatientes voluntarias de las YPJ/YPG/FDS mediante el sacrificio de miles de mártires y apoyadas por la valiente resistencia de la población, consiguieron derrotar a los yihadistas de al-Nusra, al-Qaida y luego de Daesh y liberar el territorio.
Sin embargo hoy, otra vez más, toda la población de Rojava se enfrenta a una amenaza inminente, la de Turquía y sus aliados yihadistas, hace un par de años rebautizados como Ejército Nacional Sirio.
Los tanques y la artillería están esperando en la frontera turca, los aviones de combate cargados de bombas están listos para despegar, decenas de miles de miembros de varias fracciones islamistas sólo esperan una orden de sus amos turcos para invadir a Rojava, masacrar la población y erradicar todos los logros de la Revolución, empezando por las estructuras autónomas de las mujeres.
Lo que va a pasar no es difícil imaginar mirando a la región de Afrin, ocupado por Turquía y sus secuaces desde hace más de un año: asesinatos, violaciones, torturas implementación de sharia, limpieza étnica.
Pero esta guerra, como tantas otras, aunque parece estar lejos empieza también aquí en el Estado Español y en Catalunya. Porque ninguna guerra moderna sería posible sin la cooperación militar, económica y diplomática de la OTAN, los Estados Unidos, Rusia y los países europeos.
Y es el suministro de armas y tecnologías militares también por parte de empresas españolas que acaba respaldando las políticas de exterminio ideadas por Turquía. Los beneficios de estas empresas cuestan millones de vidas.
Son algunos de los proyectos e innovaciones tecnológicas concebidos en los altos edificios de oficinas de las metrópolis europeas, entre las calles pulidas de barrios "reinventados" como el de Poble Nou barcelones, que acaban implementados para convertir a otros barrios, con mucho menos glamour y ubicados en los países lejanos y mucho más pobres, en un paisaje desolado de ruinas y escombros, mientras que sus habitantes terminan muertos, mutilados o refugiados.
Indra Sistemas es una de las principales compañías militares en el Estado Español y una de las más importantes en defensa y seguridad en Europa. Mientras que 22% de sus actividades están relacionadas con defensa y el sector militar, su principal cliente es el Ministerio de Defensa español.
Boicot a Turquía: 449 usuarios de Twitter y Facebook detenidos por oponerse a la matanza en Afrin – Rojava Azadî
Los sistemas de vuelo de los aviones y helicópteros de combate, los sistemas de comunicación de toda clase de buques de guerra y carros blindados, así como el guiado de misiles que disparan todos estos armamentos desarrollados por Indra Sistemas se están exportando a países como Turquía, Arabia Saudí, Egipto o Qatar entre otros muchos, es decir países que directa o indirectamente están implicados en las guerras actuales de Siria y Yemen.
Las guerras que en consecuencia producen la grave crisis de refugiadas que huyen de estas mismas y a los que Europa hoy les niega acogida. Además justo Indra Sistemas es una de las tres empresas del Ibex que más partido le han sacado a la intención del Gobierno y de la Unión Europea para reforzar el control de la frontera del Estado Español. Y a esto probablemente se refiere Indra cuando en su propia página web describe su visión de "un futuro lleno de retos, amenazas y oportunidades".
En el Estado Español las grandes compañías de la industria militar cuentan con tan amplio apoyo bancario como en pocos otros países, por medio de créditos asombrosos que han dado lugar a considerar a un sector de la banca como un verdadero brazo de apoyo a la industria militar, y con estímulos públicos por medio de ayudas y subvenciones espectaculares.
En abril de 2018, el Gobierno de Rajoy reconoció que no existe, "ni nunca ha existido en España", un protocolo que detalle los procesos a seguir para la vigilancia de las armas que vende la industria de armamento una vez que éstas llegan a su destino.
En caso de Turquía, en marzo de 2018 entró en vigor el acuerdo sobre la protección de información clasificada en la industria de defensa firmado con España algunos años antes, algo que permite envolver con aún mayor opacidad las operaciones relacionadas con la industria armamentística.
Denunciamos y atacamos las empresas e instituciones que apoyan al estado turco fascista. ¡Defendamos la Revolución de Rojava!
---
---
War against war, its accomplices and sponsors!
Mass picket against the arms industry: Friday, September 6, 2019, 7 p.m. at Roc Boronat with Tangér (Metro Glories i Llacuna, Barcelona)
Seven years ago, a revolution that would radically change the lives of millions of people began in Rojava, in northern Syria. After freeing themselves from the dictatorship of the Assad regime, the Kurdish population began to organize themselves into self-managed councils, communes and cooperatives, while the autonomous organization of women became the driving force of the social revolution.
A multi-ethnic and multi-religious project was developed, which today known as the Autonomous Administration of the North and East of Syria guarantees the peaceful coexistence of millions of Kurds, Arabs, Assyrians and other peoples.
Since its inception this project, unique not only in the Middle East but worldwide, has been a threat to the status quo of regional and global powers, as well as a thorn in the eye of jihadists. During all these years the volunteer fighters of the YPJ / YPG / SDS by sacrificing thousands of martyrs and supported by the brave resistance of the population, managed to defeat the jihadists of al-Nusra, al-Qaida and then of Daesh and release the territory.
However, today, once again, the entire population of Rojava faces an imminent threat, that of Turkey and its jihadist allies, a couple of years ago renamed as the Syrian National Army. Tanks and artillery are waiting on the Turkish border, bomb-laden fighter planes are ready to take off, tens of thousands of members of various Islamist factions only await an order from their Turkish masters to invade Rojava, massacre the population and eradicate all the achievements of the Revolution, starting with the autonomous structures of women.
What is going to happen is not difficult to imagine looking at the Afrin region, occupied by Turkey and its minions for over a year: murders, rapes, sharia implementation torture, ethnic cleansing.
But this war, like so many others, although it seems to be far away also begins here in the Spanish State and in Catalonia. Because no modern war would be possible without the military, economic and diplomatic cooperation of NATO, the United States, Russia and European countries.
And it is the supply of weapons and military technologies also by Spanish companies that ends up supporting the extermination policies devised by Turkey. The benefits of these companies cost millions of lives.
They are some of the projects and technological innovations conceived in the high office buildings of the European metropolis, among the polished streets of "reinvented" neighborhoods such as Poble Nou Barcelona, ​​which have just been implemented to convert to other neighborhoods, with much less glamor and located in distant and much poorer countries, in a desolate landscape of ruins and debris, while its inhabitants end up dead, mutilated or refugees.
Indra Sistemas is one of the main military companies in the Spanish State and one of the most important in defense and security in Europe. While 22% of its activities are related to defense and the military sector, its main client is the Spanish Ministry of Defense.
The flight systems of airplanes and combat helicopters, the communication systems of all kinds of warships and armored cars, as well as the guided missiles that fire all these armaments developed by Indra Sistemas are being exported to countries such as Turkey, Saudi Arabia, Egypt or Qatar among many others, that is countries that are directly or indirectly involved in the current wars in Syria and Yemen.
The wars that consequently produce the serious refugee crisis fleeing from them and to which Europe today denies welcome. In addition, Indra Sistemas is just one of the three Ibex companies that have taken more advantage of the intention of the Government and the European Union to strengthen control of the Spanish State border. And this is probably what Indra refers to when on his own website he describes his vision of "a future full of challenges, threats and opportunities."
In the Spanish State, large companies in the military industry have as much banking support as in a few other countries, through amazing credits that have led to a banking sector as a true arm of support for the military industry , and with public incentives through spectacular grants and subsidies.
In April 2018, the Rajoy Government acknowledged that there is no "nor has there ever been in Spain", a protocol that details the processes to follow for the surveillance of weapons sold by the arms industry once they reach their destination.
In the case of Turkey, the agreement on the prot came into force in March 2018
¡Guerra a la guerra, els seus còmplices i patrocinadors!
Concentració contra la indústria armamentística: Divendres, 6 de setembre 2019, 19h a Roc Boronat amb Tànger (Metro Glòries i Llacuna, Barcelona)
Fa set anys va començar a Rojava, al nord de Síria, una revolució que canviaria radicalment la vida de milions de persones. Després d'alliberar-se la dictadura del règim d'Assad, la població kurda va començar a organitzar-se en consells, comunes i cooperatives autogestionades, mentre que l'organització autònoma de dones es va convertir en la força motriu de la revolució social. Es va desenvolupar un projecte multiètnic i multireligiós que, avui conegut com l'Administració Autònoma del Nord i Est de Síria, garanteix la coexistència pacífica de milions de kurds, àrabs, assiris i altres pobles.
Des dels seus inicis aquest projecte, únic no només a l'Orient Mitjà sinó a nivell mundial, ha estat una amenaça per al status quo de les potències regionals i globals, així com també una espina a l'ull dels jihadistes. Durant tots aquests anys les combatents voluntàries de les YPJ / YPG / FDS mitjançant el sacrifici de milers de màrtirs i recolzades per la valenta resistència de la població, van aconseguir derrotar als jihadistes d'al-Nusra, al-Qaida i després de Daesh i alliberar el territori.
El Voluntari gallec de les YPG caigut a Efrîn era resident a Andorra
No obstant això avui, una altra vegada més, tota la població de Rojava s'enfronta a una amenaça imminent, la de Turquia i els seus aliats jihadistes, fa un parell d'anys rebatejats com Exèrcit Nacional Sirià. Els tancs i l'artilleria estan esperant a la frontera turca, els avions de combat carregats de bombes estan a punt per enlairar-se, desenes de milers de membres de diverses faccions islamistes només
esperen una ordre dels seus amos turcs per envair Rojava, massacrar la població i eradicar tots els èxits de la Revolució, començant per les estructures autònomes de les dones. El que passarà no és difícil imaginar si observem la regió d'Afrin, ocupada per Turquia i els seus sequaços des de fa més d'un any: assassinats, violacions, tortures, implementació de xaria, neteja ètnica.
Però aquesta guerra, com tantes altres, encara que sembla lluny, comença també aquí a l'Estat Espanyol i a Catalunya. Perquè cap guerra moderna seria possible sense la col·laboració militar, econòmica i diplomàtica de l'OTAN, els Estats Units, Rússia i els països europeus.
I és el subministrament d'armes i tecnologies militars, també per part d'empreses espanyoles, el que acaba donant suport a les polítiques d'extermini ideades per Turquia. Els beneficis d'aquestes empreses costen milions de vides. Són alguns dels projectes i innovacions tecnològiques concebuts en els alts edificis d'oficines de les metròpolis europees, entre els carrers polits de barris "reinventats" com el del Poble Nou barceloní, que acaben implementats per convertir a altres barris, amb molt menys glamour i ubicats en països llunyans i molt més pobres, en un paisatge desolat de ruïnes i enderrocs, mentre que els seus habitants acaben morts, mutilats o refugiats.
Indra Sistemes és una de les principals companyies militars a l'Estat Espanyol i una de les més importants en defensa i seguretat a Europa. Mentre que el 22% de les seves activitats estan relacionades amb defensa i el sector militar, el seu principal client és el Ministeri de Defensa espanyol.
Els sistemes de vol dels avions i helicòpters de combat, els sistemes de comunicació de tota mena de vaixells de guerra i carros blindats, així com el guiat de míssils que disparen tots aquests armaments desenvolupats per Indra Sistemes s'estan exportant a països com Turquia, Aràbia Saudita, Egipte o Qatar entre molts altres, és a dir països que directament o indirectament estan implicats en les guerres actuals de Síria i Iemen.
Les guerres que en conseqüència produeixen la greu crisi de refugiades que fugen d'aquestes i als que Europa avui els nega acollida. A més, justament Indra Sistemes és una de les tres empreses de l'Ibex que més partit han tret a la intenció del Govern i de la Unió Europea per reforçar el control de la frontera de l'Estat Espanyol. I a això probablement es refereix Indra quan en la seva pròpia pàgina web descriu la seva visió d ' "un futur ple de reptes, amenaces i oportunitats".
A l'Estat Espanyol les grans companyies de la indústria militar compten amb tan ampli suport bancari com en pocs altres països, per mitjà de crèdits sorprenents que han donat lloc a considerar a un sector de la banca com un veritable braç de suport a la indústria militar, i amb estímuls públics mitjançant ajudes i subvencions espectaculars.
A l'abril de 2018, el Govern de Rajoy va reconèixer que no existeix, "ni mai ha existit a Espanya", un protocol que detalli els processos a seguir per a la vigilància de les armes que ven la indústria d'armament una vegada que aquestes arriben a la seva destinació. En cas de Turquia, al març de 2018 va entrar en vigor l'acord sobre la protecció d'informació classificada en la indústria de defensa signat amb Espanya alguns anys abans, cosa que permet donar encara una opacitat més gran a les operacions relacionades amb la indústria armamentística.
Denunciem i ataquem les empreses i institucions que donen suport a l'estat turc feixista. Defensem la Revolució de Rojava!
Afrin Gallery
Janet Biehl is a revolutionary writer and activist who is publicising and spreading through Europe the feminist ideas of the current Social Revolution in Syria and Turkey and  the key influence of anarchist theorist Murray Bookchin on Ocalan.  .see also…RADICAL CITIES AND SOCIAL REVOLUTION: AN INTERVIEW WITH JANET BIEHL
In Afrin .. demographic change, rape, and arrest – ANHA | Ajansa …
Image: NATO weapons used against civilians in Afrin
Image: ISIS terrorists alongside with Turkish soldiers in Afrin
Image: Turkey's bombs drive families into caves in Kurdish enclave

Turkish PM: "We will put 350,000 'Syrians' into Afrin", – After expelling Kurds and 170,000 internal refugees -Turkey is openly conducting a policy of "ethnic cleansing" in the area
"Once we have purged the terrorists (from Afrin) we will then cleanse them from Manbij, Ayn al-Arab, Tal Abyad, Ra's al-Ayn and Qamishli," Turkish President Recep Tayyip Erdogan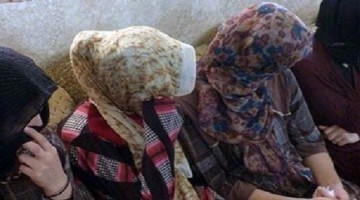 Dozens of girls missing in Afrin     A mother looking for her 14-year-old girl who was abducted in Afrin under invasion, stated that dozens of girls are held captive and raped by Turkish forces and allied gangs.
The Turkish taxpayer pays $300 a month to the 25,000 ex Al Qaeda, ISIS and Jihadis to kill Kurds (http://www.independent.co.uk/news/w…
Defeated but defiant. Reports of massacres  by Turkish troops and  the mercenaries of FSA came from around Afrin as the NATO tanks finally rolled in.March 7, 2018
Thousands of people march in central Istanbul to protest against the government's plan to filter the internet. REUTERS/Murad Sezer
Relacionado
Author:

thefreeonline

The Free is a book and a blog. Download free E/book ..."the most detailed fictional treatment of the movement from a world recognizably like our own to an anarchist society that I have read... View all posts by thefreeonline