Assange lawyer discloses conditions for British justice TO RETHINK his extradition
first piece from RT with thanks. illustrations added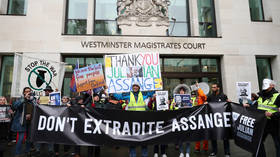 A Spanish judge will question Julian Assange on a Spain-based security firm thought to have spied on him in the Ecuadorian Embassy in London. His lawyer hopes it may help thwart the WikiLeaks founder's extradition to the US.
Set for next week, the questioning is part of a criminal inquiry the Spanish High Court is carrying out into UC Global, a private security company suspected of gathering surveillance on Assange and passing it further to US intelligence services.
"December 20 is an important day," Aitor Martinez, a lawyer in charge of defending Assange in Spain, told Russia's RIA Novosti news agency. The Spanish judge will go to Westminster Magistrates Court "to receive a video conference testimony from Mr Assange as a victim of the alleged spy plot," he revealed.
The firm's name surfaced this summer when El Pais newspaper reported that it was eavesdropping on Assange during his exile at the Ecuadorian diplomatic mission in London. Citing recordings it has had access to, the paper alleged that the firm – tasked to guard the embassy – specifically focused on Assange's legal matters discussions.
Now, Assange's input is invaluable as it can pave the way to shooting down US efforts to try the publisher on their soil, Martinez explained. "Obviously, once Spanish justice receives such testimonies from Mr. Assange … the British justice should rethink the usefulness of his extradition [to the US]," he argued.
It can become a reason for the United Kingdom to deny an extradition request issued by the country where basic legal guarantees are not ensured.
SEE ALSO > WikiLeaks founder Julian Assange has been blocked from gaining
access to his lawyers to discuss his extradition …
As the inquiry progressed, the Spanish High Court arrested the company's owner David Morales, a former member of the Spanish military, believed to have liaised with the US side. He was released on bail, but his company's premises were searched and his bank accounts frozen.
As the story unfolded, it emerged that UC Global operatives also monitored Russian and American visitors to Assange, handing their profiles to US intelligence.
Morales himself didn't try to hide his ties to the "American friends." According to Germany's NDR broadcaster, which filed a complaint against UC Global for having targeted one of its journalists who visited Assange, Morales allegedly told one of his employees: "From now on, we play in the first league… We are now working for the dark side."
He is said to have traveled up to twice a month to the US to deliver intelligence taken from the Ecuadorian Embassy.Also on rt.com 'We're working for the dark side': Spanish firm accused of spying on Assange by German broadcaster boasted of US intelligence ties
READ MORE: Security firm at Ecuadorian embassy created 'profiles' on Russian & American visitors to Julian Assange, gave info to CIA – report
Posted on December 11, 2019 by greekemmy
Organised by The Press Gazette, the British Journalism Awards took place at Hilton Bankside on 10th of December 2019, UN Human Rights Day. The Committee to defend Julian Assange put a good presence there with grassroots solidarity for the WikiLeaks publisher. Here is Maxine Walker reporting from our event with photos and video from Joe Brack, EF Press. An amazing turnout, thankful to all who participated!
UK Journalists – Time to Find Some Courage
The high-profile British Journalism Awards 2019 ceremony was held on 10 December at the very smart Hilton Hotel, Bankside.
We thought the event would be improved by a visual reminder that Julian Assange, multi-award winning journalist and publisher, could not be there as he is currently held in Belmarsh High Security Prison. He is held in conditions of oppressive isolation there, his health in dire peril and facing a potential sentence in the USA of 175 years. His crime in the eyes of our rulers is simply that he told the truth about their war crimes.
25 supporters turned up outside the Hilton with banners, placards and some wearing Julian Assange masks. We leafleted the journalists as they went in both to inform them and to ask them to sign the Journalists Open Letter which can be found online at: https://speak-up-for-assange.org/journalists-speak-up-for-julian-assange/
We met a mixed response. Some flatly refused to take the leaflet but others did so and seemed sympathetic. A few said they had signed the Open Letter or would consider doing so. We hope so. Of the 610 journalists who have signed the Open Letter so far, only 40 are from the UK while 63 French journalists have done so.
The truth about the lawless treatment of Julian Assange is easy to find. It seems that in the UK, journalistic courage is more difficult to locate.
Share this:
Related posts