Kumbia Kombativa en solidaridad con las revueltas del pueblo chileno. "El que baila pasa" es una nueva forma de protesta en Chile donde l@s manifestantes que bloquean el trafico de los vehiculos instan a sus conductor@s a salir y bailar para mostrar su apoyo a las protestas si quieren seguir avanzando con su coche.
Kumbia Kombativa in solidarity with the revolts of the Chilean people. "The one who dances can pass" is a new form of protest in Chile where the protesters who block the traffic of the vehicles urge their drivers to get out and dance to show their support for the protests if they want to continue moving forward with their car.
Las autoridades aseguran que se trata de una humillacion violenta y han establecido penas de hasta 541 dias de prision para quienes paren el transito de esta manera.
The authorities say that it is a violent humiliation and have established penalties of up to 541 days in prison for those who stop traffic in this way.
Las imágenes han sido extraídas del archivo de youtube. Agradecimientos a la gente que los ha subido.
The images have been extracted from the YouTube archive. Thanks to the people who have uploaded them.
"La Dani" – Voz y Güiro
"Kike Rasta" – Teclas y coros
Nele Urbanowicz – Saxo y Clarinete
Cargol – Bongo y Campana
Kike "Jaleito" – Guitarra y coros
Aléxtasis JD – Pailas
Matimoon – Bajo
Grabado en diciembre del 2019 en Barcelona. Kumbia Kaos on Facebook..
Related posts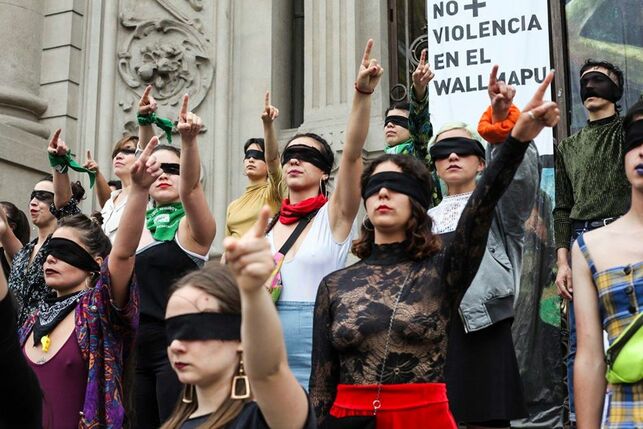 A Rapist in Your Way ..videos and texts: Un Violador en tu Camino .. power perfomance sweeps Latin America and World (updated)
Related
Police clash with women's day marchers in Turkey (VIDEO)
Femicides in Brazil Hit Civil War Proportions
Fran and Monica are FREE .. Affinity and Solidarity against Victimization and Authority