Kaosenlared.net translation by The Free original en español abajo by Salvador Soler shared with thanks.
There is no "Christmas truce" for the workers of the Electricity Company of France (EDF) who are on strike. Workers are reconnecting service to poor families and lowering the price of tariffs to popular sectors,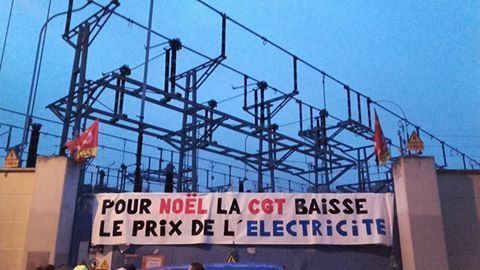 while cutting off power to police stations, management and large companies.
Since the beginning of the strike on December 5, electricians and energy workers maintain power outages against Macron's pension reform. A fighting method that exposes the strength of the workers and the strategic place they occupy, with the possibility of paralyzing government buildings and large companies with power outages.
While the strike has had a greater impact among workers of the SNCF (railway), RATP (metropolitan transport company of Paris), National Education or even health, energy workers are not far behind.
Among them are electricians and gas workers. Of the main companies in the sector there are 41.4% of striking workers in EDF (Electricity Company of France), 39% in Engie and more than 60% in Enedis. From Tuesday, December 10, the strikers voted in assemblies to generate localized power cuts. Michaële Guégan, director of human resources at Enedis, the most important electricity distribution network, notes that there have been selective cuts "in certain public buildings, a commercial area in Bordeaux, a university in Lyon and even a hospital center."
Workers announced that tens of thousands of poor households are being reconnected to have electricity and gas during the holidays. Thanks to the actions of the Electricity of France (EDF) workers, the poorest families will enjoy an illuminated dinner. This will reduce the power supply of the richest areas of cities, shopping centers, police stations and prefecture to leave them in total darkness.
At the same time, the workers changed 80,000 users in the Lyon region to the category of low consumption, and justified their action by saying that "energy is not a commodity" but is "essential goods, whose access must be guaranteed to all." This action generated enormous sympathy among the popular sectors and a great anger among the businessmen and politicians who consider it a crime.
Juan Andrés Gallardo @ juanagallardo1

🇨🇵 # URGENT | For Christmas, electricity workers in France reconnect service to poor families and lower the price of tariffs to popular sectors. @ Cgtenergie06 #Feance # 22decembre

In fact, these actions had consequences for the strikers, the union is being targeted by government repression and judicial prosecution. This Thursday, the 20th secretary general of the CGT energy of Lille was arrested and prosecuted.
These methods of the workers strike directly in the pocket of the capitalists by taking energy away from commercial sectors of the cities or from productive units to give to those who have less, even making the energy transfer in the schedules where the electric tariffs have a differential of consumption touching the pocket of the energy company itself.
Nicolas Noguès, deputy secretary general of the CGT energy department of Seine-Saint-Denis, explained how they hit industrial and commercial areas such as Andorra or the city of Dieppe that contains important industries. They also cut the 400 kW Germany-France line.
All millionaire businesses. Bastien, an activist worker at EDF, said "we take the kilowatts of the richest and return them to the poorest." This means of action, beyond the fact that it penalizes energy suppliers by drastically reducing profits, has the merit of having a positive impact on households, since millions suffer from the country's energy deficit.
These actions, which have found enormous support among the population, show that the fight against pension reform is not corporate, as denounced by the French Government, but that the workers demonstrate that this strike movement is strongly marked by class solidarity.
In France, this solidarity has been expressed among workers and students from different sectors, whether in the SNCF, RATP or among teachers. Thus, students who go to the picket lines from December 5 are welcomed with open arms by the workers, the same for teachers.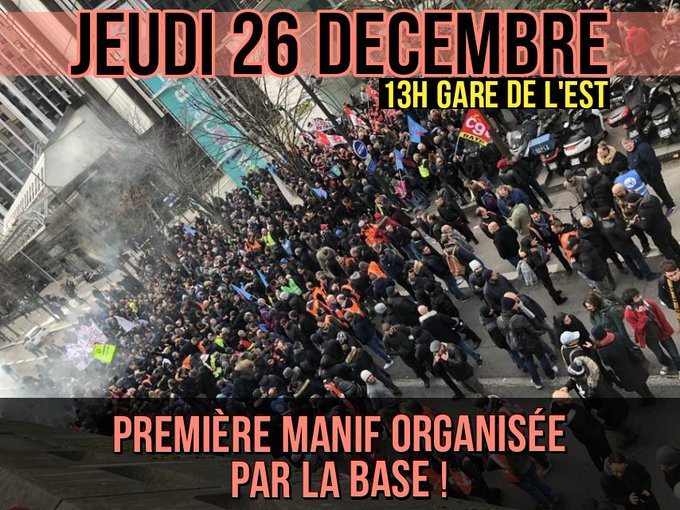 But this solidarity does not stop in simple words and simple support, it manifests itself in the actions that are carried out daily. A great example is that of energy workers who will enlighten millions of families during the "good night", poor families that are of their own class, the worker. This is the enormous force that emerges from the base of the movement and that can allow the defeat of Macron's reform and its policies.
http://www.izquierdadiario.es/Trabajadores-de-la-electricidad-de-Francia-iluminan-hogares-pobres-esta-Navidad
   Diego Sacchi @ sac_diego

#BuenDomingo in 🇫🇷 beautiful things happen
The workers of the electricity company, on strike, cut the power to police stations, other government buildings and even an Apple center, while reconnecting users who could not pay.
Tell me who moves the world https://twitter.com/CgtTuifrance/status/1208528910188785668 ...
CGT TUIFRANCE @ CgtTuifrance
Huelga en Francia: Trabajadores de la electricidad de Francia iluminan hogares pobres esta Navidad
Por Salvador Soler Última actualización Dic 24, 2019Compartir
Publicidad
Desde el comienzo de la huelga el 5 de diciembre, los electricistas y trabajadores de la energía mantienen cortes de luz contra la reforma de pensiones de Macron. Un método de lucha que expone la fuerza de los trabajadores y el lugar estratégico que ocupan, con la posibilidad de paralizar con cortes de luz edificios gubernamentales y grandes empresas.
Si bien la huelga ha logrando mayor impacto entre trabajadores de la SNCF (ferroviarios), la RATP (empresa de transporte metropolitano de París), la Educación Nacional o incluso la salud, los trabajadores de la energía no se quedan atrás.
Entre ellos se encuentran los electricistas y los trabajadores del gas. De las principales empresas del sector hay un 41.4% de trabajadores en huelga en EDF (Empresa de Electricidad de Francia), 39% en la compañía Engie y más del 60% en Enedis. Desde el martes 10 de diciembre los huelguistas votaron en asambleas generar cortes de energía localizados.
Michaële Guégan, directora de recursos humanos de Enedis, la red de distribución de electricidad más importante, señala que se han producido recortes selectivos «en ciertos edificios públicos, un área comercial en Burdeos, una universidad en Lyon e incluso un centro hospitalario».
Los trabajadores anunciaron que decenas de miles de hogares pobres están siendo reconectados para tener luz y gas durante las fiestas. Gracias a las acciones de los trabajadores de Electricidad de Francia (EDF), las familias más pobres disfrutarán de una cena iluminada. Para ello reducirán la alimentación eléctrica de las zonas más ricas de las ciudades, centros comerciales, comisarías de policía y prefectura para dejarlas en la oscuridad total.
Al mismo tiempo los trabajadores cambiaron a 80.000 usuarios de la región de Lyon a la categoría de bajo consumo, y justificaron su acción diciendo que «la energía no es una mercancía» sino que son «bienes esenciales, cuyo acceso debe garantizarse a todos». Esta acción generó una enorme simpatía entre los sectores populares y una gran bronca entre los empresarios y políticos que lo consideran un delito.
Juan Andrés Gallardo@juanagallardo1

#URGENTE | Por la navidad los trabajadores de la electricidad de Francia reconectan el servicio a las familias pobres y bajan el precio de las tarifas a los sectores populares.@cgtenergie06 #Feance #22decembre
De hecho estas acciones tuvieron consecuencias para los huelguistas, el sindicato está siendo blanco la represión del gobierno y de la persecución judicial. Este jueves 20 el secretario general de la energía CGT de Lille fue arrestado y procesado.
Estos métodos de los trabajadores golpean directamente en el bolsillo de los capitalistas al quitarle energía a sectores comerciales de las ciudades o de unidades productivas para darle a los que menos tienen, incluso haciendo el traspaso energético en los horarios donde las tarifas eléctricas tienen un diferencial de consumo tocando el bolsillo de la propia empresa energética.
Nicolas Noguès, subsecretario general del departamento de energía de CGT de Seine-Saint-Denis, explicó cómo golpearon en zonas industriales y comerciales como Andorra o la ciudad de Dieppe que contiene importantes industrias. También cortaron la línea de 400 kw Alemania-Francia.
Todos negocios millonarios. Bastien, un trabajador activista de EDF, dijo "tomamos los kilovatios de los más ricos y se los devolvemos a los más pobres". Este medio de acción, más allá del hecho de que penaliza a los proveedores de energía al reducir drásticamente las ganancias, tiene el mérito de tener un impacto positivo para los hogares, ya que millones sufren el déficit energético del país.

Diego Sacchi@sac_diego

#BuenDomingo en pasan cosas lindas
Los trabajadores de la compañía de electricidad, en huelga, le cortan la luz a comisarías, otros edificios del gobierno y hasta un centro de Apple, mientras reconectan a usuarios que no pudieron pagar.
Decime quién mueve el mundo https://twitter.com/CgtTuifrance/status/1208528910188785668 …CGT TUIFRANCE@CgtTuifrance
Pas de retrait, pas de trêve
Les électriciens CGT ont coupé électricité :
-Data center de Apple 93
-préf. et commissariat du 93
-Commissariat de Caen
-Mairie de Pau
-Mairie et centre des impôts de Vichy
-etc
Passage en heures creuses pour les plus démunis
Et c'est pas fini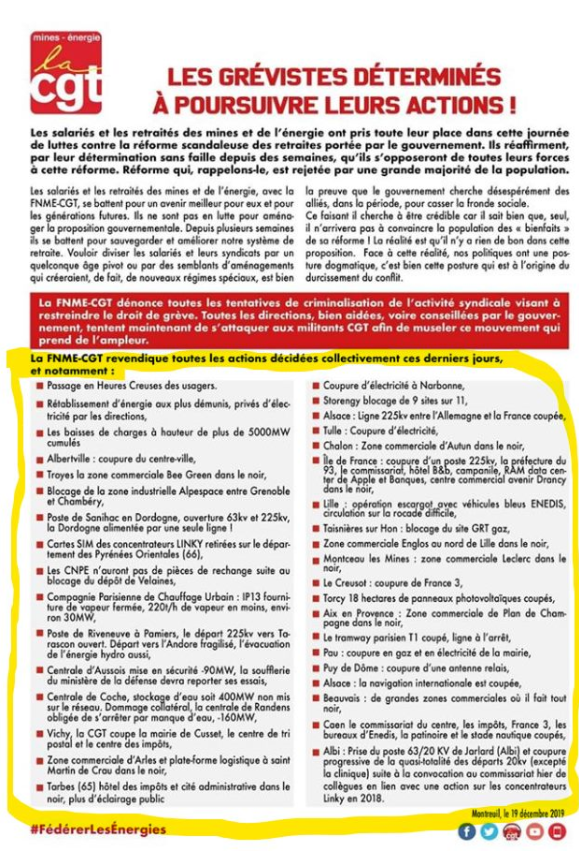 9414:00 – 22 dic. 2019Información y privacidad de Twitter AdsEstas acciones, que han encontrado enorme apoyo entre la población, muestran que la lucha contra la reforma de las pensiones no es corporativa, como denuncia el Gobierno francés, sino que los trabajadores demuestran que este movimiento huelguístico está fuertemente marcado por la solidaridad de clase.
En Francia esta solidaridad se viene expresando entre los trabajadores y estudiantes de distintos sectores, ya sea en el SNCF, RATP o entre los maestros. Así, los estudiantes que van a las líneas de piquete desde el 5 de diciembre son recibidos con los brazos abiertos por los trabajadores, lo mismo para los maestros.
Pero esta solidaridad no se detiene en simples palabras y simple apoyo, se manifiesta en las acciones que se llevan a cabo diariamente. Es un gran ejemplo el de los trabajadores de la energía que iluminará a millones de familias durante la "noche buena", familias pobres que son de su propia clase, la trabajadora. Esta es la fuerza enorme que surge desde la base del movimiento y que puede permitir derrotar la reforma de Macron, y sus políticas.
http://www.izquierdadiario.es/Trabajadores-de-la-electricidad-de-Francia-iluminan-hogares-pobres-esta-Navidad