Indigenous, black and peasant 'Minga'* in Colombia: breaking the fence, weaving with equals (a Minga is a Collective Work)
(leer original en castellano abajo).

by Raul Zibechi 28 octubre, 2020 11 minute read from "Alternativas" magazine shared with thanks translation thefreeonline
More than 8,000 indigenous people, peasants and Afro-descendants arrive in Bogotá to denounce the massacres that are taking place throughout Colombia with the complicity of the Government of Iván Duque.
"Guard, guard. Strength, strength ", thousands of young people chant raising their chontas (wooden canes), showing the decision of the native peoples, blacks and peasants to defend life and territory, during the Minga that has arrived on Sunday, October 18 for the night to Bogotá. There are 8,000 wills who traveled 450 kilometers from Cali, in the south of the country, to the capital, mobilizing 500 vehicles, many goats (open buses from rural regions) and walking in an orderly manner, flanked by the Indigenous Guard.
It is the only organized mobilization with precise objectives, capable of setting Colombian society in motion. Proof of this is that all the media, even the most right-wing, are covering the Minga, and that the extreme right of the Democratic Center, Uribismo, supporters of former President Álvaro Uribe, filed a complaint because, they say, "the mobilization is violating biosafety protocols and putting citizens at risk ".
The truth is that the arrival of thousands of indigenous, Afro and peasant farmers to Bogotá mobilized a good part of the capital, where it was received by the young people who won the streets last November, during the national strike, and occupied them again on 9 and September 10 in response to the murder of a lawyer by the police. The multicolored chivas circulated overflowing to the sound of whistles and drums.
The Bogotá mayor's office, from the center-left and opposed to uribism, headed by Claudia López, prepared the Palacio de los Deportes so that thousands of marchers could stay in conditions, something that the mayors of the right where the Minga passed through denied. Meanwhile, President Iván Duque maintains his refusal to dialogue directly.
Search for the president or the people?
The full name of the mobilization is "Social and Community Minga for the Defense of Life, Territory, Democracy and Peace", and it takes place every time the peoples feel deeply attacked. There have been many mingas since the 1991 Constitution that incorporated the collective rights of indigenous and Afro-descendant peoples.
Because despite the recognition of their territories and a differential approach in terms of their own health, education or justice, indigenous peoples need guarantees, they need a certain level of balance and territorial harmony to be able to develop those rights.
PLATAFORMA DE SOLIDARIDAD CON COLOMBIA, ESPAÑA.: Colombia …
These great marches almost always come from the southwestern part of the country, especially from the 84 reservations of the eight indigenous peoples of the department of Cauca, a rebel engine and historic scene of processes of social transformation in Colombia. The epicenter of the diversity of communities is usually found in Santander de Quilichao (Cauca) or Cali (Valle del Cauca), as it happened this time.
The social and political legitimacy of the mingas, formed around the indigenous collective subject, with the outstanding participation of the Nasa people and the Cauca Regional Indigenous Council (CRIC), is so broad that no government rejects them outright.
During the four-day tour, thousands of people surrounded her with love and solidarity. Even a group of Hare Krishna gave them food and water on their arrival in Bogotá, while families and street vendors spontaneously brought them water and soft drinks.
The mingas usually present demands to the Colombian State, which since the 1991 constitutional reforms has contributed enormous resources to the indigenous councils. However, the main demand this time is for life, against the repression and the permanent massacres that bleed Colombia.
"We make the call for us to get up peacefully, so that we stop being trampled on, no more ignorance of the people!" Shouted the spokesman for the Regional Indigenous Council of the Department of Caldas upon arrival at the Plaza Bolívar in the capital.
So far this year, there have been nine massacres in Cauca with 36 victims, a figure that rises to 67 throughout the country. "The Colombian Government is attacking the survival of the indigenous peoples of Putumayo with the implementation of extractive policies," said the spokesman for the indigenous peoples of Putumayo.
"We have a government that does not govern, we have a government that massacres us, disappears us," said the spokeswoman for the organization Ciudad en Movimiento.
The indigenous, black and peasant territories are coveted by the large mining multinationals and by drug trafficking, who seek to clear populations to seize land to exploit resources. That is the ultimate cause of violence, the same that provoked a five-decade war that failed to stop the Peace Accords between the Government and the FARC.
The indigenous response has been to negotiate for the State to increase the resources it transfers, which on this occasion the Government of Duque – Uribe's heir – promises will be up to 2.6 billion dollars just for the indigenous people. Faced with such social legitimacy of the Minga, the Government once again says it is willing to dialogue, but all governments say the same and then fail to comply with what was signed.
At this point, the indigenous mobilization oscillates between two variables: demanding a political debate with the Government that positions the right to life and a peaceful territory or establishing dialogue with peoples and social sectors, particularly urban ones, to weave a network of alliances against the extractive neoliberal model. They are not contradictory, they may even be complementary, but the debate centers on priorities.
But this time it is different, the only demand is for life. The majority, Blanca Andrade, from the CRIC Women program, sums up the debate in her own way:
"We are going out because there is a lot of violence, a lot of indignity, people can no longer walk safely through the community. We peoples have dignity and cannot pass over us. You see how they kill peasants, urban sectors and nothing happens. There is no justice that enforces the rights of peoples and social sectors and we have to go out and say so ".
He denounces State terrorism and assures that "this Government has been the most terrorist and is violating the peace pact, but it calls the peoples terrorists". And here comes the point: "We want to see you to tell you this. Not for the economic, because to solve it we work. We do not live on money that they give us but on the tranquility of life.
For me it is not important to go to Bogotá, it is a screen and there is no use going there. Accompanying the other sectors and meeting with them is more important than seeing the president. When we want to talk to the government, autonomy is emboldened there ".
A male authority from the Corinto reservation adds: "The Minga goes to Bogotá because the Government does not want to dialogue. But the fundamental thing is not to meet with the Government but with the social sectors, it is a political route because they are killing us ".

The power of communities
Mobilize between 8,000 and 10,000 people for 15 days, between the initial wait for Iván Duque in Cali, the trip to the capital and then the camp ahead of the general strike on Wednesday, October 21, where a massive mobilization is expected, it requires a grassroots force that no other sector of society is capable of teaching. The indigenous force is concentrated in the Andean foothills of Cauca, in its fabulous valleys where the communities maintain the difference of their cultures and worldviews with incredible tenacity.
It would be unfair to say that the indigenous Caucanos reproduce their culture, without more. They are also modifying it, in a spiritual and collective exercise of updating. The role of women, for example, is no longer the same as it was five decades ago, when the CRIC was founded. They have positions in communities and reservations, in the media, in the Indigenous Guard and in all spaces, although with less intensity in the domes that, nothing new, tend to be male.
The way of electing authorities is also changing. From the "electoral" mode, in tune with the hegemonic political culture, they go on to more communal modes of election, anchored in their worldviews, which implies choosing for the quality of values ​​and behaviors, rather than for the ease of speech of the person.
The strength of communities can be measured in two directions. The first, more direct, as the support of material life, of daily life, in which the diversity of crops, barter fairs, harmonization rituals, medicine and justice, are some of its most powerful manifestations.
During the pandemic, traditional forms of exchange have multiplied, such as barter without money but also without equivalences (one kilo for one kilo), but based on the needs of each family.
These non-capitalist practices sustain a real autonomy, powerful in the territorial bases and more blurred as one "climbs" in the structure. The Indigenous Guard is the vault key to the autonomy of the movement, in general, and expresses the power of its communities, in particular.
But there is a second dimension to this collective force. It is related to the ability to influence others and others who are not indigenous, as is now the case in the Minga. The culture of resistance is no longer the same as 1971, the year the CRIC was founded. Five decades is enough time to assess the influence of indigenous peoples on the political culture below. Their experiences spread horizontally, like oil stains.
Among the 102 peoples origins
Aryans of Colombia, grouped in ONIC (National Indigenous Organization of Colombia), there are already 70,000 organized guards. In addition, the Cimarronas Guards have been created among the black peoples, the first in 2009 in Palenque, and the Campesino Guards are taking their first steps since 2014, recovering the "civic guards" from the struggle for agrarian reform in 1974.
Since 2018, inter-ethnic and intercultural encounters have been held between the indigenous, peasant and maroon guards. Among the challenges posed by these encounters are the zonal, regional and national coordination of the guards, political and operational training, with the aim of strengthening territorial control to defend autonomy.
In Cauca, the cradle and nucleus of the resistance movement, the Process of the Liberation of Mother Earth is probably the spearhead of collective direct action. In the last five years, they recovered 12 sugarcane agribusiness farms, around 4,000 hectares, whose "liberation" has cost lives and jail, but sets the movement's objectives on fire.
For now, despite all the external difficulties and internal tensions, the indigenous, black and peasant peoples of Colombia can celebrate: Bogotá received them with open arms, they dialogue with the population and converge with the trade union centrals in an enormous day of struggle. They broke the military, paramilitary and media siege, which is not a small thing in times of war against the peoples.
Taken from: https://clajadep.lahaine.org/
**********************
original en castellano
Minga indígena, negra y campesina en Colombia: romper el cerco, tejiendo con las iguales
11 minutos de lectura Revista – "Alternativas"
Raúl Zibechi
Ecuador Today
Más de 8.000 indígenas, campesinos y afrodescendientes llegan a Bogotá para denunciar las masacres que se están produciendo en toda Colombia con la complicidad del Gobierno de Iván Duque.
"Guardia, guardia. Fuerza, fuerza", corean miles de jóvenes levantando sus chontas (bastones de madera), mostrando la decisión de los pueblos originarios, negros y campesinos de defender la vida y el territorio, durante la Minga que ha llegado el domingo 18 de octubre por la noche a Bogotá. Son 8.000 voluntades que recorrieron 450 kilómetros desde Cali, en el sur del país, hasta la capital, movilizando 500 vehículos, muchísimas chivas (autobuses abiertos de las regiones rurales) y caminando en forma ordenada, flanqueados por la Guardia Indígena.
Es la única movilización organizada con objetivos precisos, capaz de poner en movimiento a la sociedad colombiana. Prueba de ello es que todos los medios, aún los más derechistas, están cubriendo la Minga, y que la ultraderecha del Centro Democrático, el uribismo —partidarios del ex presidente Álvaro Uribe—, interpuso una denuncia porque, dicen, "la movilización está violando los protocolos de bioseguridad y poniendo en riesgo a la ciudadanía".
Lo cierto es que la llegada de miles de indígenas, afros y campesinos a Bogotá movilizó a buena parte de la capital, donde fue recibida por los jóvenes que ganaron las calles en noviembre pasado, durante el paro nacional, y las ocuparon nuevamente el 9 y 10 de setiembre en respuesta al asesinato de un abogado por la policía. Las chivas multicolores circulaban rebosantes al son de pitos y tambores.
La alcaldía de Bogotá, de centro-izquierda y opuesta al uribismo, encabezada por Claudia López, acondicionó el Palacio de los Deportes para que miles de marchistas pudieran alojarse en condiciones, algo que negaron alcaldes de la derecha por donde paso la Minga. En tanto, el presidente Iván Duque mantiene su negativa a dialogar directamente.
¿Buscar al presidente o a los pueblos?
El nombre completo de la movilización es "Minga Social y Comunitaria por la Defensa de la Vida, el Territorio, la Democracia y la Paz", y se desarrolla cada vez que los pueblos se sienten profundamente agredidos. Hubo muchas mingas desde la Constitución de 1991 que incorporó los derechos colectivos de los pueblos indígenas y afrodescendientes. Porque a pesar del reconocimiento de sus territorios y de un enfoque diferencial en términos de salud, de educación o de justicia propias, los pueblos originarios necesitan garantías, precisan de cierto nivel de equilibrio y armonía territorial para poder desarrollar esos derechos.
Estas grandes marchas salen casi siempre del suroccidente del país, sobre todo de los 84 resguardos de los ocho pueblos indígenas del departamento del Cauca, motor rebelde e histórico escenario de procesos de transformación social en Colombia. El epicentro de la diversidad de comunidades suele encontrarse en Santander de Quilichao (Cauca) o Cali (Valle del Cauca), como sucedió esta vez.
La legitimidad social y política de las mingas, conformadas en torno al sujeto colectivo indígena, con destacada participación del pueblo nasa y del Consejo Regional Indígena del Cauca (CRIC), es tan amplia, que ningún gobierno las rechaza frontalmente. Durante el recorrido de cuatro días, miles de personas la rodearon con cariño y solidaridad. Hasta un grupo de Hare Krishna les entregó alimentos y agua en su llegada a Bogotá, mientras familias y vendedores ambulantes les acercaban agua y gaseosas de manera espontánea.
Las mingas suelen presentar demandas al Estado colombiano, que desde las reformas constitucionales de 1991 aporta ingentes recursos a los cabildos indígenas. Sin embargo, la principal demanda en esta ocasión es por la vida, contra la represión y las permanentes masacres que desangran Colombia. "Hacemos el llamado para que nos levantemos pacíficamente, para que dejemos de ser pisoteados, ¡ya no más desconocimiento al pueblo!", gritaba el vocero de la Consejo Regional Indígena del Departamento de Caldas a su llegada a la Plaza Bolívar de la capital.
En lo que va de año, en el Cauca hubo nueve masacres con 36 víctimas, cifra que se eleva a 67 en todo el país. "El Gobierno colombiano está atentando contra la pervivencia de los pueblos indígenas del Putumayo con la implementación de políticas extractivistas", aseguraba el vocero de los pueblos indígenas del Putumayo. "Tenemos un Gobierno que no gobierna, tenemos un Gobierno que nos masacra, nos desaparece", aseguraba la vocera de la organización de Ciudad en Movimiento.
Los territorios indígenas, negros y campesinos son codiciados por las grandes multinacionales mineras y por el narcotráfico, que buscan despejar poblaciones para hacerse con tierras para explotar recursos. Esa es la causa última de la violencia, la misma que provocó una guerra de cinco décadas que no consiguieron frenar los Acuerdos de Paz entre el Gobierno y las FARC.
La respuesta indígena ha sido negociar para que el Estado aumente los recursos que traspasa, que en esta ocasión el Gobierno de Duque —heredero de Uribe—, promete serán hasta 2.600 millones de dólares solo para los indígenas. Ante tamaña legitimidad social de la Minga, el Gobierno una vez más dice estar dispuesto al diálogo, pero todos los gobiernos dicen lo mismo y luego incumplen lo firmado.
En este punto, la movilización indígena oscila entre dos variables: exigir un debate político con el Gobierno que posicione el derecho a la vida y a un territorio en paz o establecer dialogo con pueblos y sectores sociales, en particular urbanos, para tejer una red de alianzas contra el modelo neoliberal extractivo. No son contradictorias, pueden incluso ser complementarias, pero el debate se centra en las prioridades.
Pero en esta ocasión es diferente, la única demanda es por la vida. La mayora Blanca Andrade del programa Mujer del CRIC, resume el debate a su modo: "Vamos a salir porque hay mucha violencia, mucha indignidad, la gente ya no puede transitar tranquila por la comunidad. Los pueblos tenemos dignidad y no pueden pasar por encima nuestro. Uno ve cómo matan campesinos, sectores urbanos y no pasa nada. No hay justicia que haga respetar los derechos de los pueblos y los sectores sociales y tenemos que salir a decirlo".
Denuncia el terrorismo del Estado y asegura que "este Gobierno ha sido el más terrorista y está violando el pacto de paz, pero nos dice terroristas a los pueblos". Y aquí viene el punto: "Nosotros queremos verlo para decirle esto. No para lo económico, porque para resolverlo trabajamos. No vivimos de plata que nos den sino de la tranquilidad de la vida. Para mí no es importante ir a Bogotá, es una pantalla y allá no sirve ir. Acompañar a los otros sectores y reunirnos con ellos es más importante que ver al presidente. Cuando queremos hablar con el gobierno ahí se embolata (entrevera) la autonomía".
Una autoridad masculina del resguardo de Corinto, agrega: "La Minga sale a Bogotá porque el Gobierno no quiere dialogar. Pero lo fundamental no es encontrarnos con el Gobierno sino con los sectores sociales, es una ruta política porque nos están matando".
La potencia de las comunidades
Movilizar entre 8.000 y 10.000 personas durante 15 días, entre la espera inicial a Iván Duque en Cali, el recorrido hasta la capital y luego el acampe de cara a la huelga general del miércoles 21 de octubre, donde se espera una masiva y maciza movilización, requiere una fuerza de base que ningún otro sector de la sociedad es capaz de enseñar. La fuerza indígena se concentra en las estribaciones andinas del Cauca, en sus fabulosos valles donde las comunidades mantienen la diferencia de sus culturas y cosmovisiones con increíble tenacidad.
Sería injusto decir que los indígenas caucanos reproducen su cultura, sin más. También la van modificando, en un ejercicio espiritual y colectivo de actualización. El papel de las mujeres, por ejemplo, ya no es el mismo de cinco décadas atrás, cuando se fundó el CRIC. Ellas tienen cargos en comunidades y resguardos, en medios de comunicación, en la Guardia Indígena y en todos los espacios, aunque con menor intensidad en las cúpulas que, cero novedad, tienden a ser masculinas.
La forma de elegir autoridades, también va mutando. Del modo "electoral", en sintonía con la cultura política hegemónica, van pasando a modos más comunitarios de elección, anclados en sus cosmovisiones, que implica elegir por la calidad de los valores y las conductas, más que por la facilidad de palabra de la persona.
La fuerza de las comunidades puede medirse en dos direcciones. La primera, más directa, como sostén de la vida material, de la cotidianeidad, en la que la diversidad de cultivos, las ferias de trueque, los rituales de armonización, la medicina y la justicia propias, son algunas de sus manifestaciones más potentes. Durante la pandemia multiplicaron las formas tradicionales de intercambio, como el trueque sin dinero pero también sin equivalencias (un quilo por un quilo), sino en base a las necesidades de cada familia.
Esas prácticas no capitalistas sustentan una autonomía real, potente en las bases territoriales y más difuminada a medida que se "sube" en la estructura. La Guardia Indígena es la clave de bóveda de la autonomía del movimiento, en general, y expresa la potencia de sus comunidades, en particular.
Pero hay una segunda dimensión de esta fuerza colectiva. Se relaciona con la capacidad de influenciar a otros y otras que no son indígenas, como sucede ahora en la Minga. La cultura de la resistencia, ya no es la misma de 1971, año de fundación del CRIC. Cinco décadas es un tiempo suficiente para evaluar la influencia de los pueblos originarios en la cultura política de abajo. Sus experiencias se expanden horizontalmente, como manchas de aceite.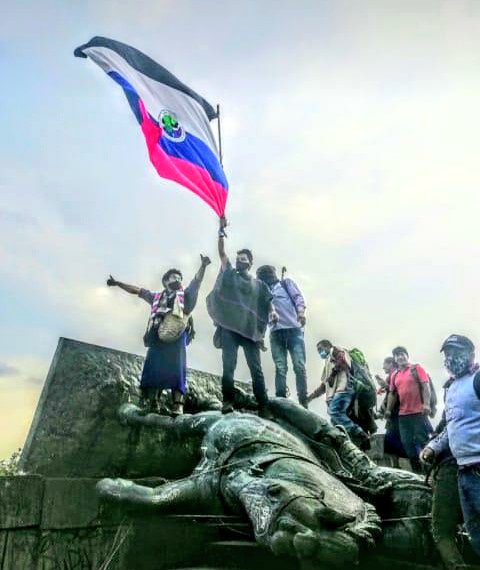 Entre los 102 pueblos originarios de Colombia, agrupados en la ONIC (Organización Nacional Indígena de Colombia), ya son 70.000 guardias organizados. Además se han creado las Guardias Cimarronas entre los pueblos negros, la primera en 2009 en Palenque, y las Guardias Campesinas están dando sus primeros pasos desde 2014, recuperando las "guardias cívicas" de la lucha por la reforma agraria de 1974.
Desde 2018, se realizan encuentros interétnicos e interculturales entre las guardias indígena, campesina y cimarrona. Entre los desafíos que se plantean estos encuentros, figuran la articulación zonal, regional y nacional de las guardias, la formación política y operativa, con el objetivo de fortalecer el control territorial para defender la autonomía.
En el Cauca, cuna y núcleo del movimiento resistente, el Proceso de la Liberación de la Madre Tierra es probablemente la punta de lanza de la acción directa colectiva. En los últimos cinco años recuperaron 12 fincas del agronegocio de caña, alrededor de 4.000 hectáreas, cuya "liberación" ha costado vidas y cárcel, pero marca a fuego los objetivos del movimiento.
Por ahora, pese a todas las dificultades externas y tensiones internas, los pueblos indígenas, negros y campesinos de Colombia pueden celebrar: Bogotá los recibió con los brazos abiertos, dialogan con la población y confluyen con las centrales sindicales en una enorme jornada de lucha. Rompieron el cerco militar, paramilitar y mediático, que no es poco en tiempos de guerra contra los pueblos.
Tomado de: https://clajadep.lahaine.org/
********************
Related Posts…The Resistance
see also Authorities impose curfew in capital of Colombia, deploy 20k police against protesters