Anti-fascism
Kurdish woman writer sentenced to more than 6 years in prison.
By ANF Published on Dec 6, 2020

The writer Gulgeş Deryaspî, arrested in an operation in Bitlis a year and a half ago, is sentenced to 6 years and 3 months in prison.

Gulgeş Deryaspî, a Kurdish writer and PEN member, was arrested in the political genocide operations that took place in Tatvan and Güroymak districts in Birlis in June 2019.
Deryaspî was detained for five days and was then sent to Bitlis Type E closed prison on June 30, 2019 on terrorism charges for her participation in demonstrations and rallies. She was released 9 months later.
The latest hearing in the trial against the Kurdish writer was held at the 2nd Bitlis Criminal Court on Thursday.
While the writer and her lawyer Burhan Aksoy rejected her accusations and asked for her acquittal, the court sentenced her to 6 years and 3 months in prison, accusing her of "belonging to an illegal organization" with no evidence.
Deryaspî is an international PEN member, graduated from the Department of Kurdish Language and Literature at Alparslan University in Muş.
Por ANF Publicado el 6 Dic, 2020 Antifascismo
PEN International Writers in Prison Committee is a founding member of the IFEX – International Freedom of Expression Exchange Network , a global network of 90 non-governmental organisations that monitors censorship worldwide and defends journalists, writers, internet users and others who are persecuted for exercising their right to freedom of expression
Former Kurdish MP Sentenced to 22 Years in Prison
Leyla during her long hunger strike.
A Turkish court in the southeastern Kurdish city of Diyarbakir sentenced a former member of parliament Monday to more than 22 years in prison on terror-related charges.
The court also issued an arrest warrant against Leyla Güven, 55, a former lawmaker from the pro-Kurdish Peoples' Democratic Party (HDP).
The prosecutor in the case charged Güven with "establishing and managing an illegal organization" of which she was also a member in support of outlawed Kurdish militants, among 18 separate charges.
Leyla barely suirvived her epic hunger strike but is now finally sentenced to more than 20 years jail, where she joinds many more elected prisoners of conscience.
The charges included "provoking the public to join illegal meetings and demonstrations," and participating in "illegal" marches, which she refused to disband despite warnings.
Güven was arrested in January 2018 after criticizing the Turkish military.
She went on hunger strike in November of that year that lasted 11 weeks to protest the prison conditions of Kurdish leader Abdullah Ocalan.
Yonca Akici, was the 6th hungerstriker to Die.. Stop Erdogan!
Hundreds of other prisoners and supporters joined the hunger strike and at least six died.
In January 2019, a Turkish court ordered her supervised release after her health seriously deteriorated.
DIHA reporter sentenced to 7 and a half years in prison

DIHA reporter Mazlum Dolan was sentenced to seven years and six months in prison on terrorism charges. By ANF Published on Dec 30, 2020
The final hearing of the case against Mazlum Dolan, a reporter for the Dicle News Agency that was closed by statutory decree, was held today in Diyarbakır 5th Heavy Criminal Court.
The journalist, accused of "belonging to a terrorist organization", remained stranded at the house of his aunt in the South district during the genocidal attacks by the Turkish army. He was discharged from the home on the 79th day of the curfew and was sent to prison where he spent 15 months.
Dolan was unable to attend the hearing today because he is currently abroad, while his attorney Resul Tamur was personally present.
The court sentenced the journalist to 7 years and 6 months in prison for allegedly "belonging to a terrorist organization".
https://anfespanol.com/libertad-de-prensa/reportero-de-la-diha-condenado-a-7-anos-y-medio-de-prision-25027
Reportero de la DIHA condenado a 7 años y medio de prisión
El reportero de DIHA Mazlum Dolan fue sentenciado a siete años y seis meses de prisión por cargos de terrorismo.
Por ANF Publicado el 30 Dic, 2020
La audiencia final del caso contra Mazlum Dolan, un reportero de la Agencia de Noticias Dicle que fue cerrada por un decreto estatutario, se celebró hoy en Diyarbakır 5º Tribunal Penal Pesado. El periodista, acusado de «pertenecer a una organización terrorista», permaneció varado en la casa de su tía en el distrito Sur durante los ataques genocidas del ejército turco. Fue dado de alta de la casa el día 79 del toque de queda y fue enviado a prisión donde pasó 15 meses.
Dolan no pudo asistir hoy a la audiencia porque actualmente se encuentra en el extranjero, mientras que su abogado Resul Tamur estuvo presente personalmente.
El tribunal condenó al periodista a 7 años y 6 meses de prisión por presunta «pertenencia a una organización terrorista».
https://anfespanol.com/libertad-de-prensa/reportero-de-la-diha-condenado-a-7-anos-y-medio-de-prision-25027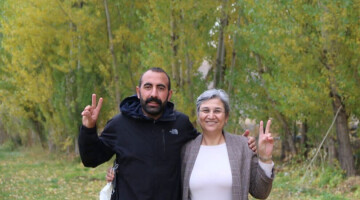 Dindar with Leyla Gúven, now both jailed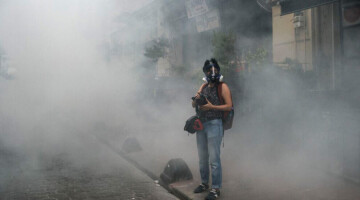 El juicio principal de Özgür Gündem se celebró en Estambul/Human Rights co-President on trial in Istambul
La copresidenta de la Asociación de Derechos Humanos, Eren Keskin, quien es juzgada en el juicio principal del periódico Özgür Gündem, informó que no haría más declaraciones porque no creía que hubiera un juicio objetivo.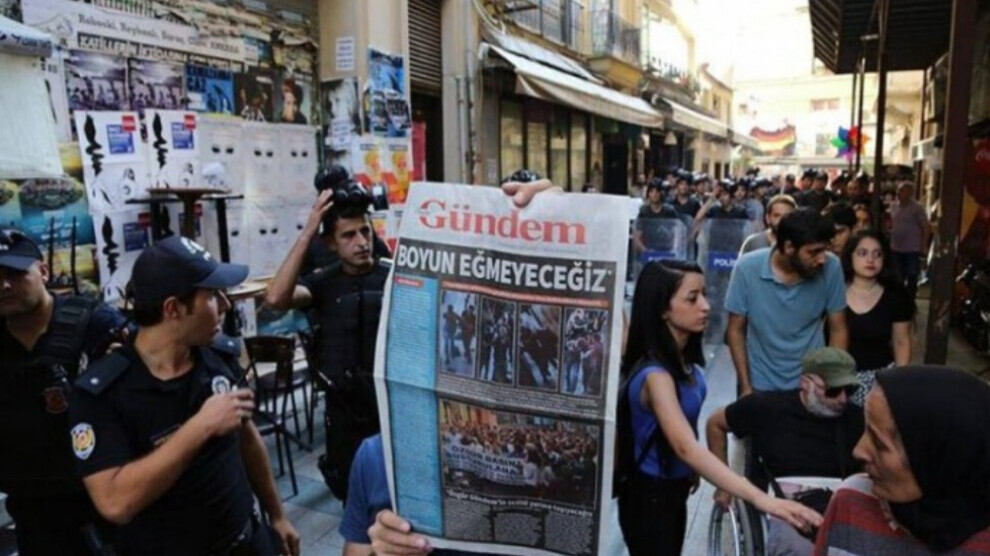 Sentencian a más de 6 años de cárcel a una escritora kurda
La escritora Gulgeş Deryaspî, detenida en una operación en Bitlis hace un año y medio, es sentenciada a 6 años y 3 meses de prisión.
Por ANF Publicado el 6 Dic, 2020
ANFGulgeş Deryaspî, escritora kurda e integrante de PEN, fue detenida en las operaciones de genocidio político que se llevaron a cabo en los distritos de Tatvan y Güroymak en Birlis en junio de 2019.
Deryaspî permaneció cinco días detenida y luego fue enviada a la prisión cerrada tipo E de Bitlis el 30 de junio de 2019 con cargos de terrorismo por su participación en manifestaciones y concentraciones. Fue liberada 9 meses después.
La última audiencia del juicio contra la escritora kurda se celebró en el 2º Tribunal de lo Penal de Bitlis el jueves.
Mientras que la escritora y su abogada Burhan Aksoy rechazaron las acusaciones y pidieron la absolución, los miemos del tribunal la sentenciaron a 6 años y 3 meses de cárcel acusándola de "pertenencia a una organización ilegal".
Deryaspî es una integrante internacional de PEN, graduada por el Departamento de Lengua y Literatura Kurda de la Universidad Alparslan en Muş.