Leyla Güven gets 11 days in solitary for not taking her hands out of her pockets

on Thursday, February 10, 2022 by KurdisCat
The disciplinary board of the prison where the politician and former Kurdish MP Leyla Güven is detained ignored threats against her by Elazig prison guards and instead sentenced Güven to 11 days in solitary confinement for " insulting or threatening a public official. "
Leyla was sentenced to 22 years for supporting Abdullah Öcalan, the Kurdish leader and philosospher now jailed for over 20 years in isolation without trial in an epic 200 day Hunger Strike
Journalist Sabiha Temizkan, daughter of Democratic Society of Congress (DTK) co-chair Leyla Güven, who is in Elazığ Women's Prison, visited her mother on January 11.
Temizkan revealed that her mother had been threatened by a prison guard. "I found my mother. She told me that when she was taken out to be vaccinated, she was threatened by a male guard because she had her hands in her pockets.
The guard named "Ismail" told my mother to "get her hands out of her pockets." When she objected, the guard threatened her.
"It was as if he would physically attack me if others didn't stop him.". My mother added that she would file a criminal complaint for the incident that took place in a spot where the cameras caught it. "
Leyla and her daughter, before her epic victorious hunger strike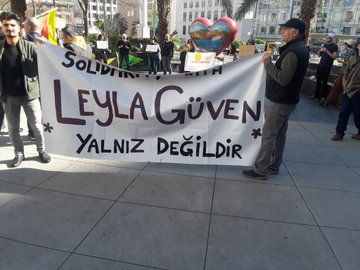 La presa política i ex diputada Leyla Güven castigada amb 11 dies d'aïllament per no treure's les mans de les butxaques
La junta disciplinària de la presó on es troba detinguda la política i ex diputada kurda Leyla Güven va passar per alt les amenaces contra ella per part dels guàrdies de la presó d'Elazig i en canvi va condemnar Güven a 11 dies d'aïllament per "insultar o amenaçar un funcionari públic".
La periodista Sabiha Temizkan, filla de la també copresidenta del Congrés de la Societat Democràtica (DTK), Leyla Güven, que es troba a la presó tancada per a dones d'Elazığ, va visitar la seva mare l'11 de gener.
Temizkan va revelar que sa mare havia estat amenaçada per un guàrdia a la presó. "Vaig trobar la meva mare. Em va dir que quan la van treure per vaccinar-la va ser amenaçada per un guàrdia masculí perquè tenia les mans a les butxaques.
El guàrdia anomenat "Ismail" va dir a la meva mare que "tregués les mans de les butxaques". Quan ella s'hi va oposar, el guàrdia la va amenaçar dient: "tot bé!'
La meva mare em va dir que el guàrdia la continuava amenaçant després que altres guàrdies i el 2n director de la presó intentessin detenir-lo. La meva mare va dir que "Era com si m'ataqués físicament si els altres no l'aturaven".
La meva mare va afegir que presentaria una denúncia penal per l'incident que va tenir lloc en un lloc on les càmeres ho van captar".
******************
Letters from Leyla Güven to the women of the world
Dear women,
Even though our geographies are divided by thousands of kilometers, I'm glad you heard my voice. Even though we are from very different corners of the world, as women, we always feel. As Hypatia says, "none of us resemble each other, but the things that unite us are greater than those that separate us." We are all sisters.
What unites us the most is our struggle for freedom, our resistance against all kinds of fascism, against the dictatorship and the patriarchal mentality.
Women who resist and fight always become symbols: Clara Zetkin, Rosa Luxemburg, the Mirabal sisters, Sakine Cansiz, Leyla Qasim and many other women become symbols through their struggle. As women, we are half of the world's population. However, we are all oppressed. When we begin to fight for our rights, we are labeled as terrorists.
All the women of the world must give fascism enough, enough to the dictatorship!
The murder of women through domestic violence, female genital mutilation, child marriages, women sentenced to death in Iranian prisons – Zenenep Celalyan is one of them – Kurdish women, who were banned from mother tongue, the Arabs who fled the war. All point to femicide. As women who are prepared to die, we can stop this femicide through the connection of our struggles. While we are determined to fight.
Dear sisters,
I am a Kurdish woman. My awareness of the injustices committed against women developed thanks to Mr. Abdullah Öcalan. It is through the importance of the struggle that Mr. Öcalan placed on the freedom and camaraderie of women, that millions of women have developed a strong willpower.
Women have experienced an awakening. And I am one of these women. I learned to be at peace with my gender, to fight against the patriarchal mentality, and I learned to be a feminist. When I heard from Mr. Öcalan that a society will only be free when women are free, for many years I have carried out a struggle for the freedom of women and I will continue to do so.
Mr. Öcalan, to whom I owe my own awakening, has been locked in an isolated cell for the past 20 years. In order to demand the removal of Mr. Öcalan's isolation, something that millions of Kurds see as their political will, I have started a hunger strike. Mr. Öcalan is an important actor in the efforts to create peace in the Middle East and in the world. As a prisoner, going against national and international laws, you are denied all your rights and freedoms.
To request recognition of these rights, we, as Kurdish politicians of the People's Democratic Party (HDP) and the Democratic Society Council (DTK), are calling for an end to their isolation. We say that this is a crime against human rights. However, to silence us, the fascism of the AKP (Justice and Development Party) and MHP (Nationalist Movement Party) imprisoned us.
They specifically addressed women. More than half of the imprisoned parliamentarians are women. The same goes for the mayors of cities, who were taken to prison. The mentality that does not accept the quota of women in politics has implemented a policy of 60-70% of women in prison.
The action drives the movement that resonates among the people. " The demands of my action are legitimate and of law. If our demands are not met, hundreds of people can lose their lives. If this happens in the 21st century, it will not only be the shame for Turkey, but that of all mankind.
So that the world does not face such shame, the women of the world must do what they can. And without losing more time. We will continue resisting. Resistance will help us win. Our belief in this is infinite. In this sense, I call them all to resist.
Long live the solidarity of the peoples and of women.
Leyla Güven
****************
Leyla jailed for 22 yrs!! Kurdish journalists get 6 and 7 yrs jail .. Eng/Esp
https://thefreeonline.com/2020/12/31/kurdish-journalists-gets-6-and-7-yrs-jail/
UPDATE .Leyla Hospitalised Refusing Treatment/ International Action plea for Hunger Strikers
Leyla was also jailed for over a year for protesting publicly against the invasion of Afrin
March 26, 2019
April 5, 2019
Support Hunger strikers: Yonca Akici, is the 6th to Die.. Stop Erdogan!
Erdogan arrests 735 more Kurds as Peace Hunger Strikers near Death
300 on Hunger Strike – How Ocalan Transformed the PKK into Anti-Terrorists
Hands Off Afrin: Demos, Support, Appeal, News Updates
The Underground Free Women's Movement (TJA) in Kurdish TurkeySeptember 18, 2019
  SAVE LEYLA GÜVEN and 169 more Hunger Strikers
Turkish Hitler increased Nudem's jail to 29 years.. for Singing in Kurdish!.. sign petition
Rojava-inspired Women's Councils Spread across EuropeMay 16, 2017
Regaining hope in Rojava: 'Way beyond Feminism as we Know it'.
this 'TheFreeOnline' blog is now banned in Turkey with Dozens more pro Rojava and anti Fascist sites