info del San Francisco Chronicle, el journal Science…compartido con agradecimiento. traducción thefreeonline
El mundo sueña con acabar con el coronavirus. Los países luchan por inmunizar a sus poblaciones para que se despierten de una pesadilla que comenzó hace aproximadamente un año. Todos los días, millones de dosis de las vacunas inciertas se vacían en los brazos de todo el planeta. Sin embargo, otra posible solución acecha bajo la superficie.
Biólogos de Pharmamar recolectando Aplidium Albicans cerca de Ibiza
"El COVID es como si necesitara una fotocopiadora para extenderse y la plitidepsina (Apladin) lo desenchufa"
En las aguas que rodean la isla de Ibiza vive un pequeño invertebrado llamado Aplidium albicans. Este organismo forma parte de la familia de las ascidias, una criatura que pasa sus días inmóvil, pegada a una roca, mientras filtra el agua para conseguir alimento. Ejemplar en el que se podría encontrar una cura para el coronavirus.
Y es que de Aplidium albicans se extrae la plitidepsina, principio activo en el que se basa Aplidin, fabricado por la empresa española Pharmamar. Este fármaco antitumoral podría ser muy eficaz para combatir la pandemia.
Aplidium albicans es un invertebrado marino que vive en las costas de una pequeña isla deshabitada del mar Mediterráneo.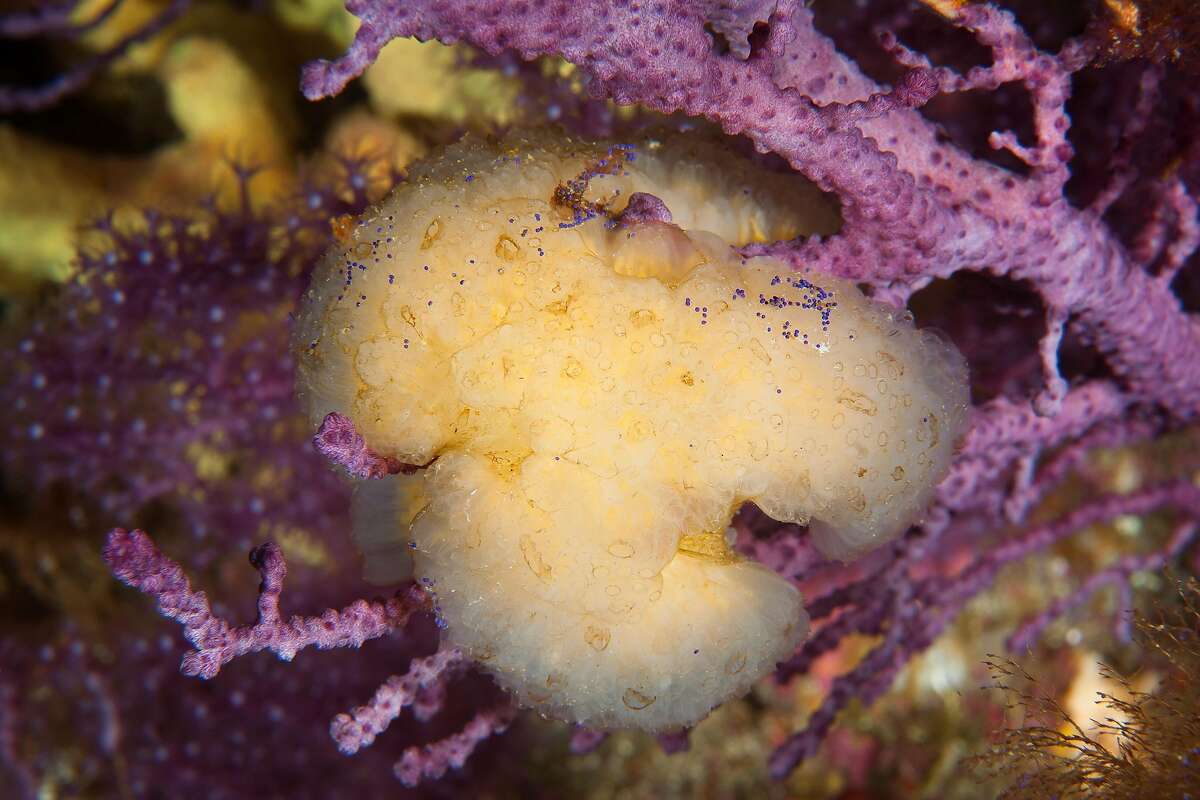 La revista Science publicó hace una semana que este tratamiento es 100 veces más potente que los remedios utilizados hasta la fecha. Según los resultados, el 80,7% de los pacientes a los que se les administró fueron dados de alta el día 15 de hospitalización o antes. El 38,2% lo hizo al octavo día. Todos ellos sin más síntomas.
---
Después de una búsqueda de un año de medicamentos existentes que podrían ayudar a los pacientes con COVID-19 y señalar una cura, un equipo científico dirigido por UCSF ha elegido lo que dicen es un candidato especialmente prometedor: un medicamento contra el cáncer que mata al coronavirus en estudios de laboratorio y es casi 30 veces más potente que el remdesivir, uno de los pocos medicamentos antivirales disponibles para tratar la enfermedad.
La nueva investigación, revisada por pares, published Monday in the journal Science,publicada el lunes en la revista Science, destaca un fármaco llamado Aplidin, que se extrajo originalmente de una criatura marina exótica llamada Aplidium albicans, un tipo de "ascidia" que se encuentra en la costa de Ibiza que parece un poco como un cerebro incorpóreo.
Aplidin, también conocida como plitidepsina, es propiedad de Pharma Mar, una empresa española fundada por un equipo de científicos de buceo catalán. Aprobado en Australia para tratar el mieloma múltiple, un tipo de cáncer de la sangre, el medicamento no está disponible comercialmente en la mayor parte del mundo y aún no está aprobado para tratar el COVID-19, aunque se ha probado en unas pocas docenas de COVID- 19 pacientes en España con gran éxito.
"Necesitamos algunas armas nuevas en el arsenal", dijo Nevan Krogan, un biólogo molecular de UCSF que dirigió el equipo científico junto con Adolfo García-Sastre, un experto en virus de la Escuela de Medicina Icahn del Hospital Mount Sinai en Nueva York. "Esto es, con mucho, lo mejor que hemos visto".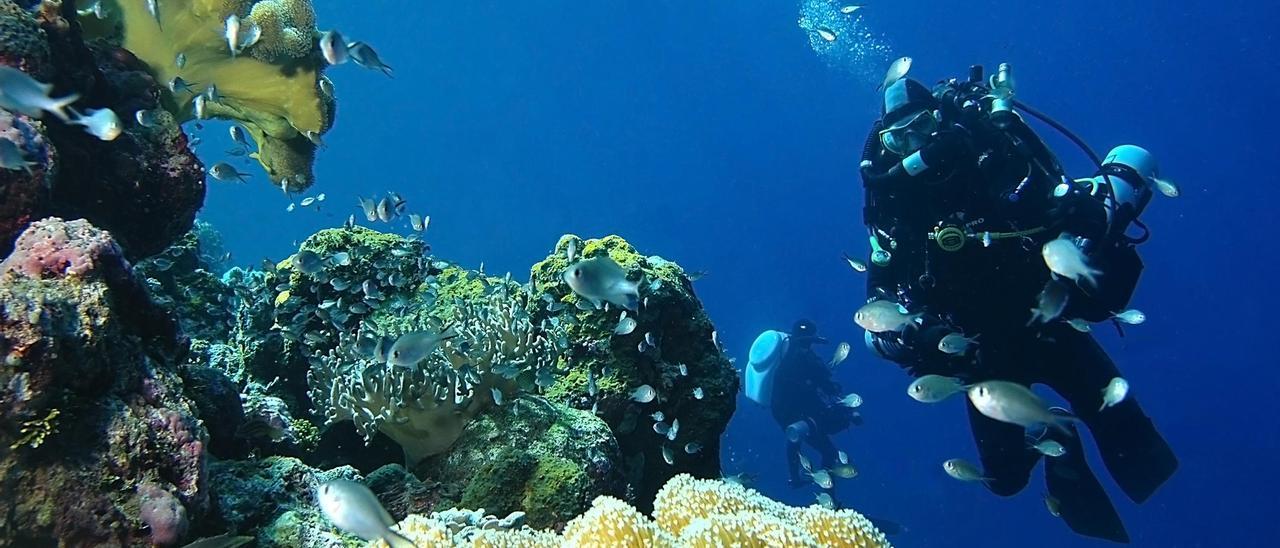 Un biólogo de Pharmamar durante una inmersión en busca de Aplidium Albicans. foto de PharmaMar
Aplidin se elevó por encima del resto. Concentraciones extremadamente bajas del fármaco mataron al virus en células pulmonares humanas infectadas y células similares de monos.
Los científicos también infectaron a docenas de ratones con el virus, dándoles COVID-19, luego les inyectaron Aplidin, que esencialmente eliminó el virus de sus cuerpos, según el documento. Mientras tanto, utilizando técnicas genéticas, el equipo descubrió que el medicamento hace su trabajo de una manera inusual: en lugar de atacar al virus en sí, como lo hace el remdesivir,
Aplidin bloquea la actividad de una proteína específica dentro de las células humanas que el virus necesita para replicarse.
Las ascidias son un grupo de animales marinos con forma de saco gelatinoso. Pueden ser de colores brillantes y vivir adheridos a rocas, conchas o al fondo. Se conocen más de 2.000 especies de tres tipos (solitarias, sociales y compuestas). Sus larvas son móviles y tienen un contorno cerebral que reabsorben cuando se convierten en adultos sedentarios.
"Estoy muy emocionado con estos datos, por la potencia", dijo García-Sastre.
Recientemente, el equipo de investigación también colaboró ​​con un laboratorio en el Reino Unido para probar Aplidin contra la nueva variante del coronavirus allí, conocida como B-117. El fármaco también mató a la variante y fue más potente contra la variante en las pruebas de laboratorio que el remdesivir, the scientists report in a separate paper informan los científicos en un artículo separado publicado el domingo en biorxiv.org, un sitio web donde los biólogos comparten nuevos resultados antes de que sean revisados ​​por pares.
En España, 45 pacientes con COVID-19 han tomado Aplidin como parte de un ensayo clínico de fase 2, y Pharma Mar ha publicado datos sobre los primeros 27 pacientes. El fármaco redujo la cantidad de tiempo que pasaban en el hospital, y el 81% de los pacientes regresaban a casa en 15 días, frente a la tasa típica del 47%, según la empresa.
Se están planificando ensayos de fase 3 más amplios del medicamento en pacientes con COVID-19 en España y Estados Unidos, dijo Pascal Besman, director de operaciones de la compañía.
Una desventaja de Aplidin es que es un fármaco intravenoso.
Eso significa que es difícil de administrar fuera de un hospital, lo que limita su alcance potencial, dijo el Dr. Peter Chin-Hong, médico y experto en enfermedades infecciosas de UCSF que no participó en la investigación de Aplidin.
Krogan y García-Sastre dijeron que Aplidin podría ser especialmente relevante en un mundo donde están apareciendo nuevas cepas peligrosas del coronavirus. Esto se debe a que el fármaco bloquea la actividad de una proteína humana, eEF1A, que el virus necesita para hacer copias de sí mismo e infectar otras células, lo que reduce la capacidad del virus para replicarse y propagarse.
"Si obtiene un fármaco que se dirige a una proteína humana, sería increíblemente difícil que el virus mute y deje de depender de él", dijo Krogan, quien también es investigador de los Institutos Gladstone, una organización de investigación biomédica del Área de la Bahía.

Pharma Mar dice que su misión es encontrar medicinas en los océanos, donde el agua está repleta de virus y algunas criaturas acuáticas han desarrollado armas para matar virus que son "mucho, mucho más fuertes" que cualquier cosa que los humanos hayan diseñado, dijo José Maria Fernández Sousa-Faro. , Fundador y director ejecutivo de Pharma Mar. "Creo que es porque la naturaleza, que es muy sabia, ha sido capaz de hacer ajustes".
Pharma Mar desarrolló originalmente Aplidin como un medicamento contra el cáncer, estudiando sus efectos en ensayos con pacientes con mieloma múltiple. En 2017, la Agencia Europea de Medicamentos, que regula los medicamentos en la Unión Europea, se negó a aprobar Aplidin, señalando los efectos secundarios experimentados por algunos pacientes con cáncer que lo tomaron y diciendo que los beneficios del medicamento no superan los riesgos.
Pero Pharma Mar impugnó con éxito el fallo en un tribunal de la UE, anulando la decisión, y los reguladores australianos aprobaron Aplidin para el tratamiento del mieloma múltiple en 2018.
Encontrar Aplidin en Ibuiza fue un descubrimiento sorprendente, ya que esta ascidia no es común en las aguas del Mediterráneo. Pero en otros lugares no es nada raro…"Esta especie es común en el Atlántico este. En las Azores, Portugal o el Canal de la Mancha. Rara vez se encuentran ejemplares en el Mediterráneo ", comenta la investigadora.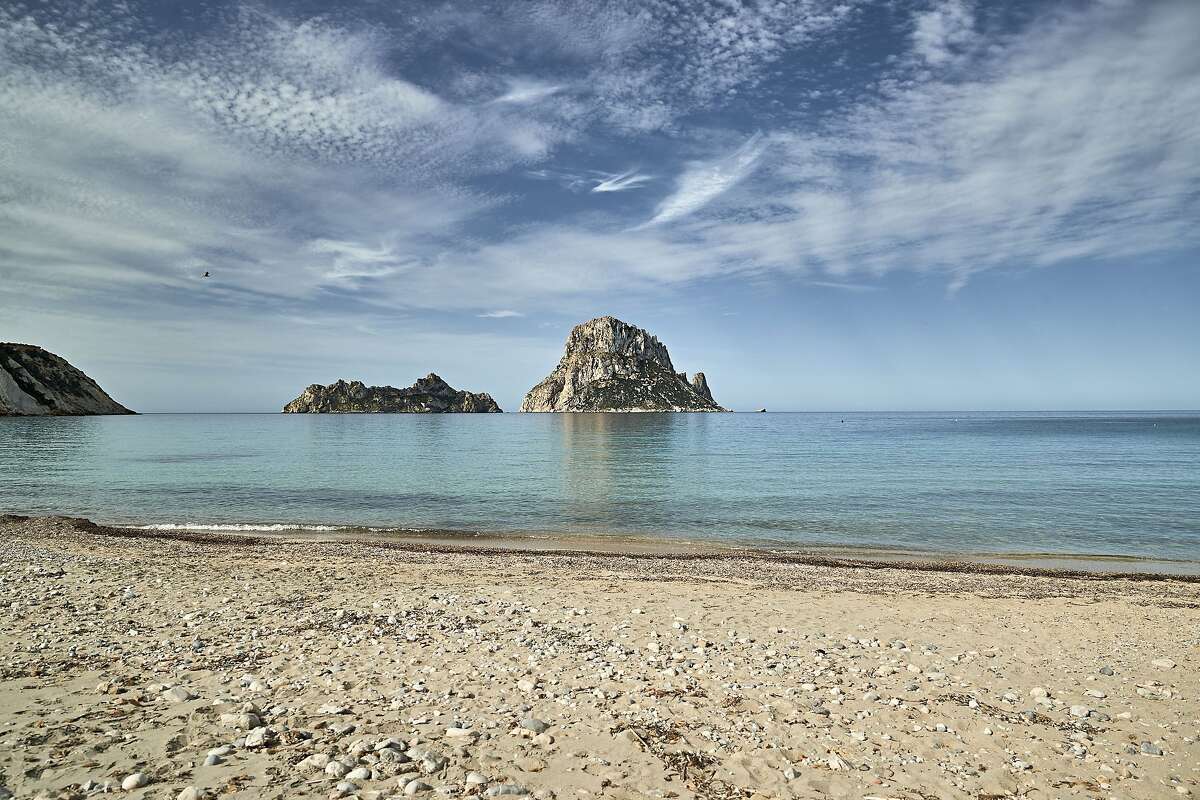 Vista de Vedrà fotografiada el 5 de mayo de 2020 .. Ibiza
Los científicos de Pharma Mar dicen que los pacientes con virus requieren dosis sustancialmente más bajas del fármaco que los pacientes con cáncer, y necesitan tomarlo durante tres días en lugar de meses. En pruebas con pacientes con COVID-19 hasta ahora, los efectos secundarios de Aplidin han sido mínimos.
"Creemos que el mar puede ser la solución a muchas de las situaciones y problemas que puedan surgir, como esta pandemia. Tenemos una gran colección de organismos marinos para seguir investigando. Todavía hay más de una respuesta ", sentencia el investigador.
Un mar asaltado por la contaminación. Cada año se arrojan millones de toneladas de desechos a sus olas. Los productos químicos se mezclan con el agua, mientras que los electrodomésticos o los plásticos se quedan en las profundidades. Un escenario macabro al que se suman las máscaras, cada vez más habituales en el ecosistema marino.

"La conservación de los océanos es algo básico", lamenta Bueno. El maltrato del mar compromete la supervivencia de su flora y fauna. Entre ellos, las ascidias, en las que puede existir un remedio contra el coronavirus. Un compañero de la vacuna. Una solución a la pesadilla que empezó hace un año en tierra firme.
Jason Fagone es un redactor del San Francisco Chronicle. Correo electrónico: jason.fagone@sfchronicle.com Twitter: @jfagone
info del San Francisco Chronicle, el journal Science… compartido con agradecimiento. traducción thefreeonline