CNT-AIT, Granada: solidarity with the imprisoned comrade and all the accused #MestreLibertad
Posted by Pablo Heraklio translation thefreeonline shared with thanks

Source – EL MILICIANO – CNT-AIT, Granada: solidarity with the imprisoned comrade and all the accused #MestreLibertad 28.2.2021
On the morning of February 22, Cristian (Mestre), a CNT-AIT Granada colleague, was prosecuted, decreeing provisional imprisonment without bail and being assigned to Albolote prison.
Our comrade was one of several arrested in the protests against police brutality in Linares and the imprisonment of Pablo Hasel. In Granada there have been 6, in addition to the more than a hundred detainees in the rest of the State. Of which 4 have entered provisional prison in Barcelona, ​​2 in Granada.
It may have been many more, if we take into account the deplorable work of the disinformation media during the past days, which pay more attention to the destruction of street furniture than to the violation of freedom of expression or the brutal attacks against protesters by the part of the police force.
Due to the aforementioned, we consider it extremely necessary to share the real conditions of his detention. It was produced on the night of February 20 by four secret policemen. Since then he has been detained and held incommunicado. After spending two nights in the dungeon, the morning of February 22 was brought to justice. At the hearing, provisional imprisonment has been decreed without giving reasons for it.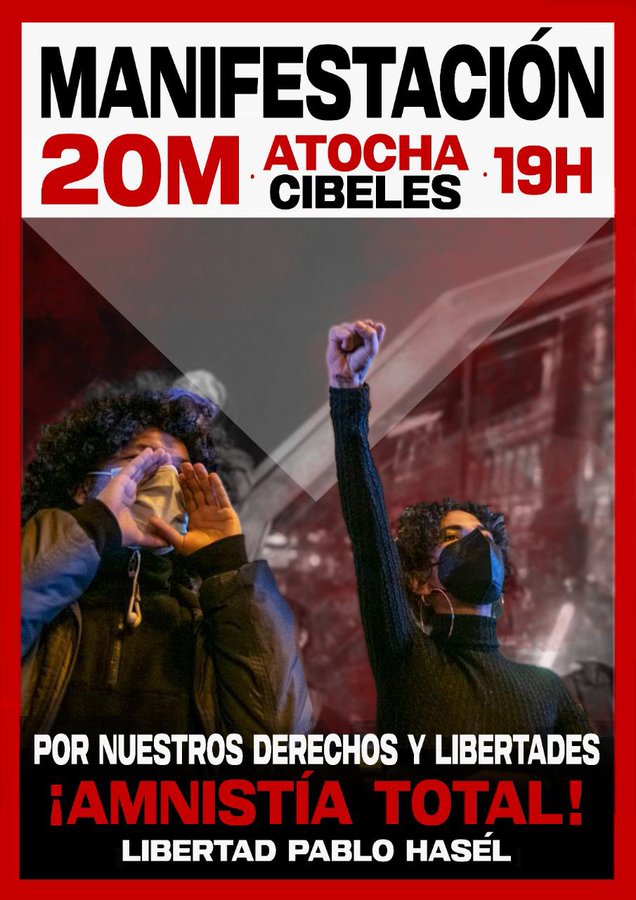 Although the repressive mechanisms of the State and their absolute incoherence are already known, we consider this imprisonment extremely arbitrary. We believe that at its root is the most absolute political repression, in the form of exemplary punishment that tries to silence the anger that we have expressed in the streets in recent weeks.
We ask SOLIDARITY, because all is little. Enough so that the forces change sides and we can free our companions. The repressive avalanche to which we are subjected in many parts of the State cannot go unpunished or demobilize us. May their attacks catch us organized.
We believe that no one should face their violence alone, and from CNT-AIT Granada we want to show our support and outrage, as well as to record that far from demoralizing us, this situation gives us more reasons to continue fighting, with all our tools, for the fall of a repressive and arbitrary system that will try to sink the social struggle and silence us.
We demand liberation for all the prisoners
Your repression does not intimidate us!
MASTER FREEDOM!
*******
FAGC@FAGC_Anarquista 9:36 PM · Mar 3, 2021 Translated from Spanish ….. We remember that right now there are 8 anarchist comrades arrested in Barcelona who they are going to try to incriminate for everything. That our compa #MestreLibertad of Granada is in preventive for demonstrating. That #PabloHaselLlibertat is still in prison for rapping.
FAGC@FAGC_AnarquistaRecordamos que ahora mismo hay 8 compas anarquistas detenidas en Barcelona a los que se les van a intentar incriminar de todo. Que nuestro compa #MestreLibertad de Granada está en preventiva por manifestarse. Que #PabloHaselLlibertat sigue en prisión por rapear.
Today we cry out #RuymánLibertad , because we love him and it touches us closely, but we are aware that this is not about a concrete repression. It goes against all. Of the 8 compas in Barcelona that are the perfect scapegoats and that is why they have been chosen: "foreigners and anarchists."
lunes, 1 de marzo de 2021
CNT-AIT, Granada: solidaridad con el compañero encarcelado y todos los encausados #MestreLibertad
Etiquetas: Caso abierto, cnt, represion, solidaridad Publicado por Pablo Heraklio en 2:23 Fuente – EL MILICIANO – CNT-AIT, Granada: solidaridad con el compañero encarcelado y todos los encausados #MestreLibertad 28.2.2021
La mañana del 22 de febrero se ha procesado a Cristian (Mestre), un compañero de CNT-AIT Granada, decretando prisión provisional sin fianza y siendo destinado a la prisión de Albolote.
Nuestros compañero fue uno de los varios detenidos en las protestas contra la brutalidad policial en Linares y el encarcelamiento de Pablo Hasel. En Granada han sido 6, que se suman al más de un centenar de detenidos en el resto del Estado. De los cuales 4 han entrado en prisión provisional en Barcelona, 2 en Granada. Puede que hayan sido muchos más, si tenemos en cuenta la deplorable labor de los medios de desinformación durante los pasados días, que prestan más atención a la destrucción del mobiliario urbano que a la vulneración de la libertad de expresión o a las brutales agresiones contra manifestantes por la parte del cuerpo policial.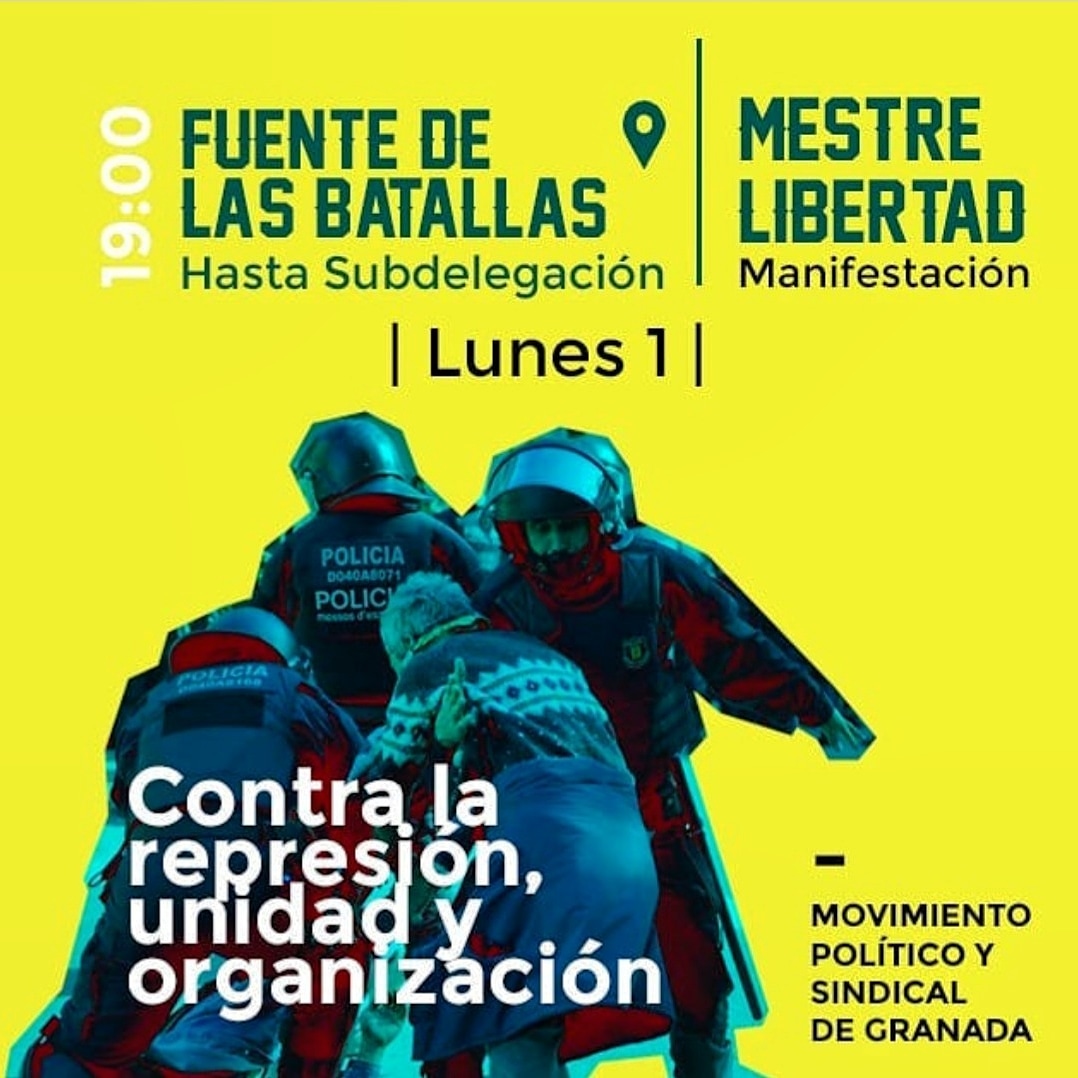 Por lo ya mencionado, consideramos de extrema necesidad compartir las condiciones reales de su detención. Se produjo la noche del 20 de febrero por cuatro policías secretas. Desde entonces ha permanecido detenido e incomunicado. Tras pasar dos noches en el calabozo, la mañana del 22 de febrero ha pasado a disposición judicial. En la vista se ha decretado prisión provisional sin alegar motivos para ello.
Aunque son ya conocidos los mecanismos represivos del Estado y su absoluta incoherencia, consideramos de extrema arbitrariedad este encarcelamiento. Creemos que en su raíz se encuentra la más absoluta represión política, en forma de castigo ejemplarizante que intente acallar la rabia que hemos expresado en las calles durante las últimas semanas.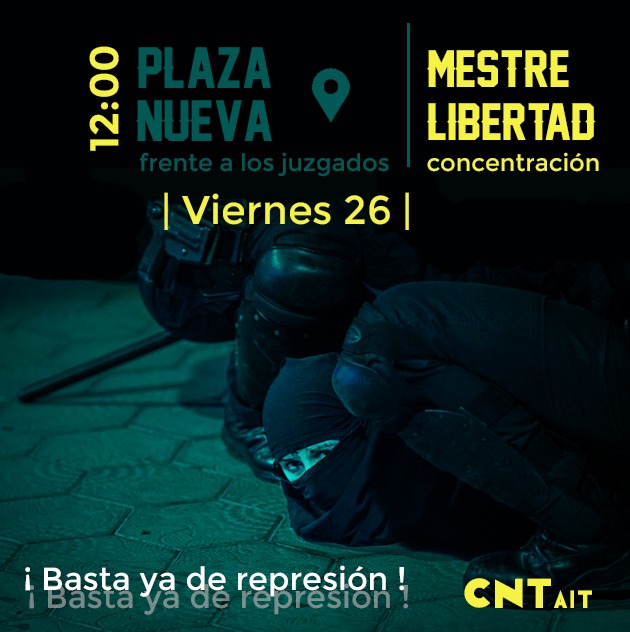 Pedimos SOLIDARIDAD, porque toda es poca. La suficiente como para que las fuerzas cambien de lado y podamos liberar a nuestros compañeros. La avalancha represiva a la que estamos sometidas en muchos puntos del Estado no puede quedar impune ni desmovilizarnos. Que sus ataques nos pillen organizadas.
Creemos que nadie debe enfrentar solx su violencia, y desde CNT-AIT Granada queremos mostrar nuestro apoyo y nuestra indignación, así como dejar constancia de que lejos de desmoralizarnos, esta situación nos da más motivos para seguir peleando, con todas nuestras herramientas, por la caída de un sistema represivo y arbitrario que intentar hundir la lucha social y acallarnos.
Exigimos libertada para todas las presas
¡Vuestra represión no nos amedrenta!
¡MESTRE LIBERTAD!