from kurdiscat.blogspot.com on Friday, May 28, 2021 shared with thanks
You will never read in the western mass media the shocking and cruel accounts of the arrests, torture and deaths of thousands of innocents under the neo-fascist Turkish regime. Turkey is a NATO terrorist country of course, which means big bucks in arms and other contracts. Compare to the huge fuss and instant sanctions made over Navalny's detention in Russia, or the arrest of Roman Protasevich in Belarus, even though both are more far right wing politicians than journalists. And what about Julian Assange!
We would need a book to even list the horrific crimes of the present Turkish regime, yesterday one more: it was announced with a Nationalist Fanfare that Turkey has kidnapped the nephew of political opponent Gulen in Kenya, despite his protected status, and brought him to a Turkish prison, treated as a bit of a joke in the western media.
*****************************
According to the first report on freedom of expression and the "interrupted press agenda", 20 journalists were sentenced to 57 years, 10 months in prison in total during the first four months of this year.
Turkey's media crackdown continues unabated
The report also states that "despite the promise of AKP President and Governor Recep Tayyip Erdoğan that 2021 would be a" year of reforms "and the announcement of the government's human rights action plan, the dramatic developments that took place during the first months of the year showed that expectations for improvement in human rights and democratic rights in Turkey are unlikely to be met soon. "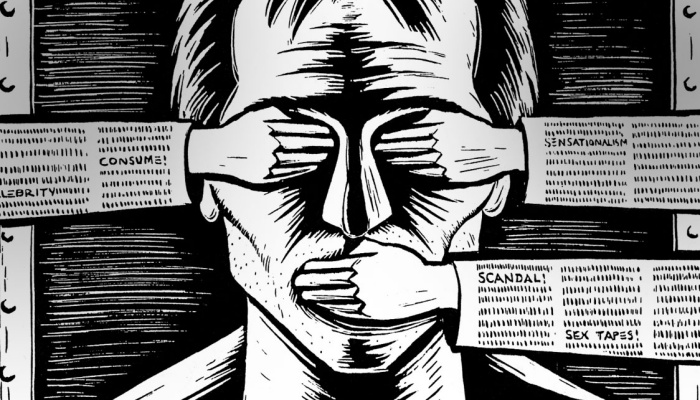 Turkey sentenced 23 journalists to over 100 years
213 periodistes van ser processats durant els primers 4 mesos del 2021 a Turquia
213 periodistes van ser processats durant els primers 4 mesos del 2021 a la República de Turquia. Segons el primer informe sobre la llibertat d'expressió i "l'agenda de premsa d'expressió interrompuda", 20 periodistes van ser condemnats a 57 anys, 10 mesos de presó en total durant els primers quatre mesos d'aquest any.
92 journalists prosecuted in Turkey amid coronavirus
L'informe també afirma que "malgrat la promesa del president i governant de l'AKP, Recep Tayyip Erdoğan, que el 2021 seria un" any de reformes "i l'anunci del pla d'acció dels drets humans del govern, els dramàtics desenvolupaments que es van desenvolupar durant els primers mesos de l'any va demostrar que les expectatives de millora en matèria de drets humans i drets democràtics a Turquia probablement no es compliran aviat ".
Journalism in Turkey means death, arrest and joblessness: HDP
from Turkish Minute..shared with thanks
Journalism in Turkey has become synonymous with death, arrest, joblessness and many other risks, pro-Kurdish Peoples' Democratic Party (HDP) vice chair Tayip Temel said on Monday in a statement on the occasion of World Press Freedom Day, the Kronos news website reported..
By Turkish Minute – May 3, 2021 524 0
In 1993 the UN General Assembly proclaimed May 3 as World Press Freedom Day following a recommendation adopted at the 26th session of UNESCO's General Conference in 1991.
Temel said since the adoption of May 3 as World Press Freedom Day by the UN, Turkey has moved further away from press freedom.
Underlining that Turkey was ranked 153rd among 180 countries in the 2021 World Press Freedom Index released by Reporters Without Borders (RSF) in April, Temel claimed that torture, human rights violations, war crimes, corruption and femicides are being covered up in the country as is the case with many other authoritarian regimes, and that the most efficient way to achieve this end is to silence the press.
On the same day a court released two defendants who were arrested for their physical assault on journalist Levent Gültekin, who was attacked by a group of about two dozen people after he criticized Alparslan Türkeş, founder of the far-right Nationalist Movement Party (MHP). Police detained three suspects a week after the attack, and two of them were arrested pending trial.
One out of every four journalists was subjected to physical violence, and half of them received threats in 2020, a report released in February by the Turkish Journalists' Association (TGC) said.
Turkey remains one of the world's top jailers of journalists, writers, and intellectuals, according to a report by the Stockholm Center for Freedom, citing recent indexes and reports released by prominent right organizations.
Turkey, along with China and Saudi Arabia, topped PEN America's list of the world's worst jailers of writers and public intellectuals. The top three jailers accounted for a majority of cases, 50 percent, though that number is down from 59 percent in 2019.
According to PEN America, the environment for free expression in Turkey remains extremely challenging, with new laws and regulations narrowing the space for dissent and public intellectuals.
The Council of Europe's (CoE) annual report, "Platform to Promote the Protection of Journalism and Safety of Journalists," called on Turkish authorities to cease all actions aimed at blocking or criminalizing independent reporting and take steps to restore judicial independence.
Turkish journalists face an ongoing campaign of judicial harassment, driven by the authorities' intention to thwart critical reporting, which is exacerbated by the context of a lack of prosecutorial and judicial independence and impartiality, the CoE report said, adding that a high number of verbal attacks against journalists were made by Turkish officials during 2020.
According to RSF, the government controls 90 percent of the Turkish media by means of regulators, while the Press Advertising Council, an agency that allocates state advertising, and the Presidential Directorate for Communications, which issues press cards, "use clearly discriminatory practices in order to marginalise and criminalise the regime's media critics."
In its annual report, the Committee to Protect Journalists (CPJ) underlined that the number of journalists jailed for their reporting in 2020 reached the highest level since the organization began keeping track, with Turkey, the People's Republic of China, and Egypt imprisoning the most reporters last year.
"Protests and political tensions were a catalyst for many arrests," CPJ said.
Amid the declining press freedom in Turkey, a report drafted by Republican People's Party (CHP) lawmaker Utku Çakırözer, also a former journalist, showed that nearly 150 journalists appeared before a judge in March and April.
In March Sezgin Tanrıkulu, a CHP lawmaker and rights advocate, requested a parliamentary inquiry into physical assaults that have targeted critical journalists in Turkey during the 18-year rule of President Recep Tayyip Erdoğan's Justice and Development Party (AKP), adding that it is also important to reveal the number of journalists who have been killed in the country in the same period.
Tanrıkulu also cited the claim that the ruling AKP was ordering attacks targeting dissident journalists and politicians in order to intimidate them, which is based on the government's policy of impunity that has protected a considerable number of the assailants so far.
"[Many] journalists have been sent to prison in Turkey, and the AKP's politically motivated operations have left nearly 10,000 members of the press in the country unemployed. Hundreds of critical press outlets have been shut down, and journalists who refuse to serve as government mouthpieces have been attacked," Tanrıkulu further stated.
The Turkish government increased its crackdown on critical media outlets and journalists in the aftermath of a coup attempt in July 2016, following which dozens of journalists were jailed, while more than 200 media outlets were closed down under the pretext of an anti-coup fight.
According to the Stockholm Center for Freedom's "Jailed and Wanted Journalists in Turkey" database, 174 journalists are behind bars in Turkey and 167 are wanted and either in exile or at large.
meheadline Turkey saw highest number of attacks against women journalists in first quarter…
Turkey saw highest number of attacks against women journalists in first quarter of 2021
By Turkish Minute – May 5, 2021 251 0
Turkey marked the highest number of threats and attacks against female journalists in the world in the first quarter of 2021, according to a report released on Monday by the Coalition for Women in Journalism (CFWIJ), the Stockholm Center for Freedom reported.
CFWIJ said it closely monitored and documented 114 cases of legal harassment, detentions, and attacks in the field across the country. At least 50 women journalists appeared in court due to their journalistic activities or social media posts. "In Turkey, women journalists often face defamation or terror-related charges," the report said.
Oda TV News Director Müyesser Yıldız was among the female journalists sentenced to prison on March 8, International Women's Day. She was given a prison sentence by a high criminal court in Ankara of three years, seven months, 10 days for obtaining and revealing state secrets. The court suspended the execution of her sentence.
Journalists Şehriban Abi and Nazan Sala, who were arrested after covering the story of two Kurdish villagers that were allegedly tortured and later thrown from a military helicopter appeared in court when the indictment was completed.
They were released pending trial after remaining behind the bars for nearly six months. The villagers were in fact assaulted by a mob of more than 100 soldiers, a report by independent deputy and investigative journalist Ahmet Şık had later revealed.
According to the report 14 female journalists were detained and subjected to police violence while covering Boğaziçi University protests, demonstrations against the Turkish government's decision to withdraw from the Istanbul Convention, a Council of Europe treaty designed to protect women's rights and prevent domestic violence, and May Day demonstrations.
According to CFWIJ, Turkey, the US, Myanmar and Belarus, joined by Russia, India, Pakistan, Mexico and Iran, are among the countries where threats, harassment and rights violations against women journalists happened regularly with impunity. The organization called on world leaders "to establish a world where [journalists'] freedom of expression is protected, and [they] can practice journalism without the fear of persecution."
According to the Stockholm Center for Freedom's "Jailed and Wanted Journalists in Turkey" database, 174 journalists are behind bars in Turkey and 167 are wanted and either in exile or at large.