By Sacha Dobler on • via abruptearthchanges.com original at the Guardian by David Spiegelhalter and Anthony Masters; 27 Jun 2021
The "Thinning" continues. The Guardian practically says: –You take the Covid vaccine, you die, but it's good. Don't think of this as a bad sign, it's exactly what's expected from an "effective but imperfect jab"-.
MailOnline headline on 13June read:
"Study shows 29% of the 42 people who have died after catching the new strain had BOTH vaccinations." In Public Health England's technical briefing on 25 June, that figure had risen to 43% (50 of 117), with the majority (60%) having received at least one dose.
local wine store
"It could sound worrying that the majority of people dying in England with the now-dominant Delta (B.1.617.2) variant have been vaccinated. Does this mean the vaccines are ineffective?
Far from it, it's what we would expect from an effective but imperfect vaccine, a risk profile that varies hugely by age and the way the vaccines have been rolled out….."
The article goes on to argue statistically that this doesn't mean the vaccines haven't worked for many, at least in the short term.
Wonderful.. so I vaccinate and am more likely to die horribly, but that's okay statistically so not to worry!
But for me, now, under heavy pressure to vaccinate, I would have to be really really stupid to do it.
Because I would ADD the danger of dying or being crippled from Covid itself to the dangers of being killed or permanently crippled from the vaccine!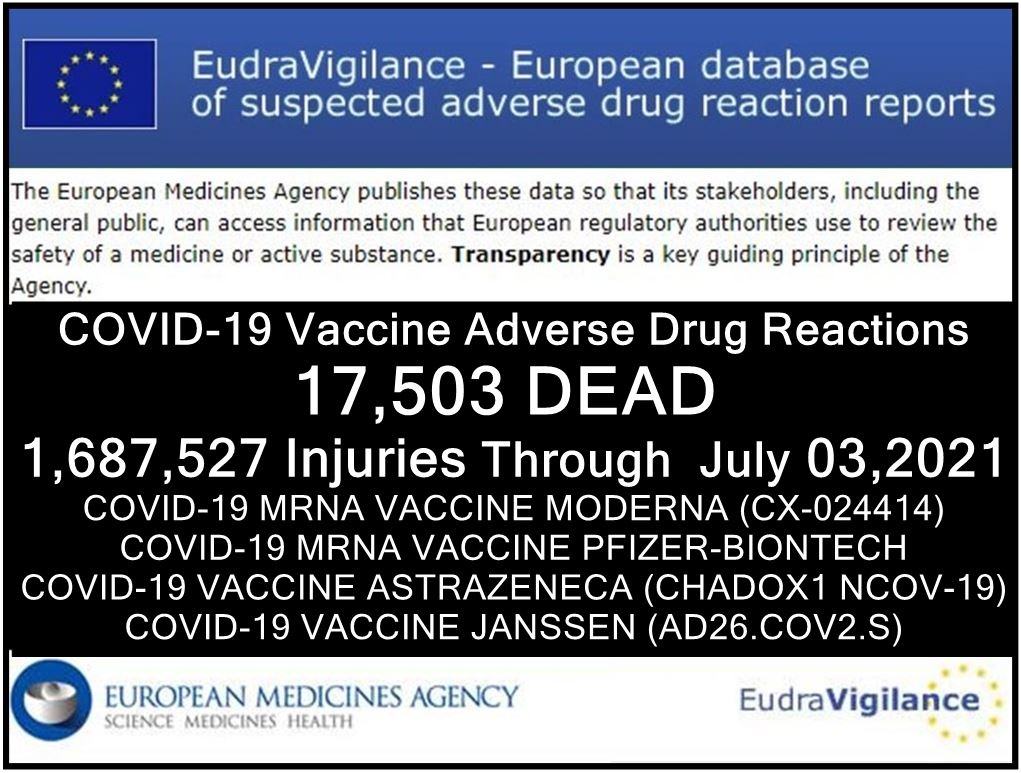 https://healthimpactnews.com/2021/17503-dead-1-7-million-injured-50-serious-reported-in-european-unions-database-of-adverse-drug-reactions-for-covid-19-shots/
Above is the latest fortnightly info from the official Euro agency (EMA). They warn that there can be no definitive proof that all these deaths and injuries are caused by the Covid vaccines. (See the full breakdown: heart 1,165 deaths, vascular, lymphatic etc HERE). On the other hand many cases, perhaps as many again, are not recorded as caused by Covid (double would be 35,000 dead) . Also the EMA only reports for EU states, only about 2/3rds the European population, (so the real toll could be over 5o,o00 dead and 2,500,000 injuries).
There have been 1,279,000 reported deaths caused by the novel coronavirus in Europe so far, more than 20 times those caused by the vaccines, since they came out in early 2021, even at the highest estimates, see above.
Calculating deaths prevented by the vaccines is precarious, the virus strains have weakened and care has improved, etc..
Also the Covid death figures are highly disputed. This is illustrated by the newest US policy, for example: the CDC health authority is anxious to make Covid death figures for already vaccinated people disappear and statistically cut new Covid cases.
So this is done by a) changing the sensitivity of the PCR test (which was much too high) so that it more rarely shows positive b) Not counting cases as people dying of Covid unless there are no contributing illnesses and c) Only counting cases of hospitalized victims. see Covid levels Falsified by manipulation of PCR's CT level..
This is absurd and a fraud of course. But one interesting effect is that the new policies CANNOT BE BACK DATED. Because if you do that the PANDEMIC WOULD PRACTICALLY DISAPPEAR, statistically speaking.
Clearly the vaccines do work, to some extent, but we can't know the extent of deadly longer term effects, or easily compare deaths from Covid to deaths from the vaccines.
related posts
"Risk of dying after vaccine ..now higher than risk of dying from Covid" .. Norway bans Astra Zeneca.
Covid vaccines: Worse Than the Disease? Scientists Review Possible Consequences
Vaccine Billionaires vs. Human Guinea Pigs
US vaccine-related deaths increasing rapidly
Facebook and YouTube are rushing to delete "Plandemic," a conspiracy-laden video ..