by enough14 — Leave a comment .. shared with thanks.
poster: 'The Evictions Have A Face', Ana Maria Martínez , the "socialist" mayor and Elena Massot, manager of the speculation company
Rubí. Catalonia. On Thursday, October 14th, the community orchard el Miro, a squatted plot of land in Rubí city centre [20km away from Barcelona], was evicted.
poster against the first failed eviction attempt in July 2021
Originally published by Attaque.
It was the second attempt, after the cops desisted to evict it in july, when some 60 people stood up to defend the place. It had been squatted for five years; the land was farmed, concerts, talks & other events were often held there.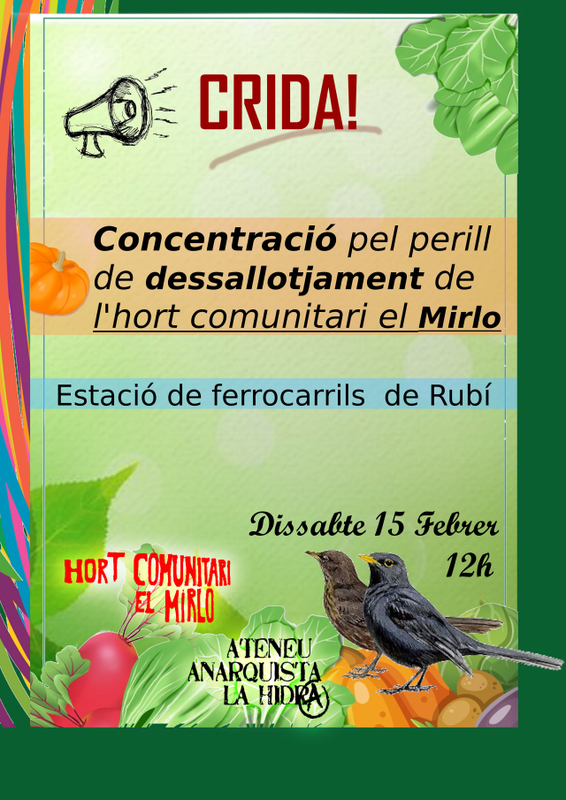 The owners, DomoMarina SL -a company owned by Elena Massot- wants to build luxury flats on the former orchard, with the Ana María Martínez's complicity. Martínez is Rubí's mayor, of the PSC (catalan socialist party).
That same day on the evening there was a demo. Some fifty people walked through Rubí city centre. Posters, graffiti and paint-eggs garnished real-estate agencies, banks and the PSC's building.
More info on the former orchard and the ateneu anarquista la Hidra, (The Hydra(dragon with heads) squatted anarchist workers center in Rubí, from thefreeonline
The Mirlo occupied gardens were nearly opposite the Hidra Anarchist Centre in the same street, occupied since 2016 and now under heavy judicial attack.
La Hidra is an amazing collective of creative and active young anarchists who keep up a constant campaigns in the town.
In April 2021 there was a surprise Eviction Trial, full of irregularities and falsehoods, amid a change of ownership and a plan to destroy the historic building, rescued from ruin by the anarchists.
The eviction was deferred on the grounds of the national Covid Evictions Moratorium (which was very false). The Hidra lives on and activities continue (Oct 2021)
Rubí is a big friendly working-class place with a century long history of anarchism and anti fascism. The "Socialists" have all kinds of state funded facilities yet now collaborate with open 'gentrification' for luxury apartments and destroy a genuine, highly used and self run garden and social events project.

see also and check for eviction warnings for La Hidra: https://ateneuanarquistalahidra.wordpress.com/2021/10/11/el-mirlo-contin/