by David Melero Redacción El Salto 18 nov 2021 11:18 shared with thanks.. illustrations added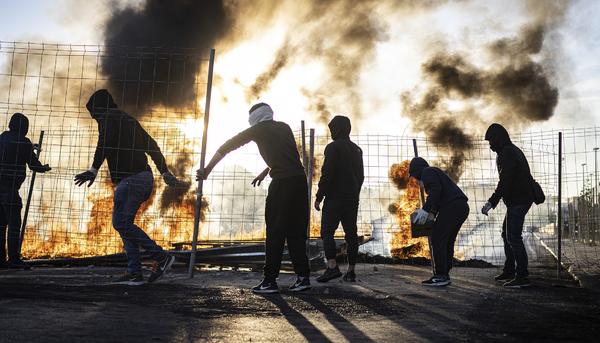 The third day of the metal strike in Cádiz starts with the cutting of one of the main accesses to the capital
The morning begins with traffic shutdowns and barricades after the employers' association and the concertation unions failed to reach an agreement at the November 17 meeting.
Third day of strike in the metal sector in Cádiz province and third day of clashes between shipyard workers and the police contingent. The day began with searches and identifications around the Navantia factory, in San Fernando.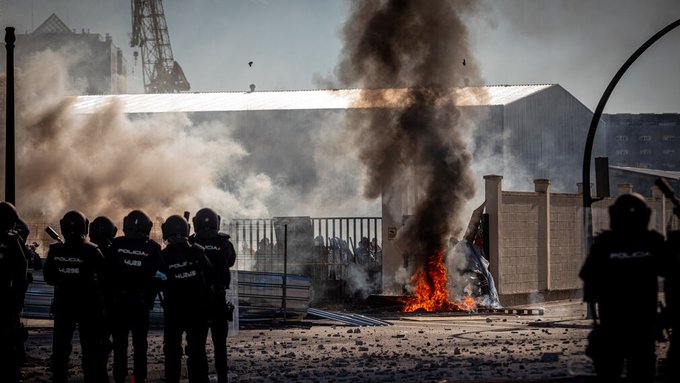 The fight for a collective agreement by workers in the sector has led to scenes of police charges, barricades and throwing of objects. Workers of companies such as Navantia, Dragados or Alestis demand a renewal of the agreement that expired in December 2020, a collective agreement that affects 30,000 workers, both from the parent companies and from the different small and medium-sized companies linked to them.
So far the mediation has ended without conclusive results. Therefore, the protests continue.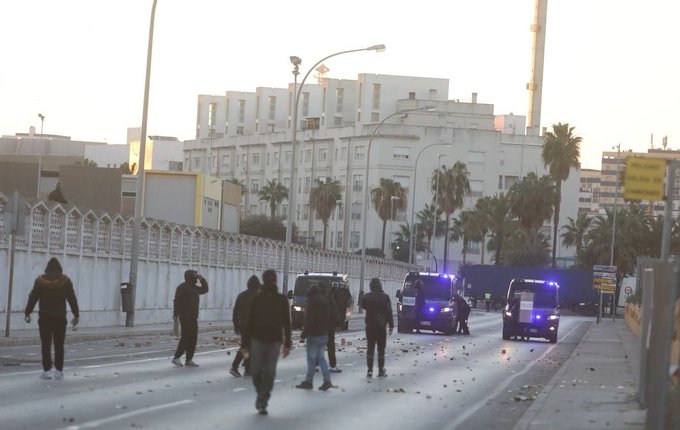 The agreement essentially depends on the salary increase expected for next year, 2022 that is already marked by the increase in the Consumer Price Index (CPI), which will be above 3.5% on the average for the year .
As a result, workers want the sector's wage to rise by at least 2% so that there is no excessive loss of purchasing power.
In addition, a reduction of four hours of work is claimed each year and it is also discussed for the amount of the Painful, Toxic and Dangerous Plus, which certain workers charge for the activities they carry out.
This morning, the striking workers managed to cut the Carranza bridge, which provides access to the capital. The police have charged and dispersed this group. Similar scenes have occurred at the entrances to the Airbus factories in El Puerto de Santa María or Puerto Real.
The third day of protests follows a meeting in the afternoon and early morning of November 17 and 18 in which the employer and the representation of the industry unions of CC OO and UGT did not reach any agreement.
Meanwhile, the strike continues with a repertoire of protests that includes the formation of barricades and traffic cuts in the cities of Puerto Real, San Fernando and the Port of Santamaría, as well as in other parts of the province such as Campo de Gibraltar.
The Acerinox auxiliary metal sector in Los Barrios, the CEPSA refinery in San Roque or the Port of Algeciras are also on strike, and the point where the pickets are in Campo de Gibraltar is at the connection between La Línea de la Concepción and San Roque, at the El Toril junction.

Filed under: Unions ‧ Metal ‧ Cádiz ‧ Labor Movement ‧ Industry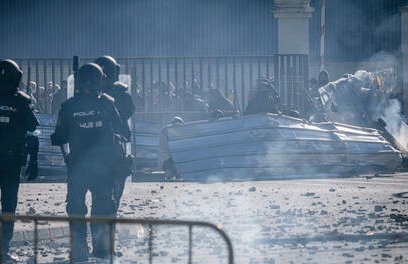 La tercera jornada de huelga del metal en Cádiz arranca con el corte de uno de los principales accesos a la capital
La mañana empieza con cortes de tráfico y barricadas después de que la patronal y los sindicatos de concertación no llegasen a un acuerdo en la reunión del 17 de noviembre. David Melero Redacción El Salto 18 nov 2021 11:18
Tercera jornada de huelga del sector del metal en la provincia Cádiz y tercer día de enfrentamientos entre los trabajadores de astilleros y el contingente policial. El día ha comenzado con cacheos e identificaciones en los alrededores de la factoría Navantia, en San Fernando.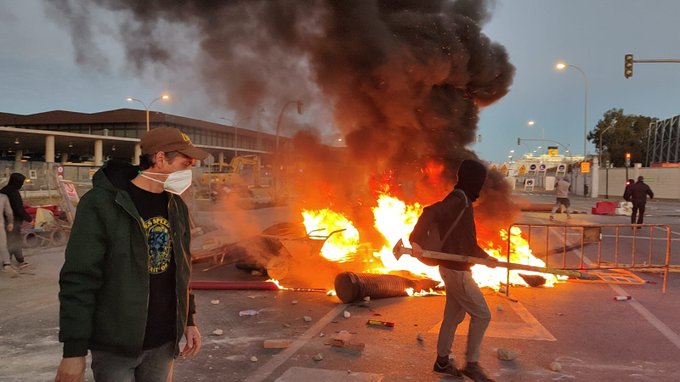 La lucha por un convenio colectivo por parte de los trabajadores del sector ha dado lugar a escenas de cargas policiales, barricadas y lanzamiento de objetos. Trabajadores de empresas como Navantia, Dragados o Alestis reclaman una renovación del convenio expirado en diciembre de 2020, un acuerdo colectivo que afecta a 30.000 trabajadores, tanto de las matrices como de las distintas pequeñas y medianas empresas vinculadas a éstas. Hasta ahora la mediación ha terminado sin resultados concluyentes. Siguen, por tanto, las protestas.
El acuerdo depende esencialmente de la subida de sueldos prevista para el año que viene, un 2022 que está ya marcado por el aumento del Índice de Precios al Consumo (IPC), que se situará en la media del año por encima del 3,5%. Los trabajadores quieren que, en consecuencia, el salario del sector suba al menos un 2% para que no se produzca una pérdida excesiva de poder adquisitivo.
Además se reclama una disminución de cuatro horas de trabajo cada año y se discute también por el monto del Plus Penoso, Tóxico y Peligroso, que cobran determinados trabajadores por las actividades que llevan a cabo.
Esta mañana, los trabajadores en huelga han conseguido cortar el puente de Carranza, de acceso a la capital. La policía ha cargado y dispersado a este grupo. Se han producido escenas similares en los accesos a las factorías de Airbus en El Puerto de Santa María o en Puerto Real.
El tercer día de protestas sucede a una reunión en la tarde y la madrugada de los días 17 y 18 de noviembre en la que patronal y la representación de los sindicatos de Industria de CC OO y UGT no llegaron a ningún acuerdo.
Mientras, la huelga prosigue con un repertorio de protestas que incluye la formación de barricadas y los cortes de tráfico en las ciudades de Puerto Real, San Fernando y el Puerto de Santamaría, así como en otros puntos de la provincia como el Campo de Gibraltar. El sector auxiliar del metal de Acerinox en Los Barrios, la refinería de CEPSA en San Roque o el Puerto de Algeciras también están en huelga, y el punto donde están los piquetes en el Campo de Gibraltar es en la conexión entre La Línea  de la Concepción y San Roque, en el cruce de El Toril. Archivado en: Sindicatos ‧ Metal ‧ Cádiz ‧ Movimiento obrero ‧ Industria