by admin at Kaos en la Red translation thefreeonline
Kaos en la Red (Chaos on the Net) has been a popular counter info site for more than a generation. Originating as squatters in the former anarchist city of Terrassa outside Barcelona, Kaos is today constantly attacked by fascists. In 2021 the site was completely destroyed by a series of advanced hacks. But some months later it is back in action and better than ever!
2022, a year to gather together rebellions
The dawning of 2022 comes with news. With a desire to join forces to be a means of communication (and let's admit that they are not abundant) in the fight against capitalism and the powerful.
The year is born with years of experience, with militant dedication but, above all, with arguments to challenge the context that we live in, as media-subjects, of companies and institutions that disguise mere manipulations as information, which made Malcolm X say with good reason :
"If you are not careful with the media, they will make you love the oppressor and hate the oppressed."
The ruling class has its speakers and knows how to move its forces to last a long time, to maintain the status quo.
That's why we will stay deeply disrespectful of a regime that has led the majority to a situation of agony, but where resistance will irreversibly grow as the class struggle becomes more evident.
We know, together with our readers, which side of the barricade we are going to be on.
Your help is not only important, it is decisive. Spreading and financing this means of communication is a task to which we humbly invite you.
Today Happy 2022 has a very special meaning.
We are celebrating. Insurgent and Kaosenlared
2022, un año para juntar rebeldías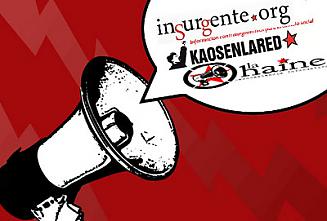 América Latina, Estado Español, Internacional, Opinión / Por admin
2022 que amanece, viene con novedades. Y lo hace desde las ganas de unir fuerzas para ser un medio de comunicación (y admitamos que no abundan) en lucha contra el capitalismo y los poderosos.
Nacerá con experiencias de años, con entrega militante pero, sobre todo, con argumentos para desafiar este contexto que vivimos de medios-súbditos, con el que empresas e instituciones hacen pasar como información meras manipulaciones, y que hizo decir a Malcolm X con toda razón:
"Si no estáis prevenidos ante los medios de comunicación, os harán amar al opresor y odiar al oprimido".
La clase dominante tiene sus altavoces y sabe mover las piezas para perdurar, para mantener el status quo. Por eso seremos profundamente irrespetuosos con un régimen que ha abocado a las mayorías a una situación de agonía, pero donde la resistencia irá irreversiblemente creciendo a medida que la lucha de clases se haga más patente.
Sabemos, junto a nuestras lectoras y lectores, de qué lado de la barricada vamos a estar. Vuestra ayuda no sólo es importante, es determinante. Difundir y financiar este medio de comunicación es una tarea a la que invitamos con toda humildad.
Hoy el Feliz 2022 tiene un sentido muy especial. Estamos de festejo. Insurgente y Kaosenlared
---
Imagen de portada:  La Nueve, la Compañía de antifascistas españoles -mayoritariamente anarquistas y republicanos-  entrando triunfante en París en octubre de 1944 para luchar contra el nazismo. 
O ingreso en :
IBAN: ES60 3183 4100 1510 1211 5422 COL.LECTIU KAOS EN LA RED