Canada – Alberta Premier Jason Kenney on Tuesday announced the immediate end to his province's Covid vaccine passport system,
From Leeuwarden in the Netherlands to Wellington, New Zealand, to London to Canberra, Australia, truckers are hitting the road to send a clear message: stop the mandates.Another group of truckers is planning a protest in the United States, driving to the U.S. Capitol in Washington, D.C.
Proof of vaccine to enter bars, restaurants and entertainment venues will end at midnight.
In Saskatchewan, Premier Scott Moe announced today that all proof of vaccine mandates in Saskatchewan will end this coming Sunday. Despite the removal of the province's vaccine passport policy, the truckers gathered at the Coutts, Alberta to Sweetgrass, Montana border crossing are demanding all restrictions be removed.
Mask mandates for children and schools ends February 14, the premier announced.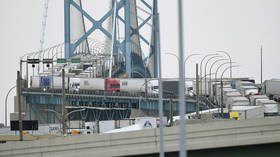 As the Ambassador Bridge between Windsor, Ontario and Detroit, Michigan remained closed for trucks as of Tuesday evening, White House Press Secretary Jen Psaki referred to the issue causing the closure as "sporadic congestion" and insisted it was not related to Covid-19 vaccine mandates.
"It is clear that we passed the peak of our current infections about three weeks ago and are now seeing the result as COVID-related hospital admissions are declining," Kenney said at a news conference.
Trudeau implied that they were racists and Nazis. This he added on top of his earlier characterization of those who object to his policies as misogynists, science deniers, purveyors of misinformation, and conspiracy theorists.
What the protesters are standing up against is their government's Lockdowns, curfews, travel bans, injections and boosters forced via onerous ID passports, police harassment: this has been Canadians' experience in the past twenty-four months.
New Zealand Joins Canada and Finland – Convoy Blocks Parliament and Demands to End Vaccine and Mask Mandates
Ottawa Mayor Jim Watson described the presence of children playing in bouncy castles at the Freedom Convoy demonstration as "disturbing" in a video interview with CTV News on Sunday.
Watson is 60, unmarried, and without children.
On Monday Canadian officials said they will investigate Americans who donated to the Freedom Convoy 2022. They say they will look at "the intent" of the donors who were trying to undermine public safety. It's not clear how they are going to prove intent of the donors but certainly, the FBI will be more than happy to help out.
*********