This morning I checked out how the Capitalism's civil war is going. I hoped to know how the EU/Russia Gas War may bankrupt Europe and destroy our lives.Would the EU back down or commit economic Hari-Kiri by refusing to pay for their gas in rubles?.
Not much luck with the Western media all screaming obvious 'False Narratives' and the evil Ruskies up to no good.
Then I came across this gem:
"As Russian President Vladimir Putin escalates the war in Ukraine to that of nuclear threats, massacre, and the systemic rape of children in cities like Bucha, China continues its diplomatic support of Russia, including now by threatening the breakup of the European Union". Anders Corr at the Epoch Times
I didn't bother with CNN, but thought to g0 straight to the horse's mouth.. to Russia Today.
Alas my trusty laptop informs me that:
"We will not let Kremlin apologists pour their toxic lies justifying Putin's war or sow the seeds of division in our Union," EU Commission President Ursula von der Leyen.
RT it seems is banned by almost all US subsidiaries, even their YouTube music, sports and travel documentaries.
Aha, but time to warm up my trusty VPN, pick a non-west country, and bingo ! I find the facts on RT, wrapped up of course in Russian nationalist POV. (How come the MSM doesn't trust me to read this without becoming a slave to Putin's version of dictatorial Capitalism?)
It turns out YES.. the EU has backed down and will buy the Gas in Rubles.. bad news for the Planet I suppose. But the Commission avoids losing face by saying its Banning Order now doesn't break its Sanctions Order.
What a laugh! So everyone can do what they like, and hardline anti Russians like Poland can just buy Russian gas quietly on the European market (or even cheaper, non-fracking Russian LNG)… Hypocrisy Works!
Putin may be giggling in his glass of vodka this morning, without Coca Cola! It seems the dastardly Russian plan is to escape from the economic dollar-tax that has allowed the US to run up $30 trillion in debt. A plot which could only be done now, post pandemic and flush with cash.
And this may be a reason for our daily diet of Russophobic Canned MSM , rather than the mayhem in Ukraine (no worse than that that in Sudan or Somalia or Mianmar or…) Because if this Dollar Destitution were to succeed and catch on, they say, it would be a Bonanza for the rest of the world. Although the USA might eventually have to pay back the $30 trillion.
But hey north Americans, the US at least gets a huge new market for a booming Arms Industry (which the silly NATO lot buy like hot cakes and gift to Ukraine for the Russians to blow up).
And not just that, all those new Texas and Louisiana LNG plants will be working flat out to convert surplus fracking gas and flog it at premium prices. Inflation may be unbearable but at least your billionaire celebrities will be blessed.
*************
We reprint below (just this once.. sorry big Bro) the short report from RT about this curious explanation, which could affect all our futures:
Russia moving closer to a gold standard – official
Moscow is working on linking the price of the ruble to bullion and other commodities, security council says
© Getty Images / KTDESIGN
Russian experts are working on a project to create a two-loop monetary and financial system in the country, Secretary of the Security Council Nikolay Patrushev said on Tuesday, in an interview with Rossiyskaya Gazeta.
He explained that the project involves the provision of the Russian currency with both gold and a range of goods representing a currency value. As a result, the ruble exchange rate would correspond to its real purchasing power parity, he said.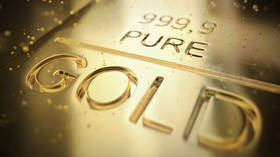 To ensure the sovereignty of any national financial system, it is necessary that its means of payment have intrinsic value and price stability, and is not tied to the dollar, Patrushev said.
Another important condition for Russian economic security is the restructuring of its economy based on modern technologies, he added.
Read more: Gold-backed ruble could be a game-changer (INTERVIEW)
"We are not against a market economy … but … the West allows other countries to be its partner only when it is beneficial for it," Patrushev stressed, noting that Russia's development should be based on its internal potential.
On March 25, the Bank of Russia announced a fixed price for buying gold with rubles. It set a price of 5,000 rubles ($59 at the time) for a gram of gold.
The security secretary also stressed that Washington was trying to solve its problems at the expense of the rest of the world, thereby creating a "human-induced global crisis." And its European allies would be the first to suffer from those actions, Patrushev said.
While the White House is discussing a possible default by Russia, the situation is such that "it's time for them to declare their own default," Patrushev said, pointing out that the US' external debt has exceeded $30 trillion.