The channel has been given a strike and Project Veritas is temporarily banned from uploading
from thefreeonline January 27, 2023 By Christina Maas at Reclaim The Net
WATCH IT HERE
You Tube, like the regulating agencies (*CDC and FDA), politicians and media, are CAPTURED by Big Pharma! Because they're directly bought out, or have lucrative shares, or are just scared to step out of line.
But this video, which SMASHES the whole vaccine criminal scam, is shared ALL OVER THE INTERNET already with at least 30 MILLION views.
YouTube has deleted an undercover video by Project Veritas that showed a Pfizer director of research and development make comments about an idea he calls "directed evolution."
"YouTube has taken down our Pfizer DirectedEvolution bombshell. It had 800K views," O'Keefe announced on Twitter. "Pfizer is scrambling today per sources inside."
"Project Veritas channel has been given a 'strike' and ability to upload ANY new videos is 'restricted' for a week with threats of future 'permanent removal' Project Veritas announced.
March for the Vaccine Injured in London.. 'We are not going away! WE ARE THE INJURED & BEREAVED!'
The subject of the video, Jordan Trishton Walker, Pfizer's director of research and development strategic operations, was later approached by O'Keefe and his team in a New York restaurant and asked about the comments he made in the undercover video.
The later video showed the Pfizer employee becoming angry after being confronted by O'Keefe.
"You work for Pfizer," O'Keefe said to Walker in the video. "My question for you is, why does Pfizer wanna hide from the public the fact that they're mutating the COVID viruses?"
O'Keefe was referring to an undercover video, that YouTube has now deleted, where Walker said, "One of the things we're exploring is like, why don't we just mutate it [the COVID virus] ourselves so we could create — preemptively develop new vaccines, right?"
"So, we have to do that," he added. "If we're gonna do that though, there's a risk of like, as you could imagine — no one wants to be having a pharma company mutating fucking viruses."
Walker goes on: "Don't tell anyone. Promise you won't tell anyone," Walker says in the video. "The way it would work is that we put the virus in monkeys and we successively cause them to keep infecting each other and we collect serial samples from them."
In the later video, which is still up on YouTube at the time of writing, Walker said, "You fucked up," alleging that he lied to Project Veritas's undercover reporter because he was "trying to impress a person on a date."
After being confronted by Project Veritas, Walker called the police and smashed one of Project Veritas' iPads.
When Pfizer finally replied to the scandal their statement DOES NOT DENY Walker works for them or punish him.. Thus accepting what he says.
Project Veritas is no stranger to YouTube censorship. The Big Tech video giant censored the journalism group after it exposed Google's biased AI back in 2019.
If you're tired of censorship, cancel culture, and the erosion of civil liberties subscribe to Reclaim The Net.
************
Pfizer admits it 'engineered' new Covid mutations
An executive with the drug firm previously said that the company was creating more potent strains of the virus in a laboratory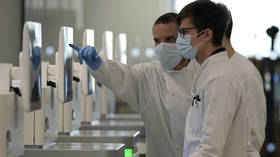 FILE PHOTO: Research assistants watch sequencing machines analyzing the genetic material of Covid-19 cases at the Wellcome Sanger Institute in Cambridgeshire, England, January 7, 2022 © AP / Frank Augstein
US drugmaker Pfizer admitted on Friday that it "engineered" treatment-resistant variants of Covid-19 in order to test its antiviral medicine. The admission partially backs up earlier claims by an executive with the company who told an undercover reporter that Pfizer was deliberately "mutating" the virus to "preemptively develop new vaccines."
In a statement posted on its website, Pfizer said that it "has not conducted gain of function or directed evolution research," referring to the practice of amplifying a virus' ability to infect humans and the process of selecting 'desirable' traits of a virus to reproduce, respectively.
However, the pharma giant said that it combined the spike proteins of new coronavirus variants with the original strain in order to test its vaccines, and that it created mutations of the virus to test Paxlovid, its antiviral drug.
"In a limited number of cases…such virus may be engineered to enable the assessment of antiviral activity in cells," the company said, adding that this work was carried out in a secure laboratory. The work also sought to create "resistant strains of the virus," it added, describing a process commonly understood as being 'gain of function' research.
Pfizer's statement came two days after Jordon Trishton Walker, an executive involved in the firm's mRNA division, told an undercover reporter that the company was "exploring" ways to "mutate [Covid] ourselves so we could create, preemptively develop, new vaccines." Walker said that scientists were considering infecting monkeys with the virus, who would then "keep infecting each other."
"From what I've heard, they [Pfizer scientists] are optimizing it, but they're going slow because everyone is very cautious," he explained. "Obviously they don't want to accelerate it too much. I think they are also just trying to do it as an exploratory thing because you obviously don't want to advertise that you are figuring out future mutations."
READ MORE: Pfizer tried to 'bully' India – minister
Pfizer's statement makes no mention of the supposed plan to infect monkeys, instead explaining that any work on live viruses is carried out in vitro, meaning inside test tubes or other lab equipment.
Walker was told on camera that he was speaking to a journalist with Project Veritas, a conservative outlet known for its hidden-camera sting operations. After hearing this, Walker insisted that he was lying to impress his date, before attempting to steal an iPad from Project Veritas CEO James O'Keefe.
***************
Collapse of UK's ineffective killer Covid Vaccine SCAM amid more proof of massive Injuries and Sudden Deaths
The U.K. will no longer supply COVID-19 boosters for healthy people under age 50, and will STOP free distribution of the primary two-shot series, says the UK Health Security Agency .
from thefreeonline on 26th Jan 2023 by Childrens Health Defense and thefreeonline
This announcement came one day after Esther McVey, a member of the UK Parliament with the Conservative Party, called for an urgent and thorough investigation into excess deaths while speaking in parliament.
British cardiologist Dr. Aseem Malhotra, who recently "truthbombed" the BBC during a live appearance telling viewers the mRNA COVID-19 vaccines pose a cardiovascular risk, welcomed the changes. He tweeted:
BREAKING BBC News:

Cardiologist says likely contributory factor to excess cardiovascular deaths is covid mRNA vaccine and roll out should be suspended pending an inquiry.

— Dr Aseem Malhotra (@DrAseemMalhotra) January 13, 2023
I interviewed virologist Professor Byram Bridle. He points out that there is no evidence of benefit. If anything, all the evidence shows the vaccines INCREASE risk of infection, hospitalization, death
More coincidences…#suddendeaths pic.twitter.com/FY1nWt3XdO— TanyaCarmona (@tanycar) January 14, 2023
https://twitter.com/tanycar/status/1614110147701530625?ref_src=twsrc%5Etfw admin%2Fpost.php%3Fpost%3D118577action%3Dedit
"The move will mean unvaccinated healthy under-50s will soon not be able to get a COVID jab unless recommended by a medical professional," according to The Telegraph.
Both manufacturers and regulators have admitted the mRNA vaccines do nor prevent either Covid infection or infecting others, and new documents Pfizer has been forced to release show they ignored Safety Signals after vaccination for a wide range of often lethal illnesses.and crippling conditions.
The boosters are an untested mix with added ingredients to the still experimental vaccines, making them doubly untested. mRNA vaccine technology for mutating viruses has never worked in the past. Yet the Regulators, CFD and FDA in the US are 'captured' by the Pharma lobby, the boosters are now rolled out even for babies and pregnant women, and health agencies worldwide have followed the US lead.
Denmark isn further ahead, having also almost entirely ceased the primary COVID-19 vaccination series for children, stating:"From 1 July 2022, it was no longer possible for children and adolescents aged under 18 to get the first injection and, from 1 September 2022, it was no longer possible for them to get the second injection.
Pfizer's Genocide for Cash exposed by Project Veritas!!
Pfizer's Genocide for Cash exposed by Project Veritas!!
Poland called on the FDA to release data on the effectiveness of existing boosters against the latest Omicron subvariants. Poland noted that the FDA did not share all of its available data on bivalent boosters which was also the subject of a highly critical Jan. 22 Wall Street Journal editorial which said:
"Federal agencies took the unprecedented step of ordering vaccine makers to produce them and recommending them without data supporting their safety or efficacy."
But the battle is only beginning. The UK will continue to give people over 50 the deadly injections, and the U.S. Food and Drug Administration (FDA) recommends a fallback vaccination schedule wherein adults would be vaccinated once a year to "stay protected" against COVID-19.
Also it is planned to sell off the deadly vaccines "cheaply" to "deprived" countries, as well as for cattle and other animals, and the mRNA technology is being developed to roll out "vaccines" for a whole range of human ailments.
#vaccineinjured #diedsuddenly..'WE ARE THE INJURED & BEREAVED!''
A high-level Pfizer employee was caught on undercover camera by Project Veritas when he inadvertently dropped several bombshells which we're confident will be subject to extreme damage control over the coming weeks.
(Also Read: Busted Pfizer R&D Exec Claims He Lied About "Mutating COVID" To "Impress A Date Like Normal People" @ https://www.zerohedge.com/political/directed-evolution-pfizer-rd-exec-says-covid-19-created-wuhan-cash-cow-company)
O'Keefe also draws attention to the fact that it appears Google has gone into full suppression mode on this story…
What is going on? pic.twitter.com/ZLY7Si8mVo — James O'Keefe (@JamesOKeefeIII) January 26, 2023
Related
UK Government admits 19 million Brits remain Unvaccinated & 30 million Brits have refused the COVID Booster JabAugust 3, 2023
Monkeypox Scam – a criminal Power Grab – World Council for Health StatementJuly 3, 2022
Everyone in the world should watch this video **NOW** before it is censored. Especially if you are in the UK!