Scared by women's revolution in Iran the State allows misogynist terrorists to make war on rebel schoolgirls with dozens more poison gas attacks on their schools.
from thefreeonline on 19th April 2023 by Hengaw.net / @Starr Congress / Jinha Agency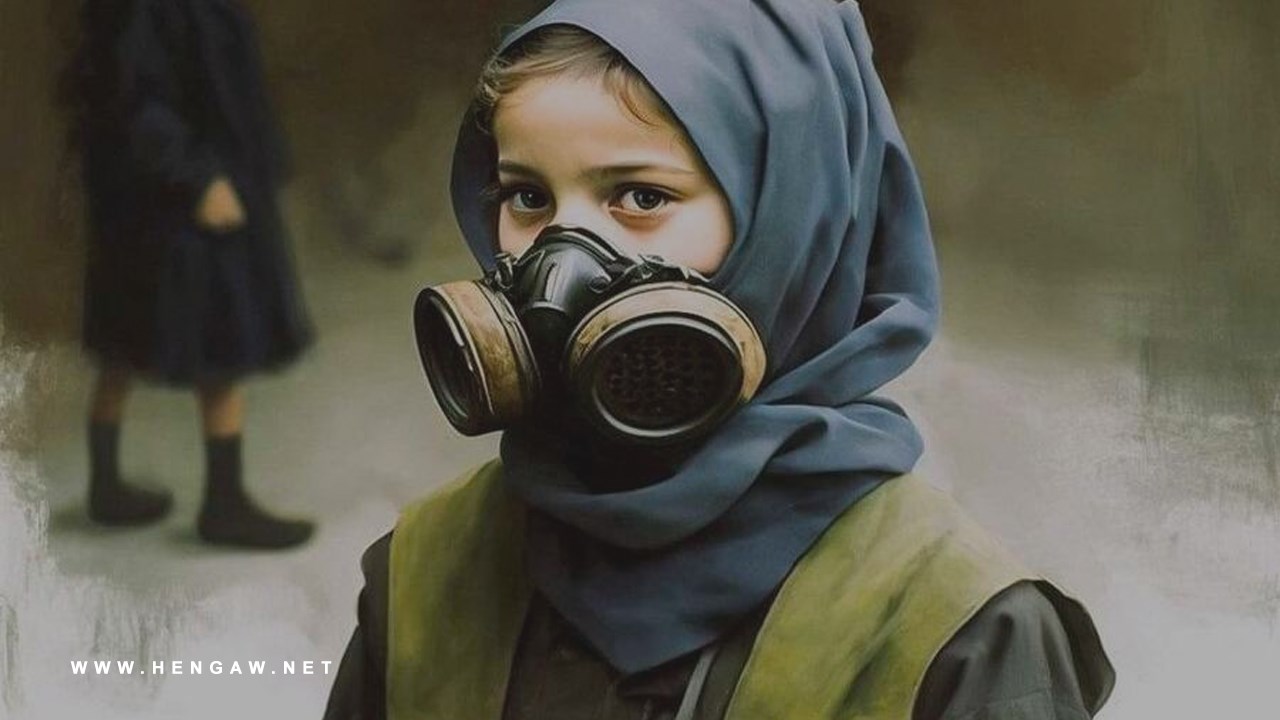 The Rojava Revolution has spread to Iran, clashing with state sponsored repression of women expressed in waves of poison gas attacks on revolutionary girls by cowardly men fearful of losing their 1000 year old privileges
The Rojava example still survives among multiple enemies, with a strong anti capitalist co-op movement and joint women's leadership. There are Arab, Azadi and Syriac women's militias within the broad SDF defense coalition and Kurdish women guerillas fight in Turkey, Iraq and Iran.
But it is the inspiring Jineoloji women's ideology that has spread like wildfire to neighbouring countries and also to groups around the world. The YPJ (Women's Protection Units) were organised, to the horror of Patriarchal Regimes, and began to free themselves, their families, communities, and homeland from ISIS and medieval style abuse. see slso: Organizing Transformed Spaces: Kurdish Women, Jineoloji and Rojava
As with other Kurdish movements, the recent uprising known as 'Jina's Revolution' (after ) inside Iran, with the Kurdish slogan of Jin, Jîyan, Azadî (Women, Life, Freedom), has been making headlines for months and has strong roots in the Kurdish people's long history of freedom struggles.
The Islamic Republic of Iran has a reputation for being one of the most misogynistic and anti-woman in the world, depriving women of their most fundamental human rights both by the state and within society.
Iran was freed from a the murderous British and US sponsored dictatorship by a fundamentalist Iranian Revolution in 1979. Ever since it has been constantly attacked, subverted, blockaded and severely sanctioned by the US and allies which covet its oil resources.
In reply Iran has been unfortunately controlled by a militarized autocratic regime using religion and heavy repression to defend itself and control its 17 unique ethnic minority cultures.
This regime has been specifically targeting the Kurdish majority area of Rojhilat ( Eastern Kurdistan NW Iran) because of their long-standing opposition to the central Iranian state.
The successful ideas of the Rojava Revolution in N Syria have spread to the Rojhilat resistance, especially to women, and it was here that the death in custody of a Kurdish women, Jina Amini for not wearing religious clothing sparked a women-led protest movement that has swept the whole country.
More chemical attacks targeting 20 more schools in multiple cities in Iran spark concerns
17 April 2023 hengaw.net/en/news/2o….
Hengaw: Monday, April 17, 2023
"One of the students of Tarawat School, whose name is withheld by Hengaw, said in this regard: 'One hour before the chemical attack, 12 passengers in three cars entered the schoolyard and locked the exit door. Two of these forces went to the janitor's room and then collected all the CCTV cameras, and took them with them at the end'.  She added: 'All these people were wearing masks and after they left, symptoms of poisoning and nausea appeared in the students'.
Reports of at least 20 more chemical attacks on schools have now emerged in various cities in Iran, mostly but not all in Kurdish majority areas..
On Sunday, April 9, at least 47 students were taken to hospital after being poisoned at six girls' schools in Saqqez and other cities of Rojhelat Kurdistan. 20 students are reportedly in critical condition.
Just in Bukan City schools were targeted five times in the past day. Other cities, including Gilan-e Gharb, Karaj, Tabriz, Kermashan, Dezful, Isfahan, Saqqez, Urmia, Sanandaj, Ravansar, and Khorramabad, have also witnessed these attacks.
The coordinated attacks are organized by state instigated extreme misogynists, often using military grade gas grenades.
According to a report by the Hengaw, Organization for Human Rights, on Monday, April 17, 2023, the Fajr, Esmaat, Setayesh, Shahed, and Honarestan-e Sharaf girls' schools in Bukan were the targets of chemical attacks.
Nian Karimi, a student of health and fitness education at Fajr Art School in Bukan, was urgently transferred to medical centers in Urmia due to the severity of her health condition.
As the attacks in Bukan continued, military helicopters flew over the city, and security forces were stationed in public places. 
In Gilan-e Gharb, a city in Kermashan province, the attacks targeted Shahrivar high school, Andisheh Honar high school, and the Esmaat and Khadijeh Kobra girls' schools.
In Karaj near Teheran, two schools were also targeted, and the school administrators prevented students from leaving the premises. At the Jafar Sadegh school, water bottles were prohibited in classrooms.
https://jinhaagency.com/en/actual/iranian-students-take-to-the-streets-to-protest-poisoning-of-schoolgirls-33080?page=3
The Aseman-e Shahr high school in Tabriz was also attacked, and students were not allowed to leave their classes for hours. 
In addition, in Khorramabad, several students were poisoned by inhaling gas at the Bint al-Hoda Sadr high school. Threatening messages with the subject of "mandatory hijab compliance" were also sent to parents simultaneously with the attacks.
 The revolutionary student organizations of Bushehr and Tehran issued a joint statement today."This planned attack, is a retaliation against the struggles of revolutionary students. Progressive students should try to revive the atmosphere of protest at schools by holding more protests and taking to the streets. The government attacks students because it knows very well that students lead the current revolution.".
In Sanandaj, Nosaibeh, a girl's school in "Kohneward circle" was attacked. According to Hengaw, at least eight students were poisoned and transferred to medical centers.
Following the chemical attacks, Om-Alsalmeh school in Dizful, Mawlana school in Urmia, Parseh school in Isfahan, and Moaalem girl's high school in Kermashan have all been attacked, with several students being poisoned and carried to local medical centers.
Solidarity with Rojhilat! – YouTube
In a girl's school called "Farhang" in the city of Ravanser, two students have also been poisoned and transferred to medical centers.
In the past, Hengaw has urged the OPCW (Organization for the Prohibition of Chemical Weapons) to conduct an independent investigation into the chemical attacks on mostly Kurdish girls schools in Iran.
News Center- The "Jin, Jiyan, Azadi" protests that started in Iran and Rojhilat following the killing of Jina Mahsa Amini have continued for seven months while the Iranian authorities have used all kinds of inhuman methods to quell the women's protests.
 One of these methods is deliberate poisoning of schoolgirls. Many schoolgirls, who were poisoned at school, still receive treatment at hospitals while some are still in critical condition
16 students suspended from university for protesting poisoning of schoolgirls in Iran 11 Apr 2023,
'More protests should be held against such attacks'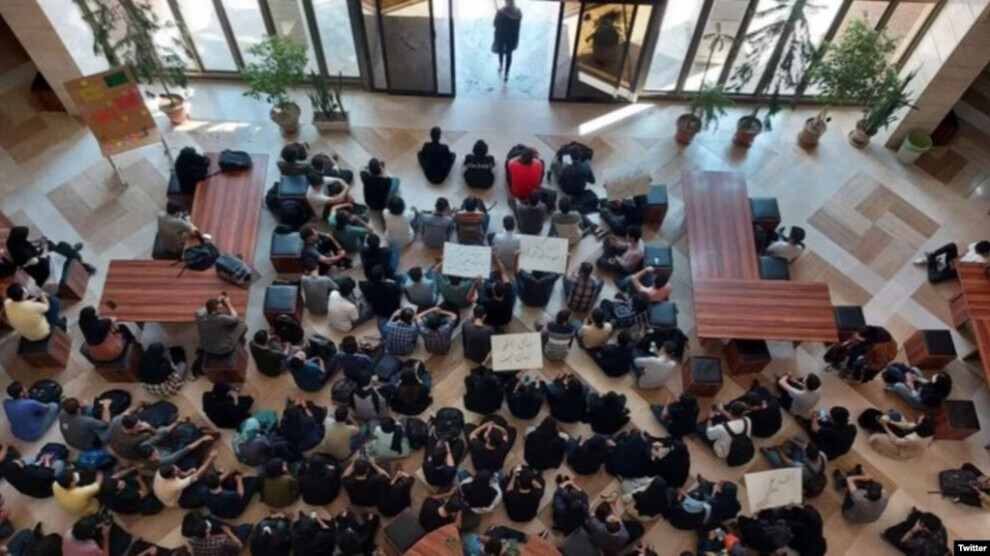 16 students have been suspended from Tabriz University of Medical Sciences for protesting the poisoning of schoolgirls in Iran and Rojhelat Kurdistan.
News Center– Tabriz University's Students' Council has announced on its Telegram channel that at least 16 students have been suspended from Tabriz University of Medical Sciences for protesting the poisoning of schoolgirls in Iran and Rojhelat Kurdistan.
Rojhilat ve İran'da öğretmenlerin protestoları 100 kente yayıldı .
Since the beginning of the protests, women and students have been at the frontline and they have been subjected to arrest, torture, rape, kidnapping and murder by the regime forces.
According to the statement released by the council, more students may be suspended from the university by the disciplinary committee of Tabriz University of Medical Sciences.
The regime forces have warned the healthcare workers and school administrators to keep silent about the chemical attack and the poisonings.
After a chemical attack on five girls' schools in Iran's Bukan city yesterday, many schoolgirls were hospitalized. Healthcare workers and school administrators have been warned to keep silent about the poisonings at schools.
The schoolgirls suffered from symptoms including nausea, fainting, headaches, coughing, breathing difficulties and heart palpitations.
Most of the students, who were poisoned at schools, have difficulties in breathing." "Many students are still kept in hospital because their health condition is very serious.
Some are kept in the intensive care unit while one of them was transferred to a hospital in Urmia when her condition deteriorated."
Hengaw: Saturday, April 15, 2023 https://hengaw.net/en/news/2023/04/the-organized-chemical-attacks-on-schools-in-iran-continue-seven-other-schools-were-attacked-in-one-day
 
At least seven more schools across multiple Iranian cities were targeted in organized chemical attacks on Saturday, April 15, 2023, resulting in dozens of students being poisoned and sent to medical centers. 
Hengaw: Sunday, April 16, 2023 Chemical attacks on schools continue with at least 9 cases recorded in the cities of Tehran, Islamshahr, Karaj, Urmia, Qazvin, Babolsar, Harsin, and Shiraz. In the meantime, attendance in the classrooms in Mahabad schools was boycotted to a significant extent.

According to a report received by the Hengaw Organization for Human Rights, the schools of Sharafat and Khadijah Kobri in Sanandaj, Mehr Parvin Girls' School in Sarpol-e Zahab, Shafi Girls' High School in Mahabad, Balanj Village Girls' School in Urmia, Parveen Etsami Girls' High School in Izeh, and Mohammad Rasulullah Girls' School in Shahr-e Qods, Tehran Province, were targeted by chemical gases.

An eyewitness in Sarpol-e Zahab reported that gas canisters were thrown into Mehr Parvin school from the third floor, and the school management prevented students from leaving for a while by closing entry and exit doors. Over 37 students were poisoned and taken to Shahada Hospital in Sarpol-e Zahab.

Shafi Girls' High School in Mahabad was also targeted, and some students were reported to be in critical condition. Balanj village girls' school in Urmia, Parveen Etsami Girls' High School in Izeh, and Mohammad Rasulullah Girls' School in Shahr-e Qods, Tehran Province, were also targeted, resulting in several students being poisoned and taken to hospitals.

In response, parents of students in Shahin Shahr, Isfahan, gathered in front of the education department in protest against the chemical attacks on schools.
Ironically Government forces reportedly used tear gas against protesters.
Additionally, Parshang Rangbari, the principal of Meraj Secondary Girls' High School in Saqqez, resigned from his position in protest against the chemical attacks and the lack of identification of perpetrators, calling his resignation a civil protest.
**************
Iranian activist Sakineh Parvaneh arrested again// News Center- Women leading the uprising that started in Iran and Rojhilat following the death of Jina Mahsa Amini are still the target of the Iranian regime.
On Wednesday, April 5, Kurdish political activist Sakineh Parvaneh was re-arrested again and taken to unknown locations in Qochan, a city of Iran. The activist had been released under amnesty from Mashhad Central Prison on 11 February, while serving the fourth year of her seven-year prison sentence.
see also: Womens Uprising in 3rd week. Jineolojî Movement leader Nagihan gunned down near Iran biorder
Les femmes du Rojhilat soutiennent la campagne "100 raisons de ..
Timeline 4 days
ANF | A guerrilla from Rojhilat in the Bazên Zagrosê Campaign
ANF | An internationalist fighter in Rojhilat: Guerrilla Beritan
Anger escalates in Iran as regime continues chemical attacks targeting girls schools.