CNT calls for rebellion against the Patriarchal State and its courts
The anarcho-syndicalist trade union shows its indignation at the judicial resolution adopted in the case of "La Manada"  the self styled 'wolf pack'.
"The CNT union has shown its absolute "dismay and disgust" before the performance of the Navarra Court that has decreed the provisional release of the members of "La Manada" .  "We share the anger and call to turn indignation into a permanent struggle against the patriarchal system that the State carries in its genes," said the anarcho-syndicalist organization.
"Being Afraid is gonna Switch Sides.. Feminist Self Defense …Platform for Free Abortion and Sexuality''
In the same way, the CNT has warned that what happened around "La Manada" once again puts in focus an unquestionable reality: "for what and for whom courts and prisons are made". "That same judicial system is the one that pursues and ruins the lives of eight young people of Altsasu thanks to a police assembly, or also the one that persecutes rappers and criminalizes social protest," the union stressed.
"Justice is nothing other than injustice, and the State is nothing more than a gigantic macho, violent and patriarchal apparatus," they said. In this context, the CNT has also called for a "reflection" on the current system, "a system that breeds monsters like the members of La Manada and places in the courts of 'injustice' machista and misogynist judges."
---
Sign/Share this Petiition 'WE DON'T WANT THE WOLF PACK IN OUR STREETS'  firma esta petición … 750K signed so far!

---
The anarcho-syndicalist union showed its " support and affection" towards all the militants of the feminist movement that today take to the streets "to shout against this injustice and defend their rights". "You, sisters, are essential and indispensable to build another model of society, freer and more human," they remarked.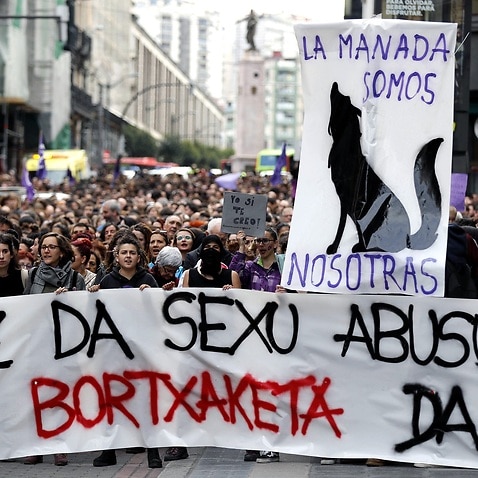 'We are the wolf pack'
Protests as Spanish court releases 'wolf pack' rapist predators
Five men who were convicted only for sexual assault after a gang rape of a woman at a Spanish bull-running festival have now been released on bail pending appeal, sparking fresh protests.
One of the accused is a Guardia Civil (Franco's military police) and another was in the army. Several are far right "ultras" who support FC Sevilla.
Protesters have taken to the streets of Spain after a court ordered the release on bail of five men sentenced to nine years in prison for sexually abusing a young woman at Pamplona's bull-running festival.
'Hitting a Guardia Civil gets 13 yrs jail. A Guardia Civil and 4 friends rape you and walk free'.
The men, who called themselves "the wolf pack" in a WhatsApp messaging group, had been accused of stalking, abducting and raping a woman, then 18, at the entrance to an apartment building in Pamplona on July 7, 2016, at the start of the week-long San Fermin festival, which draws tens of thousands of visitors.
All five were convicted only of sexual abuse in April and  were acquitted of the more serious crime of sexual assault, which includes rape, as the court did not consider that the victim had been subjected to intimidation or violence, sparking nationwide protests.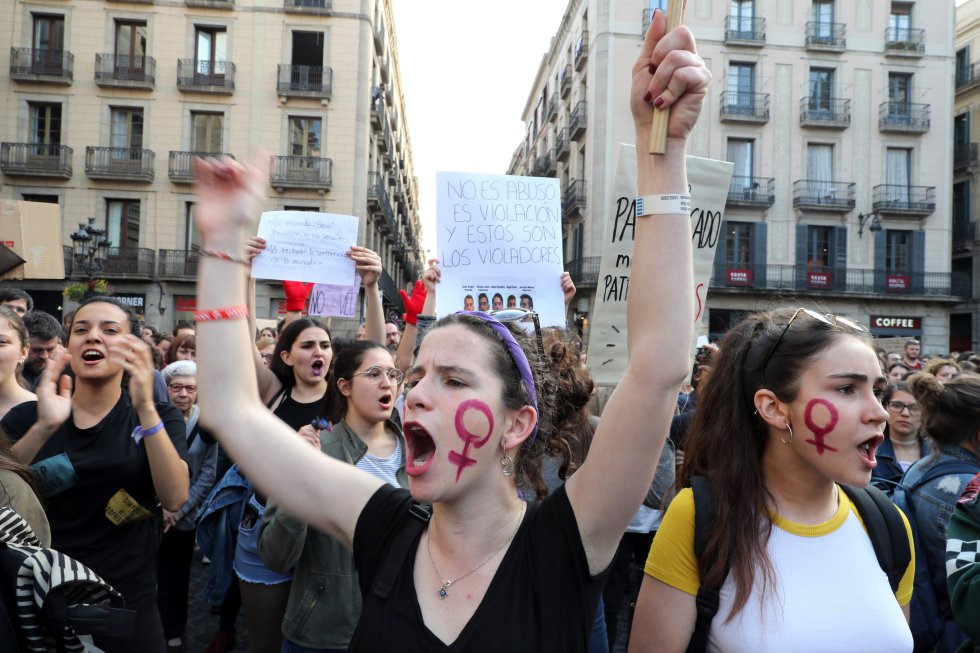 Coming shortly after the first ever feminist General Strike the verdict by a politicized Spanish Court is seen as direct repression and yet another example of patriarchal approval for the rampant neo fascist mentality and impunity for a far right gang including a paramilitary police officer who boasted of their crime on Whats App and mocked their victim.
Photos of some of the Demos around Iberia
Manifestación en Pamplona en protesta por la puesta en libertad bajo fianza de los cinco miembros de 'La Manada'.
Concentración contra la puesta en libertad de 'la manada' en Cuenca.
Manifestación en Madrid contra la puesta en libertad de la manada.
Cientos de personas se concentran en Sevilla contra la puesta en libertad de los miembros de la manada.
Manifestación en Murcia, en la Plaza del Cardenal Belluga. El movimiento ha logrado movilizar de nuevo a miles de personas a través de las redes sociales.
Manifestación en Pamplona por la puesta en libertad de la manada.
En Valencia, el movimiento feminista avisó de que tomaría las calles. Y así lo ha hecho.
La imagen ante los Juzgados de Bilbao ha sido también la de un clamor multitudinario
Women's rights groups immediately took to social media to call for protests on Thursday night with the slogan: "If the pack hits the streets, we will as well."
Around a thousand people marched in Pamplona, some shouting "Enough macho violence", and there where also rallies in neighbouring Basque cities Bilbao, Vitoria and San Sebastian.
Hundreds also marched in Barcelona, some holding a banner that read: "In the face of patriarchal justice, feminist self-defence."
"It is a shame, these scoundrel rapists get away so easily. It seems they want to release them so they are ready to start again on July 7, the day of San Fermin," said 66-year-old protester Carmen Roman.
Another protest is scheduled to take place on Friday evening outside of the justice ministry in Madrid as well as in the southwestern city of Seville, the hometown of the five men, and other cities.
Prosecutors had argued during the closed-door trial last year that the men's victim was subjected to "serious intimidation and it prevented resistance or flight".
They had asked for each of the men, who have been in custody since 2016, to be jailed for 22 years and 10 months.
One of the accused is a Guardia Civil policeman – currently suspended– and another was once in the army. Several are "ultras" who support FC Sevilla.
---
Rapists Freed as Impunity reigns in Patriarchal Spain
The five men jailed for sexually abusing an 18-year-old woman at the running of the bulls festival in Pamplona two years ago are to be released on bail of €6,000, according to reports.
The case, known as the "wolf pack" trial because of the name the men used in their WhatsApp group, caused a national outcry after the defendants were acquitted of rape.
The case was widely seen as a cross-examination of the 18-year-old woman rather than the men who attacked her. The proceedings were criticised after the judges accepted into evidence a report compiled by a private detective hired by some of the defendants. The detective had followed the woman over several days and produced photographs of her smiling with friends.
This was used to suggest she had not suffered any lasting trauma, prompting hundreds of women to demonstrate outside court holding signs reading: "We believe you, sister."
Defence lawyers claimed the woman had consented and had let one of the men kiss her. They also said that 96 seconds of video footage from the men's phones – showing the woman immobile and with her eyes shut during the attack – constituted proof of consent.
The prosecution said the victim had been too terrified to move.
Al final de la manifestación, decenas de manifestantes han protagonizado una sentada frente al Congreso de los Diputados en Madrid.
"The defendants want us to believe that on that night they met an 18-year-old girl, living a normal life, who, after 20 minutes of conversation with people she didn't know, agreed to group sex involving every type of penetration, sometimes simultaneously, without using a condom," the prosecutor Elena Sarasate said.
The verdict was criticised by many senior politicians, including Pedro Sánchez, the leader of Spain's socialist party who recently became the prime minister.
"She said NO," he wrote on Twitter at the time. "We believe you and we'll keep believing you. If what the 'wolfpack' did wasn't group violence against a defenceless woman, then what do we understand by rape?"
News of the men's release prompted women's groups to call protests in cities including Pamplona, Madrid, Zaragoza, San Sebastián and Barcelona on Thursday and Friday.
Laura Berro, the equality and LGBTI councillor at Pamplona's city council, said the court's latest verdict was proof of the patriarchal nature of justice.
Cientos de personas se concentran en Madrid al grito de "Tranquila hermana, aquí está tu manada".
"It's shocking," she tweeted. "But we will not shut up or be paralysed."
---
Sign/Share this Petiition 'WE DON'T WANT THE WOLF PACK IN OUR STREETS'  firma esta petición … 750K signed so far!