.. "Giant vulture funds are fast becoming our landlords.  But why should  the 1% be allowed to suck our blood forever with impossible mortgages and rents boosted by their disgusting greed? From Berlin to Barcelona and every city we call for rent strikes and occupations. The Raval victory shows that mass resistance and solidarity can WIN"..
Raval neighbors 15 day blockade stops Blackstone eviction of 10 Families

Neighbours in the Raval barrio in Barcelona have held a successful 15 day long resistance campaign from 1st July to block plans by vulture fund Blackstone to evict people by surprise in Carrer Hospital. The blockade was widely supported round the clock  with all kinds of activities, workshops, concerts, etcetera.
Evictions in the Raval neighbourhood are a daily occurance , sometimes up to 5 a day. In recent years anarchist groups have promoted a growing  practical solidarity network  to block evictions and help homeless victims.
Blackstone is the world's biggest vulture fund. It arrived in Spain in 2013 and by now has over 100,000 'assets', mostly homes evicted due to the criminal  housing policy. For example Blackstone bought 41,000 mortgages for a giveaway price from a bank which had just been 'bailed out' with a free gift of 12,000 million of public money.
The local housing union Sindicat Habitatge Raval@RavalSindicat, held a press conference this morning 15/07/2019 claiming victory after the street was blocked  fore 15 days and the legal eviction time ran out. Though illegal evictions are common it's unlikely in this case as it would cause a riot.
Blackstone has begun negotiating and now offers 7 of the families rent contracts, which would be a 'first time ever' for the vulture fund. It seems that, like in the case of the giant Cerberus fund evicting a community garden , Blackstone is being forced to cancel a publicly resisted eviction, in order to quietly go ahead exploiting its other 100,000 properties.
Blackstone (Anticipa) and 32 smaller funds were invited in by the far right PP with tax free incentives and have always employed mob-like practices such as extortion, blackmail, bribes, rental prices which families can't afford (pocketing public subsidies), abusive clauses, and selling apartments before rental contracts end in order to promote the expulsion of the tenants.
  In the first three months of 2019 the youth unemployment rate for under 25's in Catalonia was 30.5%
---
Over 0ne million people have lost theit homes in the Spanish State since the 'crisis began.
---
The avalanche of homeless families are helped, case by case, by volunteers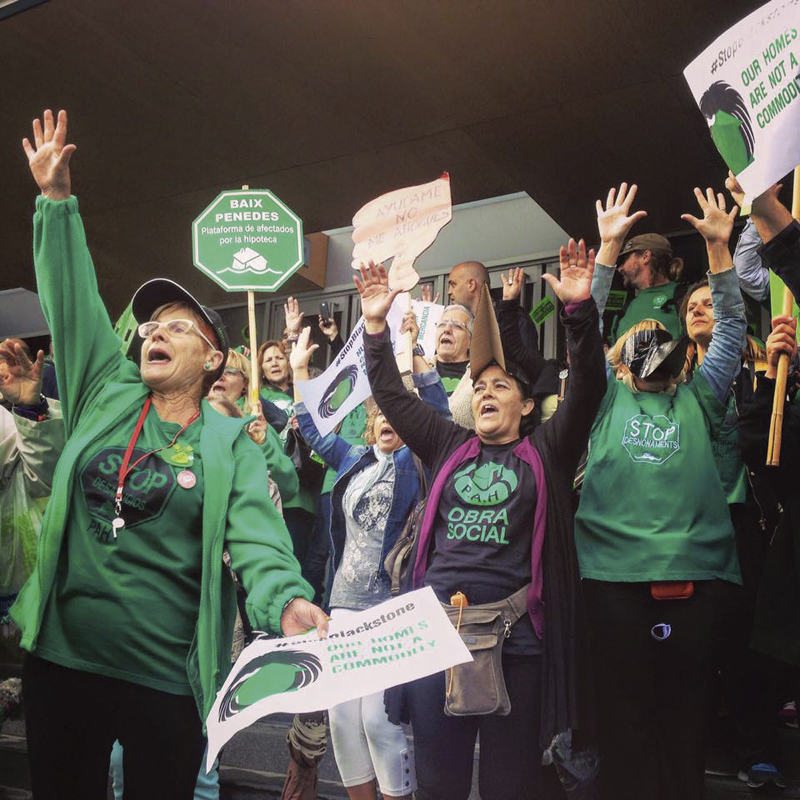 from the Plataforma de Afectados por la Hipoteca (Platform for People Affected by Mortgages). It's a Spanish grassroots organization with over 150 local branches that takes direct action to stop evictions and campaigns for housing rights. For example in June 2018 they occupied Anticipa/Blackstone's headquarters in Prat de Llobregat (Barcelona)
Above video: Mass picket outside apartment o Blackstone's Barcelona manager Mendiluce . This protest tactic is a huge success. The banner  above reads  "If you come to our houses we will come to yours. Eduard Mendiluce,  Stop the eviction of c/ Hospital 99."
SEE.. Sindicat de llogaters ..https://twitter.com/ravalsindicat?lang=en   ALSO: El Raval, en peu de guerra contra l'especulació de Blackstone
---
---
MAYDAY is the name of a big new Occupied Social Center, occupied on May 1st 2019 in the central Raval area. The building was squatted twice before as a collectivised student residence. It was extremely destroyed after the 2nd eviction and is still being renovated by the new collective and neighbourhood.
see also  … Road to Revolution: The Barcelona Rent Strike of 1931./
Related