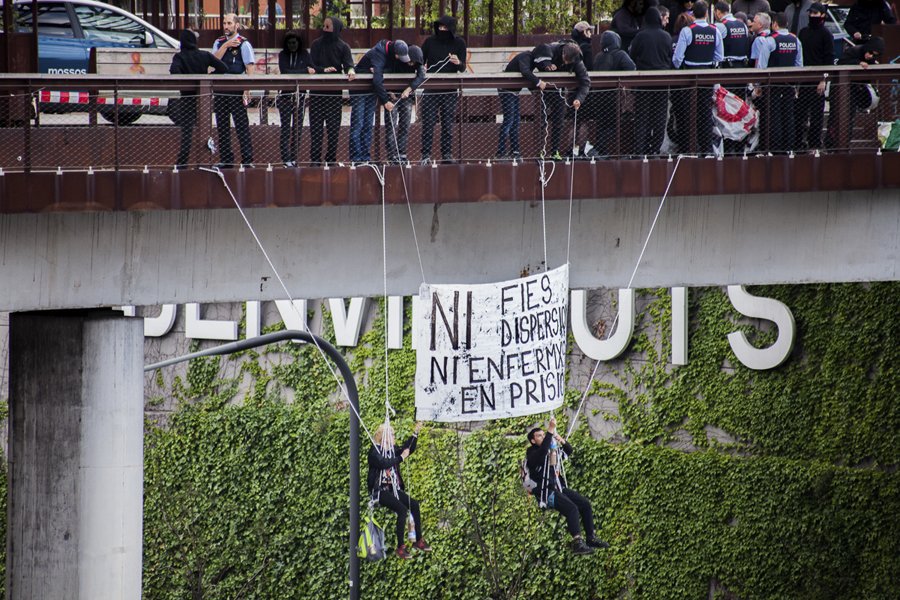 Two activists hang from the Sarajevo bridge in Barcelona in support of prisoners on hunger strike.
They demand the elimination of  isolation and release  of mentally ill and chronically ill
by Vicent Almela Guille Larios at La Directa                                                    Forty people have cut the main Avenida Meridiana in Barcelona and two have  hung themselves from the Sarajevo bridge. The Mossos Plice have detained one of the supporters and have identified the rest
A total of 18 prisoners and prisoners are of hunger strike since May 1st


A group of solidarity with the prisoners and victims on hunger strike  cut off the Meridiana exit to Barcelona, ​​in the direction of the C-17, and has unfolded a banner. 
The Police arrested a person for "attack against agents of the authority", according to the press service, and has been transferred to the police station of Les Corts. Likewise, they have restored the circulation and finally the firefighters have arrived at the place of the action to  get down the hanging demonstrators with a crane. The police identified the forty concentrates.
photo by Sergi Rugrand
The action of this morning adds to the list of acts and days in solidarity with the hunger strike that since Tuesday by different groups of support for prisoners and prisoners which are taking place in different cities of Spain, such as Lleida , Santander, Palencia, Madrid, Gasteiz, Granada, Valladolid, Valencia and Barcelona, ​​and also during the first May demos in Paris and Toulouse, in the French State. Continue reading "Support actions for Spanish prisoners on Hunger Strike"