'We are witnessing an astonishing new level of human depravity in which the US sells $110,000,000,000 worth of arms to the terrorist  Saudi state while actively aiding it in bombing and starving it's neighbours to death.
Next day we read of a massive cholera epidemic but no one makes the connection. The Yemeni genocide is an object lesson, with the proof open to any blogger in the internet, of the capitalist insanity whereby just a few  days of arms spending could save the infinite suffering of poverty and lack of health services on the planet'… continues…HERE.. Depraved USA and UK green light Genocide of Millions for Profit in Yemen 
Saudi-led siege, bombs and invasion bring famine and Cholera horror to Yemen
Massive Cholera Outbreak In Yemen      There is a state of emergency in Yemen's capital after a recent outbreak of cholera.
By Niles Niemuth in the USA:     According to the latest figures from the World Health Organization (WHO), more than 1,500 Yemenis have died in a deadly cholera epidemic which has infected some 250,000 people since April. Children account for a quarter of the deaths and half of all infections.
The deadly outbreak is the direct result of the criminal Saudi-led, US-backed war to reinstate the puppet government of President Abdrabbuh Mansur Hadi, who was ousted in 2015 …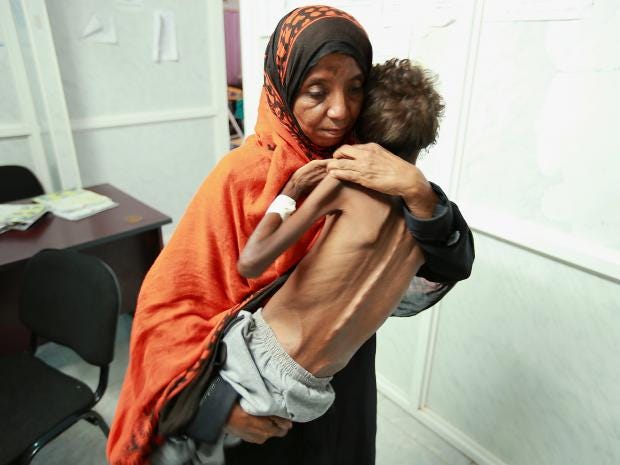 The Saudi-led assault on Yemen is a war crime of immense proportions, rivaling the US proxy war for regime change in Syria that has killed or displaced millions and the 2003 invasion and occupation of Iraq, which resulted in the deaths of more than a million people. Continue reading "US-backed Bombing, Blockade and Invasion of starving Yemen sparks deadly Cholera"