Posted on may 9, 2014, 11:14 a.m. EST by OccupyWallSt
Tags: Justice4Cecily
Occupy Wall Street Hero and Founding Zuccotti Cecily McMillan was physically assaulted by the NYPD on March 17, 2012 and then perversely convicted of assaulting the police officer who put her in the hospital. Cecily is now in prison at Rikers Island awaiting her sentencing, for up to 7 years in prison.
You are needed—Justice is in your hands.
To demand #Justice4Cecily you can wear "Safety Orange" https://occupywallst.org/article/pussyriot-cecilymcmillan/?utm_source=OccupyWallStOrg&utm_medium=email&utm_campaign=Justice4CecilyPussyRiot … Its cool, cause Putin hates the orange color as well!
Alert: 9 Days remain until Cecily's sentencing on May 19.
For updates from Cecily's Support Team, follow justiceforcecily.com
• NYT: Occupy Wall Street Inmate Gets Visit From Like-Minded Pussy Riot Ex-Inmates
• Guardian: Pussy Riot members visit Occupy activist Cecily McMillan in prison
This page has gone viral! Please click Like and Tweet on left side of page to keep it going!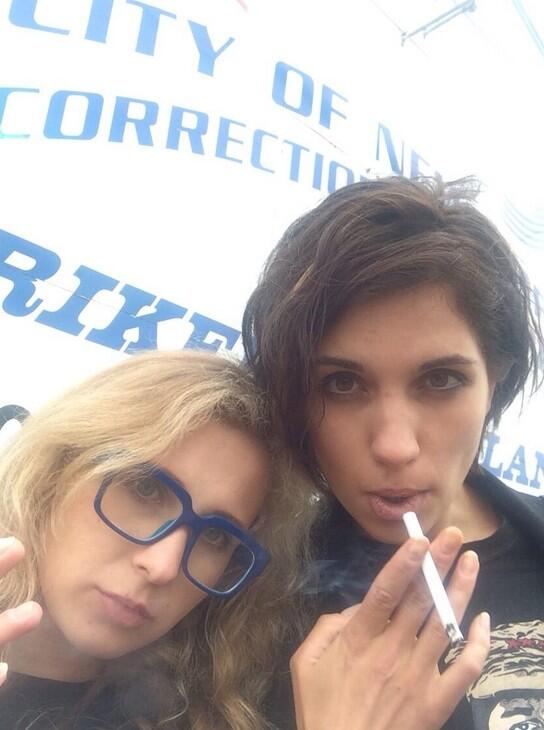 After an incredibly inspiring visit to see Cecily McMillan in New York's Rikers Island prison. Cecily was amazing!
"We hope Americans will show as much support to Cecily McMillan's case as the people in the United States did to us, when we were in prison. Cecily is completely anti-fear… she realizes what is going on and can take responsibility for everything that is happening." – Pussy Riot
We are hoping that Manhattan court will not convict Cecily McMillan to prison term. Anyway,it's time to start your own, american Pussy Riot.
[NEW YORK, NY] At 11:00am EST Nadya Tolokonnikova and Masha Alyokhina of Pussy Riot / Zona Prava visited New York's Rikers Island to meet with jailed Occupy founder Cecily McMillan (Zuccotti).
The purpose of Tolokonnikova and Alyokhina's visit was to offer consolation and solidarity with Cecily and to learn more about the injustices she is experiencing.
The following is a statement from Cecily McMillan's support committee regarding this morning's visit:
"On May 9th, Nadezhda 'Nadia' Tolokonnikova and Maria 'Masha' Alyokhina, who were persecuted for their involvement in Pussy Riot, specifically their Punk Prayer performance in Moscow, Russia, met up with the Justice For Cecily Team in preparation for their visit to Cecily McMillan at Rikers Island.

They were very interested to learn about the injustices in this case, specifically in the prosecutorial process and the nested relations between Wall Street, the justice system and elected officials. Nadia and Masha identified with Cecily's plight, especially the disproportionate sentencing she faces.

We thank Nadia and Masha for visiting, and hope their visit will draw attention to Cecily's case in the larger context of stifling dissent whether here, in Russia or elsewhere in the world."