www.reclaimthepower.org.uk
   Today 40 activists dressed as animals invaded PR firm Bell Pottinger in central London to expose their ties with fracking. Today's activities closed the national 'Break the Chain' fortnight of action by Reclaim the Power [1].
The activists staged an animal-themed intervention of the Bell Pottinger offices, with zebras throwing leaves, monkeys spreading animal manure and a squid spraying 'ink' on the windows. The scene was left in chaos with messages reading "Break the Chain" and "We said No".
The group said they were targeting the company due to their continual support of fracking since they helped clean up Cuadrilla's reputation following an earthquake caused by them attempting to frack in 2011 in Blackpool [2]. Bell Pottinger currently represent Centrica who are a major fracking investor in the UK[3][4].
Ash Hewitson taking part in today's action commented;
"Although they go unnoticed, companies like Bell Pottinger are crucial for the fracking industry to carry out their plans. Through their partnership with Cuadrilla and Centrica, they work to further the fracking agenda and suppress the stories of resistance and opposition on the ground. Bell Pottinger have played a huge role in pushing fracking in Lancashire and whilst they like to work behind the scenes, it's time they were thrust into the spotlight."
Today's action took inspiration from a group of Belgian activists, who performed a similar stunt at a Volkswagen showroom during the UN Climate talks in Paris in 2015 [5]. The actions both sought to highlight companies who are causing climate change.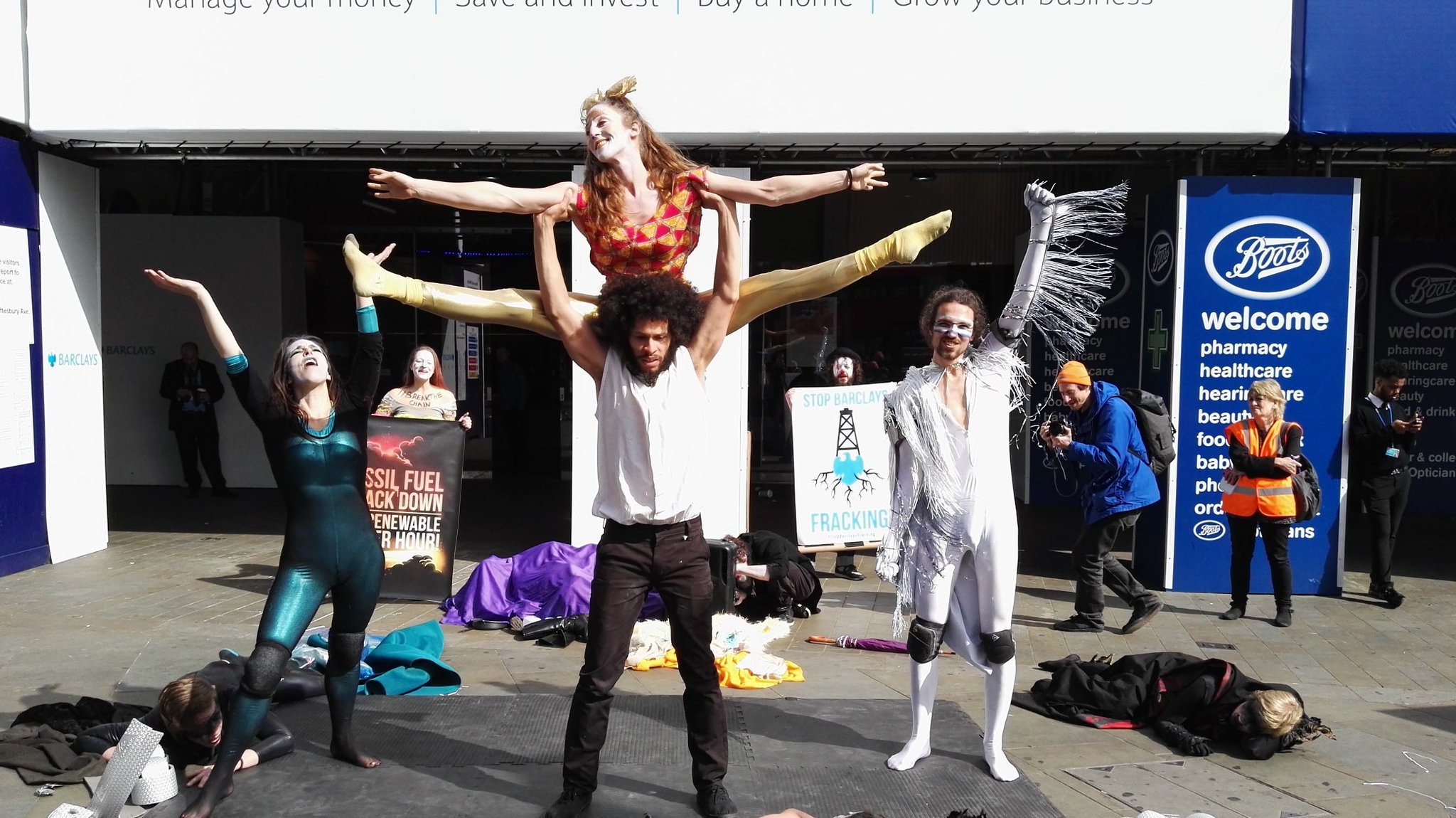 One of the UK group, Camille Martin, said;
"As well as being opposed by local communities and a threat to the local environment, fracking would be catastrophic for the climate. In the absence of sensible action from our government to tackle the growing impacts of climate change, we've joined forces with friends from Europe to send a clear message that we must act to stop any new fossil fuel industry. This isn't just about the people in Lancashire, this is about climate injustice. It affects us all".
The action today is part of Reclaim the Power's 'Break the Chain' fortnight of action targeting fracking supply chain companies. Break the Chain aims to disrupt and expose the networks propping up fracking in the UK – from firms supplying equipment, to PR companies – ahead of further action this summer supporting locals resisting drill sites in Lancashire and Yorkshire.
At least four companies in the fracking supply chain have already pulled out after public pressure [6]. Protests by locals have also been taking place every day at one of the proposed fracking sites in Lancashire, slowing and often halting Cuadrilla's work to prepare the site for drilling [7]. Surveys have shown that public opposition to fracking is far higher than support, with just 18% supporting [8].
##
CONTACT: For photos, interviews and more information – press@reclaimthepower.org.uk, 07376530298  PHOTOS: Available via Flickr
NOTES:
Reclaim the Power is a UK-based direct action network fighting for social, environmental and economic  justice. They have been working to oppose fracking since organising mass action at Balcombe in 2013.  Since then, they've hosted anti-fracking action camps in Blackpool and Didcot, and taken countless actions  against the industry. Read more at: www.reclaimthepower.org.uk  
http://www.telegraph.co.uk/finance/newsbysector/energy/8864669/Cuadrilla-admits-drilling-caused-Blackpool-earthquakes.html
See Centrica's statement on their website (https://www.centrica.com/news/centrica-acquires-25-interest-uk-shale-exploration-licence)
http://registrarofconsultantlobbyists.org.uk/wp-content/uploads/2017/03/October-December-2016-Lobbying-Returns-2.xlsx
http://www.lesoir.be/1058500/article/demain-terre/environnement/2015-12-01/une-action-citoyenne-pour-climat-chez-volkswagen
See the full list at www.reclaimthepower.org.uk/break-the-chain
For examples, see Drill Or Drop (www.drillordrop.com/2017/03/01/drilling-diary-march-2017)
Statistics from BEIS Public Attitude Tracker  (www.gov.uk/government/statistics/energy-and-climate-change-public-attitudes-tracker-wave-20)